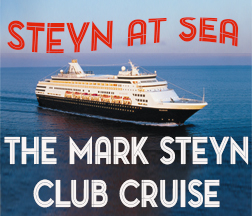 In a few weeks' time we'll be launching the very first Mark Steyn Club Cruise along the St Lawrence and the Eastern Seaboard at the height of fall foliage. We'll leave Montreal on September 29th and sail aboard the beautiful ms Rotterdam, flagship of the Holland America fleet, via Quebec City, Prince Edward Island, Nova Scotia and Maine (with a brief passing glimpse of the highly minimal New Hampshire seacoast) before landing at Boston on October 6th. Along the way we'll be essaying a few shipboard versions of your favorite SteynOnline features, including The Mark Steyn Show, Tales for Our Time, Steyn's Sunday Poem and, of course, our Song of the Week with special musical guest Tal Bachman.
There'll also be plenty of time for relaxation and revelry and getting to know your fellow cruisers and my special guests. And every day we'll enjoy world class service from Holland America, exquisite dining, and the spectacular beauty of the Canadian Maritimes and the New England coast at the height of leaf season. We've reserved the best cabins throughout the ship - and in all of the various categories so that you can make accommodation arrangements that suit you best. But tempus fugit, so don't leave it too long! (As with most travel bookings, the price is more favorable the earlier you book.)
But, before we thwack the champagne and launch down the slipway, I thought we'd get in the mood with a little oceangoing music. After guest-hosting "Tucker Carlson Tonight" the other night I went to a New York club and heard a fairly ghastly version of Frank Loesser's famous eleven o'clock number from Guys & Dolls - "Sit Down, You're Rocking the Boat". But I have to say this particular Loesser boating number is far more congenial to me, and also less nautically destabilizing.
Frank Loesser was born in New York on June 29th 1910 and, while he isn't a household name, he wrote at least one household song. That's to say, if you go to any household with a piano, just about any kid starting to figure out his way around a keyboard will be able to pick out "Heart And Soul" – he'll do the vamp, and his sister will know themelody , or vice-versa. It's been that way for some four generations of children. That's the collective folk consciousness Tom Hanks and Robert Loggia were tapping into in the movie Big when they jumped around the giant FAO Schwartz toy-store keyboard bashing out "Heart And Soul". It's the first (or second) piano piece everybody picks up – not just a scale, not just an exercise, but a bona fide tune - that's fun to play! And people know it! And suddenly the whole point of piano-playing falls into place.
When something's that ubiquitous, you sort of assume it's a folk tune, something that's been around forever. I said it was a "household song", but even in the Frank Loesser household they weren't always aware their dad had anything to do with it. "When I was a kid," said Susan Loesser, "my friends and I would play the piano at parties - easy things like 'Chopsticks' and 'Heart And Soul'. I never knew my father wrote 'Heart And Soul'. I thought whoever wrote 'Chopsticks' had written it."
Not so. And, unlike the guy who wrote "Chopsticks", the guy who wrote "Heart And Soul" wrote a bunch of other stuff, too. Frank Loesser was raised in Brooklyn in what was essentially a classical music family. He was the son of a music teacher, though he never had any formal training himself. "I didn't have the patience to concentrate," he said years later. And his mom and dad weren't bothered because the musical genius was supposed to be Frank's older brother, Arthur, the apple of his parents' eyes, who would become a concert pianist and wind up at the Cleveland Institute of Music. Their father disliked popular songs intensely and, to the end of his life, Frank would tell folks that his mom thought Arthur was the talented one and he was just a "dese, dem, and dose" mug. Asked for insights into his kid brother's great success, Arthur explained that, as a teenage pianist, Frank "acquired a habit of letting his torso go into light spiral tantrums while playing. I understand that this type of bodily symbolism used to be quite de rigueur in representative boogie-woogie circles." Hmm.
When he first ventured into "representative boogie-woogie circles", it was as a lyricist who needed other men's music. Frank's first composing partner was another classical guy, his friend and neighbor William Schuman, who went on to write eight symphonies (plus two he tore up) and become head of Lincoln Center. Their first song was "In Love With A Memory Of You", and it flopped. Like many jobbing songwriters, Loesser quit New York and headed for Hollywood. His two most fruitful partnerships in those early years were with Burton Lane and Hoagy Carmichael. You can hear me talking to Burton Lane about writing with Loesser on our special Loesser double-CD, so for now let's concentrate on Hoagy Carmichael, who by that time was already an established songwriter, the composer of "Star Dust", "Up A Lazy River", "Georgia On My Mind" and many more. "Out of nowhere came a young hopeful named Frank Loesser," recalled Hoagy. "He had written a few songs with tunesmiths that weren't too well known. Eventually the studio more or less teamed me with him." Carmichael remembered first glimpsing "a little character swinging his coat-tails and whistling" through the window of an office at Paramount. "I never saw anybody so self-assured." Too assured for Hoagy's taste. "At first the kid shook me up - his exuberance and zany talk were too much for me."
That was the Loesser persona. Richard Adler, the composer of The Pajama Game and Damn Yankees, describes him well: "He was a small, gravel-voiced man with thinning, sandy hair, dancing eyes, a broad nose, a lantern jaw, and a mind like a bear trap - a sort of Runyonesque, Mafioso sprite." The Runyonesque sprite seems to have been a construct, perhaps developed in response to his classical childhood. But the "dese, dems and dose" were a veneer. "He knew more about everything than anybody I've ever known," said Adler. "He was a better copyright lawyer than the lawyers who worked for him. He was a skilled astronomer. A master carpenter and cabinet maker. A terrific cartoonist." Adler might also have added that he was a brilliant talent spotter. As a music publisher, he recruited not only Adler & Ross but also Meredith Willson, composer of The Music Man. Back in 1938, though, Loesser was just starting out, and the energy was more unfocused, and a bit much for the composer of "Lazy Bones" and "Lazy River". "It was a good thing that he worked with me for a while," reflected Hoagy. "I had a sobering Indiana effect on him ... He had a tendency to want to write things 'way out'. This may be because he was so packed full of ideas then that he was overloaded."
As noted, in those days Loesser was a lyricist. He supplied the words to melodies by Hoagy Carmichael ("Two Sleepy People"), Burton Lane ("I Hear Music"), Frederick Hollander ("See What The Boys In The Backroom Will Have") and Jule Styne ("I Don't Want To Walk Without You"). But during the Second World War, while writing "Praise The Lord And Pass The Ammunition", he found himself with no tune to hand and so wrote it himself. And, after that, the only composing partner he needed was himself.
There are a few genuinely self-contained songwriters, equally adept at both words and music – Cole Porter, Irving Berlin – and there are others who've gone from one to the other as and when needed, such as Carl Sigman and Johnny Mercer. But Loesser is a rare case in that for the first decade of his career as a professional lyricist he gave absolutely no indication that he had a note of music in him. Courtesy of the Steyn archives, the late Burton Lane, who wrote many songs with Frank, sheds some light on that on our aforementioned CD. But Jule Styne (who can also be heard on our audio extravaganza) put it this way: "Here's a fellow with hardly any musical education, and he took it on and wrote some marvelous songs. But he had a right to write his own music. Certain fellows, who shall be nameless, haven't. But Loesser had; he could write his own music, He told me, 'Listen, after I write with you and Arthur Schwartz and Hoagy Carmichael, and this one and that one, by God, I have got to learn something, if I'm smart. You boys showed me how it goes.'"
Yet he remained a songwriter rather than a "composer". First, he had a genius for song ideas – "Let's Get Lost": What a terrific premise for a romantic ballad.
Second, he also appreciated what his brother Arthur, the "serious" composer in the family, called "the power and pleasure that comes from well-chosen words." In "What Are You Doing New Year's Eve?," the "well-chosen words" are: "Ah, but in case I stand one little chance/Here comes the jackpot question in advance." Loesser was sure enough in his choices to know you could put a slang phrase like "jackpot question" on those dreamy notes and make it seem the height of romantic intoxication.
Third, he understood how "well-chosen words" should be sung, which is why eventually he no longer needed anyone to supply the notes. If you listen to, say, Dinah Shore or Peggy Lee, k d lang or my pal Jessica Martin sing "I Wish I Didn't Love You So," the plaintive ache in that title phrase is one of the very best unions of words and music in the repertoire.
My sense of Loesser is that he came at the music from the song idea and how best to serve it. This terrific number from the 1940s makes the point. Do you know Neptune's Daughter? MGM, 1949, a fun little film, with Metro's mermaid Esther Williams plus Ricardo Montalban, Red Skelton, Betty Garrett, Xavier Cugat. The plot, if I recall, is something to do with a South American polo team, mistaken identity, a Teach-Yourself-Spanish record, the usual stuff. But we have this silly piece of fluff to thank for two great Frank Loesser songs – or actually, to be more precise, one great Frank Loesser song that was written for Neptune's Daughter but wasn't really used in it, and another great Frank Loesser song that wasn't written for Neptune's Daughter, but wound up in it anyway. Between them, they embody Loesser at his Forties pop peak. The latter song was "Baby, It's Cold Outside", and the former was:
I'd love to get you
On A Slow Boat To China
All to myself
Alone...
Whoa. Where'd that come from? Well, it was an expression used by poker players to refer to guys who lost steadily and reliably and lavishly: "Boy, I'd like to get you on a slow boat to China" – ie, a journey that's about as far as you can go on which I can take you to the cleaners to my heart's content. But not until Loesser did anyone think, "Hey, there's a love song in this." That's what I mean about his genius for song ideas.
But, of course, once you get the idea, the trick is to extend it through 32 bars. How do you do that?
Get you and keep you
In my arms evermore
Leave all your lovers
Weepin' on the faraway shore...
Isn't that a neat line? Loesser has now taken a poker strategy and effortlessly remade it as a romantic strategy. He follows up with one of my very favorite rhymes in the entire popular songbook:
Out on the briny
With a moon big and shiny
Melting your heart of stone...
"Briny"/"shiny" isn't clever – not Cole Porter/Noël Coward/Stephen Sondheim clever, not look-at-me clever, but it's wonderfully fresh, and it's particular to the song. "Slow Boat To China" is the only number with that rhyme, now and forever.
Loesser had been contracted by MGM to write the songs for Neptune's Daughter, and figured the number would be great for Esther Williams. The producers disagreed. You can still hear it in the film, but only instrumentally – during a swimsuit fashion show. Esther Williams apparently recorded a vocal, but the studio nixed it on the grounds that the song appeared to be encouraging an "immoral liaison". It was left to Kay Kyser's big hit record to establish "Slow Boat" with the public. It's not just a perfectly constructed pop song built upon the simplest premise. It also has, as I say here, the all-time greatest verse of any song ever:
There is no verse
To this song
'Cause I don't wanna wait a moment too long
To say that...

I'd love to get you
On A Slow Boat To China...
That's brilliant. And most of that so-called verse is just on one note until it steps down the scale "to say that... I'd love to get you". You can hear me singing the song at the start of our live music special here, or download it for your listening pleasure here. But I'm always astonished by the number of songwriters you run into who cite "Slow Boat" and that daffy verse as the moment when they first appreciated the idea of records as songs, and wanted to write them themselves. Paul Williams, for example, the man who wrote "Rainy Days and Mondays" and "Evergreen" and "I Won't Last a Day Without You", often talks about how much he liked "Slow Boat to China" as a kid. It's a perfect pop song, now and forever - and, although Montreal to Boston isn't quite a slow boat to China, maybe we'll dust it off for somewhere off the Maine coast.
~To reserve your stateroom on the inaugural Steyn cruise, please click here. For queries about the cruise, please call Cindy and her Cruise Authority colleagues on 1-800-707-1634 (or +1 (770) 952-1959) or email us here.
The Mark Steyn Club is now into its second year. We thank all of our first-year Founding Members who've decided to re-up for another twelve months, and hope that fans of our musical content here at SteynOnline will want to do the same in the days ahead. As we always say, club membership isn't for everybody, but it helps keep all our content out there for everybody, in print, audio, video, on everything from civilizational collapse to our Sunday song selections.
What is The Mark Steyn Club? Well, it's an audio Book of the Month Club, and a video poetry circle, and a live music club. We don't (yet) have a clubhouse, but we do have other benefits. And, if you've got some kith or kin who might like the sound of all that and more, we also have a special Gift Membership. More details here.