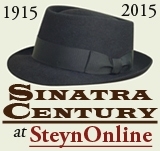 We began this series with a big statement on life, "It Was A Very Good Year", and, as we approach the close, we have another:
That's Life (That's Life!)
That's what all the people say
You're ridin' high in April
Shot down in May...
Indeed you are. But in Sinatra's case he was back on top in June, and had a pretty good July, and in the autumn of his years this song got him a Top Five pop hit and was always a thrilling moment when he did it live on stage. Today, it's one of those handful of Sinatra songs that every wannabe-Frank reaches for, and is much covered, by everyone from Michael Bublé to Bono. Contemporary singers indifferent to In The Wee Small Hours or Swing Easy like the attitude in this number, without appreciating how hard it is to match. In the fiasco of the CBS two-hour Sinatra tribute on Sunday night, "That's Life" was given to a chap called Usher - not the Gentleman Usher of the Black Rod, but some other Usher entirely - and he reduced it to vapid karaoke of no discernible merit. It's hard to make like Sinatra, and even harder on a song where even Sinatra doesn't make like Sinatra:
I said That's Life (That's Life!)
And as funny as it may seem
Some people get their kicks
Stompin' on a dream...
I dreamed that the CBS primetime network 100th birthday special couldn't possibly be worse than the ABC primetime network 80th birthday special, but Usher pretty much stomped all over that one.
Ah, well. Even "That's Life" didn't sound like "That's Life" once upon a time. It was written by Dean Kay and Kelly Gordon. Dean Kay is one of those music industry figures who's done a little bit of everything: he's been a pauper, a poet, a performer, a publisher... I don't believe he's been a pawn or a king, but if you told me that, in a rich and varied life, he sat on the Qatari or Tongan throne for a couple of years, I wouldn't be entirely surprised. I'm on the mailing list for a music-biz newsletter that ASCAP send out called "The Dean's List", and I'd been reading it for quite a while before the penny dropped and I realized, "My God, the Dean of the Dean's List is the same Dean who wrote 'That's Life'." Kelly Gordon is a more obscure figure to me, mainly because he died young in 1981: He was mostly a record producer, but he also released the occasional album, and I believe he was the first to record "He Ain't Heavy, He's My Brother".
Dean Kay was a native Californian who'd been trying to break into the music business while still at high school. He and his chums were in the Bay Area and they'd go down to Los Angeles to see if they could get anyone interested in their songs. "And it started to work," he said at an ASCAP gala at the Library of Congress a few years ago. "We were starting to get our songs published, starting to get them recorded. And then we auditioned, actually in San Francisco, with 1,500 other people for 'The Tennessee Ernie Ford Show', and we happened to make that audition. We were then signed to RCA Victor records by Steve Sholes, who was the man who signed Elvis."
Great. But it was 1962 and so, just as he was savoring his published songs and his TV gig and his record deal, he got drafted. "On Christmas leave I came home," said Kay, "and went down to what we called the rumpus room. And in about 20 minutes I wrote this song":
That's Life
That's what all the people say
You're ridin' high in April
Shot down in May
But I know I'm gonna change that tune
When I'm right back up on top in June...
Which was certainly highly pertinent to his situation, Dean having been ridin' high in April, and then metaphorically shot down by the US Army in May. Yet, granted his personal investment in the theme, it's an unusually mature perspective on it for a 22-year-old in his parents' basement:
That's Life
Funny as it seems
Some people get their kicks
Stompin' on dreams
But I just ain't gonna let it get me down
'Cause this fine old world, it keeps spinnin' aroun'...
The first person to record the song was the jazz singer Marion Montgomery, in 1964. The following year she married the British pianist Laurie Holloway and moved to England, where she became a fixture on the telly. Via the BBC, I had a very slight acquaintanceship with her, and, although I knew she'd introduced "That's Life", I vaguely assumed she'd sung it in the creamy cabaret style I associated with her appearances on various talk shows. Eventually, I fished out the record and, arrangement-wise, it's not so different from Sinatra's eventual version. The song leaves plenty of space for personalized additions. Frank sings: "I said That's Life"; Marion favors: "Yes indeedy, That's Life." But Sinatra was an admirer of Miss Montgomery, and I wouldn't be surprised if that was where he first heard the song.
But the standard version of events is that, as with "It Was A Very Good Year", Frank was driving along and heard O C Smith's version of the song over the radio. At that point, Smith had never had a hit. In 1968, "The Son Of Hickory Holler's Tramp" would get to Number Two in Britain and "Little Green Apples" would do the same in America. But in 1966 O C Smith wasn't really a commercial proposition: I would imagine that, insofar as Sinatra knew him, it was from his stint as vocalist with the Count Basie band. Nevertheless, according to the late Mr Smith, Frank came to see him, to seek his blessing for covering "That's Life" - which O C gave.
Then again, Jimmy Bowen, Sinatra's producer for singles at Reprise, remembers it as just being a demo that Frank heard.
He first sang it for a TV special recorded in early June 1966, with a Nelson Riddle arrangement featuring a jazz organ and not dissimilar to the general territory Riddle was operating in for the tracks on Strangers In The Night. It's an agreeable performance, and Frank is having a grand time with the song, all the way to his Satchmo sign-off "Ohhhh, yeahhhhh!" As he tells the audience, "It's a good tune, and a lyric that gives you something to think about":
I've been a puppet, a pauper, a pirate, a poet, a pawn and a king
I've been up and down and over and out and I know one thing
Each time I find myself flat on my face
I pick myself up and get back in the race...
What Sinatra brought to the song was ...Sinatra. They're stirring words, an anthem of resilience. But in 1966 nobody knew or cared whether Marion Montgomery or O C Smith had had their ups and downs. But Frank? He had been a puppet, tied to his Tommy Dorsey contract; a pauper, earning chump change as a singing waiter at the Rustic Cabin; a pirate, buccaneering through the wild life in Forties Hollywood; a poet, hymning his pain in the song he co-wrote, "I'm A Fool To Want You"; a pawn, in the hands of Ava ...and a king, in Rat Pack Vegas. As Sinatra himself remarked, well before the song, "I've been up and down in my life more often than a roller coaster on the Fourth of July." In effect, he supplied a backstory to the lyric:
That's Life
I tell you I can't deny it
I thought of quitting, baby
But my heart just ain't gonna buy it
And if I didn't think it was worth one single try
I'd jump right on a big bird and then I'd fly...
"I think we ought to make a record of this, James," he said to Jimmy Bowen. "What do you think?"
"Absolutely," agreed Bowen.
But the record wouldn't be like the TV version. Sinatra seemed to sense that this song could be a big hit, but that Nelson Riddle wasn't the guy to deliver it. Four months after the TV recording, on October 18th, he went into the studio with the team that had given him a Number One with "Strangers In The Night" - producer Jimmy Bowen and arranger Ernie Freeman. Bowen was excited to be working in Western Recorders' brand new eight-track studio. On the night, he arrived to find Freeman and his orchestra, plus the pop-gospel choir he'd added to echo Frank on the "That's lifes".
There was just one problem: the microphones. Only the singer's and the rhythm section's were working - at least when it came to getting as far as the tape machine. The horns and the strings and the backing vocals were making it out of the studio, into the control room and onto the speakers, but when you rewound the tape they weren't there. Bowen and his engineer were still digesting this when Sinatra showed up, almost an hour early, accompanied by Mia Farrow, his young bride, and Mo Ostin, who ran Reprise, and various other personages. "James, I gotta get this thing done," he said. "I got a dinner date."
Bowen tried to explain the microphone problem in a way that wouldn't either rattle or annoy the talent, and then Frank ran the number down with the band to loosen up, and get a sense of where to place himself in a rather tougher chart than the Riddle arrangement. He sang it a second time, and then came into the booth to listen to the playback. At the end, he said: "Whaddaya think, Mo?"
"It's great, Frank," said Mo. The pallies in the room nodded. So did Mia, who was maybe thinking of that dinner.
Finally, Sinatra turned to Jimmy Bowen. "Well, okay?"
Bowen took a sharp intake of breath. "Well, not if we really want a killer hit, it isn't." As he later said, he wanted a record "with balls, with bite", and Frank's singing was "too pretty" - too Moonlight Sinatra, too Antonio Carlos Jobim... So he said: "We've got to cut it one more time and make it stronger on the bottom."
A silence descended on the room. As Bowen would recall years later:
Sinatra fixed those cold, steely-blue eyes on me during that silence. The cronies were cringing, thinking I'd lost my marbles. Frank broke the silence. 'Let's do it,' he mumbled, and headed back out into the studio.

I knew he was pissed.
With Frank back in the studio, Bowen addressed the rhythm section, who'd also come into the control booth to hear the playback. He felt they'd taken their cue from Frank's "pretty" singing, and backed off, too. He told them he wanted them to "put some goddamn kick in it" - like David Rose's bump'n'grind hit of a few years earlier, "The Stripper": Never mind Frank, just keep driving it along.
And so Sinatra snarled through one more take. At the end, he replaced the Louis Armstrong "Oh, yeah!" from his TV performance with a triumphant "My my!" "It was me he was directing it to," said Jimmy Bowen. "My my!" - as in "I sure showed ya, didn't I?" And then, without a word to Bowen, Frank walked out the door, followed by Mia, Mo and everyone else. And the producer was left alone to try to get the horns and strings down on tape, and bring in Mike Melvoin to lay down an organ track.
But he had the vocal he wanted: "He was pissed now, he bit it. That's when he sang 'That's Life'." Sinatra hadn't sung this aggressively - or "anti-socially", as Frankologist Will Friedwald calls it - in a decade and a half, not since "Bim-Bam Baby" at Columbia in 1952:
Grap a mip-map-mop
And a brim-bram-broom
And clim-clam-clean-up
The rim-ram-room
'Cause your Bim-Bam Baby's comin' home tonight...
In his entertaining exegesis of the song, Bob Belvedere says of "Bim-Bam Baby":
Just think, if he had pursued this kind of music, he could have eventually starred in B-movies with Alan Freed! I'm glad he didn't, of course, but, with BBB, Mr. S. showed all those youngins, like Elvis, that he could have conquered their territory, if he had wanted to — and they should be very grateful he didn't.
Whether or not he could have conquered Elvis' territory, with "That's Life" he conquered a fair bit of Ray Charles', complete with ersatz Raelettes on backing vocals. And Robert Hilburn, the Los Angeles Times rock critic, used the track as Exhibit A for his case that Sinatra should be inducted into the Rock'n'Roll Hall of Fame:
The best example of Sinatra as rocker was his scorching, R&B-slanted 1966 recording of "That's Life," a song that expressed his own personal and professional ups and downs. Van Morrison toasted Sinatra by doing the song on his 1998 tour with Bob Dylan and Joni Mitchell, but his treatment didn't come close to the authority of Sinatra's.
Indeed. It was a tough song for him to do as he aged, and eventually he put it aside, but the 1971 "retirement" concert performance is a masterpiece of swagger and attitude. It could have been an embarrassment or just a bland nothing, but instead Frank ate it up and spit it out and made Dean Kay and Kelly Gordon's "That's Life" one of the most unusual and unmistakeable of those numbers universally recognized as "Sinatra songs".
While Frank and Mia kept their dinner date, Jimmy Bowen worked hard that night, overcoming all those microphone problems, and then piecing together Sinatra and the rhythm with the backing choir, organ and the rest of the orchestra. When he was satisfied, he made two acetates. One he arranged to be couriered round to Frank's pad at ten in the morning. The other was for himself. He took it home, grabbed a bottle of Jack Daniel's, and played it over and over till dawn.
At seven in the morning, he finally tired of "That's Life" and crawled into bed. A few hours later, his housekeeper shook him awake and said Mr Sinatra was on the telephone. "Hello?" said a bleary Bowen.
"James," said Frank, "it's just brilliant. Thanks."
And then he hung up. That's life at Reprise for Jimmy Bowen: Ridin' high at eight in the evening, shot down at nine, back on top the following morning.
And that's "That's Life".
~On the eve of the big day, the Pundette has almost completed her own Sinatra Hot 100 and is rocketing into the Top Three with "Fly Me To The Moon". Bob Belvedere, meanwhile, has the alternative de-backing-singered arrangement of "That's Life" at big hit sound Number 25. And the Evil Blogger Lady remembers one of Frank's best movie roles (and best theme songs) The Man With The Golden Arm.
~The first episode of Steyn's new audio series The Song Is You, with the stories behind Sinatra recordings such as "Stardust", "Sweet Lorraine", "Lonely Town" and "How Little We Know", can be heard here. And don't forget Part Two of Mark's conversation with longtime Sinatra conductor Vincent Falcone, discussing "The Gal That Got Away", "Guess I'll Hang My Tears Out To Dry" and many other songs. There's also Steyn's audio special with Celeste Holm on the Sinatra screen hit High Society. Mark's original 1998 obituary of Frank, "The Voice", can be found in the anthology Mark Steyn From Head To Toe, while you can read more on Sinatra in Mark Steyn's American Songbook. Personally autographed copies of both books are exclusively available from the SteynOnline bookstore.
SINATRA CENTURY
at SteynOnline
6) THE ONE I LOVE (BELONGS TO SOMEBODY ELSE)
8) STARDUST
10) WHAT IS THIS THING CALLED LOVE?
11) CHICAGO
12) THE CONTINENTAL
13) ALL OF ME
15) NIGHT AND DAY
16) I WON'T DANCE
17) I'VE GOT YOU UNDER MY SKIN
19) EAST OF THE SUN (AND WEST OF THE MOON)
21) A FOGGY DAY (IN LONDON TOWN)
24) OUR LOVE
27) FOOLS RUSH IN
32) I'LL BE AROUND
36) GUESS I'LL HANG MY TEARS OUT TO DRY
37) NANCY (WITH THE LAUGHING FACE)
38) SOMETHIN' STUPID
40) I GET ALONG WITHOUT YOU VERY WELL (EXCEPT SOMETIMES)
41) SOLILOQUY
42) THE COFFEE SONG
44) HOW ABOUT YOU?
46) LUCK BE A LADY
48) (AH, THE APPLE TREES) WHEN THE WORLD WAS YOUNG
49) I HAVE DREAMED
51) I'VE GOT THE WORLD ON A STRING
52) YOUNG AT HEART
54) BAUBLES, BANGLES AND BEADS
55) IN THE WEE SMALL HOURS OF THE MORNING
57) THE TENDER TRAP
59) WITCHCRAFT
60) EBB TIDE
61) COME FLY WITH ME
62) ANGEL EYES
63) JUST IN TIME
65) NICE 'N' EASY
66) OL' MACDONALD
68) AUTUMN LEAVES
78) MOON LOVE
79) ME AND MY SHADOW
81) QUIET NIGHTS OF QUIET STARS
84) MY WAY
86) SOMETHING
87) THEME FROM NEW YORK, NEW YORK
88) BANG BANG (MY BABY SHOT ME DOWN)
89) GOODY GOODY
92) PICK YOURSELF UP
93) TIME AFTER TIME
95) MACK THE KNIFE
96) BODY AND SOUL