The first words we hear in Warlock, director Edward Dmytryk's 1959 Technicolor western, are "Get off the streets, they're coming." Near the end of the first scene of the film, after a gang of cowboys runs the town's sheriff off and kill the barber, another character says that he's "gotta get out of this town."
I suppose that's what you get when the name of your town is Warlock. It must have seemed like a bad omen to someone.
That first scene is basically High Noon – if Gary Cooper had lost his nerve at the last minute. This is the fourth time in a month that the gang of cowboys led by Abe McQuown (Tom Drake) have terrorized the town, and the citizens convene another meeting of their committee to argue about what to do. (As long as, presumably, they don't actually have to do something.)
The problem is that Warlock is unincorporated – "not legally a town" as one citizen says – and that the nearest sheriff is fifty miles away, at least a day late if there's trouble. What they can do is hire a marshal – technically a mercenary, a vigilante operating on their authority but outside the law.
"You're using anarchy and murder to stop anarchy and murder," protests the grizzled old town "Judge." (Himself not an actual judge because, well, nothing in Warlock seems to work the way you'd expect. Seriously, they should have come up with another name.)
The owner of Warlock's dry goods store – always the most capable and well-connected man in any western movie town – says that they need to hire Clay Blaisdell (Henry Fonda), aka "Blaze", a gunman famous for this gold-handled Colts, whose reputation has spread all over the western territories thanks to a Ned Buntline-like writer who immortalized him for the pulp press.
We see Blaze on horseback riding alongside Morgan (Anthony Quinn, reunited with Fonda again after The Ox-Bow Incident), his best friend and wingman. Behind them is a wagon pulling a pile of stuff under a tarpaulin, which includes a big sign for the French Palace. Morgan is to Blaze what Doc Holliday was to Wyatt Earp, with an entrepreneurial edge.
The owner of Warlock's saloon sold up after the cowboys shot up the town and Morgan bought him out, changing the Glass Slipper into the French Palace and taking over the local franchise for booze, gambling and women. Morgan, despite being disabled by a club foot, is as prodigious a gunman as his friend, and a decent businessman besides.
When Blaze comes to a town to clean up its outlaw problem, Morgan sets up shop to make money off everything that's just barely legal. They've been doing this for quite a while now and seem happy to make Warlock just another stop along the road paved by Manifest Destiny, and the only thing that might stop them is the Pacific Ocean.
When the two men reach a rise in the road overlooking Warlock, Morgan says that it looks like a "played-out town." It's obvious that this isn't just another widescreen oater, but the days for that kind of thing were over by the time Dmytryk made Warlock, and they were about to change an awful lot more in the next few years.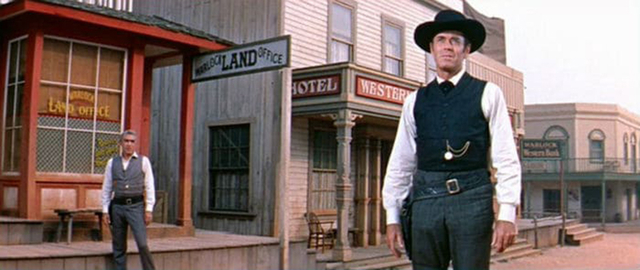 By the end of the '50s the western was a hit genre on television, which changed the way Hollywood made westerns for cinemas. The old B-picture western oaters were showing up on TV, filling up afternoon and weekend airtime slots, so Hollywood responded with pictures that looked an awful lot like Warlock – widescreen Technicolor productions less than 90 minutes long, with stars like Randolph Scott, Audie Murphy, Sterling Hayden and the like.
They quickly found their way on to supporting slot features in cities, though they remained top of the bill in rural areas. In The Western From Silents to the Seventies, George Fenn and William Everson write that these "new look" or "borderline" westerns effectively killed what was left of low budget, black and white B-movie western production, "but since the costs of color and name casts meant not inexpensive budgets, they were basically not much more profitable than the 'B's' they were replacing."
This brief moment made Budd Boetticher's "Ranown Cycle" of Randolph Scott westerns possible. (I've reviewed The Tall T and Ride Lonesome here.) At just over two hours, and with a big name like Fonda's in the cast, Warlock straddled the divide between "A" features and the new "B" westerns, but it won't come as a surprise to learn that it lost money at the box office. It was hard to get audiences to pay for westerns in the cinema when they could watch them for free at home.
When Blaze and Morgan introduce themselves to the town they set out their conditions, which include a whopping $400 a month for their new marshal – money well spent when the cowboys ride into town and end up leaving after a bloodless confrontation with the new lawman, whose cool demeanor and reputation as a killer intimidates even the young hotheads.
But his services come with a warning. "People generally begin to resent me," Blaze tells the townsfolk; admiration and gratitude gives way to fear and hatred. He's seen it in every town, and he doesn't expect Warlock to be any different. In any case he begins a romance with Jessie (Dolores Michaels, whose first credited movie role was two years earlier as Mildred in The Wayward Bus, winning the part when Joanne Woodward left the picture). She's the town's beloved near-spinster, the "Miner's Angel" who tended to their sick after a typhoid outbreak, though she tells Blaze that "I hate being an angel."
After Blaze drives off the gang, one of them hangs back and decides to stay in Warlock. Johnny (Richard Widmark) is sick of McKeown's bullying, murderous working methods, and he's willing to leave his younger brother Billy (Frank Gorshin) to run with the cowboys while he tries to go straight. In due course he offers to take the vacant job of deputy sheriff, which will inevitably put him in the way of both McQuown and Blaze.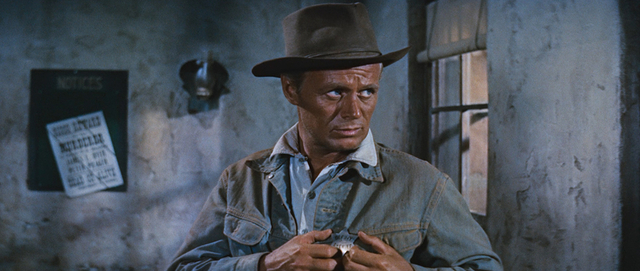 Widmark and Fonda's characters are twinned in the picture – men with violent pasts who decided over the course of the story to go straight and take part in what passes for civilization in the western territories. Widmark's Johnny even gets twinned with Lily Dollar (Dorothy Malone) when she arrives in town.
Lily used to run with Blaze and Morgan until Blaze was forced to gun down one of her beaus – a confrontation that we learn was engineered covertly by Morgan, who carries a torch for Lily. She arrives in Warlock after her stagecoach has been robbed and the man she was traveling with – the brother of her dead beau – was taken down with one deadly sniper shot by Morgan, who was hiding in the nearby hills when Billy and another one of the cowboys were playing highwaymen.
She's in town to get her revenge, and for a while we can't help but wonder if Lily – the "bad girl", as she dresses in the latest fashions from San Francisco, sports a beauty mark on her chin and is played by Dorothy Malone – is manipulating Johnny to be her proxy weapon against Blaze.
But then Johnny tells her about the time McQuown and his men set an ambush for several dozen Mexicans who had followed the cowboys north after they rustled their cattle. The cowboys dressed up like Apache and mowed every one of them down before they could fire a shot – a slaughter so awful and unfair that it haunted Johnny until he had an opportunity to leave the gang. The two characters create a bond in their shared histories of violence, guilt and regret.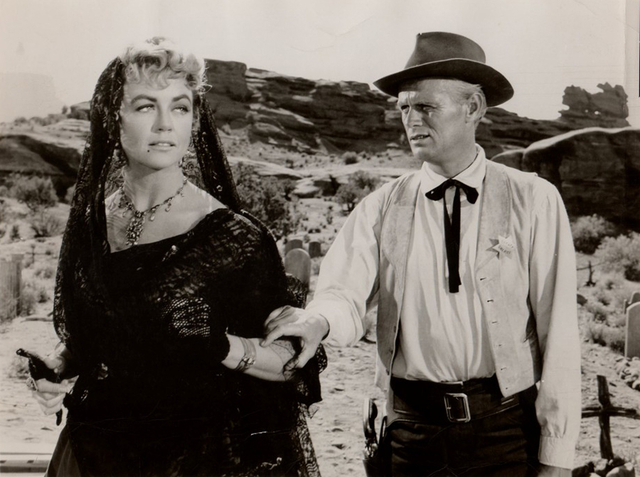 There's less riding and shooting and more time spent on these shifting relationships in the story, which was based on a bestselling 1958 novel by Oakley Hall. The book was a Pulitzer Prize finalist and an early revisionist western, cribbing from the legend of Wyatt Earp and Tombstone to create a story praised for its moral ambiguity; Thomas Pynchon was apparently a fan.
Subplots involving a miner's strike, Blaze's murder trial and an army general, a veteran of the Apache Wars going violently senile, were dropped to streamline the quintet of characters at the centre of the story, but the movie retained Hall's meditation on law and morality on the far edge of the frontier.
Even the gunfights are messy and lopsided, starting with the one where Blaze kills Johnny's brother, which inspires McQuown and his men to form their own committee and appoint themselves "regulators" – a notionally legal posse who can go after Blaze, but end up facing Johnny, whose gun hand was wounded when McQuown shoved a knife through it.
None of the allegiances line up the way they would in a simpler, earlier western (that wasn't directed by, say, John Ford.) Johnny understands why he can't seek vengeance on Blaze, and DeForest Kelley plays Curley, one of the cowboy gang who rebels against the increasing sadism and dishonourable behaviour of his boss.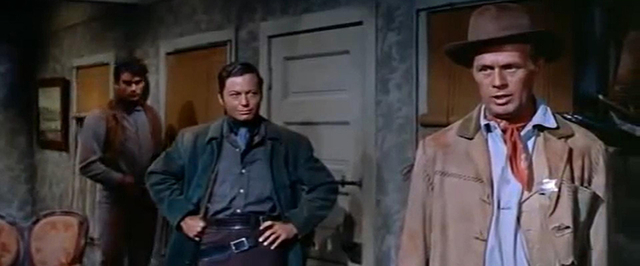 Somehow Johnny manages to survive, mostly because nearly everyone except Blaze and Morgan is a pretty lousy shot. This leaves him to a final showdown with Blaze.
Something had happened to Henry Fonda over the course of his career, since he arrived onscreen in 1935 in Victor Fleming's The Farmer Takes a Wife. Even his biggest fans admit that, for the first couple of decades of his career, Fonda excelled at characters best described as "dull but worthy."
Only Gary Cooper, among his peers at the top of the marquee, had an onscreen persona more consistently inert. Even his friend and onetime roommate, Jimmy Stewart, was given to mercurial flashes and occasionally unpredictable behaviour. If you're charitable, you could say that Fonda's persona until the '50s was based on the trope that "still waters run deep."
He didn't appear onscreen for the first half of the decade, returning to Broadway and roles in Mister Roberts and The Caine Mutiny Court-Martial. There had been glimpses of something more volatile in Fonda in pictures like Daisy Kenyon – glimpses that we know now were only a shadow of his own troubled private life.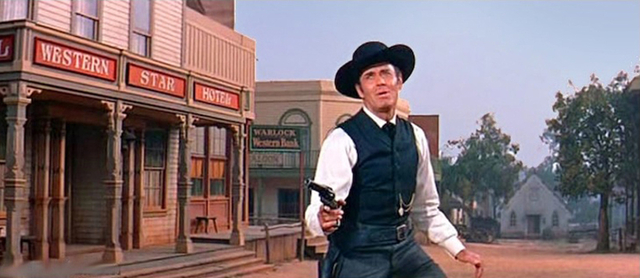 He had produced and starred in the Broadway run of Two for the Seesaw while making Warlock. Perhaps it was returning to the stage and having to learn to play larger emotions again, but a different Fonda began to emerge in films like The Wrong Man (1956) and 12 Angry Men (1957). He might be playing worthy men, but they were no longer dull, and with Blaze we get the first glimpses of a colder, amoral man – the first solid step on Fonda's way to playing the utterly evil Frank in Once Upon a Time in the West (1968), with pit stops at The Best Man and Fail Safe (both 1964) along the way.
Quinn as Morgan gets to reveal the most about his character over the course of the movie, going from Blaze's loyal friend to slowly reveal a fast-souring, perhaps a little perverse combination of hero worship and resentment that becomes suicidal by the climax. Disappointed when Blaze tells him that he's done with their business deal, he forces the gunman to kill him, knowing that doing so will be just as destructive to Blaze.
This is when Fonda gives us a glimpse of the madness we never saw in those early films. He'd already bullied and humiliated the "Judge," and now he forces the men of the town to sing "Rock of Ages" while Morgan's body is placed in state on a faro table. Then he burns the saloon down, turning it into a funeral pyre for his friend. It's a wild, operatic ending, and one that you wouldn't have predicted when the credits rolled over Utah's desert scrub landscape at the beginning.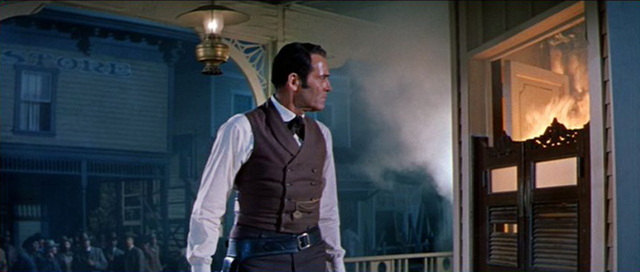 Fonda would occasionally lapse back into dullness, as anyone who's had to sit through The Battle of the Bulge or Midway can attest. But when he rose to a role, like Frank in Once Upon a Time in the West, he brought something a more volatile actor couldn't imagine. When he arrived at Cinecittá to start filming with Sergio Leone in March 1968, he had seen the Dollars trilogy and met his director wearing a bushy moustache, heavy eyebrows and dark contacts.
Leone was appalled – he had ordered Henry Fonda, clear blue eyes and all, and that was who he wanted to play Frank. Clearly Leone had watched Warlock.
In his maddeningly rambling biography The Man Who Saw a Ghost: The Life and Work of Henry Fonda, Devin McKinney writes that Leone "restores to Fonda the physical magnificence he has lacked since the great Ford films; we've lost sight of how ordinary this beautiful man has been made to look by a legion of prosaic camera hacks. Liberated and challenged by Leone's wide screen, Henry dominates it with the virility of an aging conqueror."
Leone, like Ford, had seen what Fonda was capable of doing, and so had Edward Dmytryk, years earlier, in a film almost no one remembers.
Mark Steyn Club members can let Rick know what they think by logging in and sharing in the comments below, as access to the comments section is one of many benefits that comes along with membership in the Mark Steyn Club.