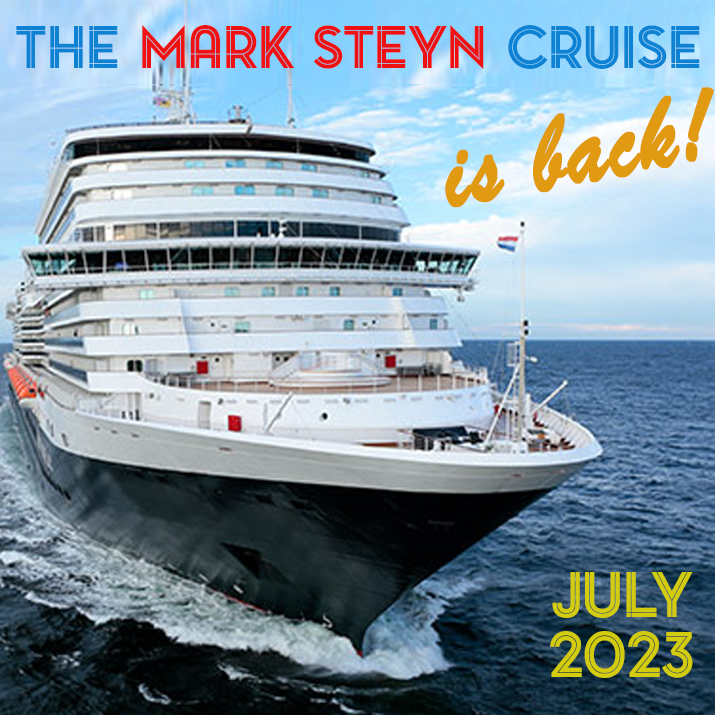 Steyny is back on the briny! Steyn Show favourites from around the world will be joining Mark for the 2023 Mark Steyn Cruise - among them Eva Vlaardingerbroek, James ("Snerdley") Golden, Leilani Dowding, Michele Bachmann, Alexandra Marshall, John O'Sullivan, Dominique Samuels, Andrew Lawton and Tal Bachman - and with no vax/test requirements whatsoever. You can find more details here.
~Tuesday's Mark Steyn Show begins with Mark talking the remorseless arithmetic of mass immigration, after which our stats man Jamie Jenkins digs deeper into the numbers.
Next, as a follow-up to his recent Clubland Q&A, Mark answers more questions from Steyn Club members on topics of the moment. And, for those of you who've been singing along with Debbie Reynolds, the monkey and the chimp for the last year, he rounds things out by going the full Jabba Jabba (complete with encore).
Click above to view the full hour.
~Among the benefits of Mark Steyn Club membership is that you can enjoy The Mark Steyn Show in any medium you desire: video, audio or text. So, if you find Steyn and his guests more convivial in non-visual form, please log-in to our Audio and Transcript versions. To listen to the above show, simply click here.
~Eva, Leilani and Alexandra return for the midweek edition of The Mark Steyn Show, tomorrow Wednesday at 8pm GMT/3pm North American Eastern. Just ahead of that, Mark will be back on air with one of his favourite interviewers, Megyn Kelly. That's at 12 noon Eastern/9am Pacific.
~The first edition of The Jacob Rees-Mogadon Show briefly arrested GB News's remorseless ratings decline. We note, however, that Monday's primetime audience - 62,700 - was not only a very distant third to Sky and Beeb, but approximately half the viewership of this modest two-minute promotional clip with Mark and Leilani:
~Thank you again for all your comments on our Monday show with Christine Anderson from the European Parliament. Wayne Cunnington, a recent addition to the English ranks of The Mark Steyn Club, writes:
Wow, what a show Mark. You could not have covered half of the content featured tonight with yourself and Christine Anderson MEP on mainstream tv and that is an awful shame... Thankfully Mark, you are getting the anti-narrative out there so we can at least stand a chance..
Thank you, Wayne. David Ross, a First Hour Founding Member from Florida, agrees:
I've never heard of this lady prior to today, but I like her a lot. She's a damn sight better than our current somnolent U.S. president, and I'd be willing to make a trade in two seconds!
Better than Biden? That's damning with fairly faint praise, David. Chris Davies, a member of The Mark Steyn Club from London, says:
That was some interview Mark. Thank you for having the balls to eschew those who would criticise you regardless of who your guests were and keeping me enthralled by free thinkers who do not follow the approved narrative.

Christine Anderson is a straight shooter. She talks common sense and does not sugarcoat...

I fear we have already entered the post-democratic world and the collective failure of Western populations to push back against the erosion of their freedoms is tacitly facilitating a tsunami of totalitarianism that will be more than difficult to resist.
Very true, Chris. From Robert Fox, a First Week Founding Member from Iowa:
I can't believe this went almost an hour. When I heard Mark say 'Stay safe, stay free', I thought, it can't be over already! It seemed like it was only thirty minutes! That interview with Christine Anderson ("ROCK STAR"!) went by so fast. What an interview! I'm surprised CNN or CBS hasn't done a little 'news' snippet on Frau Anderson using grainy, 85 year old film clips of German soldiers goose stepping through Berlin during a Nazi parade, a la what they did to Italian PM Meloni with the Mussolini footage...

So, Pierre Pussyev or whatever her name is, thought it was easier to audition to be Justin's lap poodle than it was to stand on the shoulders of Frau Anderson and double down on the pampered puke. Politics was a lot more fun when there were opposing sides.
That last line is very well put, Robert. Mark's fellow Ontarian Mike Lyons chips in:
It's so hard to keep fully up with the world as it rapidly spirals out of control these days. Driving around doing errands recently, I heard some horrific story about Conservative MPs having dinner with some person who espouses unacceptable views, followed by the smug denunciation by Trudeau, halfway through of which I had to change the station as I simply cannot listen to him anymore without my heart rate rising to dangerous levels.

But I didn't recognize the name and moved on, suspecting it was a typical drive-by attack from the media. Then it all became clear yesterday as Mark interviewed Christine and I recognized her clip attacking Trudeau's totalitarian actions (justifiably), and a very reasoned discussion ensued, the likes of which we now almost never see on television.

Kudos to Mark.
And finally from Jamie Marsh, a First Weekend Founding Member from Mark's beloved Granite State of New Hampshire:
Very interesting show. I had heard of AfD but never of Ms. Anderson. To see what a crucial role big tech plays in shutting down discourse and censoring opposition to the leftist party line, just google Chistine Anderson, as I've just done. Every link that comes up is in one way or another an attempt to cancel her. All the recent news stories are of Canadian politicians such as Mr Pussievre condemning her hateful rhetoric and far right views, without ever actually providing details on what exactly she said that was so bad. It's all an attempt to cancel her message via ad hominem attacks.
That's why Mark does the show, Jamie - to broaden the public discourse before we're all doomed.
~If you've missed a Mark Steyn Show in recent weeks or recent years, you can find all our shows from the last year and many highlights from the archives in a handy Netflix-style tile format here.
If you're a member of The Mark Steyn Club, feel free to have at it in the comments. If you're wondering what that Steyn Club's all about, well, you can find more details here - and we also have a great gift membership.