Greetings from the 2023 Mark Steyn Cruise, which is back on the Adriatic after a lovely day in Montenegro, one of my favourite countries in these wretched times. At right, you can see three of our Steyn Show all-stars enjoying the delights of Dubrovnik on Saturday - from right to left, that's Dominique Samuels, Alexandra Marshall and Leilani Dowding. The fourth lady is my indispensable makeup artiste, Emma Leon, whose skills are being tested to the utmost during my present state of decrepitude and bloodless pallor.
Our live shows are going great. Over the weekend, you could have seen Leilani, Alexandra and everyone's favorite Hilversum milkmaid Eva Vlaardingerbroek on stage together for the very first time: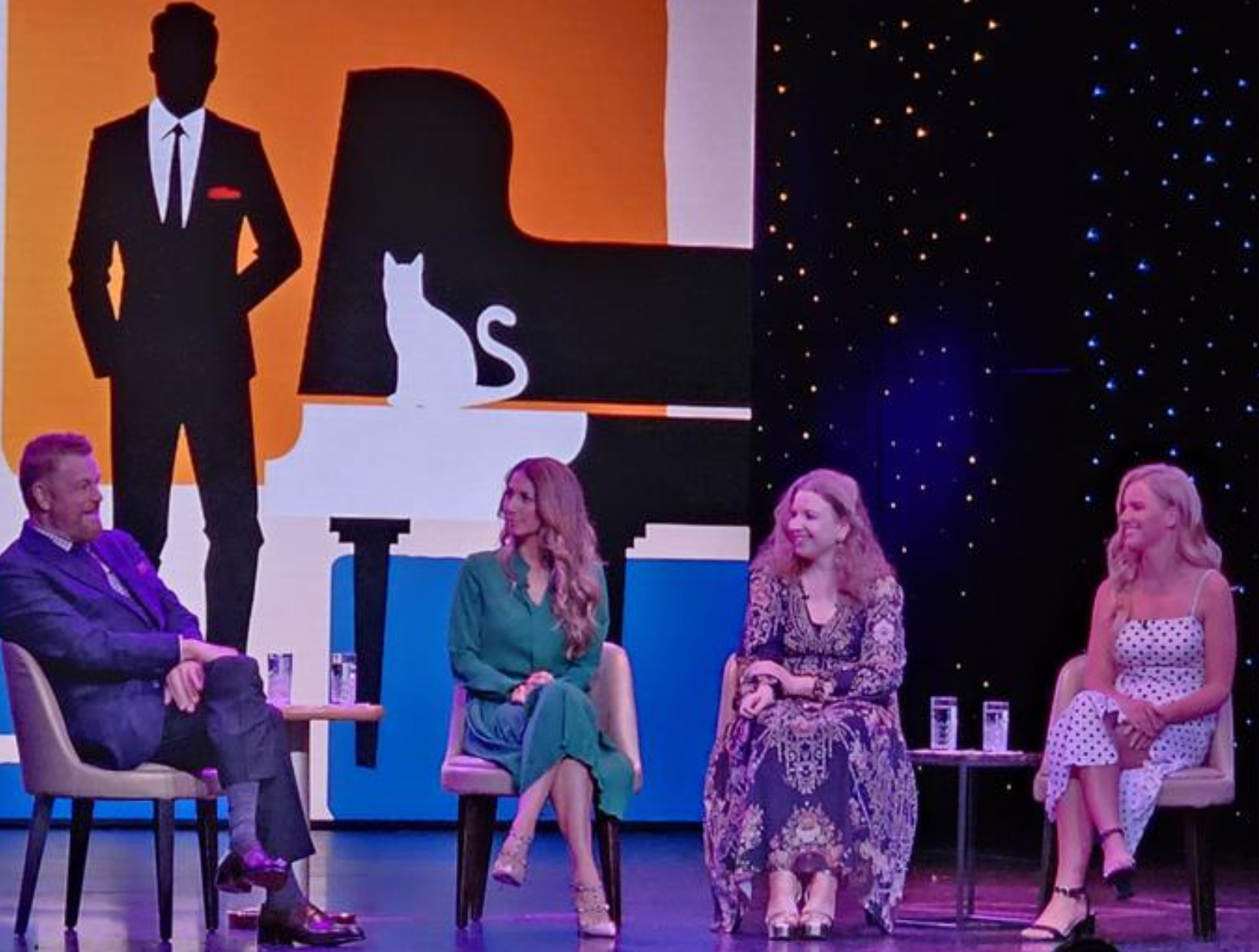 We may do a world tour. If you can't wait for that, don't forget you can catch Alexandra (and a lot of other great shows) Down Under via our friends at ADH TV.
~Meanwhile, back in what passes for the real world, here's the opening of former Cabinet minister Lord Frost's weekend column in the Telegraph:
A vision in a Dream, a Fragment. "We now turn to the BBC's political editor, Richard Bacon. Richard, tell us about today's news of an early 2028 general election, and give us your verdict on the Sunak government."

"Well, Gary, of course ever since Mark Steyn won his case against Ofcom, we have been able to say what we really think on the air..."
It's off to a cracking start, but does it have a happy ending? You'll have to click to find out.
~Speaking of Ofcom, that's the UK state censor headed up by Michael Grade, a onetime light-entertainment impresario now betraying his entire life's work. As you know, I'm suing Grade and his goons in the English High Court over their "rulings" against me for my shows on the Covid vaccines. The nancy boys at GB News (who pose as "disruptors") chose to kowtow to Commissar Grade and are being rewarded for their cravenness with one new Ofcom investigation after another. Last week it was The Lord President of the Privy Council Hour with Jacob Rees-Moggadon:
We received 40 complaints about this programme, presented by Jacob Rees-Mogg MP, which covered a breaking news story about a civil trial verdict involving former US President Donald Trump.
As we sailed from Trieste, Grade and Ofcom decided, entirely predictably, to come back for more:
Ofcom has opened an investigation into GB News following a complaint relating to its recently launched 'Don't Kill Cash' campaign.

Rule 5.4 of the Ofcom Broadcasting Code requires all broadcasters to ensure that their programmes – whatever their genre – exclude all expressions of the views and opinions of the person providing the service on matters of political and industrial controversy or current public policy.
Does that include global-warming scaremongering and vaccine propagandizing? Maybe we'll ask that of Britain's Chief Censor when he's in the witness box.
For GB News, having curled up in a foetal cringe to Ofcom, there will be no end to this - even when, as in the case of Mogg, Farage and the rest, the station has largely ceased talking about anything that matters. To reiterate what I said last week:
In the seven decades of UK government media regulation since the creation of the ITA, there has never been this degree of editorial micro-management. Ofcom is (and has been since the dawn of the Covid) exceeding its statutory authority - which is a polite way of saying that its pseudo-jurisprudence is unlawful. Someone has to push back on that, because what exists at the moment in UK TV and radio has degenerated into a mere simulacrum of a 'free press'.

So it falls to a dilettante Canadian to be the first UK presenter in a decade-and-a-half to reject Ofcom's pseudo-jurisprudence and get it into a real court... It will be interesting to see whether English courts are still prepared to defend English liberties - and to restrain Grade and his censors from their abuse of their powers. Ofcom's reach is about to be extended to the Internet, so they'll be coming for all your favourite websites next.
~Many readers, listeners and viewers have inquired about how to support this important free-speech lawsuit in the High Court. Well, there are many ways to lend a hand, including:
a) signing up a friend for a Steyn Club Gift Membership;

b) buying a chum a SteynOnline gift certificate; or

c) ordering a copy of my new book The Prisoner of Windsor. You won't regret it.
With the first two methods, one hundred per cent of the proceeds and, in the last, a significant chunk thereof go to a grand cause - and you or your loved one gets something, too.
~Speaking of The Prisoner of Windsor, I'm delighted to see it piling up more five-star reviews around the world. This is from over the weekend at Amazon:
Great Read

Chuckled and shivered through this book. Mark's humour mixed with cultural insanities! Mark really helps you keep sane through it all. Superb!
Chuckling and shivering: can't beat that. For those with a desire to do likewise:
*If you absolutely can't live without your full-price hardback being personally inscribed, that we can do.

*However, if you disdain my John Hancock, Amazon is selling the book at a discount - and the shipping will be rather less, too. Likewise, if you order from Amazon Canada. (An alternative option north of the border: for a hardback direct from the University of Toronto Press, click here.)

*For digital versions of the book, please scroll down the page.
~Notwithstanding my one-step-forward-three-steps-back health, we had a busy weekend at SteynOnline, starting with fan-favourite guest-host Laura Rosen Cohen back at the helm of our Clubland Q&A. Rick McGinnis's Saturday movie date went with a film I love almost as much as Rick does, American Graffiti, and my Song of the Week offered a monster hit from our Steyn Cruise embarkation nation.
If you were too busy spending the weekend doing coke at the Whire House, we hope you'll want to check out one or three of the foregoing as a new week begins.
~Bonus pic from the Cruise. Leilani in Montenegro, gloating:
Made it to the top in 23 minutes!! pic.twitter.com/EElqQYuNAQ

— leilani dowding (@LeilaniDowding) July 9, 2023
~Finally, if you are way beyond print copies of books, The Prisoner of Windsor is also available in digital format.
For Nook, see here.
For Kobo, see here.
For the Kindle edition around the world, please click below: