Greetings from Trieste, as celebrated in one of the most famous quotations of the twentieth century:
From Stettin in the Baltic to Trieste in the Adriatic an iron curtain has descended across the continent.
The only thing that Churchill failed to foresee, as I remarked at the start of the 2023 Mark Steyn Cruise, is that three-quarters of a century later all the nutso strongmen would be on the western side of the Iron Curtain - Macron, Nicola Sturgeon, Mark Rutte, etc - and what remains of normal European countries are all to be found on the eastern side - Slovenia, Croatia, Montenegro... Many Steyn Cruisers had the pleasure of discovering that in recent days, and Eva, John O'Sullivan and Michele Bachmann discussed it on stage during a Mark Steyn Show on globalism vs sovereignty: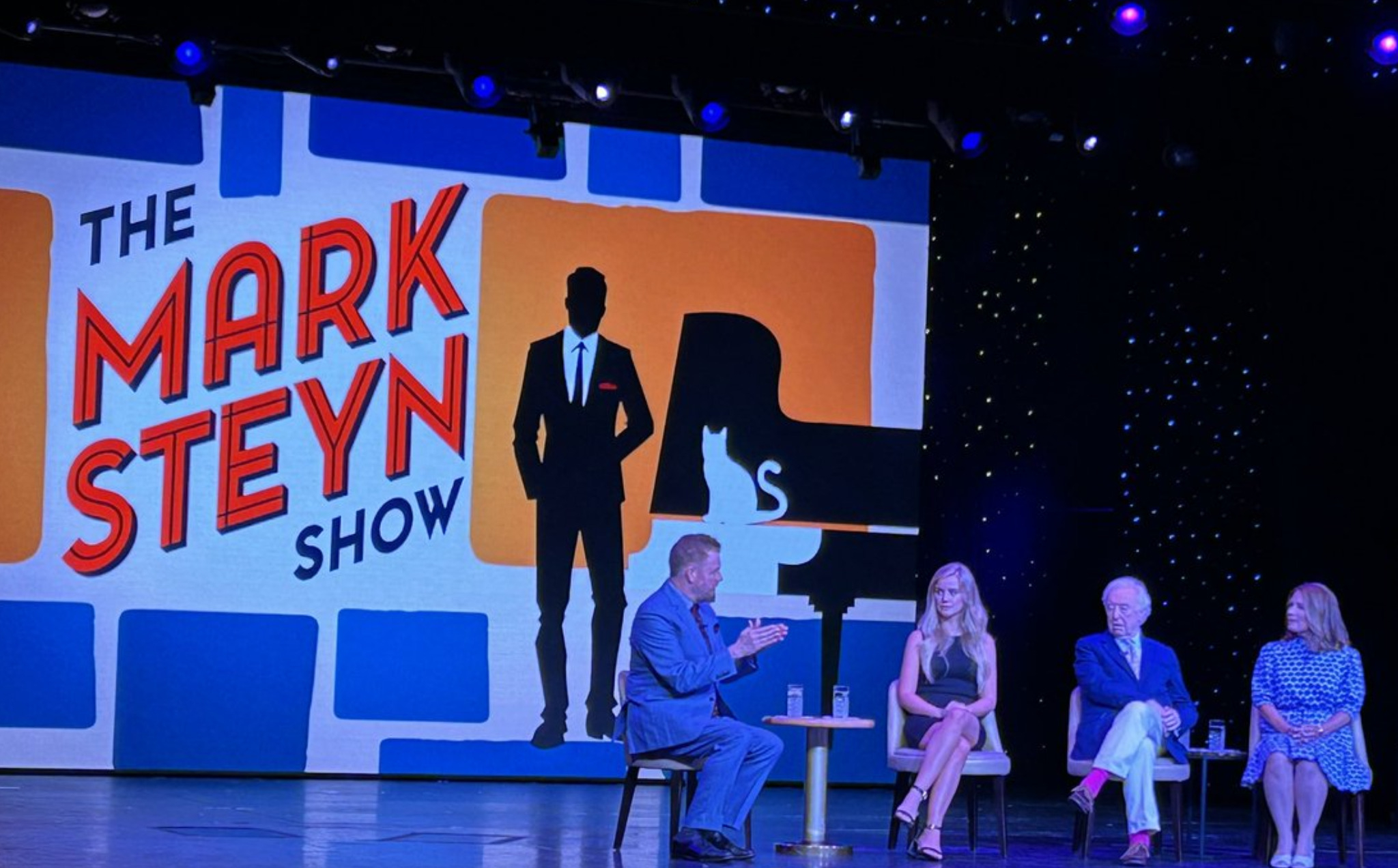 As you know, I haven't been in the best of health this last month, but I willed myself to hold it together and managed to pull it off until the last day of the cruise, when I had a total physical implosion which rendered me hors de combat and clobbered our traditional finale. I apologise for that, but I should also thank our special guests who pitched in to cover my absence. It can't be terribly relaxing when you're on a cruise but also on knife-edge stand-by for a host who could keel over at any moment, so I'm very grateful to Eva, Leilani, Dominique, Alexandra and all our other Steyn Show all-stars for doing more than their share.
I would also like to thank all those Steyn Cruisers who brought rather touching gifts for me. Brandy Edwards put together a lovely photo album of our Alaska cruise, which I have been poring over from my sickbed and marveling at the spectacular Steyn stage agility of only four years ago. Everybody's favorite "Macedonian Content Farmers" gave me a US Constitution on a stick so I can wave it at anyone minded to wave one back.
The shows turned out pretty well. Here are Michele Bachmann, James (Snerdley) Golden and myself discussing the US presidential campaign, including not only who's up two points in Iowa this week but whether any of that matters in an era when the Deep State and Big Tech collaborate to "fortify" the "elections":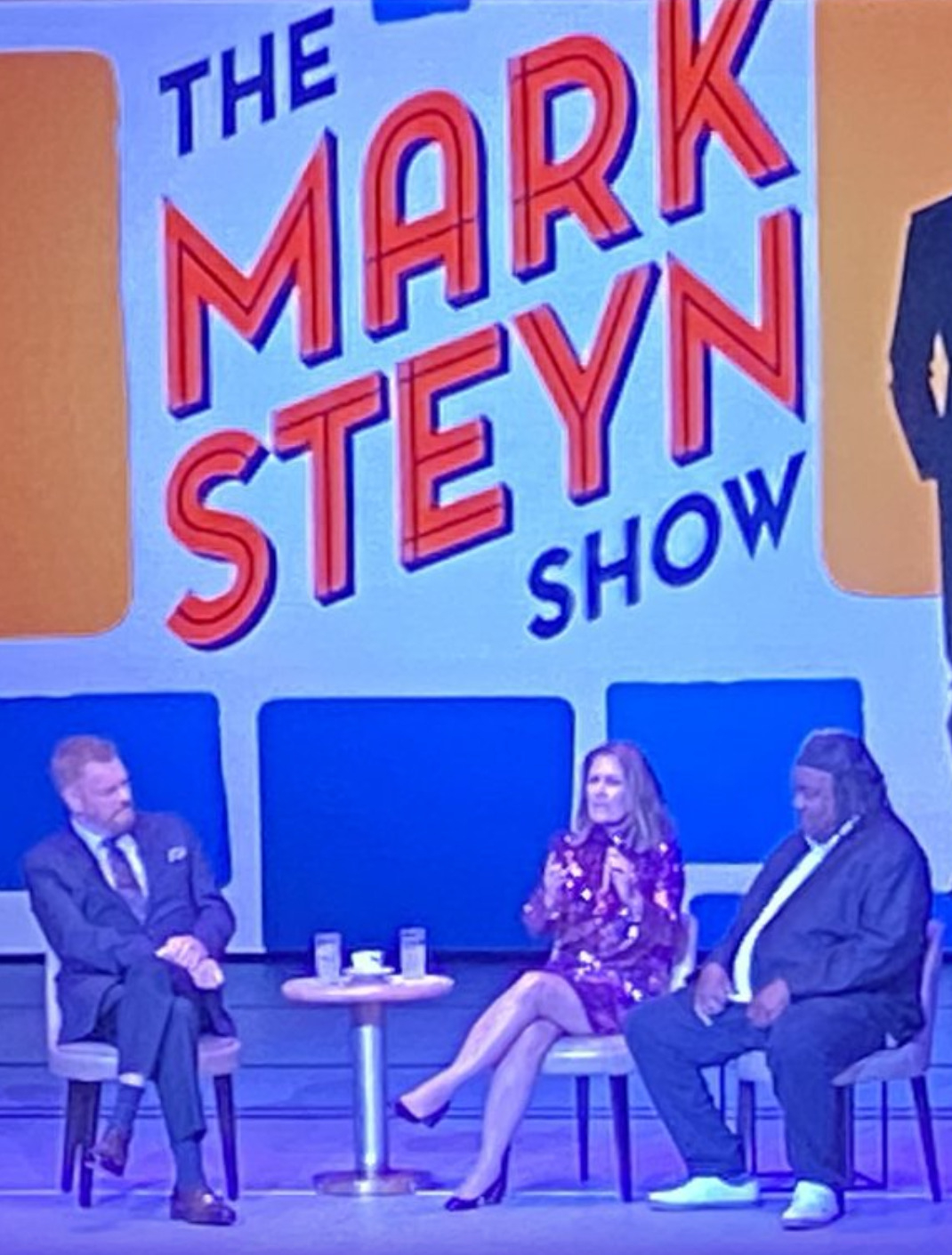 As you can see, I'm showing a little more leg than usual. Having a bit of difficulty dressing, and attention to detail falls by the wayside. So I was wheeled off the ship and straight into bed in Trieste, a delightful port city that has seen so much real history it surely can do without witnessing the expiry of a "niche Canadian". I would recommend it highly for romance or restaurants, although I'm in no fit state for either.
If you missed our Adriatic cruise, well, we discussed substantive issues, and had a grand old time. Here's Professor Norman Fenton catching up with two of his and my favourite people, Leilani Dowding and Dominique Samuels:
I was amazed to hear that we're now one of the biggest group cruises anywhere. That's partly because travel has gotten far more difficult since the Covid, and many big players have gotten out of the game. But it's also because of the unique character of the Steyn Cruise: both our star guests and our cruisers are a special mix from around the planet; the former come from the United States, the Commonwealth and Europe, and the latter include viewers, listeners and readers from four continents, a lot of Americans and Britons, but also Norwegians and Germans, Czechs and Latvians. As Dominique put it:
Thoroughly enjoyed myself on the @MarkSteynOnline cruise and felt honoured to be part of the team. Thank you Mark and your team for all that you do!

I was so struck by the amount of people that love you and have been loyal to you for years and years! Long may it continue.
That's very kind of Miss Samuels, but for my part I was struck by how people were cheered and heartened by Dominique, Eva, Raisa, Alexandra and Leilani. It's one thing to have oldsters like yours truly reminiscing about how the world was before it went bonkers, but it's quite another thing to have people a quarter my age (112) pledging to drive a stake through the nuttiness. Many of our American cruisers wished they could hear more such voices in US media. Well, maybe, one day. In the meantime here's Eva composing her thoughts backstage before one of our shows:
Behind the scenes at the @MarkSteynOnline cruise. pic.twitter.com/FOFfgkzJMM

— Eva Vlaardingerbroek (@EvaVlaar) July 12, 2023
I'll keep you posted on any health improvements, but the Steyn Cruise team are so optimistic they're already planning the next one - different sea, different continent, different hemisphere, different season, but same great combination of guests and good times. I thank all who helped pull it together even with a decrepit and disintegrating host, but I would like especially to single out Emma, my indispensable makeup artiste. You have no idea of the magic she worked.
~I was very sorry to hear of the death on Thursday of my Serenade Radio colleague David Corbett. My show airs at 5.30pm, followed by Johnny Beerling's Big Band Special and then at 7pm David's Light Programme, a celebration of "light music" - light classical music and light orchestral music. As I've remarked from time to time, such music is a sign of a civilised society, and its loss is to be mourned. David Corbett had an idiosyncratic but irresistible presentation style, and his love for the music was palpable and made you love it too. His enthusiasm poured out of the radio. I shall miss his show terribly.
~As I've mentioned, having groveled and kowtowed to the UK state censor Ofcom over my Covid coverage, GB News merely invited the ravenous beast to come back for more:
Ofcom has opened an investigation into GB News following a complaint relating to its recently launched 'Don't Kill Cash' campaign.

Rule 5.4 of the Ofcom Broadcasting Code requires all broadcasters to ensure that their programmes – whatever their genre – exclude all expressions of the views and opinions of the person providing the service on matters of political and industrial controversy or current public policy.
"Rule 5.4" of the Ofcom "Code" is so detached from the current realities of the fragmented gazillion-channel broadcast environment that our American and even Canadian readers could not quite believe it was real. But it is - and it is a tool wielded highly partially by Chief Commissars Michael Grade and Dame Melanie Dawes. So there will be no end to this for GB News.
As you know, I have decided to go a different route and get "Lord" Grade's crappy "rulings" against me before a real court. So I'm suing Grade and his goons in the English High Court - because in the decayed state of British media someone has to take a stand for free speech. We've just received Ofcom's unsatisfying response to our (court-mandated) "Pre-Action Protocol" over their second ruling against me and Naomi Wolf for our show on the Pfizer vaccine documents. So we'll be adding that to our case in the King's Bench Division.
To reiterate what I said a fortnight back:
In the seven decades of UK government media regulation since the creation of the ITA, there has never been this degree of editorial micro-management. Ofcom is (and has been since the dawn of the Covid) exceeding its statutory authority - which is a polite way of saying that its pseudo-jurisprudence is unlawful. Someone has to push back on that, because what exists at the moment in UK TV and radio has degenerated into a mere simulacrum of a 'free press'.

So it falls to a dilettante Canadian to be the first UK presenter in a decade-and-a-half to reject Ofcom's pseudo-jurisprudence and get it into a real court... It will be interesting to see whether English courts are still prepared to defend English liberties - and to restrain Grade and his censors from their abuse of their powers. Ofcom's reach is about to be extended to the Internet, so they'll be coming for all your favourite websites next.
~Many readers, listeners and viewers have inquired about how to support this important free-speech lawsuit in the High Court. Well, there are several ways to lend a hand, including:
a) signing up a friend for a Steyn Club Gift Membership;

b) buying a chum a SteynOnline gift certificate; or

c) ordering a copy of my latest book The Prisoner of Windsor. You won't regret it.
With the first two methods, one hundred per cent of the proceeds and, in the last, a significant chunk thereof go to a grand cause - and you or your loved one gets something, too.
~Speaking of The Prisoner of Windsor, my contemporary inversion of The Prisoner of Zenda set in twenty-first-century London at the dawn of the reign of an unpopular monarch (imagine that):
*If you absolutely can't live without your full-price hardback being personally inscribed, that we can do.

*However, if you disdain my John Hancock, Amazon is selling the book at a discount - and the shipping will be rather less, too. Likewise, if you order from Amazon Canada. (An alternative option north of the border: for a hardback direct from the University of Toronto Press, click here.)

*For digital versions of the book, please scroll down the page.
~Notwithstanding my one-step-forward-three-steps-back health, we had a busy weekend at SteynOnline, starting with fan-favourite guest-host Laura Rosen Cohen back at the helm of our Clubland Q&A. Rick McGinnis's Saturday movie date went with Jean Arthur in The Devil and Miss Jones, and disclosed along the way that Rick used to labor at Simpson's (on Queen Street in Toronto), where my grandmother worked for many decades. Small world. My Sunday Song of the Week offered a belated observance of Bastille Day, and we also found time to mourn the passing of Milan Kundera, author of a novel about Communist Czechoslovakia that grows each day ever more relevant to our own grim world.
If you were too busy spending the weekend licking Finnish moppets at the Nato summit, we hope you'll want to check out one or three of the foregoing as a new week begins.
~Finally, if you are way beyond print copies of books, The Prisoner of Windsor is also available in digital format.
For Nook, see here.
For Kobo, see here.
For the Kindle edition around the world, please click below: