Just a few days ago, it looked as if the Mann vs Steyn case, now in its twelfth year, would not be coming to trial until its thirteenth year. However, for those who can follow this interminable litigation without wanting to stab pencils in their eyes, we have some breaking news from the District of Columbia Superior Court:
Given [co-defendant Rand] Simberg's availability and the intervening federal holiday, the Court will set the jury trial to commence on Tuesday, January 16, 2024.
We shall see. After the fiasco of October 29th, I have no great confidence that this latest scheduled trial will not likewise be cancelled the day before. But, for the moment, it is back on, and we await with interest to hear climate mullah Michael E Mann's rationale for demanding ten million bucks from me (for this long-ago Corner post) and another ten mil from Mr Simberg. To be honest, any damages award will be hard-pressed to exceed the legal expenses to date, but that's standard operating procedure in the dirty stinking rotten corrupt American "justice" system where (all together now) the process is the punishment.
Thank you, as always, to all those who have ordered my limited-edition SteynOnline Liberty Stick - that's me at top right with Stick #1 outside the DC Superior Court on what should have been the first day of trial on October 30th. The Steyn Stick features Magna Carta at one end and the US Constitution at the other, so you can wave it to your heart's content. These Liberty Sticks are individually signed and numbered by yours truly - and are made not (like everything else) by slave labour in China but by all-American types in Minnesota. They're proving rather popular. From Dane, a Missouri member of The Mark Steyn Club:
So proud of my Liberty stick! Ole #5 is going on the wall. Thanks Mark.
From First Week Founding Member Bart Nielsen:
Having just returned home, I am thrilled to be the proud owner of Liberty Stick #142.

Sort of puts me in mind of the Frank Gallop song from the Sixties about Irving, the 142nd fastest gun in the West.

141 were faster than he, but he was out looking for 143...
One more, from Florida Steyn Clubber Mike Jacobs:
I can only hope Mark (and justice) prevails in the Mann case and in the name of 'global warming Mann is required to stick the Liberty Stick where the sun don't shine!
Now now, Mike: no cruel and unusual punishment. Or, if the jury is so minded, once the Liberty Stick is in position, the plaintiff will be made to sing this:
~How bad is it in the wokier-than-thou US military under whoever Thoroughly Modern Milley's wanker successor is? This bad: Remember all those "anti-vax" types the Pentagon kicked out for refusing to get their jabs? Well, recruitment numbers are so low the brass is inviting them back: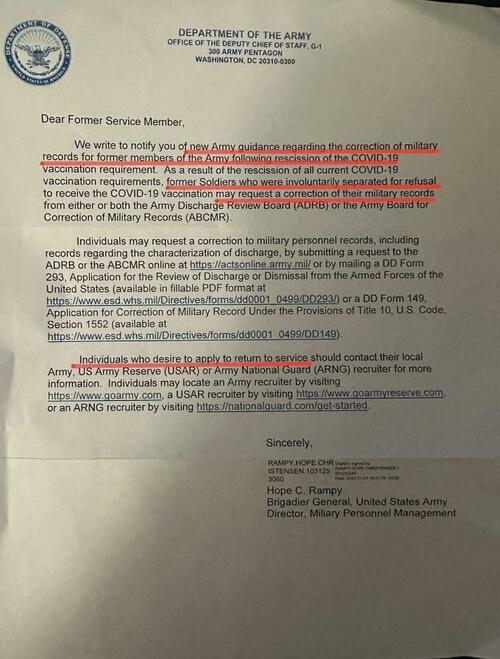 And, as you can see, they'll be able to expunge all that "involuntary discharge" unpleasantness. Given the dearth of new recruits, I would advise any of the vax-sacked to hold out for a way better deal.
~Could be worse. A month and a half after the worst slaughter of Jews since the Holocaust, we are still none the wiser as to how it was able to occur. In Europe, North America and Australia, there are those who are pro-Israel, and those who are pro-"peace", pro-Hamas, or opposed to "settler colonisation", a sly coinage that will soon be applied to America and His Majesty's senior dominions. That's enough to be going on with. But, in today's crazy world, who's to say the truth won't prove even worse? A disturbing headline from The Daily Mail:
Israeli troops 'warned about Hamas attacks: Female soldiers reported suspicious activity on the border with Gaza in weeks leading up to October 7 attack - but were threatened with court martial'
What kind of "suspicious activity"? Well, raise your binoculars to that farm just over the frontier:
Commanders were informed of 'training, anomalies and preparations' near the border and the soldiers told Channel 12 they had seen 'new people visiting farms around the border'.

One said: 'More and more people who had never visited the area suddenly came to it, and farmers who used to come suddenly stopped working on the fields and were replaced.'

The soldiers said this 'rang alarm bells' with them but when they voiced their concerns to commanding officers in the Israeli Defence Force they were brushed aside.

One allegedly said: 'I don't want to hear about this nonsense again. If you bother with these things again, you will stand trial.'
Hmm.
~I'm not sure how what we call the "saying the quiet part out loud" shtick ever became a thing. Because the globalist types busy making plans for us say the quiet part out loud incessantly. I've been arguing ever since the lockdowns got going that our rulers, in the interests of public health or saving the planet or whatever's to hand, are determined to kill freedom of movement. But that's just "disinformation". So here is Andrew Ross Sorkin, a well-connected journalist with The New York Times, moderating a panel at Klaus Schwab's World Economic Forum and explaining to the world that mass travel is a thing of the past. We're returning to an age when the aristocracy get to do the Grand Tour (probably while "raising awareness" of climate change), while you're stuck back in your hovel ...but with a virtual-reality gizmo:
The moderator of a World Economic Forum panel, titled 'Shaping a Shared Future: Making the Metaverse': The wealthy will be able to travel, but the poor will need to use virtual reality headsets to travel to the same place, from their own couch.

"In many ways, it's actually going... pic.twitter.com/uOiB75anto

— Wide Awake Media (@wideawake_media) November 15, 2023
You're probably thinking the virtual reality is for those exotic lands beloved of James Fitzpatrick's MGM travelogues...
...but in fact, in the age of the "fifteen-minute city", the distant lands you'll never get to visit in person will start two suburbs over:
Incidentally, my daughter is just back from the above-mentioned Mombasa (famed as the virtual birthplace of Barack Obama) and reports that these days the locals are more interested in Mr Bean: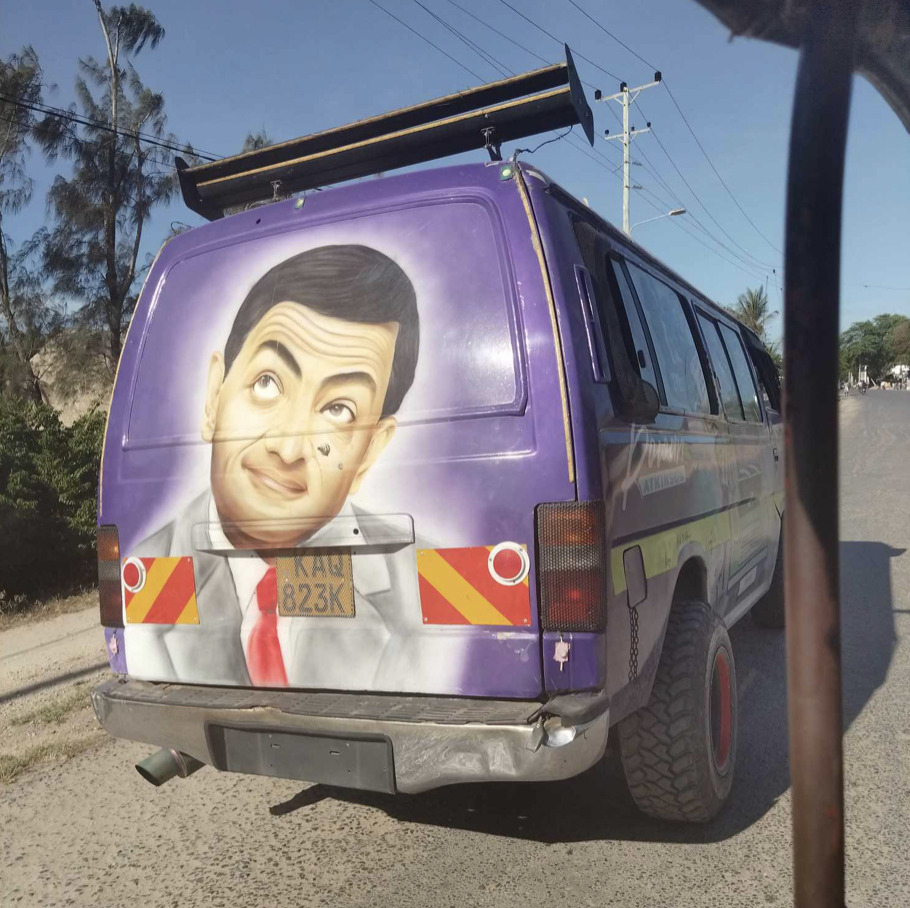 Move to Kenya while you can.
~To while away the longeurs in this twelfth year of Mann vs Steyn, a few weeks back I filed my second Statement of Claim against the UK media censor Ofcom in the English High Court. Many readers, listeners and viewers have inquired about how to support my landmark lawsuit against Commissars Michael Grade and Melanie Dawes over their throttling of honest discussion of the Covid and the vaccines. Well, there are several ways to lend a hand, including:
a) signing up a friend for a Steyn Club Gift Membership;

b) buying a chum a SteynOnline gift certificate;

c) ordering a copy of my latest book The Prisoner of Windsor (you won't regret it); or

d) snapping up one of the aforementioned Liberty Sticks.
With the first two methods, one hundred per cent of the proceeds goes to a grand cause - and, in the last, a significant chunk thereof save for the shipping costs. And, in all cases, you or your loved one gets something, too.
~Notwithstanding Mark's one-step-forward-three-steps-back health, we had a busy weekend at SteynOnline, starting with Mark revisiting the disgraceful Julian Assange case. On Saturday Rick McGinnis returned to the movie beat with a Guadalcanal Diary. And on Sunday we rounded out the weekend with a postscript to Remembrance Day.
If you've yet to hear our most recent Tale for Our Time - Mark's variation on a theme of H G Wells - its central strand (the demographic transformation of the western world) is more timely than ever after the last months on the streets of London, Paris, Stockholm, Sydney, Toronto, New York, etc. You can start with Part One here.
If you were too busy spending the weekend wondering why your hospital supplies cupboard doesn't have as many Kalashnikovs as Gaza's, we hope you'll want to check out one or three of the foregoing as a new week begins.