COUNTDOWN TO ELECTION DAY
THE OLD MAN COMES DOWN FROM THE MOUNTAINS!
12 noon Friday October 26th 2012, The Capital Club, 11 South Main Street, Concord, New Hampshire
Election Day 2010 was a grand day for the New Hampshire Republican Party. At the Congressional level, all three statewide races went GOP. At the state level, Republicans won three-quarters of the House seats - 298 out of 400 - and four-fifths of the Senate seats - 19 out of 24 - and one hundred per cent of the Executive Council. The only remaining trophies are the Governor's office and the presidential vote. We'd like to return the Granite State to the GOP column on November 6th, and put Ovide Lamontagne in the gubernatorial seat.
So later this month Mark will be leaving his cave in the hills and heading down to New Hampshire's capital for a special appearance with Ovide. It should be a fun event in the grand spirit of Granite State politics - and how often does an undocumented immigrant get to hobnob with the next Governor?
More details here - or email [email protected] The suggested donation is $100.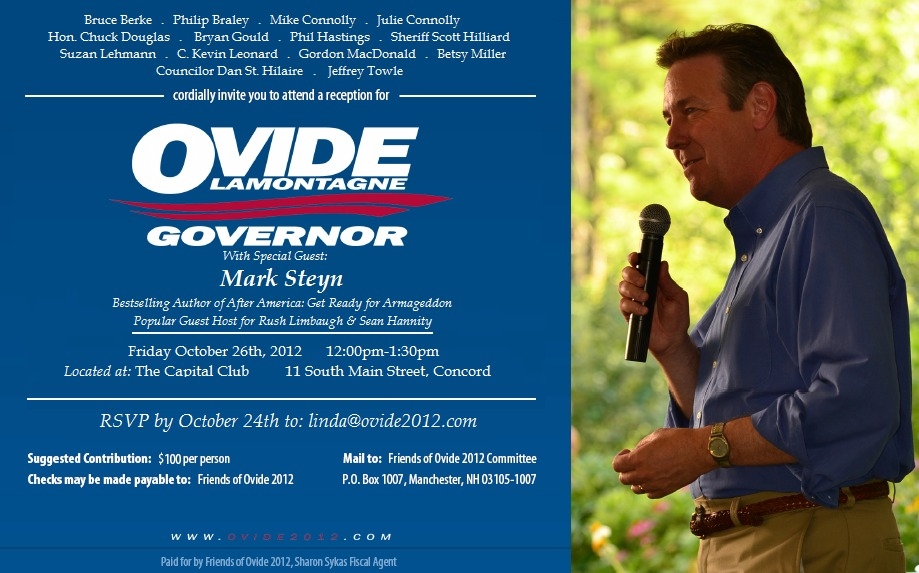 STEYN IN AMERICA! At one point, I just lost it. I was laughing so hard, I couldn't breathe - Catherine Sims, Hillsdale College
STEYN IN AUSTRALIA! Best speech ever - Andrew Bond, Melbourne
STEYN IN CANADA! The best night of my entire life - M Craig Williams, Toronto
TREAT YOURSELF TO A STEYNAMITE NIGHT: The usual blend of comedy and terror - John J Miller, National Review
~ For enquiries about booking Mark for a speaking engagement, click here and scroll down.