"Hell is other people," said Sartre, presumably with 20-year-old Robert Gladwin in mind:
A baptist church was at the centre of a police probe after a sign which suggested non-Christians would 'burn in hell' was investigated as a 'hate incident'.

The offending sign at Attleborough Baptist Church in Norfolk, pictured burning flames below words which read: 'If you think there is no God you better be right!!'.
This was alongside a notice assuring visitors to the church that they "can always be sure of a very warm welcome". Which suggests they're not blind to the playful and lighthearted side of eternal damnation. But that was before Master Gladwin passed their way:
Robert Gladwin, 20, said: 'It is my basic understanding that Christianity is inclusive and loving in nature.

'The message being displayed outside of the church could not be further from the often uttered phrase 'love thy neighbour'.'

Mr Gladwin said he was 'astounded' when he spotted the poster by chance as he was walking home.

He said: 'I was just astounded really. We live in the 21st century and they have put that message - that non-Christians will burn in hell - up to try and scare people into joining their mentality.'
So, following the police investigation, Pastor John Rose has taken down the hate crime and replaced it with a poster saying "God loves you" above a picture of a meerkat with the speech bubble "Simples".
As to the "often uttered phrase" that Master Gladwin has often heard uttered, if you "love thy neighbor", you would surely not want him to roast in hell for all eternity and so would encourage him to seek salvation, no?
On the other hand, if you "love thy neighbor", then you wouldn't turn him into the coppers and get him put in the registered hate offenders' database just for putting up a poster you don't like, would you?
But then I'm not a police-certified theologian like Robert Gladwin...
~Incidentally, if you're worrying about the implications for freedom of speech and freedom of religion in Britain, lighten up. If you put up an outrageous hateful poster like the Attleborough Baptist Church did, the police will take action immediately. But, if you want to march through the streets with posters declaring "EXTERMINATE THOSE WHO SLANDER ISLAM" and "BEHEAD THOSE WHO INSULT ISLAM", then Her Majesty's Constabulary will be happy to provide a police escort for you: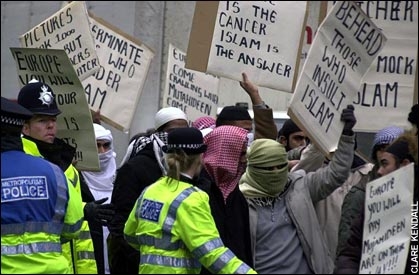 ~Still, in a world eager to take offense, what can a Christian church espouse without attracting a hate-speech investigation. Step forward, The National Catholic Reporter:
Climate Change is Church's No. 1 Pro-Life Issue
They mean it, too:
If there is a certain wisdom in the pro-life assertion that other rights become meaningless if the right to life is not upheld, then it is reasonable to assert that the right to life has little meaning if the earth is destroyed to the point where life becomes unsustainable.
Which raises the question: What if Pastor Rose had kept everything in his hate-crime poster exactly the same - the licking flames, the attempt "to scare people into joining their mentality" - but had merely replaced the word "God"?
If you think there is no Global Warming, you'd better be right!!
Would that also be a hate crime? It's the same implicit threat as, for example, Michael Mann's Tweet to the latest addition to his enemies list:
Hey @PatSajak, this aint the Wheel of Fortune. If we lose this game, it isn't just one person's misfortune. All humanity pays the price.
Or as CNN reported it:
Pat Sajak Catches Heat For Global Warming Tweet
Aside from the fact that Pastor Rose says you're gonna fry in the hereafter and Mullah Mann promises you're gonna fry right here on earth, isn't the latter doing exactly what Robert Gladwin claims the former is doing and trying to "scare people into joining their mentality"?
~As a free-speech absolutist, I'm happy for both Pastor Rose and Mullah Mann to scare us to their hearts' content. My problem is that Climate Alarmism has replaced the Church of England as the established church. Judith Curry drew my attention to Professor Sir Peter Gluckman's speech last weekend to the Royal Australasian College of Physicians. Sir Peter is the Chief Science Advisor to the Prime Minister of New Zealand, and his address was on the topic of "reconciling the two cultures" of science and policy. Read the whole thing just to get a sense of how a real scientist thinks about the place of science in the public sphere:
We need to remember what science is – it is not a compilation of facts. Rather it is a set of processes used to gather relatively reliable information about the world we live in, our societies and ourselves. It is the formality of these processes that gives science its privilege and validity over other claims to knowledge about our world that can only come from belief, received wisdom, or anecdote. When this formality is broken – whether by unsupported claims, hidden biases, lack of reproducibility, and inadequate peer review, public trust in science is harmed and its privilege is undermined.
Hmm. Sir Peter continues:
We do our best to use the processes of science to protect our results from the influence of values when we analyse data, but in reality, values abound in science, so we need to identify them, understand them and ultimately minimise their effect. Values are inherent in what scientists choose to study, how they frame their questions, their methodological choices, and in how they interpret and communicate results. Managing and acknowledging those values properly is essential if science is to sustain its privileged position in the advice process.
On a related theme, last week's Two-Minute Climate-Hate Lennart Bengtsson:
I want to stress that I am a sworn enemy of the social construction of natural science that has garnered so much traction in the last years. For example, German scientists have attempted to launch what they call "good" science to ensure that natural science shouldn't be driven by what they view as anti-social curiosity-research by researching things that might not be "good".
(Actually, that's not the first time Germans have promoted "good science", I seem to recall.)
Michael Mann doesn't talk like Peter Gluckman. Nor, come to that, as Dr Curry points out, does Obama's science advisor, John Holdren. While we're at it, I would also draw your attention to Sir Peter's recent essay in Nature about "the art of science advice to government":
Trust can be earned and maintained only if the science adviser or advisory committee acts as a knowledge broker, rather than as an advocate6 — often a subtle distinction. When formal science advice is perceived as advocacy, trust in that advice and in the adviser is undermined, even if the advice is accepted.
Michael Mann's "advice" has been accepted by everyone from the IPCC to Jessica Alba, currently running around with Mann in a tree-ring bikini (Jessica, not Mike, that is) in James Cameron's Showtime epic Ecopalypse Now. But Sir Peter Gluckman's right: the perception of advocacy has undermined not only Mann's science but his entire field. This insight, too, is worth quoting:
The week I was appointed coincided with the government announcement that the New Zealand food industry would not be required to add folate to flour-based products to help to prevent neural-tube defects in newborns, despite an earlier agreement to do so. As it happens, this is an area of my own scientific expertise and, before my appointment, I had advised the government that folate supplementation should occur. But various groups had stirred considerable public concern on the matter, about health risks and about medicalizing the food supply.

Thus, in my first media interview as science adviser I was asked how I felt about my advice not being heeded. I pointed out that despite strong scientific evidence to support folate supplementation, a democratic government could not easily ignore overwhelming public concern about the food supply. The failure here was not political; rather, it was the lack of sustained and effective public engagement by the medical-science community on the role of folate in the diet. As a result, the intervention did not get the social licence necessary to proceed.
Climate Alarmism is going nowhere because Mann and the other Warmanos want to ban, jail and hang rather than compete on the field of "sustained and effective public engagement". As long as Mann & Co keep bleating, "The debate is over", it will be - and those guys lost, because they "did not get the social license necessary to proceed". In free societies, that's how you do it.
~After a year and three-quarters in the sclerotic, toxic dungheap of DC justice, I'm itching to get Dr Mann in court under oath, and considering ways that that might be accelerated. Meanwhile, we're interviewing witnesses, preparing to depose Mann, and working on our broader investigation, about which I'll have something to say next week. This campaign against Mann's climate of fear consumes enormous amount of time and money, and, if you've a spare thruppence-ha'penny or more, I hope you'll consider supporting this campaign by buying a showtune or two, or my free-speech book, or one of the many items in our exclusive Steyn vs the Stick range of courtroom merchandise.