I have always loved the simple dignity of Remembrance Day ceremonies in the Commonwealth, and, if I chance to be in one of Her Majesty's Dominions large or small - Canada or Australia, Grand Turk or Gibraltar - come November 11th, I always wander along to join the local dignitaries and poppy-wearing citizens honoring their veterans at the Cenotaph.
This year it's different:
Halifax Remembrance Day ceremonies to see more security

Remembrance Day ceremony sees increased police presence
And so on, across Canada. The reason is that three weeks ago a Muslim fanatic used his car to hit and kill Warrant Office Patrice Vincent in St Jean-sur-Richelieu, and another Muslim fanatic shot and killed Corporal Nathan Cirillo at the National War Memorial in Ottawa. So now ceremonies at the Cenotaph have to factor in the likelihood of "self-radicalized" "recent Muslim converts" showing up.
What of the imperial metropolis? Well...
Ring of steel around Queen to foil Cenotaph 'terrorist plot'
Another four Muslim fanatics were arrested for plotting to stab Her Majesty during Remembrance Day observances.
So here's how it looked on Sunday in Whitehall:
The red pom-poms are atop the Queen's Nepalese soldiers in the stylish dress uniform of the Royal Gurkha Rifles. But between them and the crowd are Metropolitan Police officers in unstylish bulky work uniforms, guns pointed toward the citizenry there to honor their soldiers - because among their number may be one of those "self-radicalized" "extremists", or whatever today's euphemism is.
Can we put an unsightly "ring of steel" around every aspect of life in free societies? MI5 doesn't think so:
The scale of terrorist activity is so great that an attack is "almost inevitable" in the coming months, security chiefs have warned senior ministers.
Oh, my. You may have vague memories of David Cameron doing some tough-talking soundbites on "British" jihadists signing up for the Islamic State. But fortunately the tough stuff is no longer necessary. Instead, returning veterans of the Islamic State will be encouraged to enter "jihad rehab":
Returning Islamist fighters are being offered 'jihadi rehab' instead of prosecution for supporting blood-thirsty terrorist groups.

The vast majority of more than 300 young men who have arrived back from Syria and Iraq are being allowed to continue their normal lives.

Many have been offered places on the Government's counter-radicalisation scheme, known as the Channel programme, which has seen a substantial rise in referrals...

One [Whitehall source] told the Sunday Times that investigators also want to balance the approach towards returning jihadists with the need to avoid being perceived as 'anti- Muslim'.

The official said: 'The police and MI5 are being careful about how to handle the returnees because they don't want to disturb community cohesion.'
And, if the Allahu-Akbar-management classes don't work out and the returning traitors decide to run over a soldier or hatchet a policeman or stab the Queen, well, the authorities will cross that bridge when it blows up. Better dead than "being perceived as anti-Muslim".
~From my book Lights Out: Islam, Free Speech and the Twilight of the West:
A couple of years ago, an Australian reader wrote to say he was beginning to feel as Robert Frost did in 'A Minor Bird':

'I have wished a bird would fly away
And not sing by my house all day.'

My correspondent's unceasingly cheeping bird was Islam. He was fed up waking every morning and reading of the latest offence taken by the more excitable Mohammedans.
Surely Mr Cameron and his ilk must likewise be exhausted by Islam, terror, Sharia, grievances, grooming, day in, day out. It would not be good "optics", as they say, for the Queen to be stabbed by a fanatical Muslim, and it might stretch beyond breaking point the Prime Minister's tinny trope that insert-today's-atrocity-here is nothing to do with Islam, but one can be certain he'd trot it out nonetheless. Mr Cameron's ministry has decided that, when it comes to "rings of steel", it's easier to put them round Islam's critics:
Anyone who criticises Sharia law or gay marriage could be branded an "extremist" under sweeping new powers planned by the Conservatives to combat terrorism, an alliance of leading atheists and Christians fear.
Theresa May, the Home Secretary, unveiled plans last month for so-called Extremism Disruption Orders, which would allow judges to ban people deemed extremists from broadcasting, protesting in certain places or even posting messages on Facebook or Twitter without permission...

"Our proposal to introduce Extremism Disruption Orders reflects the need to go further on challenging the threat from extremism and those who spread their hateful views so that we can keep that democratic society safe."
My Aussie correspondent's weariness with the incessant cheeping of Islam was prompted by a Muslim protest outside Westminster Cathedral demanding death for the Pope:
It was organized by a fellow called Anjem Choudhary, who says that 'whoever insults the message of Mohammed is going to be subject to capital punishment.'
David Cameron and Theresa May have signed on to the Choudhary line: whoever insults the message of Mohammed is going to be subject not to capital punishment - not yet - but to an "Extremism Disruption Order". I happen to think that the price of mass Muslim immigration is too high, and we need an end to it. Is that still legally Tweetable under Mrs May's strictures?
~Not that many western Muslims want to shoot soldiers or stab the Queen. But those that don't are, albeit more subtly, engaged in acts of "disruption". Even the supposedly "Islamophobic" Daily Mail promoted this one as a feel-good story:
British Muslims are being urged to wear a new 'Poppy Hijab' – as a challenge to extremist groups who 'spout hatred' about the Armed Forces.

The scarf is backed by mainstream Muslim groups including the Islamic Society of Britain and profits from its sale will be donated to the Poppy Appeal.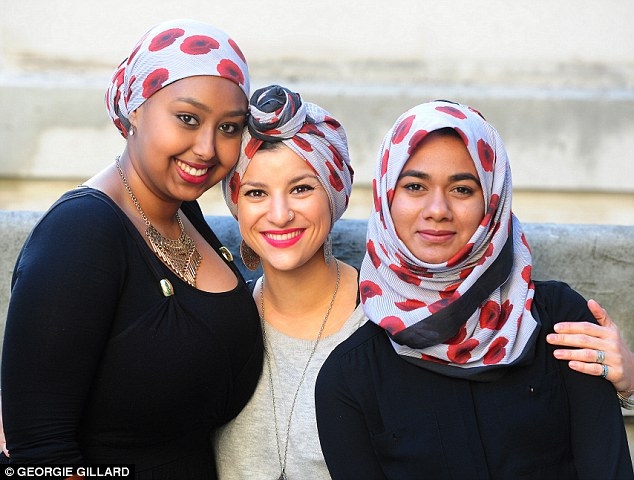 Well, that's very nice of them, I'm sure, and the ladies look very charming in them. But, if they wished to reject "extremist groups" and support the armed forces, why couldn't they just wear the same poppies that everybody else wears? Why does a communal ritual observed by the Queen's subjects in every corner of the earth - Canadian, Bermudian, Tuvaluan, black, white, Protestant, Hindu - have to be Islamified to accommodate them?
The "poppy hijab" was ostensibly created to mark the centenary of the first Victoria Cross to be awarded to a Muslim soldier. On October 31st 1914 in Belgium, the 129th Duke of Connaught's Own Baluchis (now the 11th Batallion of Pakistan's Baloch Regiment) bore the brunt of a fierce German offensive to take the critical ports of Nieuport and Boulogne (in France). They were badly outnumbered and eventually every man in the unit except Sepoy Khudadad Khan was dead and Khan himself was badly wounded. But he kept firing. Left for dead by the Hun, he eventually crawled back to his regiment during the night to find that he and his comrades had held up the Germans just long enough for British reinforcements to arrive and prevent the Kaiser's army pushing through to those vital ports.
On December 7th, The London Gazette announced:
His Majesty the King-Emperor has been graciously pleased to approve of the grant of the Victoria Cross to the undermentioned soldier of the Indian Army for conspicuous bravery whilst serving with the Indian Army Corps, British Expeditionary Force: —

4050, Sepoy Khudadad, 129th Duke of Connaught's Own Baluchis.

On 31st October, 1914, at Hollebeke, Belgium, the British Officer in charge of the detachment having been wounded, and the other gun put out of action by a shell, Sepoy Khudadad, though himself wounded, remained working his gun until all the other five men of the gun detachment had been killed.
He wasn't awarded a Muslim Victoria Cross or a Mohammed Cross or a Victoria Crescent. He was honored with the same decoration as the other remarkable soldiers of the King who showed extraordinary valor in the face of the enemy. And, at Armistice and Remembrance Day observances, until his death in 1971, Subedar (as he was by then) Khan wore the same poppy as his comrades - the same poppy that bloomed in the blood-drenched Flanders fields where every other member of his unit died.
One hundred years on, why is that not enough for British Muslims? Why is it necessary that the customary form of honor that has endured from Subedar Khan's day to ours be changed? Amidst all the beheadings and shootings and hatchet attacks and vehicular homicides of recent weeks, I find myself returning to David Solway's characterization of subtler provocations:
They were animated by a robust and incontestable sense of their own priority, a conviction of privilege that need not take into consideration the cultural usages and social expectations of those they had come to live among... a visible presumption of specialness and of indifference to the conventions of ordinary civility...

The common denominator along this spectrum of cultural invasiveness is the sentiment of vested ascendancy and pre-eminence...
Khudadad Khan is a man worth honoring, especially at a time when a higher proportion of Muslims in the United Kingdom volunteer to fight for the Islamic State than for Queen and country. But I don't want Muslims wearing poppy hijabs; I want Muslims wearing poppies - like any other Britons or Canadians or Australians forced by fanatics this Remembrance Day to honor their soldiers through a "steel ring" of security.
~Related from Ezra Levant: Lest Only Some of Us Forget. An Ontario school board exempts Muslim students from Remembrance Day observances.
~For this Remembrance Day and Veterans Day, we have a song for the season, and a look-back to the first November 11th after September 11th.