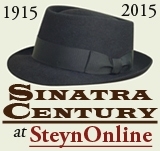 It's often said that the pop songs you like when you're 17 years old are the pop songs that stay with you your entire life. And in that respect Frank Sinatra was very fortunate: When he was 17, to pick up where we left off last week, it was a very good year. The songs in the air as a Hoboken schoolboy prepared to start his adult life were the songs he would record a quarter-century later and still be singing on stage, at Caesars' Palace and the Royal Albert Hall, another quarter-century beyond that. From the 1932-33 season came "Night And Day", Sinatra's radio theme in the Forties and a disco track for him in the Seventies; "You're Getting To Be A Habit With Me", revived by Frank for his classic Songs For Swingin' Lovers album; "How Deep Is The Ocean?", "April In Paris", "I Cover The Waterfront", "Willow, Weep For Me", and "Try A Little Tenderness", all big ballads for Sinatra in the Capitol years; "Let's Fall In Love", a stand-out track on his first Reprise album; "Yesterdays", a stand-out track on Sinatra & Strings in the Sixties; "Street Of Dreams", which stayed in Frank's book until the Eighties; "A Hundred Years From Today", which he finally got around to recording in 1984; "I've Got The World On A String", which was a favorite Sinatra opener on stage all the way to the early Nineties...not to mention "Lover", "I Gotta Right To Sing The Blues", "Love Locked Out", "Stormy Weather". A Sinatra discography confined only to songs from 1932 and '33 would still be one hell of a recording career.
The men and occasional women (Ann Ronell, composer of "Willow, Weep For Me") who wrote these songs were a generation older than Frank, and on his 17th birthday - December 12th 1932 - they were in their prime. The composers and lyricists born around the turn of the 20th century produced the greatest body of popular songs ever written - and when young Frankie was 17, they were all new - as new as "Shake It Off" or "Happy" or "Blurred Lines" are today. And nobody knew in 1932 you were getting in on the first performance of a song they'd still be singing in the second decade of the next century.
In the early Thirties, commercial pop songs were made in three places. First, Hollywood: The nascent post-Jazz Singer movie musical was in a bit of a slump that wouldn't be reversed until 42nd Street in 1933, but even non-musical films could produce something Sinatra would adopt for the rest of his life - like "When Your Lover Has Gone", introduced in a Jimmy Cagney/Joan Blondell picture from 1931 called Blonde Crazy. The other two places pop songs were made back in 1932 were Broadway and Tin Pan Alley, and both were a short ferry ride across the Hudson River from Frank Sinatra's home town of Hoboken, New Jersey.
How often did young Frankie get over there? Quite a bit. For a while, in 1931, he went over the river every day to the book publishers Lyons & Carnahan on 16th Street in Manhattan, where he spent the day loading and unloading boxes. The job didn't last long, but he found others - in Teijent & Lang's shipyard, on the docks for United Fruit Lines... And in the months before his 17th birthday he was living in the city.
Wait a minute, his parents were doing well, just moved to a four-bedroom house in the Irish part of town (which was regarded as a step up from the Italian). So, for the only child of a socially mobile family, what happened to reading, writing and 'rithmetic? Well, in 1931 Frank had started at AJ Demarest High School, and spent just 47 days there. He liked the radio crooners like Russ Columbo, and especially Bing Crosby, whom he went to see, and which performance persuaded him that he too wanted to be a singer. When Frank was 17, Bing's big hit was "I Don't Stand A Ghost Of A Chance With You", co-written by Crosby and recorded by the younger singer in the mid-Forties and again in the late Fifties. Frankie moved back in with his parents, and began performing in joints around Hoboken. "At night I was working with little combinations, singing with the bands," he said. "I was making nothing, but it was great experience. I was using a megaphone like Rudy Vallee, and guys would throw pennies and try and get them in my mouth. But I used to move a great deal so they couldn't hit it."
Did he get to see many Broadway shows? Doubtful. He was short of money in 1932, and doing too many unpaid gigs. But he was hanging round music publishers waiting for first copies of the big new show songs. A month before his 17th birthday, on November 8th 1932, Jerome Kern and Oscar Hammerstein II unveiled their new production at the Alvin Theatre, Music In The Air. Kern was the dean of American theatre composers, and 14 years later, when Hollywood decided to honor him with an all-star biopic, there was Frankie, on a heavenly all-white set surrounded by an army of white-garbed chorines, and standing on a podium in an all-white suit looking like the groom on a wedding cake. That was MGM's idea of the perfect backdrop for singing "Ol' Man River". He ditched the threads, but the song stayed with him until his very last concerts in the early Nineties (he even recorded it for the Duets project, but decided he didn't care for his vocal on it). "Ol' Man River" is, of course, from Kern & Hammerstein's masterpiece Show Boat, from 1927. Five years later, Music In The Air wasn't any rival on the masterpiece front, but it produced two lasting songs. One was "I've Told Ev'ry Little Star", whose melody Kern claimed to have heard a bird tweeting outside his window one morning while staying with friends in Nantucket. He fell back to sleep and, when he awoke, he couldn't remember the tune. The following morning, the bird showed up again, and this time Kern remained conscious long enough to jot the thing down, and write underneath:
6 a.m. Bird song from the willow tree outside east window, J.K.
Hammerstein worked an echo of this improbable yarn into the plot of the show - hence the title, Music In The Air. It was a faintly pretentious evening, an undemanding operetta about simple Mitteleuropean country folk getting mixed up with bigtime show people in Munich, but Kern & Hammerstein gave each scene generic titles - "Rondo", "Humoresque", "Sonata", "Pastoral" - as if they were symphonic movements. Still, there was no shortage of songs. And at one point Tullio Carminati, playing the big-time opera librettist Bruno Mahler, is so smitten by the charmingly unaffected country girl Sieglinde that he bursts into song. Indeed, he bursts into a song about a song, a song about the song:
I hear music when I look at you
A beautiful theme of ev'ry dream I ever knew
Down deep in my heart
I hear it play
I feel it start
Then melt away...
All of which goes to prove that:
The music is sweet
The words are true
The Song Is You.
Which is a nice thought, except that this Bruno Mahler cove lives with a worldly diva, and she and he joke about how he's such a smooth operator he's been using this song as a surefire chick-nailer for years. The young Arthur Schwartz, composer of "Dancing In The Dark", "I Guess I'll Have To Change My Plan" and "I See Your Face Before Me" (all recorded by Sinatra), swung by the Alvin Theatre before opening, heard the number in rehearsal, and was appalled. "How," he demanded of Kern, "can you throw away a melody as beautiful as that on all this comic business?"
"The scene calls for it," said Kern, stiffly. He didn't need Schwartz to tell him it was a great tune. As soon as he'd finished it, he'd called Hammerstein to play it for him down the telephone. Hammerstein seems to have found the lyric tougher sledding, and indeed, although the song became Kern's personal favorite of all he'd written, he never got the title right, referring to it until his death as "I Hear Music".
Not everyone heard the music. The musicologist Alec Wilder was a Sinatra pal - Frank called him "the Professor", and liked him so much he conducted an album of his "classical" compositions. Wilder didn't care for "The Song Is You", sniffing:
It is, I'm afraid, one of Kern's self-consciously elegant 'art songs'; it attempts too dramatic a statement on too small a stage.And it suggests a grander voice than that usually associated with popular theater music. It borders on the vehicle-for-the-singer more than the song-in-itself, and to carp one last time it employs rubato as opposed to steady tempo.
I'm not sure he'd have heard all that in the music if Hammerstein had written a different kind of lyric:
I hear music when I touch your hand
A beautiful melody from some enchanted land
Down deep in my heart
I hear it say
Is this the day?
But, like Kern, Hammerstein felt the scene called for it. And he liked it as much Kern did, and remembered the correct title, too. His Collected Lyrics are dedicated to his wife:
To Dorothy,
The Song is You.
Alec Wilder clarified his hostility to the number:
By no means am I denying its innate presence and superior quality as a piece of writing. It moves gracefully, and the release is masterful. Up to the release there is no particular harmonic interest, but in the release both the harmony and the melody are brilliant. It is clear that the melody in this section is conditioned by the harmony and truly needs its support.
Hammerstein's contribution to the release is not to get in the music's way. These are operetta lyrics - the gist of the text has been established, and the vowel sounds help the tune soar without clogging things up:
I alone
Have heard this lovely strain
I alone
Have heard this glad refrain
Must it be
Forever inside of me?
Why can't I let it go?
Why can't I let you know?
And then adroitly reprising the words to get back to the main theme:
Why can't I let you know the song my heart would sing?
That beautiful rhapsody of love and youth and spring?
But Schwartz was right. The comic business killed the song. The bandleader Jack Denney recorded it for Victor with "I've Told Every Little Star", and in 1933 it made Number Twelve on the Hit Parade. The following year, they made a film of Music In The Air, with Gloria Swanson. John Boles was supposed to sing "The Song Is You", but they cut it: The song is through.
And that was it, for a decade, until the afternoon of January 19th 1942 at RCA's Hollywood studios. Frank Sinatra is a 26-year-old male vocalist with a hit band, the Tommy Dorsey Orchestra. But he wants more, and on this January afternoon he's about to record his first ever session as a solo singer. He's still under exclusive contract to the bandleader, of course, which is why the union agreement for the session states at the bottom "PROPERTY OF TOMMY DORSEY". Frank isn't too happy at being somebody's property. As he told reporters:
You can quote Sinatra as saying that he believes it is wrong for anybody to own a piece of him and collect on it when that owner is doing nothing for Sinatra.
Frank may be talking about himself in the third person, but everyone else is keeping things low-key, which is why RCA Victor have scheduled the fruits of this first solo date for release on their budget Bluebird label. But the singer's excited nonetheless. "Frank was not like a band vocalist at all," recalled Henry Myerson, the Victor A&R man who supervised the session. "He came in self-assured, slugging on the first date, he stood his ground and displayed no humility, phoney or real."
They recorded four songs that afternoon - two new, two old. The new ones were "The Night We Called It A Day", by Matt Dennis and Tom Adair, two staff writers for Dorsey whose work Sinatra championed right to the end; and then "The Lamplighter's Serenade", by Hoagy Carmichael and Paul Francis Webster. The old songs both came from that very good year when Frank was seventeen. One was famous - Cole Porter's "Night And Day". The other one had faded away almost as soon as Tullio Carminati had sung it in the last performance of Music In The Air:
The music is sweet
The words are true
The Song Is You.
Axel Stordahl, a Dorsey arranger who would be at Sinatra's side for the next decade, put together a small orchestra of Frank's band pals - reed player Fred Stulce, Clark Yocum from the Pied Pipers on guitar - plus a few violins. For the first time Sinatra was singing with strings.
The next day they heard the recordings. The singer had a room in the Hollywood Plaza on Vine Street opposite the famous Brown Derby restaurant, and he and Stordahl spent a hot California afternoon inside playing the sides over and over on a portable machine. "Frank just couldn't believe his ears," his conductor remembered. "He was so excited, you almost believed he'd never recorded before."
"I've got to go out on my own," Frank told Axel.
I share the antipathy of Ted Gioia toward what, in his book The Jazz Standards, he calls "self-referential art" - you know, novels about novelists, shows about show folk, and songs about songs. And yet it would be hard to find a better title for Sinatra's oeuvre, and for his contribution to popular music, than "The Song Is You". For a year, the song was Tullio Carminati, and it went nowhere. For a decade, the song wasn't anyone. And after Sinatra championed it, the song was June Christy and Stan Getz and Mario Lanza and Keely Smith, Charlie Parker, Chet Baker, Scott Walker, Shirley Bassey... On January 19th 1942, he did what he would do so often over the ensuing decades: He took a great neglected song, and shone his light on it, and it became a standard for operatic tenors and jazz instrumentalists alike.
If you've listened to our centenary salute to Sinatra lyricist Sammy Cahn, you'll know that that high F he hits on "The Tender Trap" at Capitol Records in the Fifties was Frank's highest note. But he hit a high F on that January day in 1942, too, at the climax of Stordahl's beautiful ballad arrangement:
The music is sweet
The words are true
The Song Is Yooooooooooooo.
Unlike "Tender Trap", he sang that high F falsetto. The music is certainly sweet, but I wonder if the words are true. To reprise the complaint of Sinatra's chum Alec Wilder, "It borders on the vehicle-for-the-singer more than the song-in-itself." But that's how he sang it on the radio through the mid-Forties, the final falsetto note merging exquisitely into the orchestration and wafting away into the clouds.
And then somewhere along the way he junked the falsetto exhibitionism, and in the definitive ballad treatments he recorded in 1946 and 1947 he brings the song gently down to earth on that final "you", soft and warm and intimate: The words are true. He seems to have intuited that the falsetto was about singing, whereas the revised ending was about the song - and the story. It would become his preferred style - If you're going to do big notes and vocal pyrotechnics, do 'em three-quarters of the way in, and then come in for a soft landing, as he does even on the swingiest swingers, like "I've Got You Under My Skin". Through his many treatments of "The Song Is You" in that first half-decade as a solo singer, you can hear Sinatra learning his art.
Seventeen years after that first solo session, he got a new arrangement on "The Song Is You", in a hard-swingin' chart by Billy May for the Come Dance With Me album. And a couple of decades after that Billy May wrote him an even swingier arrangement for the Trilogy set that he had a ball with singing live in the late Seventies and early Eighties. Now he's shrugging off the words - this chick's heady, intoxicating, and he wants to get on with it.
Which is the real Sinatra "Song Is You"? The tender, vulnerable, delicate Axel Stordahl arrangement? Or the ring-a-ding-dingin' Billy May? Answer: Both. Two sides of the same man - and the same song. And, in fact, those two arrangements define what a standard is: You can do it soft and legato, or brassy and jumpin'. There's no correct way, other than what the performer hears in it: in that sense, the song is you. But it's worth listening to those two takes side by side. Sometimes there's a definitive ballad treatment of a standard, and sometimes there's a definitive up-tempo treatment of a standard, and sometimes they're by the same guy: Frank Sinatra, a man who did more than anyone to establish the very concept of the standard song.
On September 3rd 1942, eight months after that experimental solo session in Hollywood, Sinatra was released from his Dorsey contract to strike out on his own, and so turned up on the radio with his old boss for a farewell broadcast - and to introduce his successor. "Folks," said Frank, "I'd like you to meet Dick Haymes."
"Well, Frank, I don't know if anybody can really take your place with this band," began Haymes, "but I'm going to be in there trying, you can bet on that. As for you, well, I know you'll be knocking them dead on your own hook."
"I agree with you there, Dick. And thanks a lot, Dick Haymes," said Tommy Dorsey, cutting off his new employee. "Frank, before you hit the road, how about one more song just for auld lang syne?"
"That's alright with me, Tom. Give me the beat."
What follows is "The Song Is You". But what a difference eight months make. Compared to the tentative reading of January, September's is confident and coolly assured. It's still romantic and vulnerable - the bowtied boy singer the bobby soxers would shortly be screaming over - but it's a different level of performance:
I hear music when I look at you
A beautiful theme of ev'ry dream I ever knew...
It's the moment when Sinatra becomes Sinatra. The music is sweet, the words are true. The song is him.
~Mark's original 1998 obituary of Sinatra, "The Voice", appears in the anthology Mark Steyn From Head To Toe. For more on Jerome Kern and Oscar Hammerstein, see Steyn's acclaimed classic Broadway Babies Say Goodnight. Personally autographed copies of both books are exclusively available from the Steyn store.
SINATRA CENTURY
at SteynOnline
~For an alternative Sinatra Hot 100, the Pundette has launched a dedicated Sinatra Centenary site, counting down from Number 100 to Number One. This week she's got to Number 99 - "All I Need Is The Girl" - and Number 98, which is a duet with Keely Smith. Pundette said she had trouble deciding between "Nothing In Common" and "How Are Ya Fixed For Love?", but settled on the former. I'd have plumped for the latter, which is very playful and sexy, and a masterclass in duet chemistry.
As for "All I Need Is The Girl", that's a great Billy May arrangement of a Jule Styne/Stephen Sondheim number from Gypsy. Jule Styne told me he'd always wanted to write for Fred Astaire, but the opportunity had never arisen. So in 1959 he decided to write a Fred Astaire number for the young kid to do in Gypsy. At the first-night party, Astaire walked up to Jule and sang, "Got my tweed pressed, got my best vest..."
Styne never got an Astaire record on the song, but Sinatra did it with the Duke Ellington band - and Frank humming along to that Billy May vamp is worth the price of admission all by itself.