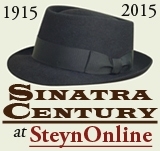 I received a letter, as I do from time to time and particularly since we launched this series, making the familiar complaint that I "only write about the kind of songs Frank Sinatra sings" and thereby ignore the older, vernacular American musical tradition. Well, I happen to think Frank chose pretty good songs, so why kick the habit? For example, here's a ring-a-ding-ding Sinatra classic he recorded in 1946:
Oh, give me a home where the buffalo roam
And the deer and the antelope play...
Who wrote it? Cole Porter.
Nah, I kid. Sammy Cahn & Jimmy Van Heusen.
Nah, I still kid. In fact, it was a fellow called Brewster Higley VI. But, to go back to my correspondent's complaint about "the kind of songs Frank Sinatra sings", he sang all kinds of songs. As the title of this series suggests, I happen to think there's a correlation between Sinatra's life and the best songs of the last century: He was born around the same time as what we now call "the Great American Songbook" - four years after Irving Berlin wrote "Alexander's Ragtime Band", "the alarm clock that woke American popular music", as Alan Jay Lerner called it; one year after Jerome Kern wrote "They Didn't Believe Me", the first great American theatre ballad; four years before Al Jolson introduced "Swanee", the first hit song by a young George Gershwin.
When baby Frank was born to Marty and Dolly Sinatra in Hoboken in December 1915, popular music was in a state of transition. The Great War had caused a logistical rupture in the supply of London musicals to Broadway, and a cultural rupture in the appetite for Mitteleuropean operetta. The young composers mentioned above stepped into the breach, and began the creation of the great 20th century songbook. But Sinatra, to the end of his life, had a great affection for what we can loosely call "old" songs - numbers that predate the great timeless standards. For us sons of empire, Frank and Billy May liked nothing better than to take some old warhorse of faux exotica and turn it into Rat Pack party night out in the colonies - "Moonlight On The Ganges", for example, or, from Come Fly With Me, "On The Road To Mandalay", which so horrified the Rudyard Kipling estate they had it banned throughout the British Empire. We could do a whole series on Classical Frank - tunes like Tchaikovsky's eerie melody from the last of his romances for voice and piano, Opus 6, from 1869, that Sinatra sang for much of his life as "None But The Lonely Heart".
As for that older, vernacular American musical tradition, Frank Sinatra does not seem to have had any particular appetite for rural life, unless one counts his compound on Frank Sinatra Drive in Rancho Mirage out in the California desert. He was, in that sense, very "urban", as some or other poseur says in some or other Woody Allen movie. But he was born at a time when the frontier was a vivid part of the American imagination, even for a kid growing up in an Italian neighborhood in Hoboken. Everybody knew these words, even if like Frank your chances of seeing an antelope were pretty remote:
Home, Home On The Range
Where the deer and the antelope play
Where seldom is heard a discouraging word
And the skies are not cloudy all day...
The man who wrote (most of) that quatrain was not a songwriter but a doctor, by the name of Brewster Higley VI - a fact that would be of no interest to anyone save Brewster Higley IX, Brewster Higley X or whichever other Brewster Higley is still extant were it not for the fact that almost half-a-century before Frank Sinatra's birth, Brewster Higley VI sat down in his sod dugout on the banks of Beaver Creek in Smith County, Kansas, and wrote a few verses about deer and antelope and a dearth of discouraging words.
"Home On The Range" is so deeply embedded in the American consciousness it's hard to conceive that anybody ever actually put pen to paper to jot down something so ubiquitous. It feels like the kind of sentiment that emerges round a campfire under a big sky on a starry night, and in the morning the fellows ride on down the trail and take it to another state, another settlement - which is pretty much how "Home On The Range" spread across the west in the years after its creation. And, even when it turns out to be the work of an actual named individual, it seems such a perfectly distilled expression of idealized westward settlement that it comes as a surprise to discover that the fellow who wrote it was still around in the 20th century (he died in 1911, four years before Sinatra was born). If Brewster Higley ever penned another lyric of any merit, posterity has not deigned to acknowledge it. But, given that, aside from Frank, everyone from Bing Crosby to Sting, Gene Autry to Andrea Bocelli, Neil Young to Alvin and the Chipmunks has recorded "Home On The Range", the Brewster M Higley VI Songbook is choice but thriving.
He was born in Rutland, Ohio in 1823, the son of Mr and Mrs Brewster Higley V, and grandson of the town's founder, Brewster Higley IV. After graduating from La Porte Medical College in Indiana, he practiced as a physician, which did nothing to improve the actuarial odds of his first three wives, all of whom succumbed to various diseases and injuries (although the second had already left Higley by the time of her death). In 1866, Dr Higley wed a fourth time, taking as his bride a widow named Mercy McPherson. This marriage was not a success. The doctor was driven to drink and to Kansas. He claimed 160 acres of land in Smith County under the Homestead Act of 1862, and, living in a dugout home while building his cabin, Dr Higley found himself so moved by his new surroundings that he wrote:
Oh, give me a home where the buffalo roam...
He was an amateur poet but he stumbled on some oddly memorable formulations. He's big on "seldom" , which is a word seldom sung outside this song. Standard-wise, it turns up in the verse to Rodgers & Hart's "Where Or When":
Thought has wings
And lots of things
Are seldom what they seem...
Frank recorded "Where Or When" the year before he recorded "Home On The Range" - 1945 - but skipped the verse. And, by the time those words made it onto a Sinatra recording, it was 1994 and the second Duets album, and Frank left 'em for Steve Lawrence and Eydie Gorme to sing. That's how seldom "seldom" shows up in the American songbook. Yet Brewster Higley VI applies it to not only the "discouraging word" but also:
Oh, give me a gale of the Solomon vale
Where the life streams with buoyancy flow
On the banks of the Beaver where seldom if ever
Any poisonous herbage doth grow...
He wrote it, as best one can determine, in the late spring/early summer of 1872, shortly before the raising of his log cabin on Fourth of July. The small cabin still stands in Smith Center 143 years later. For a man of lyrical bent, he was "rough and uncouth in appearance", according to the local newspaper editor, W H Nelson. But, as a doctor, "no night was too dark or trail too dim to deter him from answering a demand for service." He seldom if ever mentioned his poem to his patients, and had not intended "My Western Home", as it was then called, for publication. But one day he was treating a chap for a gunshot wound and decided to recite it to him. The fellow on the receiving end, Trube Reese, liked it, and suggested he get it set to music. So Higley took his rhymes to Daniel E Kelley, who turned Higley's poem into a song. It's believed the first public performance of the new number was given in April 1873 at the home of the Harlan family in Harlan, Kansas by Lulu Harlan and the Harlan Brothers Orchestra - a violin/guitar ensemble made up of Gene Harlan, Cal Harlan and Daniel Kelley, who was Lulu Harlan's sweetheart. In December that year W H Nelson published the song in The Smith County Pioneer under the title "Oh, Give Me A Home Where The Buffalo Roam".
Why not just call it "Home On The Range"? Ah, well. Considering it was written by a doctor and a carpenter, the new song got everything right from the get-go - with one notable omission. Higley's original chorus ran:
A home! A home!
Where the deer and the antelope play
Where seldom is heard a discouraging word
And the sky is not cloudy all day...
"A home! A home!"? What happened to the range? Well, there's just one mention of the word, in the very last verse:
The air is so pure and the breezes so fine
The zephyrs so balmy and light
That I would not exchange my home here to range
Forever in azures so bright...
So that's what the word meant to Dr Higley: a verb, "to range" - in much the way he had ranged from Indiana over to Kansas after he figured he couldn't stick his fourth wife any longer. So where did the noun - "the range" - come from? At that time, thousands of homesteaders and cowboys were passing through Kansas on their way west. They heard the song, they picked it up, and somewhere en route, with Smith County receding in the rear view mirror, an anonymous cowpoke accidentally or otherwise modified a song about home to one about a "home on the range". The notion took hold. A cowboy is a rootless wanderer in a way a Kansan doctor - even the much married Brewster Higley - isn't. Such a man is at home on the range, under western skies, roaming with the ease of the buffalo.
Except that even by the early 1870s your average buffalo roamed Kansas at his peril. From a peak of perhaps 30 million, the Great Plains buffalo herd was down to a few thousand. The Kansas historian John McCool writes that it was due not just to "the eastern demand for buffalo hides and the local desire for untrammeled grazing land" but also to a determined effort to "subjugate Native American tribes by killing off their food supply". "Let them kill, skin and sell until the buffalo is exterminated," said Philip Sheridan, commanding general of the US Army. As he saw it, buffalo hunters had done more "to settle the vexed Indian question than the army has done in the last 30 years."
If buffalo were increasingly disinclined to roam, the white man wasn't. The anonymous addition of that one monosyllable "range" enlarged Dr Higley's song. It transformed "My Western Home" from a purely Kansan song to one for the entire range country, for the great western horizon. The good doctor was looking from his dugout at his back yard - "I love these wild flowers in this bright land of ours". The cowboys who spread the song looked beyond, and over the years the references to "wild flowers" were replaced by "wild prairies". In 1908, the folklorist John A Lomax and his bulky, primitive Edison recording machine found themselves in the Buckhorn Saloon in San Antonio, Texas on the hunt for "cowboy songs". The barkeep pointed him in the direction of "a Negro singer who ran a beer saloon out beyond the Southern Pacific depot in a scrubby mesquite grove". His name was Bill Jack Curry. That day Lomax made the first known recording of "Home On The Range" in substantially the version we know it today, with "the range" in, and the local Kansas color out and replaced with a broader narrative:
The red man was pressed from this part of the west
He's likely no more to return
To the banks of Red River where seldom if ever
Their flickering campfires burn...
The Red River had supplanted the "banks of the Beaver", whereon Brewster Higley had been moved to write his original poem. Indeed, "Home On The Range" had slipped free of its creators within half-a-decade or so of its writing, and by the time gramophone records began to be made of the song in the early years of the 20th century neither Higley nor Kelley were acknowledged as the authors. I believe Vernon Dalhart made the first commercial recording. He was a light operatic tenor who reinvented himself as a lugubrious hillbilly balladeer and cleaned up big time in 1920 with "The Prisoner's Song", which was probably one of the first "new" pop songs to register with young Frank Sinatra in Hoboken: It sold seven million copies, which was a phenomenal number back then and made it the biggest selling pop record till Bing Crosby came along with "White Christmas". Bing himself got to "Home On The Range" in 1933, by which point FDR was claiming it as his favorite song (I'm not sure I believe him).
And then the following year the whole "Home On The Range" bandwagon train came juddering to a halt. In 1934, William and Mary Goodwin of Tempe, Arizona launched a half-million-dollar lawsuit against NBC and three dozen other parties claiming that "Home On The Range" was plagiarized from a composition they had written in 1905, "My Arizona Home". The Goodwins' song made no mention of Tempe or Arizona but hymned a grander horizon:
Oh, give me the steed and the gun that I need
To shoot game for my own cabin home
Then give me the camp where the fire is the lamp
And the wild Rocky Mountains to roam...
Mr and Mrs Goodwin obtained an immediate injunction - a most discouraging word for NBC, CBS (Crosby's network) and other radio stations - and "Home On The Range" vanished instantly from the airwaves. The Music Publishers Protective Association retained a New York tune detective called Samuel Moanfeldt to hunt down the origins of the song, and eventually he found himself in Kansas, on the banks of the Beaver, talking to an elderly, retired newspaper editor called W H Nelson, the man who first published the song in The Smith County Pioneer in 1873. For the first time in 60 years, Brewster Higley and Daniel Kelley were acknowledged as the authors of what by then was a beloved iconic American anthem.
Dr Higley did not live to receive his due. He died in 1911, leaving a fifth wife to add to the three he survived and the one he divorced, and expiring in Shawnee, Oklahoma, having roamed some way from his home on the banks of the Beaver. But his great lyric lived on. Which is how Frank Sinatra came to be standing in a studio singing "Home On The Range" on March 10th 1946, in a beautiful arrangement by Axel Stordahl and in between two wonderfully tender ballads - Irving Berlin's "How Deep Is The Ocean?" and our Sinatra song of a few days ago, Kern and Hammerstein's "The Song Is You". In my appreciation of Frank in Mark Steyn From Head To Toe, I write:
Before Sinatra, male singers aspired to the condition of Bing Crosby, who sang like he played golf: let's knock it around for a while and get to the clubhouse without breaking a sweat...
That's a wee bit unfair, especially to early Crosby, but, as evidence, I cite their respective recordings of "Home On The Range". Bing's version is a song about singing a song - a song that we all already know. By comparison, and perhaps because he was coming to it straight from the intimacy and intensity of "How Deep Is The Ocean?", Sinatra's take is weirdly real: Just as you believe the depth of his love in the Berlin and Kern ballads, so you believe his home really is on the range, and the deer and antelope are gamboling maybe ten yards from the microphone.
But why not? A song doesn't last 140 years if it doesn't speak to something real. "Home On The Range" simultaneously records one doctor's view of his Kansas homestead but also every American's romance with the land - the open prairie, the cloudless sky, the abundant possibilities of a small cabin on an endless frontier. Brewster Higley lived it, but for many who don't its aspirations still resonate. I always liked the way Sinatra sings his final verse - the same words (with just two amendments) that Dr Higley wrote in that sod dugout in the summer of 1872:
How often at night when the heavens are bright
With the light of the glittering stars
I stand there amazed and I ask as I gaze
Does their glory exceed that of ours?
Home, Home On The Range
Where the deer and the antelope play
Where seldom is heard a discouraging word
And the skies are not cloudy all day.
~Mark's original 1998 obituary of Sinatra, "The Voice", appears in the anthology Mark Steyn From Head To Toe. You can read about the creation of a classic Sinatra recording, "I've Got You Under My Skin", in Mark Steyn's American Songbook. Personally autographed copies of both books are exclusively available from the Steyn store.
SINATRA CENTURY
at SteynOnline
~For an alternative Sinatra Hot 100, the Pundette has launched a dedicated Sinatra Centenary site, counting down from Number 100 to Number One. This week she's got to Number 97 - "Last Dance" - and Number 96 - "I Could Have Told You". You can hear Sammy Cahn talking about the creation of "Last Dance" on our SteynOnline audio salute to Sammy. And you can hear Sinatra singing "I Could Have Told You" on the SteynOnline centenary celebration of songwriter Carl Sigman. Mr Sigman is the lyricist of what we like to think of as Mark's signature song.