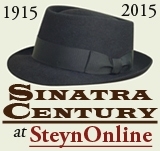 The other day I was reading, strictly for pleasure, The Complete Lyrics Of Johnny Mercer, and in particular the work of his somewhat frustrating final years. And a handful of pages before the end you turn the page, and from one of those projects that never came to fruition are a couple of songs bearing the credit "Words and music by Johnny Mercer and Rod McKuen".
My God, what was he thinking? A man who wrote with Harold Arlen ("One For My Baby") and Jimmy Van Heusen ("I Thought About You") and Rube Bloom ("Fools Rush In") and Henry Mancini ("The Days Of Wine And Roses") sitting down to collaborate with the guy who wrote:
Some flowers on the table in a jar,
a few have dropped their petals,
A few more brave it on.

Your dress arches, falls across a chair-back,
My socks, your underwear are left unreconciled,
confetti scattered pre-parade.
But it was the early Seventies, and Johnny Mercer needed Rod McKuen more than vice-versa. McKuen had by then sold some 65 million copies - of poetry anthologies. Poetry anthologies with titles like Listen To The Warm. He then recorded his poems in a throaty, toneless voice, and the recordings sold another bazillion copies. One of them, Lonesome Cities, won the Grammy for Best Spoken Word album in a year when the other nominees were not only Paul Scofield for Murder In The Cathedral but Martin Luther King for his "I have a dream" speech. It was a time when "every enlightened suburban split-level home had its share of Rod McKuen," as The San Francisco Chronicle put it. "His mellow poetry was on the end table.., his lovestruck music and spoken-word recordings were on the hi-fi and his kindly face was on the set, on 'The Tonight Show' and Dinah Shore's variety hour." He wrote symphonies and concerti for any classical orchestra in need of a subscription bump for next season. British movie producers sought him out for their theme tunes (The Prime Of Miss Jean Brodie) and the results brought him an Oscar nomination. He translated the lyrics of the lugubrious Belgian Jacques Brel and turned them into pseudo-art songs ("If You Go Away") and international Number Ones ("Seasons In The Sun").
It was all far in the past by the time Rod McKuen died, aged 81, last Thursday, but it's difficult to understate how omnipresent he was for a few years in the late Sixties and early Seventies - back when he outsold the rest of the poetry market combined. He was husky-voiced and tender-souled: If asked, he would tell you about his days as a lumberjack, but explain that he could no longer even contemplate it - "The thought of cutting down a tree, when there are so few trees left..." He knew more about lumberjacking than marriage but that didn't stop him writing The Rod McKuen Marriage Ceremony, "a major non-denominational interpretation of the marriage commitment by the world's foremost romantic spokesman". A famous loner, he never had occasion to use The Rod McKuen Marriage Ceremony on Rod McKuen.
Whether or not he was "the world's foremost romantic spokesman", he was certainly making more dough than Lord Byron, Keats or Shelley, and proving a spectacular illustration of the old Broadway saw "Nobody likes it but the public." Newsweek pronounced him "the King of Kitsch". Nora Ephron dismissed his poetry as "superficial and platitudinous" - and that's from the gal who gave us Sleepless In Seattle. Frank W Hoffman called McKuen's poems "tailor-made for the 1960s... the treacle of a man who preferred to prettify the world before he described it". From Listen To The Warm:
For every star that falls to earth a new one glows.
For every dream that fades away a new one grows.
When things are not what they would seem
you must keep following your dream.
And yet it is a melancholy fact that Frank Sinatra, a singer with matchless taste in music, nevertheless recorded more songs by Rod McKuen than he did songs by, to pluck at random, Duke Ellington, Dorothy Fields, Noel Coward, Bacharach & David, Leonard Bernstein, Vincent Youmans, Cy Coleman, George Gershwin... He recorded as many songs of Rod McKuen as he did of Jerome Kern - 13 apiece. And he never made an entire album devoted to Kern (or to Porter or Berlin or Rodgers) as he did to McKuen.
It happened like this. Sinatra was a friend of Bennett Cerf, the founder of Random House. If they seem unlikely chums, well, Frank enjoyed the company of men of letters, and Cerf evidently fancied himself a connoisseur of music. One time, he said to Frank, "You know what song you should record? 'Winchester Cathedral'." So Frank did.
So one weekend he was at the Cerfs' place for dinner and as background music Phyllis Cerf had selected an advance copy of the soundtrack album of Joanna, a British film featuring a young Donald Sutherland. And, instead of saying take that off and put on some Peggy Lee, Frank made the mistake of asking what it was. And Cerf said it was a film score by one of his poets, Rod McKuen.
And Sinatra said he'd like to meet this McKuen fellow. So Cerf said he was throwing a birthday party for him at 21, and why didn't Frank come along? To give you an idea of the cachet that attached to the phrase "Rod McKuen's birthday party" in April 1968, the other guests included Ed Sullivan, Gloria Vanderbilt, John Steinbeck, Walter Cronkite, George Plimpton, John Updike... And when Sinatra showed up and fell into conversation with McKuen, he committed himself to singing not just one or two McKuen songs, but a whole album of them. Among the other guests was Richard Rodgers, composer of "My Funny Valentine" and "Some Enchanted Evening" and "The Lady Is A Tramp" - and he might reasonably have objected that the Sinatra-McKuen album could wait until after the Sinatra-Rodgers album.
Hitherto, Frank had left the songbook LPs to Ella Fitzgerald et al. Speaking personally, I'm a bit weary of albums devoted to the work of this or that songwriter: They can too easily seem of archival rather than musico-dramatic interest. In Sinatra's hands, the album had been hung around concepts - lost love (In The Wee Small Hours), travel (Come Fly With Me), age (September Of My Years) - all of which seem to me more interesting as a musical arc than 12 songs by the same bloke. Sinatra felt the same way, too, fighting his own record company when late in his career, in the absence of new material, they tried to re-package the old stuff as "Sinatra Sings Cole Porter", "Sinatra Sings Rodgers & Hart", "Sinatra Sings Johnny Mercer", etc. Yet here he was for the first time in his life - or at any rate the first time since he'd conducted an album of non-vocal chamber music by Alec Wilder back in 1946 - proposing to break his rule and devote an album's worth of his talent to the work of one man.
The title and the subject matter was A Man Alone, loneliness being the only topic McKuen was much interested in, but fortunately also a great theme in Sinatra's work. The sub-title was "The words and music of McKuen". And by "words and music" they didn't necessarily mean songs. Half-a-dozen tracks were conventional enough: Sinatra singing to the accompaniment of the band. Another four were poems by McKuen that Frank spoke over a bed of orchestral music. That left one track with both a sung and spoken section, performed without orchestral support, and another track which offered a brief bit of Frank followed by a long, long instrumental. Is there a qualitative difference between the spoken and the sung stuff. Well, on "Empty Is", this bit is spoken:
Empty Is the sky before the sun wakes up
Empty Is the eyes of animals in cages
Empty faces of women mourning
When everything's been taken from them
Me, don't ask me about empty.
And this bit is sung:
Empty Is a string of dirty days held together by some rain
And the cold winds drumming at the trees again
Empty Is the color of the fear long about September
When the days go marching in a line toward November
Empty Is the hour before sleep chills you every night
And pushes you to take me away from every kind of light
Empty Is me
Empty Is me.
Empty Is the greatest popular singer in the world reduced to declaiming highlights from Hallmark greetings cards for the aphoristically suicidal, while Bill Miller, Ted Nash and the rest of the band sit behind him suppressing their titters. And yet Sinatra seems to be utterly sincere about the project, even on "The Beautiful Strangers", a meditation on motel-room sex in which passing demoiselles "praised my flat little stomach".
Most of the "numbers" were written by McKuen specifically for Sinatra, but the breakout hit had been around a while:
I have been a rover
I have walked alone
Hiked a hundred highways
Never found a home
Still and all I'm happy
The reason is, you see
Once in a while along the way
Love's Been Good To Me...
The restlessness is certainly Sinatra, and McKuen had undeniably hiked a hundred highways. He had left an abusive situation at home when still a boy, and had dug ditches and worked as a ranch hand. When those jobs were unavailable, he sold his blood - six pints in one month. It was an amazing life, which always wound up, as the critic said, "prettified" when it wound up on the page. "Love's Been Good To Me" has a sort of gimmick - the alternating verses and choruses follow hard on each other's heels, as if the singer is such a rover and so eager to hike another hundred highways that he can't even hang around to hold a long note at the end of each section. It builds a certain momentum:
There was a girl in Portland
Before the winter chill
We used to go a-courtin'
Along October Hill
And she could laugh away the dark clouds
Cry away the snow
It seems like only yesterday
As down the road I go

I have been a rover...
"A-courtin'"? When a chap finds himself a-motorin' to the studio to spend the day a-recordin' Rod McKuen, that's the kind of word you're apt to run into. It supposedly rhymes with "Portland", just as, in the previous stanza, "tender" rhymes with "Denver". I can almost forgive those, as they have a kind of vernacular audacity about them, but "home"/"alone" in the chorus is just lazy. On balance, I prefer the blank verse to the misrhymed ones.
As I said, the song had been around awhile. When we started this centenary season with "It Was A Very Good Year", reader Dan Hollombe reminded me that that wasn't the only Kingston Trio song Sinatra transformed. Half-a-decade before Frank got to it, the Trio had also recorded "Love's Been Good To Me", and, as with "Very Good Year", it went nowhere. Sinatra's remake went everywhere. It was a Top Ten hit in Britain, and beyond that it was the easy-listening blockbuster of the season - the one you heard on variety shows and in coffee bars. McKuen follows the same template as Ervin Drake - a girl here, a girl there - but he can't sketch imagery with the precision of Drake, and the fey tune prevents the accumulation of abandoned chicks ever adding up to the sum of a man's life. And yet Sinatra sings all the five-and-dime internalization-of-the-landscape guff about "kissing away the rain" with utter conviction. He takes McKuen seriously, and it pays off.
That approach doesn't always work with the folky poppy stuff on so many Sinatra albums of this period. If you take John Hartford's "Gentle On My Mind" - a far superior song - and compare Dino's version with Frank's, Dean sloughs the thing off and just about persuades you that he has indeed at some point dipped his "cup of soup back from the gurglin' cracklin' cauldron in some train yard"; Frank sings the line so beautifully and formally (going so far in the final seconds of the track to correct Mr Hartford's grammar and sing "flowing gently on my mind") that he sounds like he maybe once saw a gurglin' cracklin' cauldron in some train yard as his Lear Jet was flying overhead en route to Palm Springs. But McKuen has no vernacular authenticity to lose, and Sinatra's sincerity improves the song. If the Kingston Trio were irked at losing out on a second global hit, well, it's rough justice, but it's justice nonetheless: Their harmonies make the tune less interesting, and it's uninteresting enough to begin with. If you listen to the bare bones version Johnny Cash made just before he died in 2003, its power derives from Cash's worn-raw voice but the guitar strumming reminds you of how little there is to the tune. On the Sinatra take, Don Costa's MOR guitar and keyboards provide just enough rhythmic propulsion to make the music sound like it's going somewhere.
It's not a lot to take away from Sinatra's first songbook album. But it was the end of the Sixties. He'd begun the decade with the launch of his own record company - Reprise - a move designed to give him greater creative control. And for a while it worked - the albums with Count Basie and Antonio Carlos Jobim, September Of My Years, the Reprise Repertory Theatre cast albums... But a pop singer needs pop hits, and Sinatra found himself twitchily glomming on to whatever was around - Joni Mitchell, Bert Kaempfert - in the hopes that out there somewhere there'd be another "Somethin' Stupid" or "That's Life". And so the greatest popular singer of the 20th century finds himself at a birthday party for Rod McKuen and seizes his opportunity...
Empty is? Sure. But also:
Once in a while along the way
Love's Been Good To Me.
~Mark's original 1998 obituary of Sinatra, "The Voice", appears in the anthology Mark Steyn From Head To Toe. You can read about the creation of some classic Sinatra songs in Mark Steyn's American Songbook. Personally autographed copies of both books are exclusively available from the Steyn store.
SINATRA CENTURY
at SteynOnline
6) THE ONE I LOVE (BELONGS TO SOMEBODY ELSE)
~For an alternative Sinatra Hot 100, the Pundette has launched a dedicated Sinatra Centenary site, counting down from Number 100 to Number One. She's now at Number 92 - the marvelous "Learnin' The Blues". Pundette says, "It must have been a great jukebox song." Yes, indeed. Alec Wilder (composer of "I'll Be Around") says that, when he first heard that 1955 record, he sat in a bar just pumping coins into the jukebox and playing it over and over.
Bob Belvedere's Sinatra hit parade at The Camp Of The Saints is also up to Number 92, but he's gone with Frank and Sammy kibbitzing through topical lyrics on "Me And My Shadow". His point about Sammy Davis Jr's recordings and the Wham of Sam being best experienced live is well taken.