A few notes on this first weekend of spring:
~France goes to the polls tomorrow. Marine Le Pen was excluded by the French Government from the #JeSuisCharlie rally in favor of less controversial figures like, er, Mahmoud Abbas and President Erdoğan. But, when all the unlikely free-speech opportunists bleating that "the pen is mightier than the sword" have faded away, it may be that the biggest beneficiary of the post-Charlie Hebdo environment will be Mme Le Pen's Front National:
"She's my queen!" gushes Patricia, waiting for the arrival of Marine Le Pen, leader of France's far-right National Front.

"Marine represents everything the people of France want. I don't know what to say - she's wonderful, magnificent..."

The political momentum is firmly behind the National Front (FN) whose anti-immigration and anti-EU platform saw it take first place in European elections and win control of 11 town halls last year.

It is again topping polls ahead of Sunday's vote.

The Picardy countryside is a picturesque but barren stretch of territory with little to offer its young people, making it an ideal recruiting ground for the FN which is polling over 40 percent across much of the region.
Not everyone is as happy as Patricia, though:
Back at the Noyon community hall, some wait to greet Le Pen with shouts of "fascist".

"Even if she hides it behind her beautiful blonde hair, there are neo-Nazi ideas underneath," said one of the protesters, 47-year-old Pierre, who declined to give his last name.

"After she's kicked out the immigrants, it's us who will be next - the people who think."
Perhaps "the people who think" ought to think a bit about whether stagnant labor markets, mass Muslim immigration, and high crime as a routine feature of life is really a sustainable model.
~We will keep an eye out on the French vote tomorrow. Meanwhile, whether you're one of the franco-Fascists or the people who think, if you're looking to relax this weekend, don't forget that my own rosier-hued view of the picturesque Picardy countryside is one of the tracks on my new Goldfinger CD, available from the Steyn store, Amazon, iTunes, CD Baby and elsewhere.
~The Prince of Wales is currently in the United States, and SteynOnline reader Mike Shull swung by to catch his act in Louisville:
Mark,

Prince Charles was in my hometown of Louisville, Kentucky today. About an hour ago, he stopped by our downtown Cathedral, where I occasionally attend Mass, to give a brief speech. This is only 2 blocks from my office, so after a late lunch I walked over to see his arrival.

As a reader of your work, I had in mind your past comparisons between the British Royal Family's entourage and that of the president and other politicians. I nonetheless still amazed at the modesty of Charles' cohort.

The attached picture shows the moment he stepped from the car. And the car was not even a limousine. The entire motorcade consisted of only two police cars, Charles' towncar, and one additional vehicle. The other (empty) police cars visible across the street are not there for the prince. They are parked there every day because City Hall is just down the block.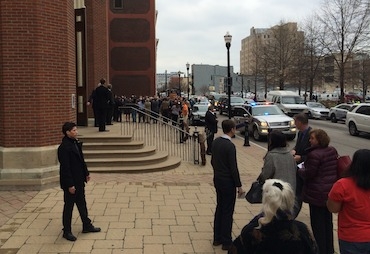 As you can see from the picture:

1. they did not even close the street off for his arrival, not even for a few seconds. Motorists are still going by on the left.
His car stopping there made no more disruption to traffic that a pizza delivery guy or UPS driver parking on the curb for 30 seconds to make a delivery.
2. the sidewalk is not roped off at all.
3. there were no "advance guard" or phalanx of other cop cars that preceded him that simply are off camera. What you see is really all there was.

And the men who look like Secret Service there are actually just church parishioners who were helping direct what little traffic was there. I attended the Vice Presidential debate between Biden and Ryan in 2012 at Center College here in Kentucky. There were at least 50 police cars, maybe 100, and several "decoy" type black Chevy Suburbans for Joe Biden.

You are correct that the monarchy America rejected years ago is now practically Joe Lunchbox compared with the grandiose, prima donna treatment demanded by our elected "public servants".

Mike Shull
Putting aside the fact that the President's 40-car motorcade is nothing to do with security - as we see everywhere from the Secret Service hookers in Cartagena to the vast entourage required to get Obama to Mandela's funeral only to stand him three feet away from a violent schizophrenic convicted of "necklacking"; and putting aside the ever more absurd impositions on the citizenry, such as maintaining the street's closure for hours after the Presidential procession has passed so that pregnant women and injured persons are not allowed to cross the thoroughfare to get to the hospital on the other side; and putting aside that I strongly dislike the Prince of Wales and regard his Grand Thoughts on "climate change" as witless and inappropriate; putting all that to one side for the moment:
One of the advantages of monarchy in a democratic age is that it comes with a built-in grievance factor: There's always a certain percentage of the people that is chippily resentful of even the most footling expenditure on the Royal Family's so-called pampered parasites - as a casual glance at the papers in Her Majesty's realms will reveal. So a prince or royal duchess can't go around closing streets and draining police manpower because some republican pol on the make will be all over the news whinging about it. That's very healthy, and one consequence of it is the entourage you saw in Louisville this week. HRH The Prince of Wales is the heir to the thrones of the United Kingdom, Canada, Australia, New Zealand, Barbados, Tuvalu, Belize, Papua New Guinea, etc, etc, but when he travels to Kentucky he takes only what he needs.
By the way, that's also way cooler - as my daughter pointed out when she and I saw the Queen in Glasgow in her Diamond Jubilee year. HM and the Duke upfront, and one car behind. And that handful of guys are on their game. Whereas, with a 40-car motorcade, only the Cartagena hookers are on the game.
But the bigger point is that a 40-car motorcade leads to a 40-car motorcade political culture - with a ruling class on the inside of the perimeter, and the rest of the schlubs on the outside. They don't live where you live. They drive through it, and you glimpse them through the glass darkly as you wait for the royal procession to pass and daily life to resume.
Hillary Rodham Clinton, who has been entouraged to the hilt for almost a quarter-century, is a near parodic example of the entitlement this breeds. What length do you think the motorcade's going to be by the end of her reign?
~Nigel Wallbridge writes from Switzerland re the British press getting its knickers in a twist over Tim Blair enjoying a massive titter at the Islamic community centre spokesperson Ferkan Derya:
Mark

It's interesting that The Independent's Matthew Champion should get so sniffily superior about Tim Blair's 'outrageous' riff on the name Furkan Derya. The sine qua non pun of this kind is surely Sir Archibald Kerr's famous 1943 letter from the British Embassy in Moscow regarding a Turkish diplomat. The Independent was happy to promote that joke itself as recently as 28 October 2012. The thought police are remarkably sprightly when expanding the bounds of 'unacceptable' discourse.

Thanks
Nigel
Indeed. I referenced that celebrated Turk a few years back, when observing that, even in our diverse age, names do not always travel:
Andy, Jonah, as you note, Akbar Zeb (whom I happen to have met) has been turned down as Pakistani ambassador to Saudi Arabia because his Urdu surname means, in Arabic, penis.

On the other hand, President Lula of Brazil has a Portuguese name that means in Urdu the self-same appendage.

But then again, the late Chilean minister of works, Maximiliano Espinoza Pica, has a Spanish name that is Portuguese slang for the male member.
But, as you say, the Turkish diplomat in Moscow is the acme of this genre. So, for those of you who've never seen this letter before, enjoy!
H.M. EMBASSY
MOSCOW

Lord Pembroke
The Foreign Office
London

6th April 1943

My Dear Reggie,

In these dark days man tends to look for little shafts of light that spill from Heaven. My days are probably darker than yours, and I need, my God I do, all the light I can get. But I am a decent fellow, and I do not want to be mean and selfish about what little brightness is shed upon me from time to time. So I propose to share with you a tiny flash that has illuminated my sombre life and tell you that God has given me a new Turkish colleague whose card tells me that he is called Mustapha Kunt.

We all feel like that, Reggie, now and then, especially when Spring is upon us, but few of us would care to put it on our cards. It takes a Turk to do that.

Archie

Sir Archibald Clark Kerr
H.M. Ambassador
By the way, if any US diplomats sent Mrs Clinton any emails of a similar nature during her four years as Secretary of State, where are they now? "Reggie", the 15th Earl of Pembroke, assumed the above was a public record that he was obliged to preserve. I suspect hdr22 would have chuckled and had her aides hit delete.
As it happens, I once met Lord Pembroke's son David Herbert, whom Ian Fleming dubbed "the Queen of Tangiers". But that's a whole other story...