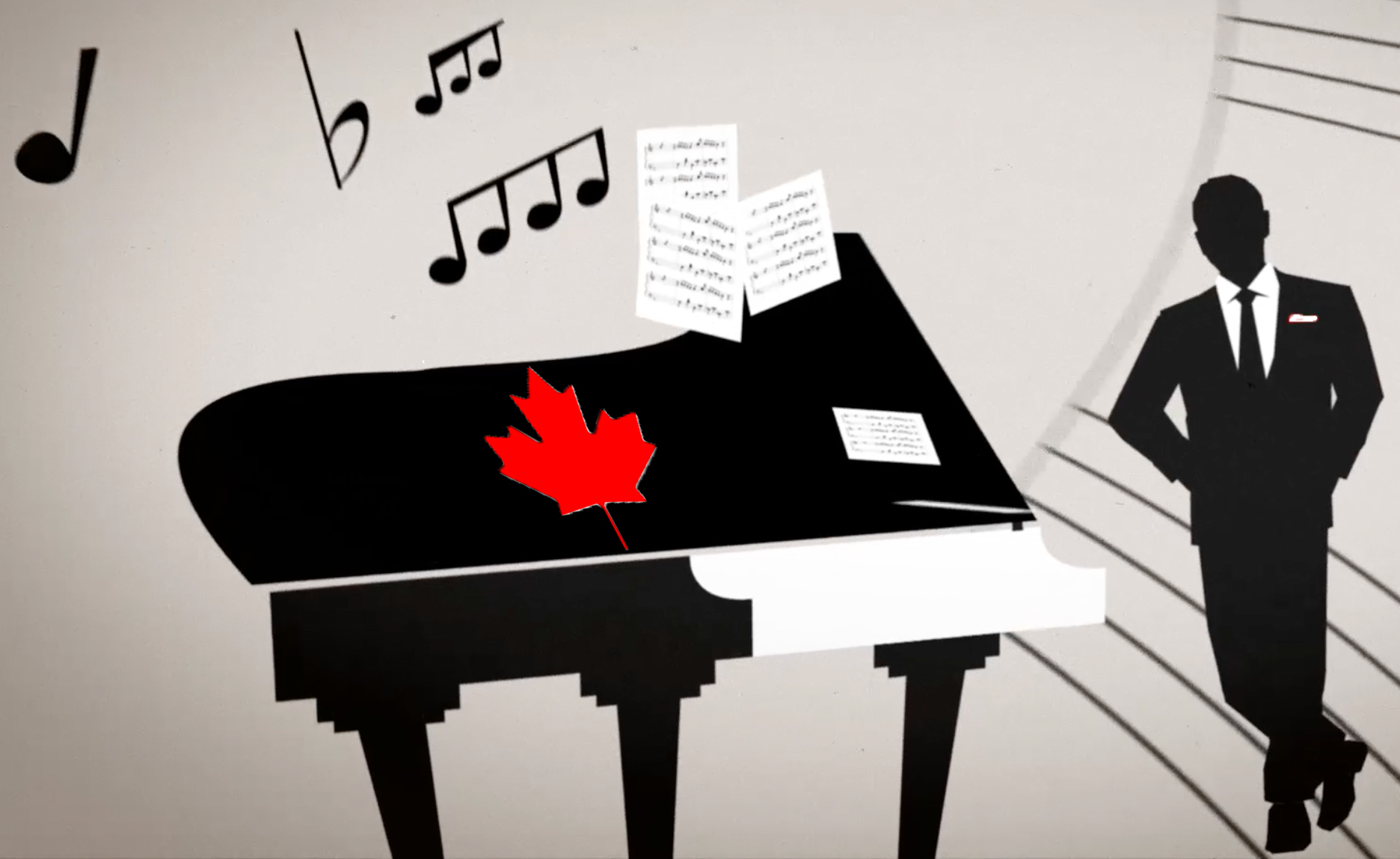 The Dominion of Canada celebrates its 150th birthday this Saturday. The official observances include a viceregal gaffe, prime ministerial socks and in a breakthrough for vibrant diversity the first recorded instance of golf-club jihadism. But here at SteynOnline we're celebrating with some great Canadian songs. So far we've enjoyed a Montrealer's high school anthem, one of the great ballads of World War Two born out of personal tragedy, some New York francopop, and a Brazilian classic by way of Hamilton, Ontario. But when we began this series longtime reader Dan Hollombe sounded a note of caution:
Looking forward to reading all your columns this week. I just hope there isn't too much Leonard Cohen in them.
So just for you, Dan:
That's me on The Mark Steyn Show earlier this year introducing the Klezmer Conservatory Band's performance of Leonard Cohen's "Dance Me to the End of Love", and explaining the song's origins in an appalling act of evil. Notwithstanding Dan Hollombe's antipathy, Leonard Cohen is one of the big names in CanCon-era songwriting and while sesquicentennial-wise I incline to the earlier years of the Maple Songbook we have to have a couple of the bigshots. So here's another - Neil Young - and once again a song whose roots lie in a monstrous act of evil:
I'm not sure precisely when the 9/11 era - "The Day That Everything Changed" - became The Day That Everything Changed Back To The Way It Was Before Only Even Dopier And More Complacent. But, sixteen years on, it's hard to recall the visceral emotion that in those first weeks and months engaged almost every area of American life - with one striking exception. On the eve of the Second World War Irving Berlin's gift to the nation was "God Bless America". Across the ocean (and indeed in Canada), Hugh Charles and Ross Parker did the same with "There'll Always Be an England". But this new war found American songwriters sitting on their hands, the very silence serving as a kind of recessional, for pop culture's retreat from any aspect of the subject, save (all too predictably and all too soon) for paranoia and equivalence. The short history of American popular music's contribution to national resolve can be told in two photographs of giant pop stars in military uniform: on the one hand, Glenn Miller, shot down over the English Channel while leading a US Army-Air Force Band, and, on the other, Madonna, who on her world tour a few years back cavorted on stage in a blue burqa and, when she disrobed, as she inevitably does, was revealed to be wearing army uniform underneath. This was in order to make the highly original point that the Taliban and the Bush Administration were both equally oppressive. Truly, the herd mentality of celebrity "dissent" is indestructible. Would it kill 'em once in a while to dissent from their dissent and try something other than the stultifying orthodoxy of celeb cardboard courage?
As for less tediously obvious provocations, as I wrote fifteen years ago, "Bruce Springsteen's blurry equivalist mope of a 9/11 album, The Rising, is a classic example of how even a supposed 'blue-collar' icon can't bring himself to want America to win."
Yet there was one striking exception to the stultifying conformity of cultural critique, one lonely example of an A-list star confronting a specific 9/11 event head-on and offering his voice in full-throated support of authentic American heroism. Even more impressively, it came from a Canadian - and at a time when Jean Chrétien's ministry was mostly engaged in petty sniping about alleged offenses to its amour propre. When I was, oh, fourteen years old I saw Neil Young with Crosby, Stills, Nash &... plus his compatriot Joni Mitchell and The Band. And to be honest in the intervening decades I can't say I gave Neil Young much thought - and, whenever I've chanced to be tootling around and "After the Gold Rush" or "Heart of Gold" comes on the radio, I'm reminded of why I haven't much missed him. Nevertheless, just a few weeks after September 11th, Neil Young offered a new song that took its inspiration from what I called in the papers that week "the only good news of the day" - the turn of events on Flight 93, the fourth plane, the one supposedly headed for the White House or the Capitol or Camp David that Tuesday morning but whose passengers rose up and overpowered the hijackers. Flight 93 crashed in a Pennsylvania field, but its fallen heroes saved hundreds of lives, including perhaps the Vice-President's or multiple congressmen, and denied Osama bin Laden an even more iconic remaking of the Washington skyline and the symbolic (and potentially actual) decapitation of the Great Satan. Todd Beamer's last words, heard by a GTE operator to whom he'd been speaking, were, "Are you ready, guys? Let's roll!"
It's hard to credit from the 9/11-was-an-inside-job fever swamps of just a couple of years later, but Young, a very leftie celebrity, was genuinely moved by Lisa Beamer's account of her husband's sacrifice. As he put it:
She was talking about how he always used to say that ('let's roll') with the kids when they'd go out and do something, that it's what he said a lot when he had a job to do. And it's just so poignant, and there's no more of a legendary, heroic act than what those people did. With no promise of martyrdom, no promise of any reward anywhere for this, other than just knowing that you did the right thing. And not even having a chance to think about it or plan it or do anything – just a gut reaction that was heroic and ultimately cost them all their lives. What more can you say? It was just so obvious that somebody had to write something or do something ...because it's just such a great image – the whole story about the heroism of the passengers on Flight 93. I think it's a legendary story that's gonna go down through the ages; it'll never be forgotten.
It was indeed "just so obvious", and for writers there are two reactions to that: you jump on it and write it immediately - or you assume someone else has already done so. When something is "just so obvious" - for a book, a play, a poem, a movie - you figure some other guy must surely have got to it. Except in this case no one did. Neil Young was perhaps being too naïve with regard to contemporary culture's ambivalence about unabashed heroism. So he waited, and waited. "I was very surprised," he said, "that I didn't hear any songs."
And eventually he got tired of waiting. "So, I just wrote it. I couldn't stop it anymore." He took Todd Beamer's catchphrase, turned it into a song title, and sang it out for real - no playing for irony or nuance.
Neil Young's "Let's Roll" is a dark, driving anthem that begins with a church organ (Young's own, acquired in Europe) and over its ominous drone the sound of cellphones ringing. That was the most important weapon the passengers had: the mobile telephone. By all accounts, the hijackers of Flight 93 weren't exactly the cream of Osama's toxic crop. The flight was halfway across the continent before the boobs made their move and started meandering back east to their target. It was getting on for 9.30 on that Tuesday morning. By the time the passengers began calling home, their families were aware of what had happened at the World Trade Center. Unlike those on the earlier flights, the hostages on 93 knew they were not on a conventionally hijacked aircraft bound for Cuba or Libya, but were conscripts on an airborne missile intended to kill thousands of their fellow citizens. So, unlike the earlier passengers, they understood the FAA's cobwebbed 1970s hijack procedures would not save them. The terrorists took charge at 9.28am. The pushback started at 9.57. In those 29 minutes, ordinary American citizens decided that, if they had to die, they would die as warriors. Put yourself in their shoes, on those phones, in that time-frame. Neil Young does, and, after the plaintive unanswered phones, and the organ, and a bit of guitar, an aged rock star's familiar rasp captures the moment:
I know I said I love you
I know you know it's true
I got to put the phone down
And do what we gotta do...
The song can't be said to be of much melodic interest. In those first four bars, 17 of the 27 monosyllables are all set to the same single note: "know I said", "love", "I know you know", "I got to put", "phone", "do what we got", and what follows plonks along in the same vein. It's what Sammy Cahn used to call "the kind of tune a lyricist writes"; the words are set as you'd expect, without any of the great transformative intervals that can give a bi-syllable a power way beyond what it would have as mere speech. But it's urgent speech, and the track is great. At the time Young was working on an album with Booker T and the MGs, and in the studio one day unveiled the song to the guys somewhat sheepishly. Booker T Jones liked it. "You don't have to figure out what to do on a song like that," he said. "We were just able to pull it off." He and the MGs aren't much into vocals (as you'll know from "Green Onions" and "Time is Tight" and their other killer instrumentals), but they gamely provide the old croaker with some discreet background support here. And of course Jones' Hammond organ and Donald "Duck" Dunn's bass keep driving the narrative relentlessly forward. Above the band, Neil Young distills the essence of those last, haunting cell conversations in a way few songwriters had either the courage or the inclination to do. Some of us know some of those stories. But, as the years go by, few of us know enough of them. They started with just the I-love-you part:
"Jack, pick up sweetie, can you hear me?" said Lauren Grandcolas, pregnant with her husband's child. "Okay. I just want to tell you, there's a little problem with the plane. I'm fine. I'm totally fine. I just want to tell you how much I love you."
That was 9.39, ten minutes into the hijacking. Five minutes later, the calls were advancing from "I love you" to "do what we gotta do". The flight attendant Sandy Bradshaw called her husband and said that she and her colleagues were boiling water to throw on the terrorists. "Everyone is running up to First Class," she told him. "I've got to go."
Thomas Burnett, Mark Bingham and many more phoned their families and offered their own variations on Young's précis: "Don't worry, we're going to do something," Tom Burnett assured his wife.
Denied even the solace of a last hurried call home, Todd Beamer couldn't get through to anyone except a telephone company operator, Lisa Jefferson. He explained three men were on board and one seemed to have a bomb tied around his waist. She told him about the planes that had smashed into the World Trade Center and the Pentagon.
Mr Beamer quietly said they had a plan to jump the guy with the bomb. As Young sings it:
One's standing in the aisleway
Two more at the door
We got to get inside there
Before they kill some more

Time is runnin' out
Let's Roll
Time is runnin' out
Let's Roll...
Beamer asked Lisa Jefferson if she would pray with him, so they did. The Lord's Prayer. Early reports suggested it had been the 23rd Psalm, which would not have been inapt:
Yea, though I walk through the valley of the shadow of Death, I will fear no evil: for thou art with me...
I suspect Neil Young saw the same reports I did, because, with a lack of embarrassment rare among celebrity rockers, he doesn't duck the primal distinctions:
No one has the answers
But one thing is true
You got to turn on evil
When it's comin' after you

You got to face it down
And when it tries to hide
You got to go in after it
And never be denied...

Let's Roll for freedom
Let's Roll for love
Goin' after Satan
On the wings of a dove...
Then they rushed the hijackers. Mrs Jefferson kept the line open. A few minutes later, the plane crashed, not at Camp David or the White House or the Capitol, but in a field in Shanksville, Pennsylvania. Jeremy Glick knew that he would never see his three-month old daughter again, Todd Beamer that he would never know the baby his wife was expecting in January. But both men understood that they could play their part in preserving a world for their children to grow up in. By being willing to sacrifice themselves, the citizen-soldiers of Flight 93 saved thousands, including perhaps the terrorists' intended target - the highest officeholders in the republic. Flight 93 was the decisive event of September 11th. As Jim Bennett of UPI wrote, "The Era of Osama lasted about an hour and half or so, from the time the first plane hit the tower to the moment the General Militia of Flight 93 reported for duty."
And, even in the retreat and ineffectiveness of recent years, that remains true: No one will ever again hijack an American airliner with box cutters, or, I'd wager, with anything else -- not because of idiotic federal regulations, but because of the example of Todd Beamer and his ad hoc platoon. Faced with a new and unprecedented form of terror, the latest American technology (cellphones) combined with the oldest American virtue (self-reliance) and stopped it in its tracks in just 90 minutes. When the Air France passengers jumped the Shoebomber and the Delta passengers the Pantybomber, they were acting in accordance not with FAA regulations but with Flight 93 rules.
I'm not a big Neil Young fan. If I never heard the fey, dopey "Harvest Moon" or "Heart Of Gold" ever again, it wouldn't be too soon. But I'm glad he wrote this song. For serious Young admirers, and the rock biz in general, it was more problematic, even a mere three months after 9/11. The venerable rock critic Dave Marsh said Young's politics had "all been downhill since 'Ohio'" - his song about the Kent State shootings - and dismissed "Let's Roll" as "jingoistic". But, if it takes a Canadian rocker to purvey a bit of Yank jingoism, let's have more of it. "Let's Roll" may well be my favorite Canadian song of war and love since ... gosh, since the song with which we began this week, from over six decades earlier. "I'll Never Smile Again" is really the other end of those "Let's Roll" cellphone calls: Miss Lowe had just been widowed and her ballad of love and loss caught the mood of Americans in that interlude between the start of World War Two and their own entry into it. Lisa Beamer would understand Ruth Lowe's song: for all her pride in Todd's heroism, honored by Neil Young, President Bush and millions of his fellow citizens, it's poor consolation for a lost husband and father.
But as a visceral response to 9/11, to ordinary suburban businessmen who found themselves "goin' after Satan on the wings of a dove", Neil Young's song is hard to beat. There were other "Let's Roll" songs in the years ahead - from LA Guns, the Bellamy Brothers, dc Talk, Ray Stevens and another Canadian act, the Stills from Montreal: So no Crosby and Nash but Stills and Young both rolled.
The "Let's Roll" moment didn't last. A couple of years later, almost as if in penance for the earlier song, Neil Young had moved on to "Let's Impeach The President". It's a lot less controversial at cocktail parties.
But in November of 2001 Neil Young sang out at a time when few others would. And he addressed the heart of the matter with a moral clarity contemporary pop sensibility will tie itself in knots to avoid:
No one has the answers
But one thing is true
You got to turn on evil
When it's comin' after you...
When I'm asked about writing, I often commend song structure because it's the most compressed form: You have 32 bars to say it in, and you have to make the syllables fit the limited number of notes available for them. But in this case Neil Young was dealing with an event that was itself horribly compressed into a single half-hour, from a routine flight turned into what seemed to be a Seventies-style hijacking, from the first phone calls to say "I love you" to the family members at home who knew the truth to the decision to "turn on evil/When it's comin' after you" - 30 minutes from start to heroic finish. In less urgent and dramatic ways, we still face the same choice that confronted the brave passengers of Flight 93 in their last half-hour on earth: Can we act, or are we content to be, in the words of Neil Young's fellow Canadian David Warren, "spectators in our own fate?"
No time for indecision
We got to make a move ...
Time is runnin' out...
Let's roll.
~Join us for another entry from Mark's Maple Songbook tomorrow.
Members of The Mark Steyn Club get to have at it in our comments section. So, if you dissent from my take, get typing below. Oh, and if you're a Club member who digs Leonard Cohen then feel free to sock it to Dan Hollombe. He can take it. For more on The Mark Steyn Club, see here.