Peter Wyngarde, who died in his nineties a few days ago, was a bona fide star only for a few years, as the Sixties turned to the Seventies. But his animal sideburns, extravagant moustache, and jaunty cravats nestling in thickets of chest hair cast long and hirsute shadows: He was the principal inspiration for Mike Myers' big-screen creation Austin Powers, "International Man of Mystery" - although Austin eschewed, alas, the moustache.
One suspects this omission by Myers was at the insistence of the Hollywood execs, possibly after focus groups. Wyngarde's TV show "Jason King" and its predecessor "Department S" were produced by Lew Grade's ITC and were reliable fixtures in telly schedules around the Commonwealth and Continental Europe, but, unlike "The Saint", "Danger Man" and other ITC exports, the moustachioed King never quite caught on in America. Which, on balance, was probably an advantage: Myers was making a personal hommage to someone most of his audience had never heard of - which helped it become something in its own right.
Austin Powers was generally regarded as a parody of James Bond, of which there are many. At the end of the Sixties, "Jason King" took the already wearisome Bond derivatives to the next level: the character was loosely based on 007's author, Ian Fleming, and conceived for a series in which a writer of spy novels also has glamorous adventures of international intrigue in his real life, as Fleming did. Whenever the script had cause to mention one of Jason King's supposed bestsellers, Dennis Spooner and Monty Berman (who between them wrote "The Saint", "The Avengers", "Thunderbirds", "Doctor Who", etc) gave the books Ian Fleming-type titles, sometimes quite cleverly (Index Finger Left Hand), sometimes rather more clumsily (To China, Yours Sincerely). Like Fleming, Jason King was successful enough to have been forced into tax exile: when an Interpol agent requires King to fly in to London to meet with someone or other, Jason responds somewhat snootily that the Inland Revenue will only permit him into Britain for 36 hours but drawls helpfully, "On your salary you wouldn't have the same problem."
I don't know who Spooner and Berman originally had in mind for their Flemingesque author-adventurer, but I can't believe it was ever Peter Wyngarde. Fleming favored classic style; Wyngarde was all the most luridly fab gear of a very narrow cultural moment: Jermyn Street vs Carnaby Street after it's fallen into a vat of LSD. And yet he somehow carried off the ruffled cuffs and chest medallions and tie knots you could park a truck on in a way I can't quite imagine anybody else managing. It was, as the British say, naff, but oddly mesmerizing and seductive - and not just to Mike Myers. When the BBC's "Top Gear" crew did their parody of ITC telly capers - "The Interceptors" - you can see why Jeremy Clarkson would enjoy availing himself of the opportunity to be "Jason Clarkson".
Jason King made his debut in Lew Grade's "Department S", which was artfully contrived in the spirit of the times: The head of the department was a black man, Sir Curtis Seretse; the girl was the brains; and, to assist with selling the show to a US network, there was an ex-FBI guy. The American chappie did most of the running around and hand-to-hand combat, while Jason was an effete dandy who got floored by the bad guys as often as not. Yet he always wound up getting the girl, even though he was for the most part entirely indifferent to them. So eventually they spun off Jason into his own show, with a terrific Laurie Johnson theme tune (second only to his music for "The Avengers"), and no one missed any of the other characters.
On the matter of that palpable indifference to the totty, many years after his celebrity I briefly met Peter Wyngarde at a first-night party, and we chatted in a corner of the room with another celebrated British actor, a dashing hunk then getting the girl (and a highly valued specimen thereof) every week on UK TV. By that stage of the evening, they were a couple of tipsy old queens gleefully dishing on others scattered around the party and in full what-is-she-wearing? mode. I was surprised to discover the other fellow's tastes (I don't believe he's "out" even today), but with Wyngarde I couldn't honestly claim to be stunned orientation-wise. Here he is in one of his Jason King outfits: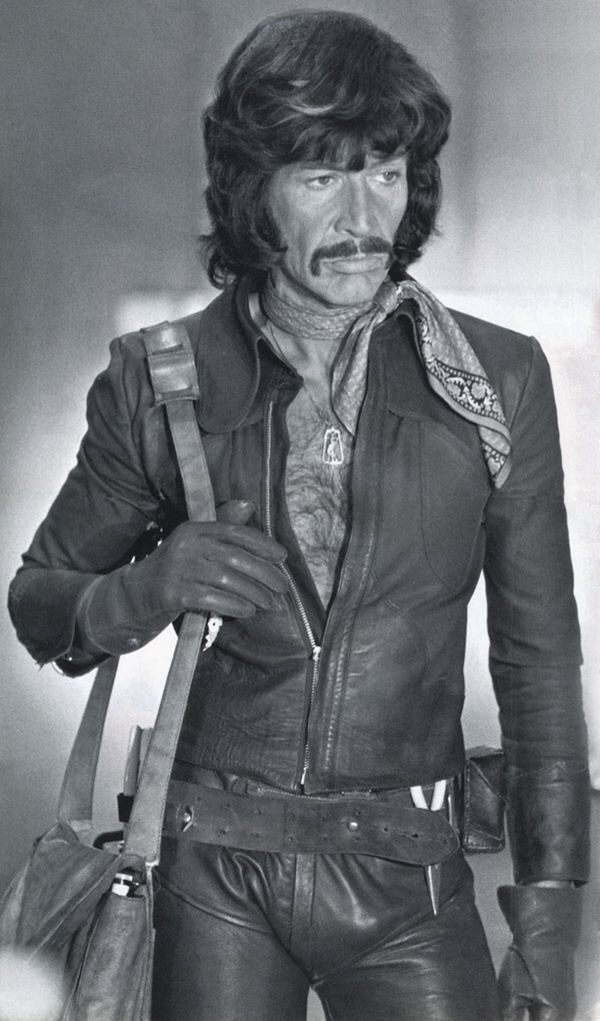 Yes, I know it was the Seventies, and not many of us could carry off that much leather, and it may even be of practical benefit when you're dressing for an international espionage mission involving surreptitious entry to secure facilities in the dead of night, but even so...
I see that Sir Patrick Wright's newly published diaries report Mrs Thatcher's "controversial" views on Germans, Vietnamese boat people, etc, but also note that she disliked men with moustaches because they "look like hairdressers". Hmm. (Full disclosure: She was antipathetic to beards, and declined to make an exception for mine.) At any rate, among the stately homos of British Equity, Peter Wyngarde was known affectionately as Petunia Winegum. On-air as Jason King, he declined local law enforcement's complimentary plane ticket to get out of town that night on the grounds that he never flew economy. Off-air this paragon of style and luxury was arrested for gross indecency with a crane operator in the gentlemen's toilets at Gloucester bus station.
Petunia Winegum is as likely a real name for Peter Wyngarde as anything else. As much of an "international man of mystery" as Jason King was, in real life Wyngarde was more so. He claimed to have been born Peter Wyngarde to an English father and French mother in Marseilles in 1933. His pop was in His Majesty's diplomatic service, and on his ma's side he was the nephew of Louis Jouvet, the actor-director and close collaborator of Jean Giraudoux.
On the other hand, the evidence suggests he was born up to a decade earlier, in Singapore, under the name Cyril Goldbert. His mum was a Eurasian, who split, and he and his dad wound up in Shanghai, until the Japanese invaded and stuck the boy in their internment camp at Lunghua.
There is no proof he ever met Louis Jouvet, but J G Ballard, author of Crash and Empire of the Sun, claims to have known "Peter Wyngarde" as Cyril Goldbert in that Japanese camp and his posthumous memoir provides as much detail of his early life as we're likely to know. He was now without family - whether British diplomats, French thespians, or Eurasian bolters - and lived for the camp's theatrical shows, sometimes taking all the roles, as he did in Dr Jekyll and Mr Hyde. Ballard writes:
He lived with another family in G Block and amused everyone with his fey and extravagant manner. Theatre was his entire world, and he played adult roles in the camp Shakespeare productions, completely dominating the bank managers and company directors who struggled to keep up with him. He was four years older than me, and very witty company, with a sophisticated patter I had rarely come across. He had never been to England, but seemed to be on first-name terms with half of Shaftesbury Avenue, and was a mine of insider gossip about the London theatre.
Ballard's mother adored him, notwithstanding her dislike of homosexuals, and to the end of her days would always sigh, "Oh, Cyril..." when she saw "Peter Wyngarde" on television. "Four years older than me" would make Wyngarde born not in 1933 but 1926, which to be honest seems more consistent with how he looked in "Jason King": Under that helmet hair and 'tache and 'burns, the visible bits of face seemed quite creased. But perhaps that was the Japanese internment camp. Even then, as a teenage boy, Cyril Goldbert was planning his reinvention. Ballard again:
I once strolled with Cyril through some ruined buildings on the outskirts of the camp, listening to him set out his plans for his conquest of the West End. He tore a piece of charcoal from a burnt roof beam, and with a flourish drew on the wall what he said would be his stage name once he returned to England: Laurence Templeton. A name wonderfully of its time, and far grander than Peter Wyngarde.
Wyngarde denied having ever known J G Ballard in the camp at Lunghua. Almost immediately after the war, in 1945, an 18-year-old passenger called Cyril Goldbert sailed from Shanghai to Southampton. And, upon disembarkation, "Cyril Goldbert" ceased to exist. During the Obama years, the smart set mocked "birther" conspiracies, but, in fact, there are many people who genuinely do not know where or when they were born (the late Peter O'Toole was one). And there are others for whom it has ceased to matter - Marseilles or Singapore, French or Eurasian, diplomat or chancer, all are gone, mother, father, siblings. And all that remains is an abandoned boy in a Japanese prison camp who discovers that the veneer of wit and charm can take you an awful long way. Not to A-list stardom but to "The Saint" and "The Avengers", a memorable cameo in Flash Gordon, and a leading role of almost ludicrous grooviness - and a long life lived as an entirely self-invented character. J G Ballard recalled the last time he saw his fellow camp inmate:
I saw him in St James's Park, camel-hair coat stylishly slung over an elegant suit, a tilted homburg and dazzling teeth. I started to speak to him but he cut me dead.
~If you disagree with Mark's movie columns and you're a member of The Mark Steyn Club, then feel free to go full Petunia in the comments. Do please be respectful to fellow commenters, and stay on topic. Club membership isn't for everybody, but it helps keep all our content out there for everybody, in print, audio, video, on everything from civilizational collapse to our Saturday movie dates.
We have blokier entertainment for you this weekend in Mark's Australia Day music special, which includes his archive interview with the late Greg Ham of Men at Work and "Down Under".
What is The Mark Steyn Club? Well, aside from being an Audio Book of the Month Club, it's also a discussion group of lively people around the world on the great questions of our time: our latest Clubland Q&A live around the planet aired last Tuesday. It's a video poetry and live music club. We don't (yet) have a clubhouse, but we do have a newsletter and other benefits. And, if you've got some kith or kin who might like the sound of all that and more, we do have a special Gift Membership that includes your choice of a personally autographed book or CD set from Mark. More details here.