Fifty years ago this coming week - May 2nd 1968 - the world heard for the first time one of the great instrumental movie themes of all time, composed by Neal Hefti to accompany Jack Lemmon as he pads through a seedy Times Square at night and checks into a fleabag hotel to hurl himself to death from his bedroom window. Instead, he finds the window nailed shut, and, in frantically trying to open it so he can throw himself out, instead throws his back out. He winds up at a go-go bar and, uninterested in the dancers, throws back a shot, thereby adding a cricked neck to his back problems. Etc.
I'm not sure how interesting any of this somewhat labored shtick by Lemmon would be without Hefti's groovy, urbane musical accompaniment. But, with it, it holds the screen until Lemmon finds himself interrupting the poker game amid the discarded beer cans, ash mountains and other debris at the apartment of his old friend Walter Matthau. And thus begins the film that made Neil Simon a superstar writer for the next three decades. Indeed, The Odd Couple is what we would now call a franchise: The Broadway play was adapted into a film that led to a long-running TV sitcom that spawned an animated spin-off, and a sequel, and an updated rewrite, and on and on. Likewise the eponymous odd couple, a mismatched brace of white males called Felix Ungar (Lemmon) and Oscar Madison (Matthau), have been transmogrified over the years into a feminized version, an African-Americanization, and a cartoon about a neatnik cat and a slobbo dog.
As those endless variations suggest, there is something both universal and extremely thin about the simple premise of Neil Simon's cash cow: what would happen if a fastidious neat-freak moved in with a careless sloven? According to who you believe, the idea came from one or other of Simon's fellow alumni of the writers' room on the old Sid Caesar show. Neil's brother Danny Simon had gotten divorced and pitched up at the home of the theatrical agent Roy Gerber. One night after botching the pot roast, Danny whined to Roy about how he never took him out to dinner - and the old lightbulb went off. He wrote a first act, stalled, and gave it to his kid brother Neil. Alternatively, Neil himself observed Mel Brooks after his divorce, when Mel was living with the painter and sculptor Speed Vogel. The show opened in Boston, where the legendary local critic Elliot Norton thought the third act very flat, and made a few plot suggestions to Neil Simon that turned what would have been a so-so hit into a smash.
Still, as noted, it's a flimsy concept: One guy's tidy and the other guy's messy. That's it. So casting is everything. On Broadway The Odd Couple starred Walter Matthau as the slob Oscar and Art Carney as the neat Felix. Matthau had won a Tony and played in a couple of movies (he's the bad guy in Stanley Donen's Charade), but Oscar Madison was the role that made him a bona fide Broadway star. Carney (from The Honeymooners, where he played a municipal sewage sub-superintendent - "I keep things moving along") was entirely fine, but he didn't seem to own the part anywhere near as totally as Matthau owned his. So for the film version they decided to keep Oscar and get themselves a new Felix. They chose Jack Lemmon, whose acting had already degenerated into an accumulation of fussy belabored tics and mannerisms, and therefore made him perfect for the role of Felix, as no other role thereafter ever quite was.
On stage The Odd Couple had been directed by Mike Nichols, one of four hits he had running on the Great White Way simultaneously that season. The rap on Broadway guys in Hollywood is that they're stage directors whose pictures never look anything other than filmed plays. However, in 1967 Nichols had had a blockbuster movie hit with The Graduate, and whatever else you say about it it doesn't look like a stage play. So to direct the film of The Odd Couple Neil Simon chose Gene Saks. Saks actually is one of those stage directors whose pictures look like filmed plays. But Simon loved him for the way he served the script, and he was pretty much the playwright's regular director through the dawn of the 21st century. What's wacky about The Odd Couple is that he's making a film of another director's stage production, and yet he sticks almost faithfully to Mike Nichols' Broadway direction: it's not merely a filmed record of Neil Simon's play, but a filmed record of Mike Nichols' staging of Neil Simon's play. The minute we're out of that opening sequence with Hefti's theme music and the fleabag hotel and go-go joint, we're at a Broadway show with a single set: Oscar Madison's apartment. Thereafter we leave the flat only for the most perfunctory excursions - brief scenes of the supermarket, a ball game - and Gene Saks told me years ago that he looked on those as the equivalent of a frontcloth and a bit of incidental music to indicate the passage of time before the resumption of a new scene on that single set.
To be sure, Alfred Hitchcock for one used to scoff at the way Hollywood studios that optioned Broadway hits immediately set about opening them up with multiple extraneous locales. Filming Dial M for Murder in 1954, he kept almost all the action within the one poky London flat because he felt it intensified the tension. But Gene Saks goes him one better: He keeps almost all the action within Oscar Madison's living room, and (unlike Ray Milland and Grace Kelly's pad) it's a living room with only three walls; that's to say, it's a literal stage set, with the downstage wall removed so that the theatre audience can see in. For the poker scenes, the players always sit at three sides of the table - as they would on stage: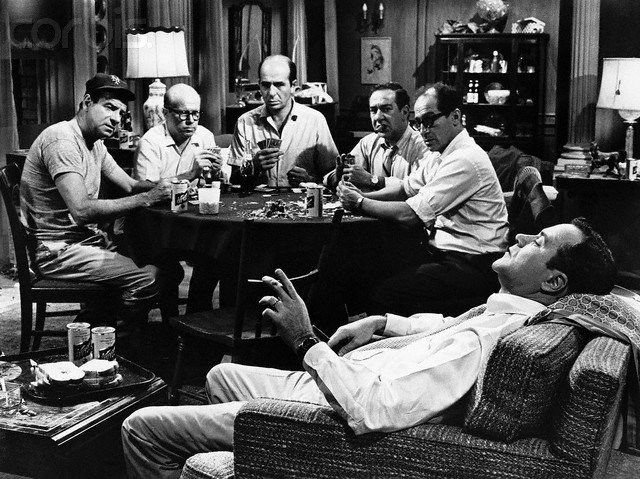 That's so weird it has to be intentional: Saks seems to have figured, "Neil Simon is one of the funniest guys on Broadway. Let's not let anything filmic get in the way of a great night at the theatre." And it worked: The Odd Couple was Hollywood's fourth biggest box-office hit of 1968. To be sure, the general vibe is dated, in part because traditional sex roles have been sliced and diced, pulped and puréed over the ensuing half-century. The old joke about divorcés was that they keep marrying the same woman over and over. But Simon adds a new wrinkle: Men are doomed to recreate the same old patterns of behavior even if the new woman they move in with is a man. For Felix, Oscar is someone on whom to shower all the nice homemaking touches his own wife never appreciated.For Oscar, Felix offers the same domestic convenience as his missus, and also the same maddening jackhammer pain in the whatever. "I cannot stand little notes on my pillow!" he rages. "'We are all out of cornflakes, FU.' It took me three hours to figure out FU was Felix Ungar."
In a certain sense, of course, the entire premise has been superseded by same-sex marriage, which retrospectively imbues these hard, grizzled, boozy, smokey, poker-playing swingers with a quaint innocence.
My favorite scene has always been the double-date Oscar arranges with the "cuckoo Pigeon sisters" from the flat upstairs, Cecily and Gwendolyn. If you know your Oscar Wilde, you'll recognize those names, although Simon has taken them down a socio-economic notch or two and made them emblematic of a certain type of English girl expat you'd have found larking about New York at that time - albeit in this case, one is a divorcée, and the other is, somewhat mysteriously, a widow. Cecily and Gwendolyn are brilliantly conjured by Monica Evans and Carole Shelley, who played the Misses Pigeon on stage, on the big screen, and later on television. Miss Shelley is still working on Broadway (she was in Wicked), but I don't believe I've ever seen Miss Evans in anything other than The Odd Couple, although I met her once in London when she was married to Capital Radio's legendary disc-jockey Dave Cash. But, if you only ever have one big movie scene, this one is pretty great: Simon, who's been criticized for sixty years as no more than an efficient gag machine, gets some of the biggest laughs of his career from a succession of excruciatingly painful non-jokes. The Pigeon sisters are well-named: They're fluttery, and literally cooing. Like Matthau's Oscar, they expect the evening to pan out, and they don't figure that's going to be too difficult. Everything Oscar says, they take as a double entendre and giggle naughtily. He laughs back. Three-quarters of the double-date have instantly hit that sweet spot in date-night banter where everything you say is funny and risqué and nudges the choo-choo a little further down the track to its intended destination.
Except for Jack Lemmon's Felix. His attempts at banter frosts up the joint, he can't get into it, he keeps derailing the train. His awkwardness is cringe-making, but there's no reason why it should be fatal to Oscar and the ladies. And then Matthau gets up and goes to mix the drinks, and when he returns...
It's a marvelous scene, one of Neil Simon's best, on stage or screen. And ever since I first saw the film, should I chance to come across it twenty or forty minutes in on Channel 57 or Channel 293, I always stick with it until the Pigeon sisters walk in for their all-time disastrous double-date. Add Matthau and Lemmon's screen chemistry before it curdled into formulaic bilge like Grumpy Old Men, plus that Neal Hefti classic instrumental, and the sum of the parts is pretty great.
PS Did you know that that Neal Hefti theme has lyrics? Sammy Cahn thought enough of them to sing them to me over twenty years later:
No matter where they go
They are known as the Couple
They're never seen alone
So they're known as the Couple

As I've indicated
They are never quite separated
They are peas in a pod
Don't you think that it's Odd?
Sammy could never see the point of music without words. In this case, he was most definitely wrong.
~Mark will be back with Judge Jeanine later this evening, Saturday, live across America at 9pm Eastern/6pm Pacific. We hope you'll tune in!
If you disagree with Steyn's movie columns and you're a member of The Mark Steyn Club, then feel free to tell him FU (Felix Ungar) in the comments section. Club membership isn't for everybody, but it helps keep all our content out there for everybody, in print, audio, video, on everything from civilizational collapse to our Saturday movie dates. And we're proud to say that this site now offers more free content than ever before.
What is The Mark Steyn Club? Well, it's a discussion group of lively people on the great questions of our time - we'll be launching our first anniversary observances with a brand new Clubland Q&A live around the planet this Tuesday. It's also an Audio Book of the Month Club, and a live music club, and a video poetry circle - we'll have another of our Sunday selections tomorrow morning. We don't (yet) have a clubhouse, but we do have many other benefits. And, if you've got some kith or kin who might like the sound of all that and more, we do have a special Gift Membership that makes a great birthday present. More details here.