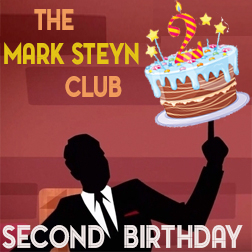 On Monday The Mark Steyn Club turns two years old, and for much of this month we'll be running special anniversary observances. I chose this as our Mark at the Movies birthday picture pick because as the years go by I feel ever more like Julie in the I Know What You Did... franchise. In the run-up to May 6th, I suffer a wee bit of anniversary anxiety lest Mark Steyn Club Founding Members from those first days in 2017 decide they don't wish to re-up for another twelve months. And in that respect I feel I can relate more and more to Jennifer Love Hewitt's predicament as Julie: Way back on Fourth of July in, if memory serves, 1996, Julie and her chums were driving to the dance and they ran over some guy and decided to dump him in the river. Unfortunately, he survived - and now, alas, in the run-up to every Glorious Fourth she's traumatized by nightmares lest he send her his cheery message: "I know what you did last summer" or, by now, "I know what you did twenty-three summers ago." Of course, disaffected Club members are not yet stalking me in a fisherman's smock and chopping up everyone in sight with a giant hook, but it's only a matter of time.
I Still Know What You Did Last Summer is also my favorite sequel title, with the exception of such classic sequels as Still Gone with the Wind, My Still Fair Lady, All Still Quiet on the Western Front and Still Birth of a Nation. I think we did I Know What You Did Last Summer the summer before last, but, for those who still don't know what I Know What You Did Last Summer did, here's what I know: At the end of the original movie, Julie was in the shower getting carved up by the fish-hook guy and that appeared to be that, but the film wound up pulling over $100 million, which was still considered a lot in Hollywood twenty years ago, so they decided to make a sequel.
I Know What I Did's apparently conclusive finale is now explained as one of several recurring nightmares Julie has, mostly while dozing during her Political Science class. With the anniversary approaching, she dreads the return of the man with the hook. And, sure enough, in the middle of karaoke night, while Julie's bellowing out Gloria Gaynor's "I Will Survive", the lyric screen suddenly flashes up the words: "I still know what you did last summer." And suddenly Julie is warbling "First I was afraid, I was petrified" with unusual sincerity.
By now, you may have spotted the flaw. This Fourth of July (1998) is the first anniversary of the Fourth of July (1997) when Slasher Man first appeared on the scene, which is in turn the first anniversary of the Fourth of July (1996) when Julie and her chums ran him over and dumped him in the river. So in other words, last summer was the summer when the slasher first alerted her to the fact that he knew what she'd done the summer before that. So, technically, the film's title should be I Still Know What You Did Two Summers Ago. But that's the least of their worries. I know what they didn't do last summer: they didn't sit around worrying about the wit and inventiveness of the script and the richness of the characterizations, and the importance of getting a director who understands pace and tension.
The original team passed on the sequel, so it's fallen into the hands of then up-and-coming British director Danny Cannon. Cannon has made very few films, all of them terrible. Even more than his American counterparts, he's one of those directors who has no sense of life, only of other movies, with a dash of rock music and comic books thrown in. Young Americans, a cop caper set in London, was a transparent audition for Hollywood, and it worked well enough to get him the gig on Judge Dredd, adapted from the British comic book about the 25th-century super-cop. Cannon's version starred Sylvester Stallone, his speaking voice seemingly dubbed by the late Lord Denning, and dressed like a motorcycle courier visiting a 25th-century gay disco. If only by comparison, then, this teen slasher pic is Cannon's most grittily realistic work to date. It gets into gear when a morning disc-jockey calls up Julie (Jennifer Love Hewitt) and her flatmate Karla (the pop star Brandy) and asks them to name the capital of Brazil. "Rio de Janeiro!" they cry, after hurriedly studying a cereal packet.
SteynOnline readers will not need me to point out the flaw in this answer, but it doesn't matter: the girls could have answered Moose Jaw, and they would still have won the star prize — a weekend on a remote Bahamian island in the middle of a hurricane. It's a set-up.
For a nano-second, I assumed the radio contest was a contemporary variation on the Hitchcockian flaw, whereby the ensuing carnage arises from the principals' own mistakes — or, in this case, the average high-school student's near complete ignorance. But Cannon, another Brit director in Hollywood but a poor successor to Hitch, doesn't trouble himself with such stuff. There follows all the usual stuff — the deceased bit players, the dead phone lines — all signposted by a ludicrous orchestral score plonking out dissonant chords for both the predictable terrors and the false alarms — "Look out! Look out!" we're supposed to cry. "Someone's behind you!! Aaaargh!!! ...oh, sorry, my mistake, it's only your best friend."
Brandy is bouncy, Miss Hewitt is one of those vulnerable, sad-eyed brunettes with the immobile and decidedly un-bouncy hardbody look favored at the time by Hollywood producers. But the film is almost touchingly indifferent to the possibility of human emotion: Friends and boyfriends perish in various horrifying ways, but without ever affecting the lead characters. Marijuana is smoked, and swear-words are widely deployed, and casual sex is assumed, as opposed to today when teens seem to prefer casual non-sex. For the non-American viewer, you're struck as always by the material well-being of movie adolescents: Miss Hewitt drives a Jeep Cherokee. I Still Know... has you pining for the gritty cinéma vérité style of the high-school scenes in Grease, when everyone in class looked about 38 at least.
Needless to say, Danny Cannon & Co don't see it that way. As the ending makes clear, they're already planning another sequel, which I assumed would be called I Still Have A Vague Recollection Of What You Did Three Summers Ago. Alas, this wasn't quite so boffo at the multiplex, and they had to wait almost a decade for the drearily non-specific third entry: I'll Always Know What You Did Last Summer. Perhaps by now the guy has early signs of dementia: I Still Know What You Did That First Summer, It's More Recent Summers I Have Difficulty Remembering.
~There'll be plenty of movie talk on the Second Annual Mark Steyn Club Cruise, sailing up the Alaska coast in early September. Among Mark's guests will be Dennis Miller, star of Disclosure, The Net, What Happens in Vegas and, of course, Bordello of Blood, as well as Phelim McAleer and Ann McElhinney, producers of last year's Gosnell. And Kathy Shaidle, who covered for Steyn in Mark at the Movies last summer, will also be aboard. Cabins are going spectacularly fast - and we're all but sold out. If your preferred accommodations are showing up online as unavailable, do call or email Cindy, our excellent cruise manager, and she might be able to pull a few strings: If you're dialing from beyond North America, it's +1 (770) 952-1959; if you're calling from Canada or the US, it's 1-800-707-1634. Or you can email your query here.
Monday is the second anniversary of The Mark Steyn Club. If you're one of our first-day Founding Members, we thank you for your support these last twenty-four months, and hope you'll want to join us for another twelve. Club membership isn't for everybody, but it helps keep all our content out there for everybody, in print, audio, video, on everything from civilizational collapse to our Saturday movie dates. And we're proud to say that this site now offers more free content than ever before in its sixteen-year history.
What is The Mark Steyn Club? Well, it's a discussion group of lively people on the great questions of our time; it's also an Audio Book of the Month Club, and a live music club, and a video poetry circle. We don't (yet) have a clubhouse, but we do have many other benefits. And, if you've got some kith or kin who might like the sound of all that and more, we do have a special Gift Membership that makes a great birthday present. More details here.
See you later this evening for Part Nine of our current Tale for Our Time - The Island of Dr Moreau - and tomorrow morning for our second-birthday edition of On the Town.