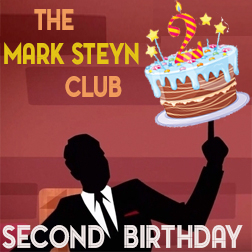 In this anniversary week of The Mark Steyn Club, as the Google-YouTube-Facebook-Twitter-PayPal-Patreon Grand Deplatforming accelerates and the Internet's Golden Age recedes further into the rear view mirror, I want to thank those who keep this website and our various activities part of their daily routine. Joris, a Steyn Club member from the Netherlands, writes:
Proud to be a Founding Member. I hope for many more years.
We'll be here if you will, Joris. Timothy, a First Week Founding Member from Virginia, says:
Thanks for keeping one lamp lit in a darkening world.
In defiance of birthday tradition, Timothy, we intend to make sure the candles don't go out.
Among our anniversary innovations was a brand new home page for Tales for Our Time laid out in a Netflix-esque "tile" format that we think makes it easier for listeners to pick out their preferred audio entertainment of an evening. Melanie Cooke, another First Week Founding Member, likes it:
Love the new page for Tales for Our Time!!
Thank you, Melanie - and with that let's proceed to Part Thirteen of my serialization of The Island of Dr Moreau by H G Wells. In tonight's episode, Montgomery decides that the best way to keep the Beast Men human is ...booze:
"Damnation!" he exclaimed at some petulance of mine ,,,and he got up, and went for the brandy. "Drink!" he said returning, "you logic-chopping, chalky-faced saint of an atheist, drink!"

"Not I," said I, and sat grimly watching his face under the yellow paraffine flare, as he drank himself into a garrulous misery... He wandered into a maudlin defence of the Beast People and of M'ling. M'ling, he said, was the only thing that had ever really cared for him. And suddenly an idea came to him.

"I'm damned!" said he, staggering to his feet and clutching the brandy bottle.

By some flash of intuition I knew what it was he intended. "You don't give drink to that beast!" I said, rising and facing him.

"Beast!" said he. "You're the beast. He takes his liquor like a Christian. Come out of the way, Prendick!"

"For God's sake," said I.

"Get—out of the way!" he roared, and suddenly whipped out his revolver.

"Very well," said I, and stood aside, half-minded to fall upon him as he put his hand upon the latch, but deterred by the thought of my useless arm. "You've made a beast of yourself,—to the beasts you may go."

He flung the doorway open, and stood half facing me between the yellow lamp-light and the pallid glare of the moon; his eye-sockets were blotches of black under his stubbly eyebrows.

"You're a solemn prig, Prendick, a silly ass! You're always fearing and fancying. We're on the edge of things. I'm bound to cut my throat to-morrow. I'm going to have a damned Bank Holiday to-night." He turned and went out into the moonlight. "M'ling!" he cried; "M'ling, old friend!"

Three dim creatures in the silvery light came along the edge of the wan beach... Then I saw M'ling's hunched shoulders as he came round the corner of the house.

"Drink!" cried Montgomery, "drink, you brutes! Drink and be men! Damme, I'm the cleverest... Drink, I tell you!" And waving the bottle in his hand he started off at a kind of quick trot to the westward, M'ling ranging himself between him and the three dim creatures who followed.

I went to the doorway. They were already indistinct in the mist of the moonlight before Montgomery halted. I saw him administer a dose of the raw brandy to M'ling, and saw the five figures melt into one vague patch.
Man and beasts indistinguishable: Members of The Mark Steyn Club can hear Episode Thirteen by clicking here and logging-in. Earlier installments of The Island of Dr Moreau can be found here - and thank you for all your kind words on this latest serialization. Very much appreciated.
If you'd like to know more about The Mark Steyn Club, please click here - and don't forget, for fellow fans of classic fiction and/or poetry, our Steyn Club Gift Membership.
I'll see you back here tomorrow for the penultimate episode of The Island of Dr Moreau.