Arts & Culture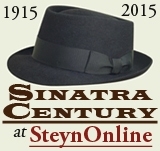 We had a Sinatra song from Canada for Dominion Day, and so we surely have to have an American Sinatra song for Independence Day. Frank sang all the familiar patriotic songs at some point or other over the years but without, it seems to me, really connecting with them: His versions of "America The Beautiful", for example, are perfectly fine, but without finding a way, as he does with his best recordings, to take the material to the next level...
Mark remembers the great Christopher Lee, from Dracula to a Dark Lord of the Sith
Hard to imagine at the start of yet another dreary summer of superheroes at the multiplex, but once upon a time "The Avengers" didn't mean lurid musclebound rupper-nippled ├ťbermenschen battling malevolent Norse gods across a hole in the time-space continuum over the streets of Manhattan, but an urbane middle-aged toff and a catsuited Carnaby Street dolly bird bantering their way across Swingin' London. That other "Avengers" was a big hit in the US. It was, indeed, the last British telly show to ...
| | |
| --- | --- |
| | |
I started the day on Bill Bennett's radio show, which is always fun. Jonah Goldberg was on before me, and advanced the proposition, after the Supreme Court's almighty constitutional bender, that it wasn't so bad; conservatives who just pottered around in their own world and tended to their families could still lead lives largely unbattered by the forces of "progress". A few minutes later, one of Bill's listeners, Claudine, came on and said that's what Germans reckoned in the 1930s: just keep your head down and the storm will pass. How'd that work out?Claudine had the better of the argument, I think...
For this Father's Day weekend, I thought we'd enjoy a word from Jack Lemmon. Not because he's my dad, but because a quarter-century of Father's Days ago, I spent a little bit of time with him...