Arts & Culture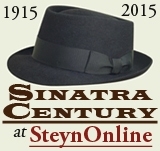 It's the wee small hours after Oscar Night, and so our Sinatra Centenary song is obliged to take a nod at least in the direction of the Academy Awards. Frank made a whole album of Oscar winners, with the unwieldy title of Sinatra Sings Days of Wine and Roses, Moon River, and Other Academy Award Winners...
For Oscar weekend: Bill Murray and Scarlett Johansson in a great Oscar-loser
Mark remembers the great Kit "HR" Carson
So, just as President Obama is giving a big speech on cyber-security, the jihackists of the Islamic State manage to take over the Twitter and YouTube accounts of the Pentagon's Central Command...
Jay Livingston and Ray Evans celebrate their centenaries this year - Mr Livingston in March, Mr Evans this Wednesday. Who are they? Well, among other things, they wrote this: When I was just a little girl, I asked my mother, 'What will I be? Will I be pretty? Will I be rich?' Here's what she said to me: Que Sera Sera Whatever will be will be The future's not ours to see Que Sera Sera... Doris Day's fatalistic anthem was simultaneously Number One in Britain and Number Two in America, albeit ...