Arts & Culture
In a fortnight's time, our Song of the Week department will be spawning a TV cousin, as part of the new Mark Steyn Show, which will include live musical performances of each week's song. We hope you'll tune in for this innovative evolution of one of SteynOnline's longest-running features. More details below. So I've been spending the last month or so reconnecting with some dear musical friends, in the course of which I found myself scanning the first-night reviews of the new London production ...
For the first and only time, Tom Cruise had Mark at hello
Fidel Castro's presidential term lasted, gosh, an awfully long time, as The New York Times reminded us:
Fidel Castro had held on to power longer than any other living national leader except Queen Elizabeth II.
That's one way of putting it...
Last weekend's Castro droologies reminded us that, for Justin Trudeau and too many others, mass-murdering dictators are kind of a turn-on, a geopolitical S&M fetish - as long as it's millions of distant, disposable Third World types making up the M end of the deal. The Spectator's Douglas Murray found himself booked to discuss the monster with his apologist Richard Gott, and got to the nub of the matter: But really all it is is that Castro himself provided a rallying point for everybody who was ...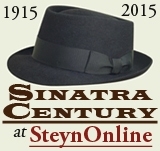 Mark talks to Frank's conductor and pianist during the Seventies and Eighties: Vincent Falcone