Arts & Culture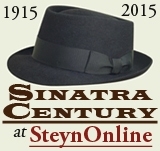 Sinatra loved this bluesy ballad, and, for a third of a century, wherever he was playing around the planet, you could pretty much guarantee that this would be on the set list. The Dominican Republic, 1982:
This next song is a marvelous song written by two of the great songwriters, I speak of Harold Arlen and Mr Johnny Mercer. And they wrote many many wonderful songs together. This one is special to me...
The new Bond film, Spectre, opens in London later this month, and I chanced to hear the theme song the other day. It's not Shirley Bassey, John Barry, Don Black and/or Leslie Bricusse, but what is? Still, one tries to keep an open mind about these things. While we're waiting for Daniel Craig's fourth outing as 007, I thought we'd revisit Pierce Brosnan's first - from 1995, Goldeneye: By the time of Die Another Day, Bond scholars had gotten a bit sniffy about Brosnan's Bond, complaining that ...
E L Doctorow at the dawn of the American century
A uniquely American evil: the billion-dollar baby-parts conglomerate
For this Father's Day weekend, I thought we'd enjoy a word from Jack Lemmon. Not because he's my dad, but because a quarter-century of Father's Days ago, I spent a little bit of time with him...