Arts & Culture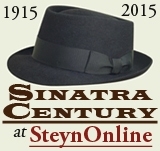 What's the connection between Frank Sinatra and Mickey Rooney?
Oh, that's easy. They were both married to Ava Gardner.
What's the connection between Frank Sinatra and William Shakespeare?
Hmm, well, lemme see... Sinatra and Billy May made a marvelous record of "Falling In Love With Love", introduced by Muriel Angelus in the Broadway show The Boys from Syracuse, which was Rodgers & Hart and George Abbott's version of the Bard's Comedy of Errors. And Frank produced an entire album devoted to Kiss Me, Kate, which is Cole Porter's play-within-a-play take on The Taming of the Shrew. And he recorded Hamlet's soliloquy. Well, okay, just one line of it...
In her latest incarnation as first female president-designate, Hillary Clinton enjoys the support, one assumes, of 99 per cent of Hollywood liberals. Yet it wasn't that way last time she was in the White House. During the (first) Clinton Era, there was a flurry of presidential pics featuring recognizable albeit idealized versions of the incumbent. This thriving genre ceased the moment George W Bush took the oath of office. But you couldn't help noticing that, while Hollywood had no trouble ...
Mark remembers Stan Cornyn, master of the lost art of liner notes
As we announced earlier, SteynOnline is marking the official launch of Hillary 2016! by rerunning some favorites of mine since I first started writing about Mrs Clinton back in the Nineties. So, as we pitch base camp on the Hill to die on, here's my review of her memoirs, Living History, from Britain's Sunday Telegraph of June 16th 2003.
The Avengers: Age of Ultron has opened, heralding the start of yet another superhero summer at the multiplex. Rick McGinnis writes about the age of the comic-book movie here, and I've expressed my disquiet about the damage to heroism that comes when you prefix it with "super-". But they're all that's keeping the big studios in business these days, and the new Avengers movie is likely to be one of the biggest-grossing of all time. Captain America, the Mighty Thor, Iron-Man... They're bringing in ...