Arts & Culture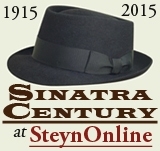 Like the song says:
Fairy tales can come true
It can happen to you...
It happened to Frank Sinatra three months after recording our Friday song, "I've Got The World On A String": He had, finally, a movie role worthy of his talents - Maggio in From Here To Eternity. It opened in August 1953, and was a sensation. Six months later he had an Academy Award - for acting, which, as Sammy Cahn liked to say, "isn't even what he does". On Oscar night, March 2nd 1954, Frank literally ran down the aisle...
This week's movie column is by way of a postscript to last week's, Alfred Hitchcock's Strangers on a Train. Strangers on a Train is a great movie, but not a great train movie. Hitchcock made several of those, from The Lady Vanishes to North by Northwest, and the latter contains what I think of as the all-time great strangers-on-a-train scene, and one I always think of if I'm in the dining car of an at least potentially exotic choo-choo - the Eurostar, say - and a glamorous femme comes sashaying ...
E L Doctorow at the dawn of the American century
If abortion were the respectable medical procedure its proponents insist it is, there would be no such thing as "Planned Parenthood", anymore than there is a Planned Hernia megacorp...
For this Father's Day weekend, I thought we'd enjoy a word from Jack Lemmon. Not because he's my dad, but because a quarter-century of Father's Days ago, I spent a little bit of time with him...