Arts & Culture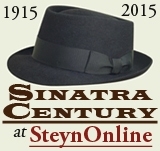 Sinatra sang a lot of Gershwin over the years, but if you had to name the most important "Gershwin song" in his book it would probably be "The Gal That Got Away" - words by Ira Gershwin, but music by Harold Arlen. He made a terrific record of it when the song was new, and then returned to it a quarter-century later to make it - in a medley with "It Never Entered My Mind" - the last great saloon-song sequence to be added to the Sinatra act.
But a lot of George Gershwin tunes stayed with him to the end, too...
So the other night I was watching the second movie in the RED series, which is like the semi-thinking man's Expendables, and reckoning what fun it was to see a great serious actress like Helen Mirren mixing it up with an action star like Bruce Willis. And then I thought: "Hang on, when did Helen Mirren become a great serious actress?" Well, somehow she did...
Mark remembers the great Kit "HR" Carson
Why are media feminists more agitated over fake rape than real rape?
Jay Livingston and Ray Evans celebrate their centenaries this year - Mr Livingston in March, Mr Evans this Wednesday. Who are they? Well, among other things, they wrote this: When I was just a little girl, I asked my mother, 'What will I be? Will I be pretty? Will I be rich?' Here's what she said to me: Que Sera Sera Whatever will be will be The future's not ours to see Que Sera Sera... Doris Day's fatalistic anthem was simultaneously Number One in Britain and Number Two in America, albeit ...