Arts & Culture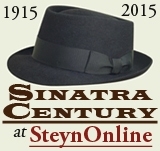 We're spending this weekend with the Isham Jones/Gus Kahn end of the Sinatra songbook. Following "It Had To Be You" on Friday, here's a song Frank sang for almost half-a-century from June of 1940, as the new boy vocalist with a hit orchestra, to deep into the 1980s, as a lion in winter jumpin' all over a hard-swingin' band...
One of Clint Eastwood's best movies - as producer, director and composer
Kit Carson was Rush Limbaugh's Chief of Staff, so Rush dubbed him "H R" - as in H R Haldeman, who fulfilled the same role for Richard Nixon. The dramatis personae of the Nixon White House aren't quite as reflexively familiar to an unassimilated foreign guest-host such as myself, and it took me awhile to get on top of it: on one early show, I referred to him as "R F", which bemused him. "Where did that come from?" he asked...
So, just as President Obama is giving a big speech on cyber-security, the jihackists of the Islamic State manage to take over the Twitter and YouTube accounts of the Pentagon's Central Command...
2015 is Frank Sinatra's centenary year, which necessitates a few modifications to SteynOnline's music, film and entertainment coverage. Our official observances commence tomorrow when our Song of the Week department becomes a Song of the Semi-Week in order to squeeze in 100 Sinatra songs of the century between now and December. Several other folk seem to have opted for this approach, too - our old friend the Pundette has launched a dedicated Sinatra Centenary site for that very purpose - so we ...