Arts & Culture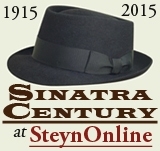 On the first of our Sinatra Century audio specials, Frank's longtime pianist and musical director Vincent Falcone talks about the many years he spent working with the singer mostly on stage but also in the studio. For example, on September 19th 1979 in Los Angeles, it fell to Vinnie Falcone to conduct what would become one of the biggest Sinatra recordings of all time:
Start spreading the news
I'm leaving today
I want to be a part of it...
As I say on the podcast, it's one of the most famous records on the planet. I mention that it turns up as a musical joke en passant during a car chase in the new Bond movie, Spectre. Just the opening bars - that famous John Kander vamp that Vincent Falcone conducts - and that's all it needs, because few records have such an instantly recognizable intro...
Steyn on the new Bond film - and the return of Blofeld
Confessions of a window cleaner - and a double-O secret agent...
For John Oliver, to say anything other than "f**k" might offend someone...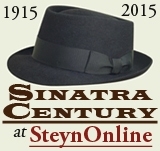 Since January we've been celebrating Frank Sinatra's centenary year at SteynOnline, but mostly in writing. As the formal 100th birthday looms, I thought we'd crank it up and hear some of the actul music, with a few audio specials this month and next. To get things going, here's part one of my conversation with a man who played piano and conducted for Sinatra during the Seventies and Eighties: Vincent Falcone Jr.
Vinnie, as Frank called him, was a big part of a very exciting time in the Sinatra stage act...