Steyn on Culture
Last weekend's Castro droologies reminded us that, for Justin Trudeau and too many others, mass-murdering dictators are kind of a turn-on, a geopolitical S&M fetish - as long as it's millions of distant, disposable Third World types making up the M end of the deal. The Spectator's Douglas Murray found himself booked to discuss the monster with his apologist Richard Gott, and got to the nub of the matter:
But really all it is is that Castro himself provided a rallying point for everybody who was anti-American. Of course there are people who hate America — hated America in the Cold War and still hate it today - who have to extol this man, despite the grotesque human rights abuses he carried out, and make excuses for him.
You can watch the full exchange below:
But perhaps the most revealing aspect of this discussion is the person put up to defend Castro - former Guardian literary editor Richard Gott. As Douglas remarks:
I don't remember the Vietnam war, but I do remember that you had to leave your job at The Guardian because you were outed as an agent of influence at the KGB. So it's not like listening to a normal critic is it? It's like listening to somebody who worked for the SS talking about the Nazi rule in Germany in the Forties.
That's correct. Mr Gott was recruited by the KGB in the Seventies and served as a Soviet "agent of influence" until the USSR imploded in the Nineties.
You'll notice that the Sky News hostess then cautions Douglas not to get "too personal" - as if pointing out that your fellow panelist spent two decades as a paid agent of his nation's enemies is somehow ad hominem, and indeed faintly vulgar even to bring up.
As always, you wonder what a man of the left has to do to put himself beyond the pale.
On the right, it's a lot easier. The website Breitbart - founded by my late comrade Andrew Breitbart - is sufficiently beyond the pale for Kellogg's to announce that it is withdrawing its advertising from the site on the grounds that Breitbart does not reflect the company's "values". It is news to me that a cereal manufacturer has "values", other than nutritional values listed down the side of the box - and, just to be pedantic about it, Kellogg's does not really advertise on Breitbart at all: like most Internet advertisers, it has a general ad buy that turns up all over the place according to how many eyeballs each site has. So it's having to spend money to create an algorithm which will detect when a Frosted Flakes or Rice Krispies banner is in danger of airing on Breitbart, and then prevent it from doing so.
Why would Kellogg's go to so much trouble? According to the anonymous deadbeats of the Associated Press:
Breitbart has been condemned for featuring racist, sexist and anti-Semitic content.
AP doesn't actually produce any evidence of "racist, sexist and anti-Semitic content", which would require considerable journalistic effort on its part. Instead, it states blandly that the site has been "condemned" as such. "Condemned" used to be a term with legal meaning: A judge tells a convicted man that he is "condemned to hang". But in this case Breitbart hasn't been convicted of anything, merely labeled by its political opponents. Just like Reuters could "condemn" Associated Press for "featuring pedophile content". If labeling is all it now takes.
And in fact the real target here is not Breitbart so much as the incoming President of the United States, who has appointed Breitbart honcho Steve Bannon as a senior counselor. The losing side in the election wants to "de-normalize" Trump and his administration, by in effect de-legitimizing his voters and their electoral victory.
Such an act is squalid and contemptible, and potentially very perilous to pluralistic societies, which by definition any free society must be. So why would the manufacturers of something as apolitical as crappy inedible cardboard cereal go along with it?
The left is determined to pressure all corporations to join them in the culture war, and most corporate personnel -- being largely socially liberal anway, and viewing compliance with the left's demands to be the path of least resistance-- tend to sign up to be part of the Left's Social Justice Army.

This is an amoral business decision. And frankly it makes sense as an amoral business decision -- because one side is making demands, taking hostages, and organizing boycotts, and the other side says things like "Leave the poor corporations alone" and "It's a business decision you have no right to interfere with.."

As I said: It's a rational business decision. Because when you look at the incentives, a company's incentives plainly lay on the side of going along with the left, because the right doesn't play this game out of misplaced "principle."
Just so. Ace quotes a Nissan spokesman:
[Nissan] places ads in a variety of sites in order to reach as many consumers as possible.

The placement of Nissan advertising is not intended to be a political commentary and there are no plans to change the advertising mix at this time.
That's the correct response, but it's not good enough for the left. John Hinderaker:
I am not generally a fan of boycotts, but this, like so much else in our civic life, has been a one-way street. Executives at companies like Kellogg need to understand that ours is not a one-party state.
I hate boycotts, too. I want to be free to reject Kellogg's cereals because they suck rather than because buying them is a political act. But John Hinderaker's right: This is a one-way street that leads to a de facto one-party state, or at any rate a one-party culture. The left wants a world in which a discount furniture warehouse is free to advertise with Rachel Maddow but not Rush Limbaugh. And in pushing further and further down that path they make everything political, and render normal civic life all but impossible - to the point where the CEO of something as universal and unobjectionable as Kellogg's Corn Flakes finds it easier to side with the losing side in a free election, and against half of his fellow citizens. So, if Kellogg's wants to shrink the market for Frosted Flakes by 50 per cent, fine: let's frost 'em out, until they understand that, in politicizing everything, they're the flakes.
Will they get away with it? Other corporations that prioritize politics over products aren't:
Not only has ESPN and the NFL willfully entered into the political fray, so did Anheuser-Busch InBev - to the same detrimental results.

After the beer company aired an advertisement featuring comedians Amy Schumer and Seth Rogen this October that was preachy, unfunny, and political, Bud Light sales were destroyed.
November 8th happened in part because Trump and his supporters decided to hell with that one-way street - to a world in which Richard Gott's decades of service to the KGB pose no obstacle to his membership of polite society but Breitbart can never be allowed within earshot of a single snap, crackle or pop.
America is a split nation politically. If the likes of Kellogg's and Anheuser-Busch want to extend that split to beer and corn flakes, there won't be a lot left. The damage is not just to their brands but to the kind of civil society that produces companies like theirs. If the left really cannot handle losing an election, why don't they just cut to the chase and demand full-out civil war?
from Steyn on Culture, December 2, 2016
Today is Armistice Day, when the guns fell silent on the eleventh hour of the eleventh day of the eleventh month. We know it as Veterans Day in America, or, across the Commonwealth, Remembrance Day. Here is that most famous Canadian war poem, by Lieutenant-Colonel John McCrae, as recited by a far more famous Canadian poet, Leonard Cohen...
Step forward, Richard Dreyfuss, star of Jaws and fan of America Alone...
Islamophobia, deluded parochialism, and the setting sun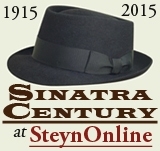 Frank Sinatra was born 100 years ago - December 12th 1915 in Hoboken, New Jersey - and we're celebrating all weekend long. Click on the links below for a cornucopia of print and audio delights...
For John Oliver, to say anything other than "f**k" might offend someone...
'Why do they hate us?' was never the right question. 'Why do they despise us?' is a better one...
Back to where it all began, with 007 on the page - and his creator, Ian Fleming...
Islam is playing for tomorrow, whereas the west has given up on the future
A uniquely American evil: the billion-dollar baby-parts conglomerate
If abortion were the respectable medical procedure its proponents insist it is, there would be no such thing as "Planned Parenthood", anymore than there is a Planned Hernia megacorp...
Last week, I swung by the Bill Bennett show to chew over the news of the hour. A few minutes before my grand entrance, one of Bill's listeners had taken issue with the idea that these Supreme Court decisions weren't the end and, if you just got on with your life and tended to your garden, things wouldn't be so bad: Claudine came on and said that's what Germans reckoned in the 1930s: just keep your head down and the storm will pass. How'd that work out? David Kelsey writes from the University of ...
I started the day on Bill Bennett's radio show, which is always fun. Jonah Goldberg was on before me, and advanced the proposition, after the Supreme Court's almighty constitutional bender, that it wasn't so bad; conservatives who just pottered around in their own world and tended to their families could still lead lives largely unbattered by the forces of "progress". A few minutes later...
Two resignations, and very different reactions
This is not your father's sex change
In my book The [Un]documented Mark Steyn, way up front, a couple of pages into the introduction, I write of the political choice in most western societies - where the left supports various causes, and so does the right, but a couple of decades late to the party. And I wonder what else "conservatives" will be playing catch-up to in another 20 years...
As we announced earlier, SteynOnline is marking the official launch of Hillary 2016! by rerunning some favorites of mine since I first started writing about Mrs Clinton back in the Nineties. So, as we pitch base camp on the Hill to die on, here's my review of her memoirs, Living History, from Britain's Sunday Telegraph of June 16th 2003.
Why are media feminists more agitated over fake rape than real rape?
The murder of Matthew Shepard 17 years ago - is the clearest example of what happens when a favored lobby group inserts itself between the news coverage and reality
So, just as President Obama is giving a big speech on cyber-security, the jihackists of the Islamic State manage to take over the Twitter and YouTube accounts of the Pentagon's Central Command...
America's federal-motorcade hooker-culture is depraved
A superpower unmatched at everything - except winning
The courage of Ayaan Hirsi Ali, and the cowardice of Brandeis University
On the radio with Michael Graham this afternoon (about one hour and fifty minutes in, I gather), I brought up what Time magazine calls "Europe's War On American Cheese"...
Here are two jokes one can no longer tell on American TV...
From two years ago, here's Mark's first thoughts on the Kermit Gosnell case
He who controls the language shapes the debate: In the same week the Associated Press announced that it would no longer describe illegal immigrants as "illegal immigrants," the star columnist of The New York Times fretted that the Supreme Court seemed to have misplaced the style book on another fashionable minority. "I am worried," wrote Maureen Dowd, "about how the justices can properly debate same-sex marriage when some don't even seem to realize that most Americans use the word 'gay' now instead of 'homosexual'..."
To modify Lord Acton, power corrupts, absolute power corrupts absolutely, but aldermanic power corrupts all der more manically. Proco "Joe" Moreno is Alderman of the First Ward of Chicago, and last week, in a city with an Aurora-size body count every weekend, his priority was to take the municipal tire-iron to the owners of a chain of fast-food restaurants. "Because of this man's ignorance," said Alderman Moreno, "I will now be denying Chick-fil-A's permit to open a restaurant in the First Ward." "This man's ignorance"? You mean, of the City of Chicago permit process? Zoning regulations? Health and safety ordinances? No, Alderman Moreno means "this man's ignorance" of the approved position on same-sex marriage.
Media types like to talk about "the narrative": News is just another form of storytelling, and certain plot lines grab you more than others. The easiest narrative of all is anything involving young people. "I believe that children are our future," as the late Whitney Houston once asserted. And, even if Whitney hadn't believed it, it would still, as a point of fact, be true. Any media narrative involving young people presupposes that they are the forces of progress, wresting the world from the grasping clutches of mean, vengeful old men and making it a better place...
Unlike the government of the United States, I can't claim any hands-on experience with Colombian hookers. But I was impressed by the rates charged by Miss Dania Suarez, and even more impressed by the U.S. Secret Service's response to them...
(VIDEO) "'Celebrate diversity' — the great bumper sticker — actually means 'celebrate stultifying homogeneity,'" Canadian best-selling author and columnist Mark Steyn told The Daily Caller. In an exclusive interview this week with TheDC's Ginni Thomas, Steyn railed against liberal "diversity"-speak and the lack of tolerance for traditional values...
Our lesson for today comes from George and Ira Gershwin: "They all laughed at Christopher Columbus When he said the world was round They all laughed when Edison recorded sound They all laughed at Wilbur and his brother When they said that man could fly They told Marconi wireless was a phony..." Fred Astaire and Ginger Rogers sang it in the film "Shall We Dance?" (1937) Seventy-five years on, the president revived it to tap-dance around his rising gas prices and falling approval numbers. Delivering his big speech on energy at Prince George's Community College, he insisted the American economy will be going gangbusters again just as soon as we start running it on algae and windmills. He noted that, as with Wilbur and his brother, there were those inclined to titter...
I'm writing this from Australia, so, if I'm not quite up to speed on recent events in the United States, bear with me – the telegraph updates are a bit slow here in the bush. As I understand it, Sandra Fluke is a young coed who attends Georgetown Law and recently testified before Congress. Oh, wait, no. Update: It wasn't a congressional hearing; the Democrats just got it up to look like one, like summer stock, with Nancy Pelosi and Harry Reid doing the show right here in the barn and providing a cardboard set for the world premiere of "Miss Fluke Goes To Washington," with full supporting cast led by Chuck Schumer strolling in through the French windows in tennis whites and drawling, "Anyone for bull****?"
Have you seen the official White House version of what the New York Times headline writers call "A Responsible Budget"? My favorite bit is Chart 5-1 on Page 58 of their 500-page appendix on "Analytical Perspectives." This is entitled "Publicly Held Debt Under 2013 Budget Policy Projections." It's a straight line going straight up before disappearing off the top right hand corner of the graph in the year 2084 and continuing northeast straight through your eye socket, out the back of your skull and zooming up to rendezvous with Newt's space colony on the moon circa 2100...
Announcing his support for Commissar Sebelius' edicts on contraception, sterilization, and pharmacological abortion, that noted theologian the Most Reverend Al Sharpton explained: "If we are going to have a separation of church and state, we're going to have a separation of church and state." Thanks for clarifying that. The church model the young American state wished to separate from was that of the British monarch, who remains to this day Supreme Governor of the Church of England. This convenient arrangement dates from the 1534 Act of Supremacy. The title of the law gives you the general upshot, but, just in case you're a bit slow on the uptake, the text proclaims "the King's Majesty justly and rightfully is and ought to be the supreme head of the Church of England." That's to say, the sovereign is "the only supreme head on earth of the Church" and he shall enjoy "all honors, dignities, pre-eminences, jurisdictions, privileges, authorities, immunities, profits and commodities to the said dignity," not to mention His Majesty "shall have full power and authority from time to time to visit, repress, redress, record, order, correct, restrain and amend all such errors, heresies, abuses, offenses, contempts and enormities, whatsoever they be." Welcome to Obamacare.
This has less to do with any utilitarian benefit a condomless janitor at a Catholic school might derive from Obamacare, and more to do with the liberal muscle of Big Tolerance enforcing one-size-fits-all diversity. The bigger the Big Government, the smaller everything else...
For our Dutch readers...
VIDEO: Italy's Costa Concordia disaster has Mark Steyn mulling the "women and children first!" idea with Michael Coren on The Arena.
Abe Greenwald of Commentary magazine tweets: "Is there any chance that Mark Steyn won't use the Italian captain fleeing the sinking ship as the lead metaphor in a column on EU collapse?" Oh, dear. You've got to get up early in the morning to beat me to civilizational-collapse metaphors. Been there, done that.
When Christians take the Christ out of Christmas
Christmas in America is a season of time-honored traditions – the sacred performance of the annual ACLU lawsuit over the presence of an insufficiently secular "holiday" tree; the ritual provocations of the atheist displays licensed by pitifully appeasing municipalities to sit between the menorah and the giant Frosty the Snowman; the familiar strains of every hack columnist's "war on Christmas" column rolling off the keyboard as easily as Richard Clayderman playing "Winter Wonderland"... This ...