First they came for "Baby, It's Cold Outside", and I did nothing because I was too busy watching her put some records on while I pour.
Then they came for "Rudolph the Red-Nosed Reindeer". Following my appearance with Tucker on Thursday, mein host spoke to Dave Rubin about the usual tosspots taking umbrage over "Rudolph" because it's "seriously problematic". As Dave said, it's easier to destroy than to create. But the quivering pearl-clutching cries of "Seriously problematic!" suggest even destruction requires a creativity of which our moribund age is increasingly incapable.
My general line on "Rudolph" comes from a Life magazine editorial in 1950: "They discriminated against Rudolph for not being just like every other reindeer in the herd. They drew the color line against his nose." But the editors also correctly noted why the little fellow was so effective in rising above the deeply ingrained erubescophobia. "The run-of-the-sled reindeer began shouting his praises, not because they really loved Rudolph, but because Rudolph was suddenly a Big Shot."
No doubt the red-nosed reindeer, heading the A-list on the sleigh list, knows Prancer and Comet don't really love him, but why should he care? He's learned a quintessentially American lesson: don't get deep and crisp, get even.
At any rate, that's the argument I made in the audio special we did a couple of years back to mark the anniversary of Rudolph's first appearance in a children's giveaway booklet for the Montgomery Ward department store in Christmas 1939. Aside from telling the story of the red-nosed reindeer and his creators and his various iterations over the decades, the show also includes a live performance of the song: Dorothée Berryman, star of the Oscar-winning movie Barbarian Invasions, and Monique Fauteux, who's sung with everyone from Charles Trenet to the Quebec progressive rock band Harmonium, join yours truly for a bilingual take on Rudolph and his nez rouge. Click above to listen.
~For your non-erubescent listening pleasure, yesterday I joined Mighty Mike Faust on 580 WEEU The Voice in Pennsylvania to preview the launch of the first ever Dennis Miller/Mark Steyn tour in Reading. Mike also asked me about various other aspects of the guest-hosting life, which longtime "Rush" followers may find of interest, and about where our politics is headed in 2019. Click below to listen:
Tickets for the Miller/Steyn night in Reading are available here or in person at the Weidenhammer Box Office at the Santander Arena - or by telephone at 1-800-745-3000. And don't forget there's an opportunity to meet me and Dennis after the show.
~Overnight, news came that George H W Bush had died. There will be more to say in the days ahead. He was president at the moment when the free world formally won the Cold War - although, as I noted in America Alone, at the time it didn't seem much of a victory ideologically speaking, and is less and less of one as the years go by. In its place came new provocations: The first Gulf War ended inconclusively, and in that sense made inevitable the second, launched by his son and ushering in an age of perpetually inconclusive wars. On the home front, the first Bush was felt not to "connect" with voters and was replaced after one term by a new kind of president who connected in ways that have afflicted our politics ever since.
Nevertheless, in April, upon the passing of his First Lady, I said: "Spare a thought this morning for George Bush Sr on the first day in three-quarters of a century without the great love of his life." Like many of those blessed with a long and happy marriage, he had no great appetite for a life without that great love, and so a mere eight months later they are reunited. Rest in peace.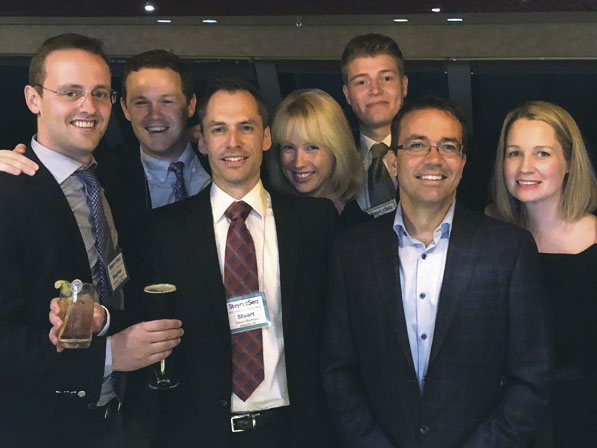 ~I was very gratified and truly touched by the presence of so many Australians on October's inaugural sell-out Mark Steyn cruise. You can see a few of them at left, augmented by a token Canadian and even an American, so it's not all intra-Commonwealth banter. We hope for even more Aussies and a doubling of our Kiwi contingent on the second Steyn cruise in 2019. Some of the happiest times of my life have been spent in the Lucky Country, and a man is ill-starred indeed if he reaches the end of his innings without setting foot on her shores.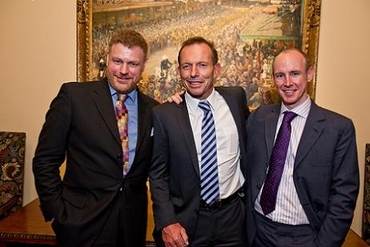 I know our indispensable Steyn Club member Kate Smyth (at right in our group of cruisers) gets a bit twitchy and her finger starts hovering over the old membership cancellation button whenever I post a picture of me clinking the sauv blanc glasses with my old pal and Foreign Minister Julie Bishop. So instead here's me with Euro-MP Daniel Hannan and former Aussie Prime Minister Tony Abbott, whom I recently proposed to the useless UK Tories as the obvious Brexit PM to install in Downing Street.
The fine painting behind us is by H Septimus Power and shows the men of the 6th Division of the Second Australian Imperial Force marching off to war in 1940. Australia has punched above its weight for its entire history. To see the Mother Country volunteering under Theresa May for permanent vassalage is truly dispiriting.
~For more on next year's Mark Steyn cruise, see here.
If you enjoy the above-mentioned Dorothée Berryman and Monique Fauteux, you can hear more of them on The Mark Steyn Christmas Show and on Mark's two-CD salute to Frank Loesser. And Monique joins Mark on his album Goldfinger.
Steyn will be back later this evening with the penultimate episode of our current Tale for Our Time, Baroness Orczy's thrilling adventure set during the French Revolution's Reign of Terror - The Scarlet Pimpernel.
Tales for Our Time is made possible through the support of Mark Steyn Club members, for which we're profoundly grateful - and, if you've a loved one who enjoys classic fiction, we'd love to welcome him or her to our ranks via the Christmas present that lasts all year: A gift membership in the Steyn Club, which this festive season comes with a special personalized Christmas card from yours truly and a handsomely-engraved gift-boxed USB stick with three of our most popular Tales for Our Time for your friend or relative to listen to in the car or perambulating through the wilderness or almost anywhere else. (The trio of tales is The Strange Case of Dr Jekyll and Mr Hyde, The Time Machine and The Thirty-Nine Steps.) For more on the Steyn Club gift membership, see here.