There's a temptation once you've started sorting anything into a genre to start making lists, of the most typical, the most essential, or simply the best. Film noir, a genre whose tangled roots begin somewhere in the early '40s and ends – by general critical acclaim, though your mileage may vary – with Orson Welles' A Touch of Evil in 1958, begs for these kinds of rankings, if only because its hardboiled subject matter tends to attract a male fandom, and everybody knows how much men love lists.
If you were making a list of most typical noir films, you'd have to include Out of the Past or The Asphalt Jungle; for most essential noirs, The Maltese Falcon and Double Indemnity would make most lists. As for the best film noir, the competition would be more heated, not to mention subjective, but you'd probably find Detour or The Killers on a lot of those lists. From where I'm sitting, though, you could grit your teeth and put The Big Combo on any three, perhaps all of them. And then sit back and wait for the shouting to start.
Released in 1955, The Big Combo was directed by b-picture stalwart Joseph H. Lewis, whose Gun Crazy (1950) would probably be an essential noir, but hardly a typical one. It was made for half a million dollars in twenty-six days and includes countless iconic shots that end up in nearly every documentary about noir ever made. It was the first picture made by a production company started by Cornel Wilde and his wife Jean Wallace, and released by Allied Artists, which had recently changed its name from Monogram Pictures, a fixture on Hollywood's Poverty Row.
(Allied Artists went out of business in 1979, and most of its catalogue has ended up in the public domain, which is why you can find The Big Combo easily online and on no-fee streaming services. I watched it for this column on YouTube. Allied Artist's old studios are now the media production centre for the Church of Scientology.)
There's something basic, generic even, about the film. It begins in the City – any city, no place is ever mentioned; there's a "Private Airport" and a "General Hospital", though it's the kind of town where even the hospital sign is neon. The opening credits roll over shots of rain slick streets at night while David Raksin's score, all brass and wheeling saxophone, sets the appropriate sinister, swaggering mood.
The camera lands at a prize fight, where the loser is chastised by Mr. Brown (Richard Conte), who runs all the action in the city. He's a cold-eyed psychopath – an underworld Nietzsche whose motto, repeated more than once, is "First is first and second is nobody." But he's having a hard time with his girlfriend, Susan (Wallace) – a onetime society blonde and aspiring concert pianist who despite being babysat by Brown's gunmen Fante and Mingo (Lee Van Cleef and Earl Holliman, reliable bad men in any western or crime story) manages to overdose herself.
Both Brown and Susan are the focus of months of expensive investigation by Lt. Leonard Diamond (Wilde), a good cop whose boss has figured out that saving Susan is secretly more important to Diamond than bringing down Brown and his syndicate – his "combo", with its mysterious funding and wide-reaching network. At this point it's worth remembering that Raksin was the man who wrote the longing, timeless theme for Otto Preminger's Laura (1944), a very atypical noir, and another story about a cop obsessed with a woman he doesn't know, though in the older film's case, it was because she was supposed to be dead.
Probably just a coincidence.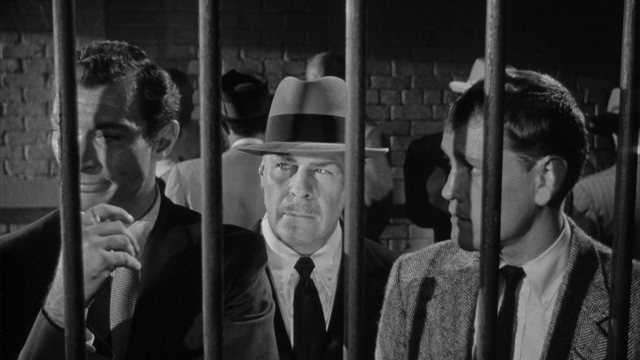 While delirious in the hospital, Susan lets slip a single name – Alicia – that Diamond is sure is the key to unraveling Brown's impenetrable front and bringing down his syndicate. Brown made his way up through the ranks of the mob, past his former boss and current henchman McClure (Brian Donlevy) before supplanting Grazzi, the onetime boss who hasn't been seen in years.
Alicia, Diamond learns, was Brown's wife, and she was either killed on Grazzi's yacht and dumped in the sea off Portugal, tied to a boat anchor, or is living with the old gangster in Sicily. Both stories work as far as Brown is concerned, and in any case he has his hands full trying to keep Susan from killing herself.
Joseph H. Lewis was the quintessential b-movie director, whose career began with westerns and East Side Kids/Bowery Boys pictures before he distinguished himself with Gun Crazy. He stayed employed past the heyday of noir; doubtless the professional peak of his career was the work he did in the '60s on TV westerns like Bonanza, Gunsmoke, The Rifleman and The Big Valley, but he lived until 2000 and can be found on countless noir documentaries reliably telling us that all those rich black shadows and harsh highlights were just a way to cover up the lousy sets and rushed location work.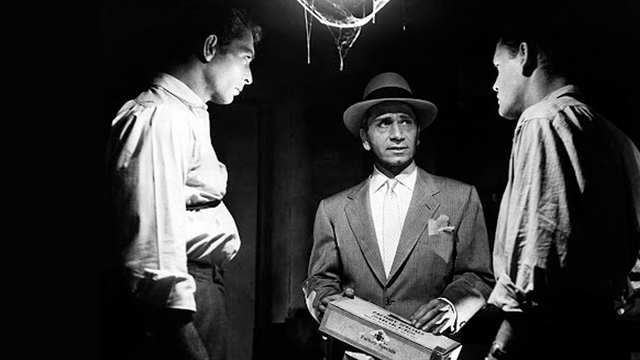 (Those same documentaries will inevitably cut to Edward Dmytryk, insisting that the cheap and nasty lighting schemes just saved time so he could coax better performances from his actors on rushed shooting schedules. For the noir directors who survived long enough to talk about it, what looks like a high style today was simple expedience at the time.)
Which might be true some of the time, but on The Big Combo his cinematographer was John Alton, the Hungarian-born cameraman whose filmography includes everything from An American in Paris to Elmer Gantry to Designing Woman to Girls of the Big House. Equally at home in Technicolor and low-budget black and white, Alton's reputation has grown with the years, from being regarded as merely a flexible technician to an unsung genius.
In the words of writer and director Paul Schrader (Taxi Driver, Raging Bull, Cat People, Mishima) he was "an expressionist cinematographer who could relight Times Square at noon if necessary. No cinematographer better adapted the old expressionist techniques to the new desire for realism, and his black-and-white photography in gritty film noir such as T-Men, Raw Deal, I, The Jury and The Big Combo equals that of such German expressionist masters as Fritz Wagner and Karl Freund."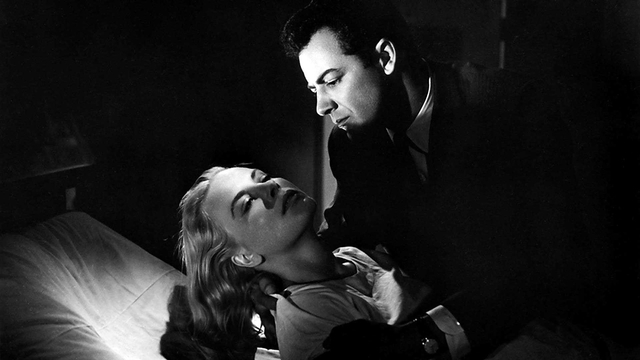 Thanks to Alton, The Big Combo's more than merely competent camerawork and lighting enhances the grimy, morally sour, even perverse mood of the story, as provided by writer and producer Philip Yordan – previously encountered in this column providing the screenplays for Dillinger (1945), Panic in the Streets (1950) and Broken Lance (1954).
Yordan's script was originally titled The Hoodlum and intended as a prestige production starring Spencer Tracy. But the writer held out for a big payday for too long, and eventually had to settle for selling it to Wilde and Wallace's newly-formed Theodora Productions. Jack Palance was originally cast as Brown, but when shooting dates were moved up he dropped out, having barely just finished filming The Silver Chalice (1954), and sore that his wife hadn't been cast in the picture.
Most of the writing you read today about The Big Combo dwells on the strangeness of the relationships in the film, a pick-and-mix of amour fou that stands out from what we've come to dismiss (incorrectly, as far as I can tell) as the vanilla sexual combinations of pre-'60s America.
There's the hold that the psychopath Brown has on women such as Susan and Alicia, who Diamond eventually finds, stashed away by her husband in an asylum. As played by Helen Walker – a troubled woman who would leave acting after finishing the picture, at only thirty-five – she's hiding real madness behind the one that her husband has forced her to play-act, his bullying and mental torture mixed in with her lingering desire for this amoral monster.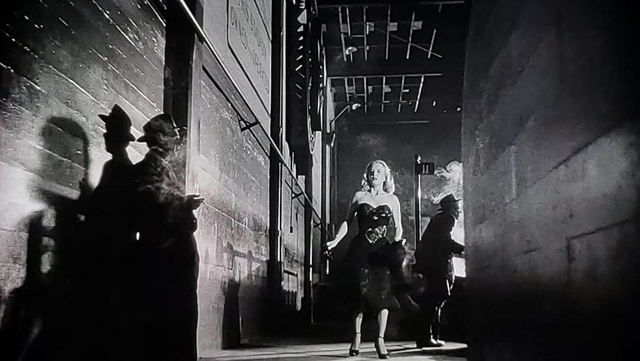 Susan, the "good girl", is lured by Brown away from a respectable life. She's falling apart before our eyes, her platinum blonde hair unflatteringly lank in every scene. Brown obviously enjoys watching women dissolve under the force of his malignant personality, but like Alicia, Susan can't seem to tear herself away. In one very charged scene the camera slowly pans into a close-up on Wallace's face as Conte kisses her, moving from her face to her neck to disappear behind her as her expression fills with agonized ecstasy.
(Lewis had Wilde leave the set to look at rushes while he filmed the scene with Conte and his wife. The star was furious with her when he found out, and though they'd stay married until 1981, he apparently never forgave her.)
It was so suggestive that the Production Code office couldn't help but protest, one official complaining that "This filth showing a guy going down on a woman is not for the American audience." Lewis brazened it out – we know now that the industry was tacitly allowing the Code to slowly die a death of a thousand cuts by the middle of the '50s. He said that it was only the filthy mind of the Code official that imagined anything untoward going on after Conte's head slipped out of the frame. For all they knew the actor just went and sat down; the scene remained in the picture.
And then there's Diamond and his obsessive interest in the gangster's girlfriend. He already has a girl – Rita (Helene Stanton), a burlesque dancer whose feelings for the cop keep her with him despite absences that last weeks. She ends up dying alone in his apartment, in a hail of bullets from Fante and Mingo that were meant for Diamond. The cop is struck numb with grief and guilt: "I used her like a glove that I put on and took off when I felt like it."
Brown gets a charge from the cop's discomfort and jealousy, and Conte relays his contempt with cruel relish. The cop is a good man, a smart one, too, but like every coward and weakling around him he can only hope to be second best – nobody – while Brown toys with women, bullies onetime bosses like McClure, kills with impunity and retreats when he needs to a vault filled with money and guns. His evil genius inspires him to use McClure's hearing aid as a torture device on Diamond, and takes it away from the old gangster before killing him, calling it an act of mercy – at least he won't hear the bullets.
And then there's Fante and Mingo. At first I thought I was just imagining there was something more in their relationship than being Brown's best thugs; there was the scene where Fante, shirtless, answers a late-night call from his boss, and we see that Mingo is in the bed next to him. Then there's another one where the men look positively Wildean, sporting fancy dressing gowns in the same little apartment, interrupted again by Brown's phone call.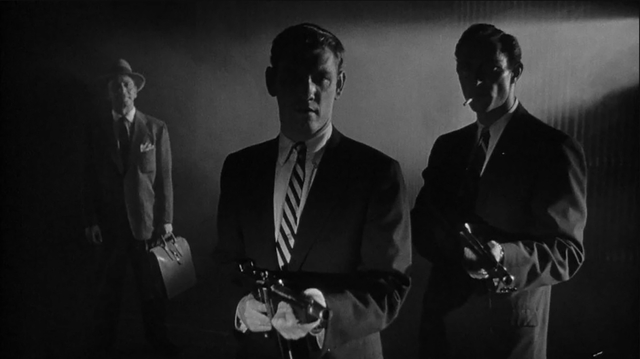 Near the end of the picture their boss sends them a bomb in a cigar box supposed to be full of money as he ties up loose ends before Diamond can nab him. They'd been holed up in a safe room left over from Prohibition in Brown's hotel, laying low after their failed attempt on Diamond's life ("The cops will be looking for us in every closet!"), living on sandwiches and booze.
"I couldn't swallow any more salami," says Mingo. It's less a double entendre than a semi-entendre.
But then there's the aftermath of the bomb, when the injured Mingo dissolves into hot tears after Diamond shows him his partner's corpse; it's all too much, and he drops a dime on his boss.
A quick Google search turns up plenty of agreement that what's going on between Fante and Mingo is hardly even gay "subtext." In his book Somewhere in the Night: Film Noir and the American City, Nicholas Christopher writes that The Big Combo is "unique for its time in a number of ways."
"First, it presents us with a pair of openly gay hit men. Fante (Lee Van Cleef) and Mingo (Earl Holliman) are literally inseparable: they work, relax, and eat together, and even sleep in twin beds in the same bedroom in their apartment – surely a Hollywood first, previously reserved to the domain of farce, as in the Marx Brothers, Laurel and Hardy or the Three Stooges."
But there's nothing funny about Fante or Mingo or The Big Combo. Ultimately it's neither the best nor the most typical of noir pictures, but it's essential for the way it pulls together so much of what defines the genre's style, like the dramatic light and stark compositions telling a story where the gravitational pull of palpable evil has unmoored the protagonists from their moral centres.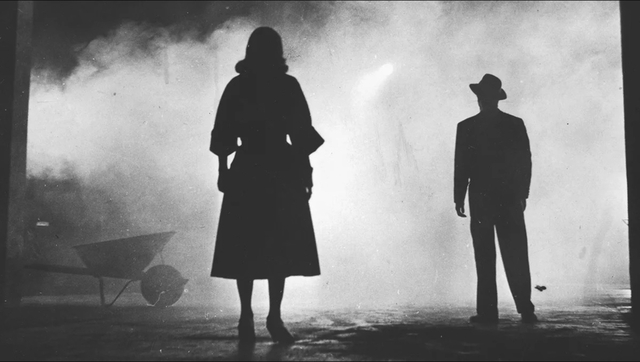 Alton gives us one final bravura visual flourish at the end, when Diamond and Susan walk off together into a brilliant void at the airport that's constantly engulfed in fog. Brown is in handcuffs but not dead, and it's hard to imagine that any bond they'll have after what we've seen will come from anything but shared trauma. If there's any relief for either of them, it's that they're dissolving, if only for a moment, into light and not darkness.
Mark Steyn Club members can let Rick know what they think by logging in and sharing in the comments below, as access to the comments section is one of many benefits that comes along with membership in the Mark Steyn Club.