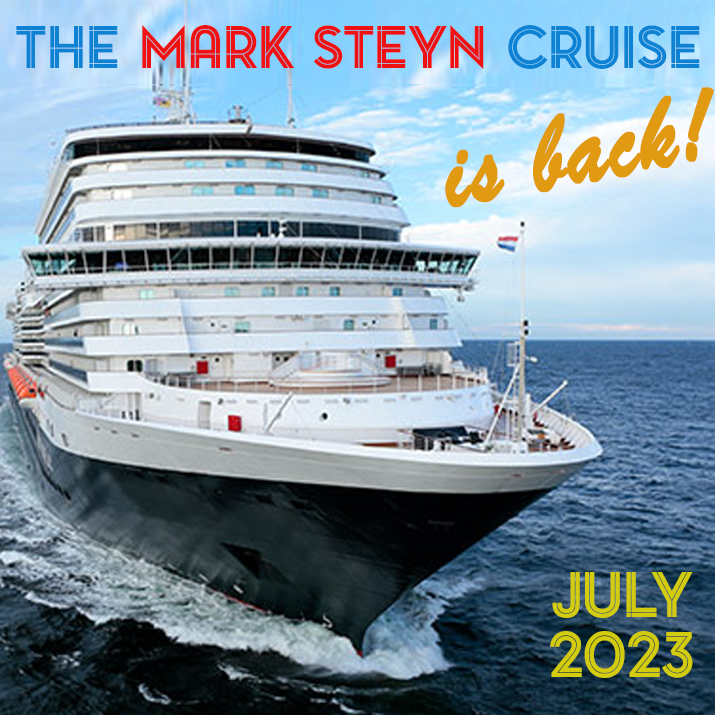 Steyny is back on the briny! Steyn Show favourites from around the world will be joining Mark for the 2023 Mark Steyn Cruise - among them Eva Vlaardingerbroek, James ("Snerdley") Golden, Leilani Dowding, Michele Bachmann, Alexandra Marshall, John O'Sullivan, Dominique Samuels, Andrew Lawton and Tal Bachman - and with no vax/test requirements whatsoever. You can find more details here.
~Before we get to today's Mark Steyn Show, thank you for your kind words about yesterday's vax special. In its first hour online, the Monday Steyn Show stacked up a bigger audience than every one of GB News's 6am-midnight Sunday shows combined. Mark will talk some more about the contrasting numbers on today's broadcast.
Tuesday's show begins with a little bit of Liz Truss and a lot of Eva Vlaardingerbroek, because we know which one is the ratings powerhouse. Eva addresses Liz's remarks on the "New World Order", and who exactly is building the authoritarian future.
After that, as a follow-up to his recent Clubland Q&A, Mark answers more questions from Steyn Club members on topics of the moment. Plus a song for Japanese cat lovers.
Click above to view the full hour.
Thank you again for all your comments on our Monday show. Richard Greene, a First Day Founding Member of The Mark Steyn Club from Connecticut, says:
Mark, another great show. Who needs GB News?
Apparently very few, Richard. Alison, from Tunbridge Wells in the English Home Counties, agrees:
Thank you for the 'Mark-Steyn-Continuing' show which even more decidedly beats all the other timorous media offerings, including everything on GB News which can no longer hold its former viewers.
Nicola Timmerman, a Steyn Clubber from francophone eastern Ontario, writes:
Mark you were in great form today! And Leilani was as well, but I kept thinking she would be hit by some of that London traffic - maybe Albanians celebrating again though the cars weren't as expensive.
No St James's motorist would dare to hit Leilani, Nicola.
One more. Jamie Marsh, Mark's fellow Granite Stater and a First Weekend Founding Member, adds:
Great show. I thought the Leilani interviews on the street worked very well, maybe a regular occurrence would be in order. I also thought the segment with Jamie Jenkins was very interesting. He was up front about how, though he had disagreed with Mark on a few occasions, that Mark was the only one willing to have him on to offer a different opinion and have a grown up discussion on the topic.

The title of this show, The Vax and the Facts would be a great idea for Mark's next book.
You're quite right about Leilani, Jamie. Miss Dowding returns for our regular midweek panel edition of The Mark Steyn Show on Wednesday - look for us at 8pm GMT, which is 3pm North American Eastern.
~Among the benefits of Mark Steyn Club membership is that you can enjoy The Mark Steyn Show in any medium you desire: video, audio or text. So, if you find Steyn and his guests more convivial in non-visual form, please log-in to our Audio and Transcript versions. To listen to the above show, simply click here.
If you've missed a Mark Steyn Show in recent weeks or recent years, you can find all our shows from the last year and many highlights from the archives in a handy Netflix-style tile format here.
If you're a member of The Mark Steyn Club, feel free to have at it in the comments. If you're wondering what that Steyn Club's all about, well, you can find more details here - and we also have a great gift membership.