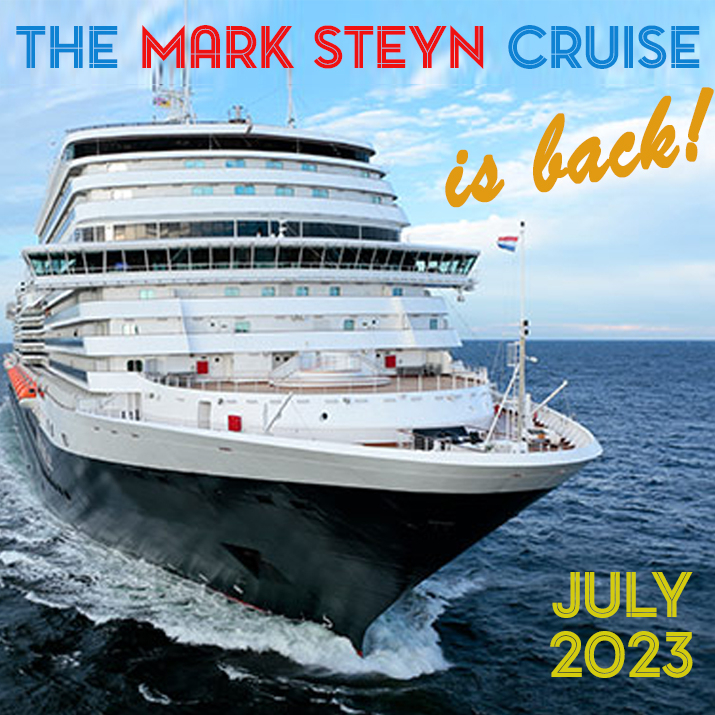 If you enjoy The Mark Steyn Show on your Smart TV or not so smart desktop, we'll also be doing it live at sea during the 2023 Mark Steyn Cruise - and with all of your favourite guests, from Dominique Samuels and Leilani Dowding to Michele Bachmann and John O'Sullivan. More details here.
~Steyn continues to convalesce from his brace of heart attacks, but, after a weekend back in his iron lung, he will return tonight to launch a brand new week of The Mark Steyn Show. The action starts at 8pm British Summer Time/3pm North American Eastern. He's slowly building up the output, health permitting, but he's committed to at least three shows this week, and maybe a fourth something or other.
If you missed any of last week's appearances, you can find them all here:
MONDAY
Dominique Samuels on the New Not Normal, Jamie Jenkins on your gas bill
and Bethan Nodwell on the price you pay for doing the right thing.
TUESDAY
Peter Schiff on the dying dollar and Andrew Bridgen on the unanswered questions
plus: an Ofcom update
WEDNESDAY
Steyn on suing Ofcom, and BBC presenter Jules Serkin on the media's failure
plus Leilani Dowding and Alexandra Marshall on brainy gay fecund rodents
THURSDAY
A Steyn Show special: Mark talks to
Yasmine Mohammed about Islam and women
If you've failed to catch a Steyn Show over the years, you can find not only our latest edition but some 250 from the archives, all in reverse chronological order, listed here.
~As Mark explained on the above Clubland Q&A, he is steering well clear of "crowdfunding" after what happened to the Canadian truckers at the hands of GoFundMe and others. There are, however, multiple ways of supporting Steyn's important lawsuit against the UK state censor Ofcom in the English High Court, including:
a) signing up a friend for a Steyn Club Gift Membership;

b) buying a loved one a SteynOnline gift certificate; or

c) pre-ordering Mark's new book.
In all cases, 100 per cent of the proceeds (aside from shipping in the last instance) go to a grand cause - and you or your loved one gets something, too.
~GB News is not appealing Ofcom's verdict, and the audience has reached its own conclusions on that. It now has a totally distorted audience profile, in which "primetime" is not in the least prime. Friday's primetime audience (7-11pm) was down to a wretched 23,300, which fell further on Saturday to 20,000. Still, could be worse: on Sunday at 5.15pm it was a valiant battle to hold a four-figure audience; precisely 1,200 viewers were tuned in across the British Isles.
~Notwithstanding Mark's health, we had a busy weekend at SteynOnline, starting with an arboreally Ugandan edition of our Clubland Q&A. For his Saturday movie date Rick McGinnis contrasted Warriors and Wanderers, and Tal Bachman on Sunday found the Almighty in his inbox. Steyn's Song of the Week celebrated a man you won't know but whose songs you surely do.
If you were too busy spending the weekend not getting arrested by Alvin Bragg, we hope you'll want to check out one or three of the foregoing as a new week begins.
~The Mark Steyn Show is a special production of The Mark Steyn Club, now in our sixth year. Membership in the Steyn Club comes with some unique benefits, including:
~Our archive of Mark's audio adventures, Tales for Our Time;
~Exclusive Steyn Store member pricing on over 40 books, mugs, T-shirts, and other products;
~The opportunity to engage in live Clubland Q&A sessions such as this Friday's;
~Transcript and audio versions of The Mark Steyn Show and other video content;
~Mark's ongoing series of video poetry and other weekend specials;
~Advance booking for his live appearances around the world, including the annual Mark Steyn Cruise;
~Customized email alerts for new content in your areas of interest;
~and the chance to support our print, audio and video ventures as they wing their way around the planet.
See you back here for your comments on tonight's show.