By the time you read this Charles Philip Arthur George Windsor will have been crowned the 42nd British monarch since William the Conqueror. At this point much of the anticipatory debate about his reign bounces between whether he'll be the last or just the penultimate King of England, and even the staunchest of monarchists seem to have taken a "wait and see" attitude about the oldest man ever crowned, after being Prince of Wales longer than anyone else in history. As precedents go, they don't feel auspicious.
I assume it went well; I'll catch the highlights on YouTube. It was a lovely day here and I had some gardening to do.
For a day or two I thought that I'd commemorate the event by writing about Cromwell, the 1970 historical drama starring Richard Harris as the regicide and Alec Guinness as Charles I, the object of his disaffection, but it seemed needlessly provocative. Instead I want to write about a film that probably flew under your radar, and which I think is more germane to the regent at hand.
King Charles III is a 2017 BBC TV movie based on a 2014 play by Mike Bartlett, which also aired on PBS and was released on DVD in Britain and America that same year. It received two BAFTA nominations and was called "distasteful" by Tory MP Andrew Bridgen (expelled from the party last month for promoting COVID vaccine conspiracy theories) and "extraordinarily insensitive" by former Conservative defense minister Gerald Howarth.
Bartlett called King Charles III a "future history play" and wrote it in blank verse, which underlined how much the plot pointedly evokes Shakespeare's three greatest tragedies while telling a story set in what was, in 2014 and 2017, a near-future Britain but which is now, in 2023, its very palpable present.
The BBC Two film was directed by Rupert Goold (who made TV adaptations of Macbeth and Richard II as well as Judy, a 2019 biopic of Judy Garland starring Renee Zellweger) and starred Tim Pigott-Smith as Charles, reprising the role from the stage production. Pigott-Smith, who died suddenly in 2017 just before the film was broadcast, will be familiar as one of those redoubtable character actors who ably fill supporting roles in movies (like Clash of the Titans, The Remains of the Day, Bloody Sunday, Gangs of New York, V for Vendetta and Quantum of Solace) while enjoying a more visible career in British TV and theatre.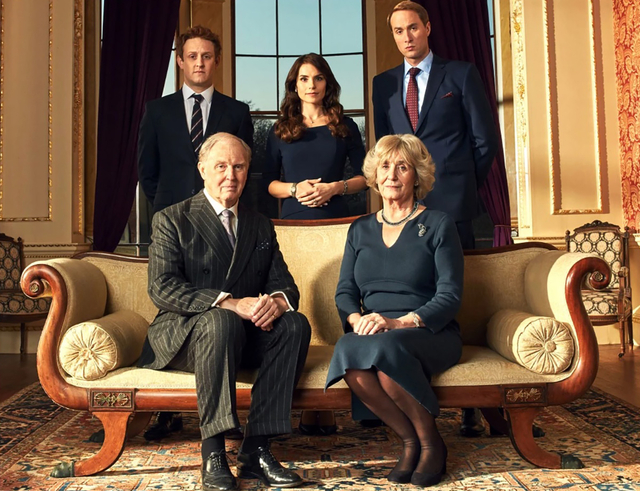 Goold's film begins with the funeral of Elizabeth II, and his montage of solemn pageantry and flashes of stricken and awestruck crowds does a startling job of anticipating the very real events of last September. Pigott-Smith's Charles abruptly leaves the ranks of royal mourners at the Abbey and strides off to address the audience: "At last, I needed room for thought to breathe."
He tells us how his "life as been a ling'ring for the throne," and guiltily admits to fantasizing about his mother dying earlier – of "a helicopter crash, a rare disease" – to allow him to assume her job much earlier, with the potential for "years of constant stable rule." But he is here, now, finally assuming his hereditary role, though by this point:
"...better Thoughtful Prince than King.
Potential holds appeal since in its castle walls
One is protected from the awful shame
Of failure."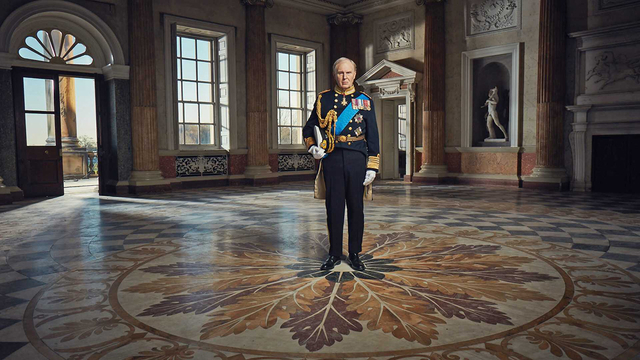 Monologue over, he's joined by Camilla (Margot Leicester), William (Oliver Chris) and Kate (Charlotte Riley) who worry that he seems troubled. Kate and William are confused as to Charles' status, but Camilla assures her that "your father rules today" and not from the coronation, three months hence.
KATE: But surely constitutionally speaking –

CAMILLA: Oh sweet my dear we have no constitution
Instead tradition holds us to account.
Which is a point many people miss, whether British or not, when talking about how that country, considered since Magna Carta the cradle of modern democracy. Britain managed to struggle its way to constitutional monarchy and universal franchise over centuries without an actual written constitution as much as a bedrock of laws and acts, incrementally enacted and bound together by agreements (often made in hindsight) as to what and how they're meant to work. Tradition, in other words; unlike America, modern Britain did not bring itself into existence with the last pen stroke in a collection of signatures by men gathered in a room.
Harry (Richard Goulding) joins them, looking even more distracted than his father, and begs off the next round of royal obligations, claiming a headache and feeling a bit overwhelmed since returning from active military service:
"It's not...I mean...the whole...I've only been back a few days, can't deal with all the chat. The people. It's such a change from being out there."
(Goulding was Harry in the original stage production, but also plays him in The Windsors, a Channel Four satire of the royal family starring comedian Harry Enfield as Charles, and a hilariously scabrous take on the royals for at least its first two seasons.)
Finally Evans (Adam James), the prime minister, joins Charles for a pre-arranged walkabout among the crowds outside, but Charles decides to change the plan: "I feel instead I should remain aloft / From politics and walk with royals alone. / I'm sure Prime Minister will understand." He turns again to confide to us, saying:
"Such equal billing was a joy when Prince.
To share the stage did spread attention out.
But now I'll rise to how things have to be
The Queen is dead, long live the King. That's me."
It was popular and even fun to speculate about how Charles would handle his ascension to the throne when we still imagined that his mother might possibly outlive him. Concerns that he might not rise to his mother's style of serene duty were stoked by the unflattering portrayal of him in seasons three to five of Netflix's The Crown. His peevish reaction to a malfunctioning pen while signing a visitor's book in Northern Ireland, just days after his mother's death, did nothing to diminish worries that his monarchy might be a far more graceless one.
The end of his mother's reign was somehow both unthinkable and inevitable, but Bartlett's play was an attempt to imagine how that might play out – even when it was still imagined in some distant future.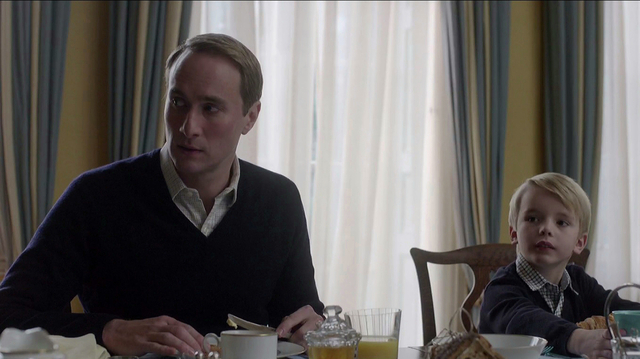 Between the stage production and the filming of the movie adaptation a few changes were made. Some were necessary – sections of the original script were shuffled around and a few passages deleted for time and pacing. There was also some updating as sensibilities had been transformed over the past decade and real-life altered circumstances.
The role of the leader of the opposition – a Mr. Stevens in the play, and explicitly depicted as a Tory – was changed to Mrs. Stevens (Priyanga Burford), whose party was left as vague as that of the prime minister. There have in fact been two female Tory prime ministers in the turbulent decade since King Charles III opened at the Almeida Theatre in Islington, though to be fair neither of them demonstrated the cunning and deceit that Burford brings to the part, manipulating both Evans and the King in just a few short scenes.
The most conspicuous change that the BBC film made to the play arrives in the next scene, where we find Harry, not nursing his headache at home but in a nightclub with his mates Spencer (Parth Thakerar) and Cootsy (Max Bennett) – the Rosencrantz and Guildenstern of the story. Cootsy has brought along a bit of stuff he picked up in the crowds outside for Harry – Jess (Tamara Lawrance), a commoner he describes as "very distinctive."
The actresses who played Jess in both the original West End run as well the touring productions and the Broadway and Sydney runs of the play (Tafline Steen and Lucy Phelps) were not obviously persons of colour, but Tamara Lawrance is black British, a necessary casting since the commencement of the real Harry's relationship with Meghan Markle the year before King Charles III aired.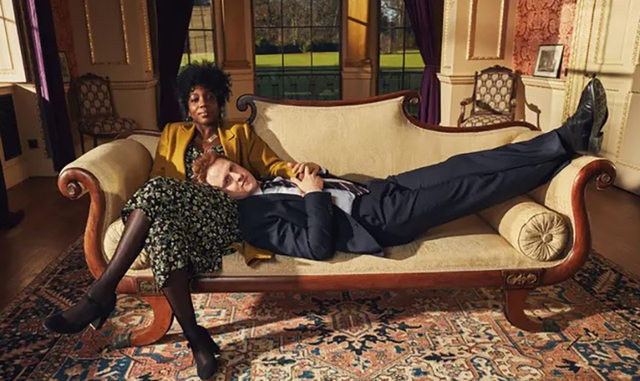 But the part was not rewritten and Jess is more a prole than Markle – a Londoner, a student type sharing a council flat with grad student Bob (Tom Mothersdale) and a self-described republican whose first question for Harry is if Charles is really his dad. ("Hewlitt. Her butler or whatever.") She nevertheless has an insight that Harry hates his diminished role as now-redundant spare and tabloid fodder:
"He does, this dressing up, getting wrecked, it's because you're part of this big thing, but you don't get anything back. You'll just be the drunken uncle, get married a few times, always pissed. A trap. For you. Isn't it?"
From the perspective of 2014 and even 2017 it was easy to feel this kind of sympathy for the blokeish, occasionally hapless but relatable Harry, and probably the most dated thing about King Charles III is imagining Harry not as a troubled victim of dysfunctional family and the royal "firm" but capable of a lunge at a dignified escape to commoner status and real agency. It's a once-shared fantasy that real life has left far behind.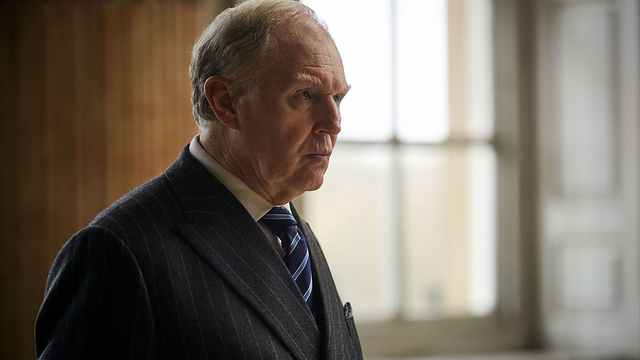 The anticipated first crisis of Charles' reign arrives at his first audience with Evans, when Charles ignores the prime minister's attempt to placate him with a pending environmental bill limiting airport runway lengths and inquires instead about another bill, meant to curtail press freedom in the wake of newspaper scandals like the one that forced the News of the World to cease publication in 2011.
It's probably a fantasy to imagine our King Charles making a stand on a free press in opposition to a government with an agenda to increase its power, but Bartlett earnestly dramatizes it, with Charles explaining himself to Evans:
"Politically our sway and influence
Are in decline. But still we demonstrate
The way a just society should work:
Judiciary, democracy and more –
A low corruption rate. All those who hold
The strings held to account themselves in turn."
Sure that his government is moving in a dangerous direction he defies the precedents his mother set as a constitutional monarch and withholds his signature on the bill. He's encouraged by Mrs. Stevens, who privately offers her his support but publicly withholds it in the House of Commons, knowing it will trigger a crisis – and an opportunity. Which it does when Charles, in full regalia, marches into the Commons and dissolves parliament, just as the first Charles did, triggering the English Civil War and his own doom.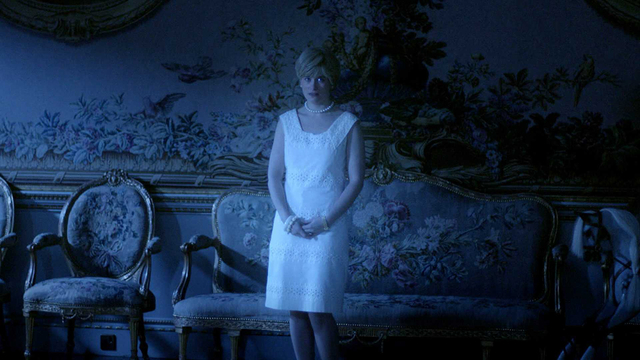 The crisis keeps both Charles and William up at night, where they're visited by the ghost of Diana, heralded by blue light flooding the scene and Latin choral music. Her role is an echo of the ghost of Hamlet's father – a spectre with an agenda telling both men that they will become "the greatest King we ever have," an agent of chaos, motivated by revenge.
And she isn't the only woman with an agenda in the story. When we meet Kate in the first scene, she's patronized by Charles, who regards her as a pretty bauble:
"Hello! You're radiant, despite the grave
Restrictions of mourning dress. It is
Your gift my dear, it's what you've brought to us.
A sense of fashion, better hair as well."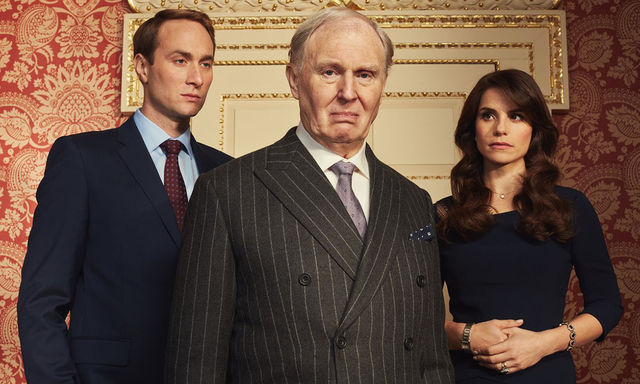 But it isn't long before her father-in-law's actions arouse her own sense of an opportunity, and one not restricted to preserving the future of her husband and son. In the monologue where Kate reveals her own ambition it's not just family but class behind her scheme:
"My mother's dad was in the north a miner born
My father came from Leeds, and both of them
When young and inexperienced did risk
Their house and all they had to try and make
A business of their own. But it's not just this stock
I bring to these most distant regal realms
But something more important and precise

I have ambition for my husband yes
And hope my son will grow the finest King
But if I must put up with taunts, and make
So public everything I am, then I
Demand things for myself, I ask no less
Than power to achieve my will in fair
Exchange for total service to the State."
Kate manipulates her husband and father-in-law much as Mrs. Stevens manipulates Charles and Evans, but Bartlett promotes her to the story's Lady Macbeth when she stands alone with a cigarette on the terrace at Kensington Palace and mutters to herself: "Cry havoc."
Charles' dissolution of parliament causes riots in the streets, and when he demands that police and palace guards be augmented with the army, a tank parks itself behind the gates of Buckingham Palace, its cannon pointed through gates and down The Mall. Amidst all the chaos Harry tries to persuade Jess that he's sincere, but she's already caught up in the drama when an ex sells some naked selfies she sent him to the tabloids.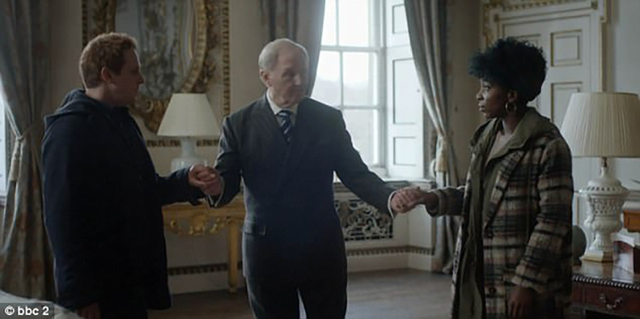 The couple arrive at the besieged palace to beg for Charles' permission – for Harry's exit from the royal family and its duties and the King's blessing of their relationship. Which they receive, but first Charles is moved to explain to Jessica his understanding of a free press in the real world, in a monologue written for the film:
"If I defend the freedom of the press it's
With the knowledge that they will never
Live up to a higher standard
Naked girls, young boys will illustrate their pages and
They'll make hypocrisy an art
Insisting that they stand chief moralist
While making cash as base pornographer.

I know this much
Though all that we can do is
Stand our ground, for if they're free to print
This dirt, then we have liberty as well
To answer back."
It's a marvellous fantasy; I would happily abandon my own convictions and support this sort of King Charles, but he's as unlikely to exist in the real world as he is to succeed in Bartlett's story.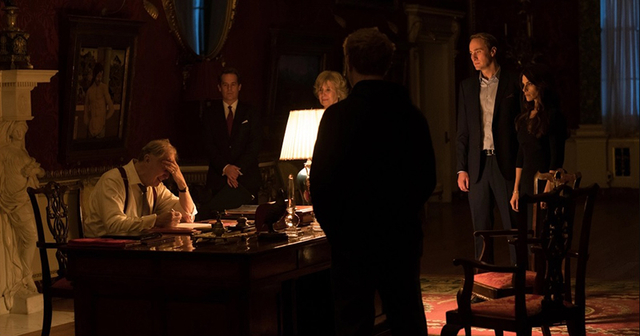 In the end everybody betrays Charles. Evans and Stevens, of course, but also the military and his own press adviser, Reiss (Tim McMullen), who quits the King's service to join with William and Kate, who in turn force him to sign abdication papers. King Charles becomes King Lear, with Camilla remaining to helplessly support him, slapping the Prince of Wales, and calling William and Kate the "King and Queen of column inches," to which Kate coldly replies:
"Your thin opinion of us demonstrates
How out of touch you are, and jealous too.
Our looks don't make us cruel, our youth is not
An ignorance, and detail in the way we dress
Should not be thought as vanity, but is
Part of the substance only we provide.

We know the world. Our column inches are
The greatest influence that we possess."
Even Harry is brought to heel, telling his father to sign the abdication and breaking off with Jess at the coronation, explaining that the photos are why she's missing from the seating plan, and telling her that he's resigned to be as –
"I was before, a singleton, amusing
Mostly, clownish and unthreatening.
Therefore I'm sat, as previously planned
With Cootsy, Spencer. These most harmless friends."
Pigott-Smith is fantastic in these final scenes, frantic with the realization that he has been forsaken by the family he was raised to serve and the government he hoped to preside over as a conscience. The only thing left for him is to sit quietly at the coronation of William and Kate, but just as the Archbishop of Canterbury reaches for the crown, Charles rises from his chair and takes it from him.
In the film he holds it for a moment before placing it on his son's head, but Bartlett – for some reason – cuts four crucial lines from the play where Charles examines the crown, saying:
"It is much heavier than I thought.
And from the side, bejewelled, it looks so rich
But turn it thus, and this is what you see
Nothing."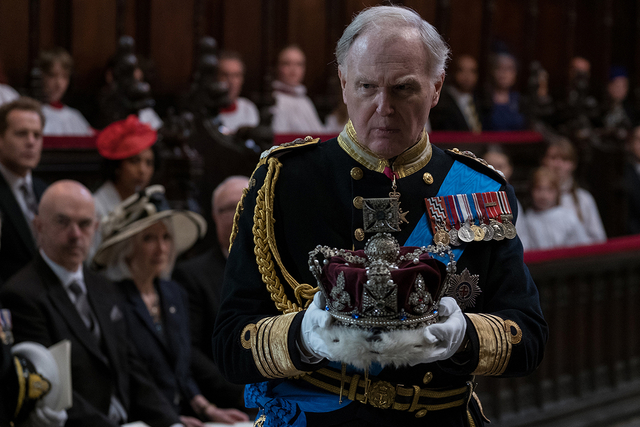 King Charles III is a tragedy built with parts salvaged from the best of the genre: the Crown is restored but is, we realize as Charles does, a hollow one. The firm survives, the press curtailed (though still useful as a weapon) and government – whether it's led by Evans or Stevens, it doesn't really matter – has accrued more power for itself.
This alternate reality is a dystopia, though a gentle one (for the moment), and one suspects not too different from our own. What Charles does next in our world will be as much about circumstances beyond his control as any test of his underestimated character. And as hard as I might find it to sympathize with Charles Windsor, I hope that he finds it was worth the wait.
Mark Steyn Club members can let Rick know what they think by logging in and sharing in the comments below, as access to the comments section is one of many benefits that comes along with membership in the Mark Steyn Club.