Me and my cat Marvin's new album - Feline Groovy - is officially released this Monday morning. Or, as Marvin puts it, we're finally out of the cat flap and into the wide world. It's the only cat album you'll ever need, and the purrfect gift for the cat lover in your family this Christmas.
If you find all this CD stuff a bit squaresville, well, with the release date, all the tracks are now live and ready for immediate download and instant gratification at iTunes, CD Baby, Amazon US, Amazon UK, and even Amazon France, where there seems to be a modest demand for it. Now that all the individual songs are digitally available, I think the breakout track is likely to be "She Only Talks That Way To The Cat". Lot of truth in that. (Although "The Cat Came Back" seems to be selling best at iTunes.)
I was tickled to see over the weekend that at one point on Amazon's jazz chart I had three of the Top Five albums - which, aside from ruining Harry Connick Jr's day must have had any real jazz musicians wondering why they bother: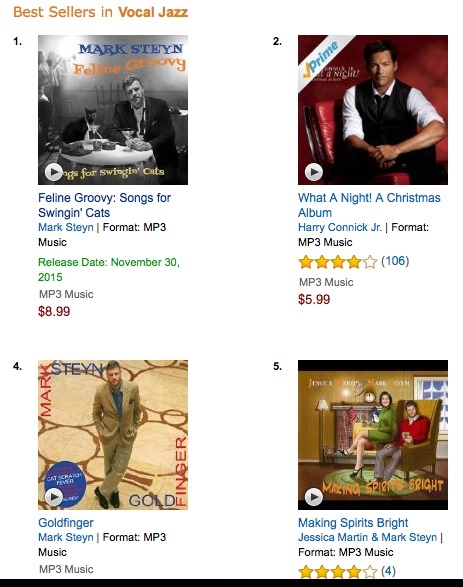 Has anyone done that since the Beatles? Back then John Lennon declared that he was now bigger than Jesus Christ, so does that make Marvin bigger than John Lennon? And me bigger than Ringo?
Oh, well. The moment passed, and Harry Connick's collapsed career bounced back.
~Douglas Murray's fine column this morning includes a revealing observation from what I'd wager is a fairly typical Parisienne:
Referring to the latest attacks, one 46-year old resident also referred back to the attacks in January on the offices of Charlie Hebdo and a Jewish supermarket. "Every Parisian has been touched by these attacks," she said, referring to the latest attacks. "Before it was just the Jews, the writers or cartoonists."
Which is, as Douglas notes, merely a brusquer re-formulation of botoxicated buffoon John Kerry's line that there was a "legitimacy" to the previous targets. I would imagine it's a widely held view: Jews, artists ...these are the troublemakers, the provocateurs. If only they'd pipe down, stop provoking everyone. What are they to me? I have no quarrel with Islam...
And then they blow you up anyway - in a restaurant, in a soccer stadium. Because, in the end, everyone other than them is "just a Jew".
Bono was closer to the mark when he said that the slaughter at the Bataclan was an attack on music. Does he mean it? Does he understand what he's saying? A vignette from the new Europe:
The murderous 17-year-old came to Austria as a refugee in 2013. He has now been sentenced to 12 years in prison for repeatedly stabbing his fellow countryman over a religious matter.

The killer met his older victim, a 31-year-old musician, when they were both attending a German language course in March.

The teen took issue with the musician's penchant for singing and playing music. He told him he did not want to listen to music because he considered it "haram" and against the teachings of Islam, instructing the older man to desist...

He went for the musician as he sung to his wife down the phone, the spouse told the court. He was stabbed seven times, fatally in both the lung and stomach.
Bono and most other artists are all about the diversity. Do they ever look out across the footlights and count the covered women in the audience? As Paris, Brussels and other western cities Islamize, the theatres and the publishing houses and the symphony halls and the cool indie-pop clubs will close - because even those who don't want to stab you as you croon down your cellphone to the missus regard almost all artistic expression as "haram".
To return to John Lennon's We're-way-bigger-than-Jesus boast, it was controversial half-a-century back. But, if you look at post-Christian France's reaction to the worst mass murder since World War Two, it's true, isn't it? The reflexive retreat to "Imagine" and "Give Peace A Chance", both raised to neo-sacramental status, has a desperate quality about it - like primitive tribes invoking an unreliable volcano god.
Even Lennon didn't believe his own bullsh*t. "Imagine there's no countries"? He gave money to the IRA in order to move one tiny bit of real estate out of one country into an adjoining one all but indistinguishable - at least when compared to the differences between, say, Sweden and Syria. Imagine there's no John Lennon - because there won't be in Haramistan. Imagine there's no ...nothing.
~While we're on a musical note, following my Thanksgiving musings on the title song of Oklahoma!, reader Stuart Williamson of Seattle revives the show's famous funeral dirge as an elegy for the sputtering campaign of the Republican establishment's designated "frontrunner":
Poor Jeb is daid
Poor Jeb Bush is daid
His donors must be feeling purty low
The Bushes are so nice
But we don't want them more than twice
Tell Karl Rove - he really oughta know.
It brings a tear to your checkbook.
~I'll be on the radio north of the border with everybody's favorite piano-playing imam, Andrew Lawton, live on AM980 at 2pm Eastern this afternoon. Hope you'll dial us up.