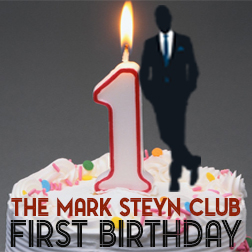 Thanks for all your questions. If you missed the live broadcast, you can listen to the action replay here.
UPPERDATE! We're live now, so let's have at it!
UPDATE! We'll be going live in about fifteen minutes, so do get ready to fire off your questions via the comment form below. See you at the top of the hour. And, to listen, simply click the livestream feed.
Today, Tuesday, we'll be attempting another Clubland Q&A session, live around the world at 4pm Eastern in North America. We'll try to pin down the rest of the time zones below, but do, as they say, check local listings.
This May Day edition of our Q&A broadcast launches the Mark Steyn Club first anniversary observances as we head toward our birthday proper on May 6th. So today I'm happy to take questions from Club members on what you like about this first year, and what you don't; what we've got right, and what we're missing. If you have any thoughts on our classic fiction serializations or music specials, I'm happy to talk about those as well - whatever Club-related topics tickle your fancy.
It's been a grand year, and we have some big plans for the months ahead. So, if you've enjoyed our little club, I hope you'll stick with us. And, if you're done and have no plans to renew your membership, I hope you'll tell us why as you head for the exits. And, of course, we especially like to hear from brand new Club members, who as newcomers can ask anything on any topic. For example, this Conservative Chick only joined the Club a couple of days ago, so feel free to ask me anything you like on any subject whatsoever, Miss April. Other than that, we'll be talking all things Club related - the audio, the video, the columns; the politics, the culture, the interviews, the video poetry.
But that's not all I've been doing since May 2017. I have, alas, spent the entirety of the last year in "confidential binding arbitration" with CRTV and its student-loan billionaire boss Cary Katz. On February 21st Judge Gordon informed CRTV that they'd lost the case and sleazebag Katz called us 24 hours later to announce that he declined to be bound by the "binding arbitration" he'd put us through and would never pay what Judge Gordon had ordered him to. I know some of you have questions about all that, and I'm happy to take them and answer them candidly, and indeed (as the show goes on) ever more indiscreetly. A good place to start is with this piece by his fellow poker aficionados:
PokerGO Owner Cary Katz Sues His Own Company For $20Million
These guys appear to have the scofflaw deadbeat's number:
Billionaire poker high-roller Cary Katz has started a $20million legal action against his own company, apparently to avoid paying a debt he owes, and putting the future of subscription TV channel PokerGO at risk in the process.

The 48-year old businessman and highroller crusher from Las Vegas filed a lawsuit last week against CRTV (Conservative Review TV), a company which he is part-owner of and which owns Poker Central and its live poker subscription channel PokerGO, leading many in the industry to fear for its future should Katz bankrupt his own company...
Discussion on the 2+2 forum helped to clarify some of the finer points of the high-stakes internal battle, 'SrslySirius' stating:

'So CRTV fired a radio host, tried to sue him, and the whole thing catastrophically blew up in their faces for a -$14 million swing. What happens to the WSOP broadcasting rights if PokerGo ceases to exist or gets dismantled and sold for scrap?'

Michael Josem, former PokerStars and current CoinPoker Head of Security, is another who finds Katz's recent actions beyond bizarre, tweeting...

'What the hell is wrong with Poker Central founder Cary Katz? He's now suing himself to avoid honouring a contract he made.'
The poker guys seem to pick up the stink of Katz rather more easily than his talent at CRTV does. As you know, he's also re-suing me, this time for a mere $5 million, and has filed a legal complaint alleging inter alia that two of my recent Song of the Week essays are disparaging and defamatory of him, even though neither mentions him. So we're running a new competition to see if readers can find anything actionable in my essay on "Oh Happy Day". First prize is a year's subscription to CRTV. Second prize is (all together now) two subscriptions to CRTV. Email your entries here.
Whether or not you're a member of The Mark Steyn Club, you can listen to the Clubland Q&A live as it happens wherever you happen to be on this turbulent earth: Club membership is required only to ask a question. If you've been toying with signing up, either for a full year or a see-how-it-goes experimental quarter, there's still time to do so and shoot me a head-scratcher for today's show.
As soon as we go live, members are welcome to log-in and submit their queries via our comment form below - and I'll answer them as-it-happens on the audio livestream that should magically appear above (or possibly below - I forget which). And, if you disagree with my response, feel free to object to it in the comments, and I'll try to address a couple of the objections as we go along.
So see you back here live this afternoon at 4pm Eastern in North America. That's 5pm in the Maritimes, 5.30pm in Newfoundland - and, beyond the Americas, 9pm in the British Isles, 10pm in Western Europe, 11pm in the Middle East, midnight in the Kremlin, 1.30am in Delhi for all you Newfoundlanders who move to India for the half-hour time-zones, an early Wednesday breakfast in Oz, and a slightly more convivial 9am in New Zealand.
But, whatever time it is where you are, we do hope you'll be able to join us. To listen to the livestream, simply click the "play" icon on the audio player (in certain browsers, the audio will start auto-playing). And to pose a question simply use the comment form below. See you in a few hours.