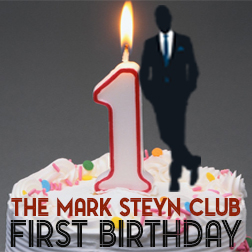 On this Royal Wedding day, welcome to Part Two of Rudyard Kipling's guide to becoming royalty rather than merely marrying into it. The Mark Steyn Club's latest Tale for Our Time is an early Kipling classic, first published in 1888 and never out of print in the years since: The Man Who Would Be King.
In tonight's episode, our narrator finds that his two bad pennies have turned up again, and have figured out their problem: The Government of India just rains on your parade, so why not find somewhere else where you can reign and parade without interference?
They certainly were too big for the office. Dravot's beard seemed to fill half the room and Carnehan's shoulders the other half, as they sat on the big table. Carnehan continued: — 'The country isn't half worked out because they that governs it won't let you touch it. They spend all their blessed time in governing it, and you can't lift a spade, nor chip a rock, nor look for oil, nor anything like that without all the Government saying — "Leave it alone and let us govern." Therefore, such as it is, we will let it alone, and go away to some other place where a man isn't crowded and can come to his own. We are not little men, and there is nothing that we are afraid of except Drink, and we have signed a Contrack on that. Therefore, we are going away to be Kings.'

'Kings in our own right,' muttered Dravot.

'Yes, of course,' I said. 'You've been tramping in the sun, and it's a very warm night, and hadn't you better sleep over the notion? Come to-morrow.'

'Neither drunk nor sunstruck,' said Dravot. 'We have slept over the notion half a year, and require to see Books and Atlases, and we have decided that there is only one place now in the world that two strong men can Sar-a-whack. They call it Kafiristan. By my reckoning it's the top right-hand corner of Afghanistan, not more than three hundred miles from Peshawar. They have two and thirty heathen idols there, and we'll be the thirty-third. It's a mountainous country, and the women of those parts are very beautiful.'
The reference to the only place in the world you can "Sar-a-whack" is a reference to the "white rajahs" of Sarawak. That's the first rajah, Sir James Brooke, on the coin at top right. He became rajah in 1841, and began minting his own currency soon after. To listen to the second episode of The Man Who Would Be King, please click here and log-in. If you missed part one, you'll find that here.
Tales for Our Time is an experimental feature we introduced as a bonus for Mark Steyn Club members, and, as you know, I said if it was a total stinkeroo, we'd eighty-six the thing and speak no more of it. But I'm thrilled to say it's proving very popular, and looks like it'll be around a while. If you're a Club member and you incline more to the stinkeroo side of things, give it your best in the Comments Section below.

We launched The Mark Steyn Club exactly a year ago, and I'm overwhelmed by all those members across the globe who signed up to be a part of it and then enthusiastically re-subscribed this month - from Fargo to Fiji, Vancouver to Vanuatu, Cook County to the Cook Islands, West Virginia to the West Midlands. As I said at the time, membership isn't for everyone, but it is a way of ensuring that all our content remains available for everyone. None of it's going behind a paywall, because I want it out there in the world, being read and being heard and being viewed, and maybe changing an occasional mind somewhere along the way.
However, we are offering our Club members a few extras, including the opportunity to join us at sea on the inaugural Mark Steyn Club Cruise, on which I'll be doing a live Tale for Our Time. I'm truly thrilled to see that one of the most popular of those extras these last twelve months has been our nightly radio serials. I did do a little professional story-reading a zillion years ago, so, if these fancies tickle you, we may release them as audio books on CD or Audible a ways down the road. But for the moment it's an exclusive bonus for members. If you've enjoyed our monthly Steyn Club radio adventures and you're looking for a present for a fellow fan of classic fiction, I hope you'll consider our limited-time-only Club Gift Membership. Aside from Tales for Our Time, The Mark Steyn Club does come with other benefits:
~Exclusive Steyn Store member pricing on over 40 books, mugs, T-shirts, and other products;
~The opportunity to engage in live Clubland Q&A sessions with yours truly (such as this coming Tuesday's);
~Transcript and audio versions of The Mark Steyn Show, SteynPosts, and our other video content;
~Our club newsletter The Clubbable Steyn;
~My video series of classic poetry;
~Priority booking for the inaugural Mark Steyn Club Cruise from Montreal to Boston;
~Advance booking for my live appearances around the world;
~Customized email alerts for new content in your areas of interest;
~and the opportunity to support our print, audio and video ventures as they wing their way around the planet.
To become a member of The Mark Steyn Club, please click here - and don't forget that special Gift Membership. As soon as you join, you'll get access not only to The Man Who Would Be King but to all our other audio adventures below.
One other benefit to membership is our Comment Club privileges. So, whether you like this fourteenth Tale for Our Time, or think I'm a mere pretender to the audio-book crown, then feel free to comment away below. And do join us tomorrow for Part Three of The Man Who Would Be King.