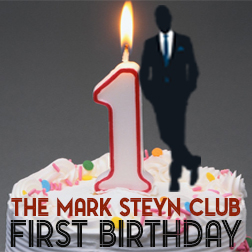 It's the start of the second year of The Mark Steyn Club, and we're celebrating in the traditional manner, and with all-hit party music, and, more soberly, with my answers to your various brickbats and bouquets about the Club, and with my gratitude to all those of you around the world who chose to stick with me during the darkest year of my professional life.
But, rather than dwelling on all the gloom of last spring, we'd like to keep the celebration going into this autumn - with the very first Mark Steyn Club Cruise along the St Lawrence and the Eastern Seaboard at the height of fall foliage. We'll leave Montreal on September 29th and sail aboard the beautiful ms Rotterdam, flagship of the Holland America fleet, via Quebec City, Prince Edward Island, Nova Scotia and Maine (with a brief passing glimpse of the highly minimal New Hampshire seacoast) before landing at Boston on October 6th.
I'll be doing double-duty, hosting the cruise, and also hosting live editions of The Mark Steyn Show at sea - with among others former presidential candidate Michele Bachmann; John O'Sullivan, Mrs Thatcher's speechwriter and a doughty Brexiteer; and bestselling authors and film-makers Ann McElhinney and Phelim McAleer, whose new play on the world's biggest eco-scam premieres at the Phoenix in San Francisco later this month and whose new movie on America's all-time champion mass murderer premieres a few days after our cruise. We'll address all the heavy geopolitical stuff but we'll also kick loose in the evening with dinner, convivial receptions and some late-night laughs. And we'll do a lot of the stuff we do here but this time at sea: On the St Lawrence, where the destiny of a continent changed hands, we'll dive into a little history; as we approach Prince Edward Island, I'll essay a real-time Tale for Our Time of Anne of Green Gables; and against the backdrop of the blazing autumnal leaves of New England we'll present a live version of one of our Steyn Club Sunday Poems.
There'll also be plenty of time for relaxation and revelry and getting to know your fellow Club members and our special guests. And every day we'll enjoy world class service from Holland America, exquisite dining, all the benefits of a flagship cruise ship, and the spectacular beauty of the Canadian Maritimes and the New England coast at the height of leaf season.
We've reserved the best cabins throughout the ship - and in all of the various categories so that you can make accommodation arrangements that suit you best. We're excited to welcome you aboard for the first ever Steyn at Sea cruise - but tempus fugit, so don't leave it too long! (As with most travel bookings, the price is better the earlier you book.)
So picture yourself on Holland America's lovely ms Rotterdam, along with your fellow Steyn Club cruisers and me and my guests, enjoying seven full days and nights of shipboard fun as we ponder the collapse of western civilization. There'll be:
*Live editions of The Mark Steyn Show, including your participation in our Clubland Q&As;
*Plenty of chances to meet, schmooze and hector me and my guests;
*Exclusive Club parties and dining with yours truly, our guest speakers, and your fellow Steyn Club cruisers;
*Exclusive cocktail receptions;
*Accommodations and all meals included;
*Port charges, taxes, fuel surcharges, and government fees all included;
*Most shipboard activities included;
*A fully escorted cruise by Steyn Club staff and the best cruise organizers in the business;
*And a few surprises along the way...
If you're one of those people who have always wanted to come on a cruise but have yet to take the, er, plunge, well, there's never been a better time to stop procrastinating. You don't have to be married, or even going steady: Nearly thirty per cent of our cruisers are single, so, if you fancy your chances with a Steyn Club member as the moon hangs over the Bay of Fundy and the sound of me singing "Cat Scratch Fever" wafts up from below deck, give it a go. You'll have the time of your life - from September 29th to October 6th, aboard the ms Rotterdam, or, as we'll rechristen it for the week, HMCS Steyn*.
(*Here's Mark's Club Ship)
PS I was very touched by this response from Diane, one of our members in the United Kingdom:
I impulsively booked Mark's cruise on Tuesday. Now slightly panicking as I have to organise flights from UK, hotel and traveling and haven't been away on my own for twelve years, and then only once. I do hope it's good!
It will be, Diane. And thanks for making the trip all the way from across the Atlantic. By the way, Cindy, our cruise manager, can help with those flight and hotel bookings: If you're calling from the United Kingdom, it's 001 (770) 952-1959; if you're calling from this side of the Atlantic, it's 1-800-707-1634. Or you can email your query here.
To address Diane's broader point: If, as our Club does, you have members all over the map - the Yukon, the Czech Republic, Thailand, Vanuatu - there isn't really any ideal cruise itinerary other than a round-the-world voyage (which we'll consider a year or three hence). We appreciate that this one is more convenient for Steyn Clubbers in eastern North America, but we promise to bear in mind our European, Asian and Antipodean members for future seafaring adventures.
TO RESERVE YOUR CABIN OR STATEROOM, CLICK HERE. For queries about the cruise, please call Cindy and her Cruise Authority colleagues on 1-800-707-1634 (or +1 (770) 952-1959) or email us here.
~For more Steyn Club first anniversary celebrations, please see:
Clubland Q&A
Birthday Bash
Steyn's Song of the Week
Happy Birthday to You
A Clubman's Notes
Year Two Begins
On the Town
Non-Stop Number Ones