with Mark and his guests Bananarama, Mike Batt, Don Black, Simon Climie, Christopher Cross, The Human League, Julio Iglesias, Lulu, Artie Shaw, Paul Simon, Jule Styne and Andy Williams (plus bonus appearance by Ted Cruz)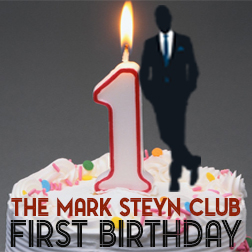 The Mark Steyn Club was born twelve months ago in May 2017, which means we are now one. So we've rounded up a few other people who are also one - Number One, that is, on the Hit Parade across the decades. In this compilation from the Steyn archives, I talk to singers and songwriters and musicians who've had Number One records - sometimes in America, sometimes in Britain, sometimes in Japan, Switzerland, Canada, Norway, and sometimes all around the planet.
My guests span over ninety years of pop success, from Jule Styne's first hit for Ukulele Ike in the Twenties to Mike Batt's hits for Katie Melua in this decade, but we're going to focus on the half-a-century's worth of Number Ones they've accumulated between them. Aside from the performers mentioned above, we'll also hear top bestsellers from Nat "King" Cole, Aretha Franklin, George Michael, Art Garfunkel, and Frank Sinatra. Some of the above guests are no longer with us, some I haven't seen for many years, some are fast friends and a few are even members of The Mark Steyn Club and were very supportive when CRTV plunged me into 15-months-and-counting of litigation hell. But all the above bring back happy memories, whether it's Bananarama warbling The Sound of Music, Jule Styne putting down his own Oscar-winning Number One hit, or Julio Iglesias recalling his days as an English pub singer making a tenner a week.
As some of you will know, my own most recent CD Feline Groovy: Songs for Swingin' Cats was a Number One jazz bestseller, a Top 20 album on the Billboard chart, and a Top 30 album on Amazon's pop chart. But we're saving albums for another day, and I don't really feel today's hit parades parade the hits quite the way they used to.
However, by sheer coincidence, the verdict in the CRTV vs Steyn case pre-dated our birthday observances, so I feel I'm Number One in the courthouse if not on the charts, and Cary Katz and CRTV are Number One on the all-time loser chart, as Sinatra sagely observed in "Same Old Song and Dance". And oddly enough it was CRTV's floppo lawsuit that planted the seeds of this show. As I noted the other day, it wasn't enough for them to fire me from my CRTV gig. A prominent and powerful figure in the US media made extraordinarily strenuous efforts to get me booted off all other outlets, too, and for a while that campaign succeeded. So almost exactly a year ago I found myself facing the prospect of having to leave America, because I appeared to be finished, and couldn't make a living here. And so late one evening, both out of mawkish, maudlin introspection and for more practical reasons (I'd soon be having to pack all the stuff up), I found myself prowling the Steyn archives, and the thought occurred that we ought to dust off more of this stuff and take it out once in a while.
So now that the mawkish, maudlin phase has passed and I'm insufferably cock-a-hoop once more we're pleased to celebrate The Mark Steyn Club's birthday with an all-hit dance party of Non-Stop Number Ones. If you want actual dancing and cork-popping that will have to wait until this autumn's inaugural Mark Steyn Club Cruise, on which we hope to see you.
To enjoy an hour-and-a-quarter's worth of Number One records on this Mark Steyn Club birthday edition of On the Town, simply click above.
Bonus: There are more Number One hit singles in my Australia Day special with Men At Work.
~For more Steyn Club first anniversary celebrations, please see:
Clubland Q&A
Birthday Bash
Steyn's Song of the Week
Happy Birthday to You
A Clubman's Notes
Year Two Begins