The hapless outgoing French Interior Minister, Gérard Collomb, departs his office with a cheery assessment of his recent tours of Toulouse, Marseille and selected parts of Paris:
The situation is very difficult and the phrase 'Reconquering the Republic' is apt because in these districts it's the law of the strongest that reigns, that of the drug dealers and radical Islamists, which has supplanted the Republic.
Is Macron the guy to "reconquer" the Republic? Or is the remorseless secession of ever more turf the way to bet? The Speccie's Gavin Mortimer:
Then there's the endemic violence in France: the frequent ambushes of the emergency services, the anti-Semitic murders, the homophobic assaults, the sexual harassment, the latter so bad that in Seine-Saint-Denis a scheme has been introduced where women can ask bus drivers to stop as close as is practical to their home in order to reduce the chances they'll be accosted on the street.
That last is less of a re-conquest than an acknowledgment of lost sovereignty. I forget which marchioness it was who, after waiting in vain for her chauffeur, hailed a London double-decker bus and commanded the conductor to take her to 16 Belgrave Square. But, pace Marx, in the hell of the multiculti dystopia, the old farces are repeating as tragedy.
~The civilized world may be surrendering Paris, but the good news is we haven't given up on Kandahar. At the start of its eighteenth year, the Afghan war is going gangbusters:
The Pentagon has confirmed that a US general was shot and wounded in a Taliban attack that killed two Afghan leaders in Kandahar province this week.

Violence has increased around the Afgan elections. Army Brig Gen Jeffrey Smiley was shot, Department of Defense spokesman Cmdr Grant W Neeley said on Sunday, providing no other details.
In fairness, providing no details is better than providing totally misleading details, which is what the Pentagon initially did:
The U.S. military's initial statement on the attack was a good example of its cognitive dissonance. Instead of a full condemnation, Col. Dave Butler, the spokesman for U.S. Forces-Afghanistan, claimed it was merely an "Afghan-on-Afghan incident."
And, if a US general happens to be standing between two Afghans, tough.
General Smiley was shot while inside the Kandahar governor's compound. The Kandahar police chief Abdul Raziq and intelligence chief Abdul Momin were killed, and the governor Zalmai Weser and regional army commander Nabi Elham were wounded.The US commander in Afghanistan, General Scott Miller, was also present, but unhurt:
It was a very close confined space. But I don't assess that I was the target.

We will continue our support. My message to the people of Afghanistan has been very consistent: you have every right to be proud of your security forces and the preparations that made for this election despite this unfortunate event, tragic event down in Kandahar.
So pay no attention to "this unfortunate event", everything's tickety-boo, and another seventeen years or so should do it.
Alternatively, you may prefer Thomas Joscelyn's take:
The Afghanistan war is over. We lost.
That is inevitable when you wage war over two decades ever more disconnected from calculations of national interest, strategic goals, and apparently obsolescent concepts such as victory. The NeverTrump national-security right ought to sit back soberly, recognize that their complacency is one reason why the base turned to Trump, and, most important, accept that the entire American way of war needs re-thinking.
~We had a busy weekend at SteynOnline starting with my reaction to the Saudis' latest risible explanation as to why their consular services section has body parts all over it. Our Saturday movie date saluted the original singing cowboy, Gene Autry. On the Town continued our Bobby Troup centenary celebrations with "Girl Talk", "Route 66", "The Girl Can't Help It", and some special live performances, and our Sunday song selection marked another hundredth birthday with a tip of the hat to Jack Segal and his most enduring standards.
If you were too tied up being dismembered by the Saudi ambassador, here's a quick way to celebrate those twin anniversaries together. Dan Hollombe, our musical maven in California, reminds me that I entirely overlooked this unforgettable, er, performance of Jack Segal's biggest hit by Bobby Troup's wife's ex-husband:
"A thousand times more entertaining than the Rick Dees parody," pronounces Dan. A couple of decades back, Steven Bochco (creator of "NYPD Blue" and "Hill Street Blues") cooked up a famously disastrous TV musical crime drama called "Cop Rock". If his hardboiled flatfeet had delivered numbers like that, it'd still be on the air.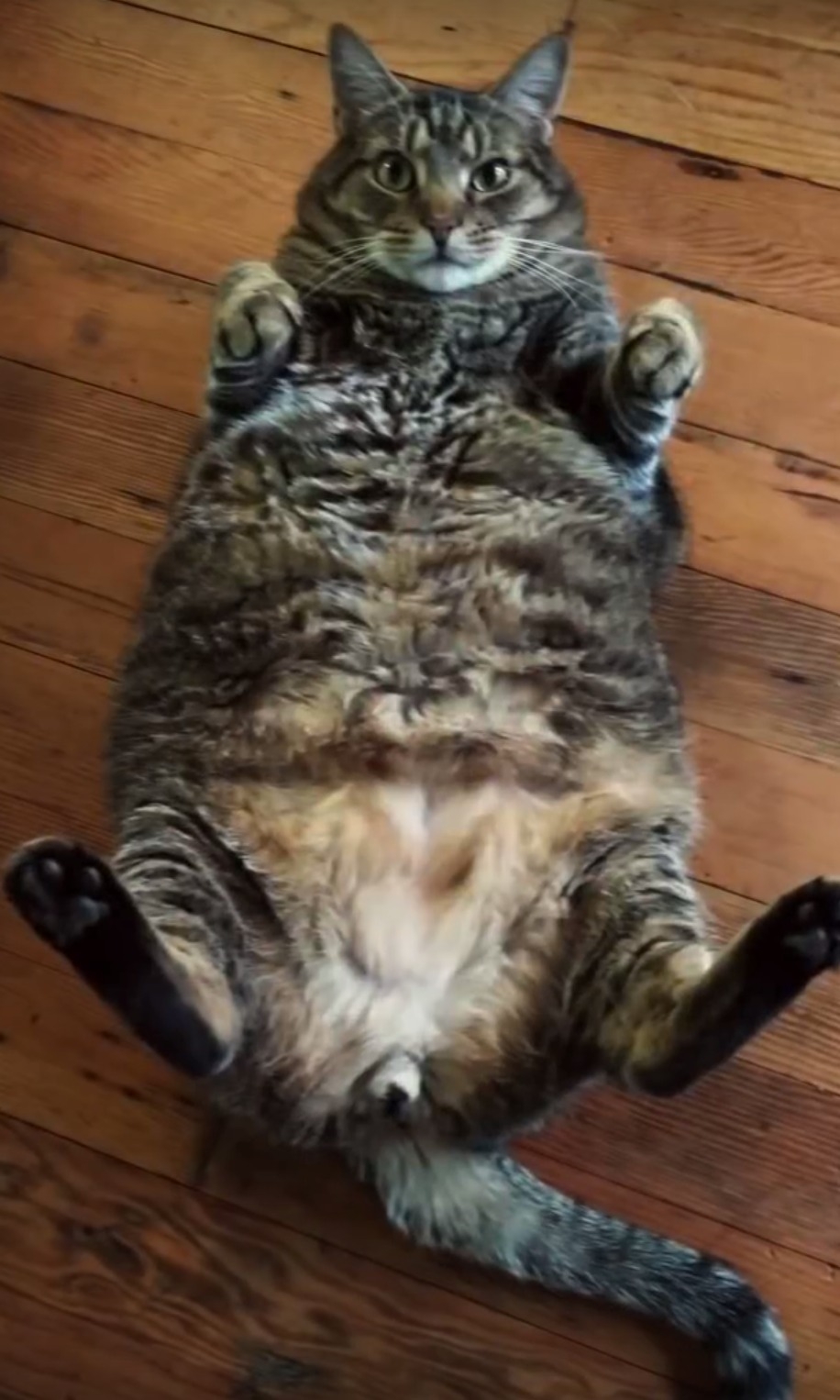 ~Thank you so much for your sympathetic comments about the death last week of my corpulent feline TJ. Some of them appear at this site, and others have come via email and social media. But I am very touched by them all, even though I only mentioned TJ publicly because he co-starred with me on camera, so he was, like Tucker or Rush or Dennis Miller, a professional colleague.
I'm not generally (or so I like to think) a sentimental writer, but at the risk of veering into full-blown sob-sister stuff I will add a personal note. A year and a half back, when Vegas billionaire Cary Katz and CRTV sued me for ten million bucks, it looked for some while as if Katz had succeeded in his goal of entirely destroying my career in America. So, mired in the slough of despond, I resolved to spend what time I had left enjoying life's simple pleasures - the changing seasons from my North Country window, that sort of thing. One of those simple pleasures was TJ, and I am a bit stunned, six days into his passing, to realize how much I feel his absence in my life - the lack of his heavy purr, and his 3am where's-my-breakfast? wake-up calls. He helped me survive the worst, and I wish I'd been able to do the same for him.
He was a cocksure fellow who liked to lie on his back in the middle of the rug, confident that no predator would be foolish enough to attempt to strike. When I see the big empty space on the floor, I feel a pang.
Okay, enough of that. Stiff upper lip from now on.
~By popular demand two new dates have been added to the debut tour of a brand new double act: the legendary Dennis Miller and the not so legendary me will be on stage together for the first time. You can pre-book tickets for Reading, Pennsylvania here; for Syracuse, New York here; for Wilkes-Barre, Penn here; and for Rochester, NY here. And, given that Dennis is so robustly all-American (he's been one of those celebrity national-anthem warblers at a baseball game), I hope we can even the odds with a few of my fellow Ontarians in the house for the Syracuse and Rochester dates. At all four shows there's a special opportunity to meet Dennis and me immediately after the show.
For our Massachusetts readers, this weekend - 3pm on Sunday October 28th - I'll be at the Boston Marriott in Newton to accept the Genesis Award from CJUI (Christians and Jews United for Israel). Aside from speaking, I'll also be signing copies of Lights Out - so it should be a fun afternoon, and if you're in the vicinity of Greater Boston we hope to see you there.
Catch you on the telly this evening with Tucker live across America at 8pm Eastern/5pm Pacific, and with a brand new video edition of Mark's Mailbox tomorrow. Starting tonight, and continuing all this week, we'll be marking the twentieth anniversary of The National Post. And on Friday, for Mark Steyn Club members, we'll be launching a brand new Tale for Our Time.If you'd like to get in on the ground floor of our brand new nightly audio adventure, there's still time to sign up. For more information on The Mark Steyn Club, see here - and don't forget our special Gift Membership.