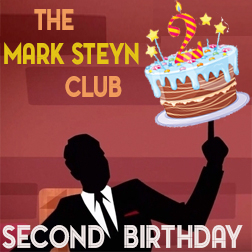 It's The Mark Steyn Club's second birthday this Monday, and we thank all of our First-Day Founding Members who've decided to sign up for another year. I've been very touched by your messages about our convivial little club. Mark DeBiasi, a First-Fortnight Founding Member of the Steyn Club, writes:
I am in for another year and I am sure am not alone. Thinking back, an introduction to the likes of Jordan Peterson or Lionel Shriver would be worth a year's subscription in and of itself.
Thank you, Mark. I greatly enjoyed conducting those two interviews, and we will have some more long-form conversations for you in the next few weeks.
Meanwhile, welcome to Part Nine of our latest Tale for Our Time, an horrific vision of man defying biology as conjured by H G Wells in The Island of Dr Moreau. In tonight's episode the eponymous Dr Moreau mocks Prendick for his ethical squeamishness:
"It may be, I fancy, that I have seen more of the ways of this world's Maker than you,—for I have sought his laws, in my way, all my life, while you, I understand, have been collecting butterflies. And I tell you, pleasure and pain have nothing to do with heaven or hell. Pleasure and pain—bah! What is your theologian's ecstasy but Mahomet's houri in the dark? This store which men and women set on pleasure and pain, Prendick, is the mark of the beast upon them,—the mark of the beast from which they came! Pain, pain and pleasure, they are for us only so long as we wriggle in the dust...

"The thing before you is no longer an animal, a fellow-creature, but a problem..! I wanted—it was the one thing I wanted—to find out the extreme limit of plasticity in a living shape."

"But," said I, "the thing is an abomination—"

"To this day I have never troubled about the ethics of the matter," he continued. "The study of Nature makes a man at last as remorseless as Nature."
Members of The Mark Steyn Club can listen to Part Nine of our adventure simply by clicking here and logging-in. Earlier episodes can be found here.
If you've yet to hear any of our Tales for Our Time, you can do so by joining The Mark Steyn Club. Membership is available now - and, if you sign up, you'll be all set for Part Ten of The Island of Dr Moreau this time tomorrow (and all the earlier episodes, of course). And, if you've a friend who likes classic fiction, don't forget our special Gift Membership. Oh, and aside from audio fiction, we also do video poetry.
And do join me, please, for more Steyn Club birthday observances in a special Sunday edition of On the Town tomorrow.