When I was asked to take over this column from my friend Kathy Shaidle, at her request, I knew one thing for certain: it would be a long time before I'd try to write about Bette Davis. Davis was Kathy's favourite movie star, All About Eve her favourite movie. She wrote columns about both of them, and any attempt on my part to match her thoughts about Davis would only showcase my comparative lack of insight.
This coming week marks the second anniversary of Kathy's death. Along with her dog-eared copy of Whittaker Chambers' Witness, I've come into possession of her double-disc Criterion Blu-ray reissue of All About Eve, but there's no way I'm going to take on that picture. Instead I'm going to write about one of Davis' biggest hits, albeit a film that no Davis fan would rank among her best, or even consider a Bette Davis picture per se.
I hope that gives you some idea of how anxious I am to stay out of Kathy's very long shadow.
The Man Who Came to Dinner was based on a hit Broadway play, written by George S. Kaufman and Moss Hart, and adapted for the screen by Julius and Philip Epstein. Davis saw the play and urged Warner Bros., her studio, to buy the rights, hoping to star in the film alongside John Barrymore. She would be disappointed in this, and by the picture in general, though not by its critical or box office response.
The main character, and many of the supporting cast, are based on real people – celebrities at the time, and friends of Kaufman and Hart. The genesis of the play was a weekend visit to Hart's Pennsylvania country estate by Alexander Woollcott, a critic, columnist and radio personality and a member – along with Kaufman – of the Algonquin Round Table, a loose group of writers, actors, artists and theatre types who met regularly at the New York hotel.
Woollcott was that most dreadful of things: a larger-than-life personality. He proceeded to take over Hart's home, making outlandish demands and exhausting the writer. When Hart relayed the story of their friend's visit, Kaufman said that it should be the basis of their next play, with the weekend extended into weeks, and the title role written for Woollcott.
The director, William Keighley, is mostly known today for being taken off The Adventures of Robin Hood (1938) and replaced by Michael Curtiz. He was competent enough, with a handful of pictures that get mentioned in books or show up on TCM every now and then (Bullets or Ballots, The Green Pastures, Each Dawn I Die, The Fighting 69th) but with nothing like the talent of William Wyler, who would make most of Davis' best pictures at Warners.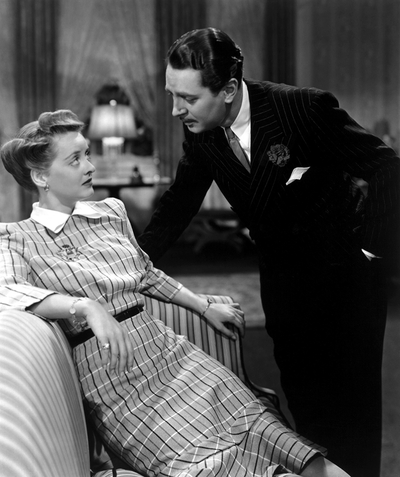 Which was probably fine with Davis; she'd just finished The Little Foxes with Wyler and was looking for a role a bit less like the tragic and/or difficult women she'd made her trademark. Keighley had made The Bride Came C.O.D. the previous year with Davis and James Cagney – another departure from her usual roles, decreed by the studio. "It had been decided that my work as a tragedian should be temporarily halted for a change of pace," Davis wrote in The Lonely Life, her autobiography.
"Jimmy, with whom I'd always wanted to work in something fine, spent most of his time in the picture removing cactus quills from my behind. This was supposedly hilarious. We romped about the desert and I kept falling into cactus. We both reached bottom with this one."
The Man Who Came to Dinner only gets a glancing mention in The Lonely Life, and Keighley none at all. Perhaps it was the disappointment with not working with Barrymore; she pushed for the studio to cast him, but he was unable to remember his lines or keep up with the fast-paced dialogue, and in the end the part went to Monty Woolley, who had starred in the Broadway production after Woollcott's demanding schedule kept him from taking the role.
The movie begins at the train station in Mesalia, Ohio, where the town is anticipating a lecture appearance by Sheridan Whiteside, renowned author and wit. Whiteside, for his part, is dreading the engagement, and particularly the prospect of being a dinner guest at the home of the Stanleys, who occupy a position near the top of Mesalia "society."
"I simply will not sit down to dinner with midwestern barbarians," Whiteside complains to his personal secretary, Maggie Cutler (Davis). "I think too highly of my digestive system."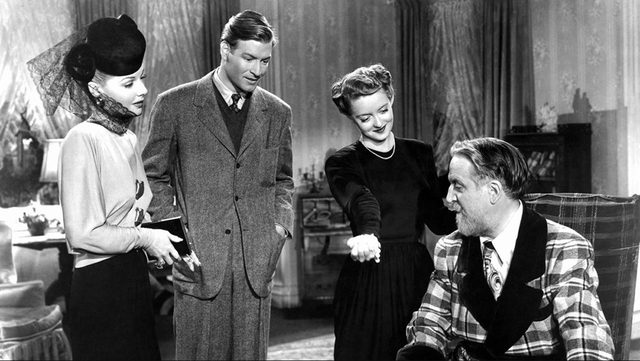 Whiteside, we learn early and often, commands the sum of $1,500 dollars for a lecture appearance – over $27,000 in current money. He also hosts a radio show (sponsored by Cream of Mush) and writes several columns, in addition to fielding offers to pontificate for prestige magazines like The Atlantic Monthly.
Woollcott began his career as a newspaper writer, made his name as a theatre critic, wrote a regular column for The New Yorker and hosted a CBS radio show, The Early Bookworm (sponsored by Cream of Wheat). He was parodied in two Looney Tunes cartoons in 1937 – The Woods are Full of Cuckoos and Have You Got Any Castles? – and would end up playing himself in the touring production of The Man Who Came to Dinner.
It's safe to say that most people paying to watch the film in 1942 knew who Monty Woolley was playing, just as surely as most viewers watching the movie today would need footnotes to remind them who Woollcott was, in addition to several other characters based on real people, not to mention a great number of the celebrities, politicians and pop culture references peppering the script.
Maggie, the emollient to Whiteside's acidic persona, accepts the Stanleys' invitation for dinner for him, but he slips on an icy step by their front door and ends up recuperating in their home over the Christmas holidays, commandeering the cook and butler and most of the main floor, confining the couple and their children to their bedrooms upstairs while he holds court, does business, and accepts an endless string of gifts that include an octopus, four penguins and an Egyptian sarcophagus.
The secondary conflict of the film is between the overbearing Whiteside and Mr. Stanley (Grant Mitchell), a ball-bearing manufacturer whose new defense contracts have given him a fresh flush of self-importance that Whiteside constantly assails. His wife Daisy (Billie Burke) is besotted with the coastal wit and sophistication Whiteside embodies, forcing her husband to endure the unwelcome guest and his vitriol – little of which she apparently comprehends.
But the principal conflict is between Whiteside and Maggie – his loyal secretary for a decade, the target of almost constant abuse, his emotional if not possibly his intellectual superior, and hardly a rarity among Bette Davis characters: an exceptional woman longing for normalcy. She finds it when she falls for Bert Jefferson (Richard Travis), the proprietor, editor and reporter for Mesalia's only newspaper.
The prospect of her imminent resignation moves Whiteside to concoct a plot to invite Lorraine Sheldon (Ann Sheridan), a theatrical diva of some renown, to visit him in Mesalia, ostensibly to read a play Bert has written, ultimately to steal the small-town writer with Broadway ambitions away from Maggie. His plot is complicated by the arrival of two other celebrity friends – playwright Beverly Carlton (Reginald Gardner) and movie comedian Banjo (Jimmy Durante).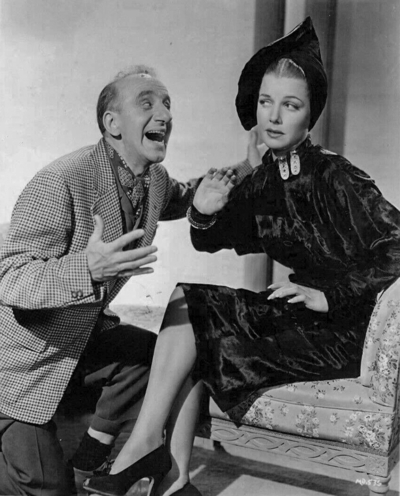 Sheldon, Carlton and Banjo are all respectively based on friends of Woollcott's and members of the Algonquin circle – actress Gertrude Lawrence, playwright and actor Noel Coward, and Harpo Marx of the Marx Brothers. Of the three, Lawrence's reputation has fallen most into obscurity, the result of spending most of her career onstage. She appeared in just a handful of films, though the only role worth remembering is Amanda, the shrewish mother in the 1950 movie version of Tennessee Williams' The Glass Menagerie. (She'd beat out Davis and Tallulah Bankhead for the part.)
Noel Coward used to be world famous, but posterity is slowly eclipsing him, and today he's really only known among older theatregoers and on the playbills of repertory theatre festivals. I'd like to hope that Harpo Marx and the Marx Brothers will always be comedy legends, but I'd hesitate to celebrate his talent by invoking Durante's typically overamplified, battering impression of the offscreen Harpo, who Woollcott once celebrated in an essay, "My Friend Harpo."
"There is no creature on earth whose company I find more entertaining and none in the warmth of whose generous heart I place more implicit trust," Woollcott wrote of his reputedly illiterate pal. "I do so only because I know that the printed word never bothers him."
As for Woollcott, he survives if at all through two movie impressions of him – Woolley as Whiteside, and Clifton Webb's Waldo Lydecker in Laura (1944). He's neither read nor mentioned any more, which is why I was surprised to discover an anthology of his writing published in 1946 by the Viking Portable Library on my bookshelf, which includes his tribute to Harpo Marx.
I have no idea how it got there, and my only explanation is that I collected it, priced at just five dollars, in some used bookshop years ago, back when Woollcott's name was still in circulation, alongside critics like H.L. Mencken, James Agee, Lionel Trilling and Edmund Wilson. The half-life of Woollcott's reputation was once immense – the Algonquin Round Table was formed after a group of his friends got together to ambush Woollcott and roast his incessant blowhard recollections of his time in uniform during WWI; it backfired when he enjoyed the attention, and their lunches became a regular event.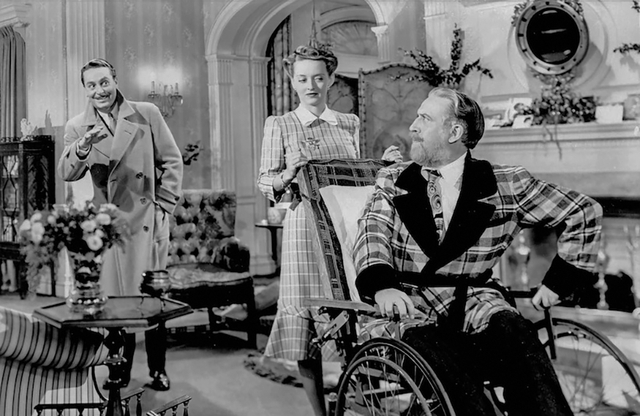 But its decay, once begun, was rapid and irreversible. He was famous for his wit, but that's tough to find in my dense little Viking collection; perhaps it's simply harder to discern in a far louder, dumber age. There's these lines from the introduction to his essay on Harpo Marx:
"...My erstwhile colleague, Charles Brackett, expressed a cognate thought when he said that I never really liked anyone whose life story would not make a good magazine article. I would have to admit that, on several occasions, I have caught myself in the very act of thinking, even as I was gossiping across the fence with some neighbour whom I profoundly admired, that it would be a pleasure to write his obituary."
...which don't seem evidence of wit as much as an innate pleasure in the sound of one's own voice. Much of his writing revels in gossip and name-dropping, and Woolley's portrayal of Whiteside is rich with that. It didn't help that peers such as James Thurber and Wolcott Gibbs remembered him as a writer who had a vast estimation of his own talent despite not having anything to say – a criticism that Herman Mankiewicz recalled Woollcott admitting in confidence.
Woolley's Whiteside sounds nothing like Woollcott, who has a nebbishy, nasal, utterly American voice in surviving radio transcriptions. Woolley, whose Broadway career began as a director before Kaufman and Hart's play made him a star, had the mid-Atlantic diction common on the stage, and plays Whiteside as a stentorian bully, sneering and bellowing at everyone around him. His celebrated wit is drowned out by his peevishness and vitriol.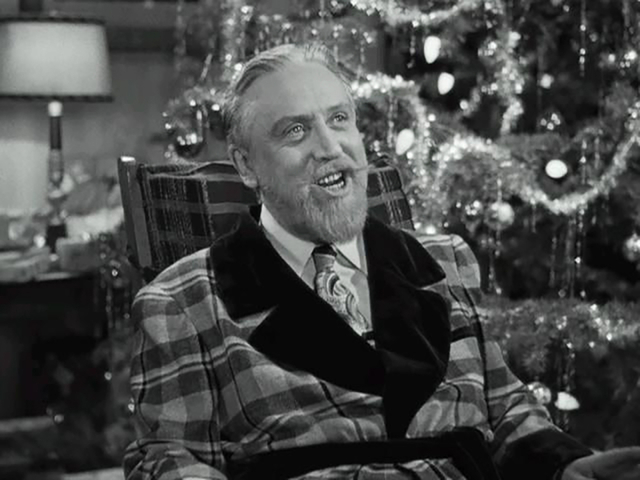 What sets Whiteside off most of all is the commonness and sheer Babbitry of Mesalia, his hosts and caretakers, most particularly the bumbling town doctor who wants Whiteside to help edit his dreary memoirs, and his terrified nurse – Mary Wickes, playing the first in a career full of nurses, housekeepers, secretaries and spinsters. It was presumed that the only cold war happening in America at the time was between coastal elites and midwestern "barbarians," as Whiteside calls them, a conflict that had been going on since before Sinclair Lewis published Babbit. (Lewis' novel is probably the most important American novel that no one reads any more. Appropriately enough, William Keighley directed the movie version of Babbit in 1934.)
It's hard to understand the deference Whiteside inspires in the townspeople of Mesalia. Maggie takes a dim view of it; she dismisses his cynically sentimental broadcasts as pap, and regards the avalanche of gifts sent to her boss by celebrities and politicians as the product of blackmail – a cringing response to the power of his bully pulpit more than any real regard for the man's qualities. In this light, it's easy to interpret Whiteside's relationship, not just to the Stanleys but to his culture and his country, as basically parasitical.
The only other person as unimpressed with Whiteside is Mr. Stanley; it's hard not to sympathize with his irritation at his unwanted guest, especially after Woolley briefly drops the curtain of Whiteside's belligerence and reveals his "caring" side, when the esteemed man counsels Stanley's son and daughter to respectively leave home for the life of an itinerant photographer (while a world war is on) and elope with the "sensitive" young man organizing a union at Stanley's factory.
He even breaks Wickes' Nurse Preen, who not only resigns from being Whiteside's caretaker but leaves the nursing profession altogether for a job at a munitions factory, now committed to helping exterminate the human race after the lessons Whiteside has taught her. It's the only joke in the whole film I could imagine my friend Kathy finding funny.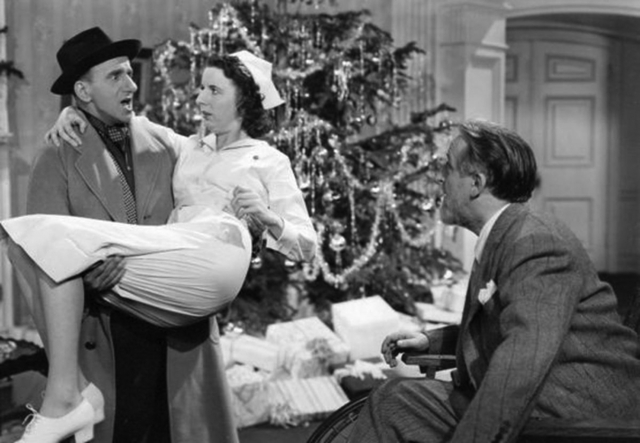 So where is Bette Davis in the picture? It's hard not to imagine her taking a much-needed break after the exertions of The Little Foxes, and her Maggie is the actress on cruise control. Time magazine described Maggie as Davis with her "hair up, neuroses gone," as if the role was a welcome departure from her signature characters.
Maggie is, to be sure, the calm at the centre of the picture's storm, but she isn't a complete departure from the Davis persona. There's no drop off in the quality of her performance – Davis does a spectacular job looking like she's discovered the joys of small town life, and even lets us believe that Maggie has truly fallen for Travis' wooden Bert Jefferson.
Writing about Davis, Kathy described that persona: the "Sacrifices...unacknowledged and misunderstood" that lead to "Suffering Silently" in the service of "thankless duty" – the sort of thing that's easier to recognize in a melodrama more than a shrill, stagey comedy with Jimmy Durante mugging relentlessly for the camera.
Davis seems content to let Woolley and the rest of the cast take up all the oxygen in the room until the end of the second act, when she discerns Whiteside's plot to have Lorraine steal Bert, and fails in her counterplot to foil it with Beverly Carlton's help. She allows herself a moment of hurt before summoning the chill anger to confront Whiteside with his selfishness. It's not very funny, but it's very Bette Davis.
For not the first time, a Davis vehicle helped keep Warner Bros. in the black. (Her reliability as a box office star at the turn of the '40s earned her the nickname "the Fourth Warner Brother" – a reputation that she found immensely gratifying.)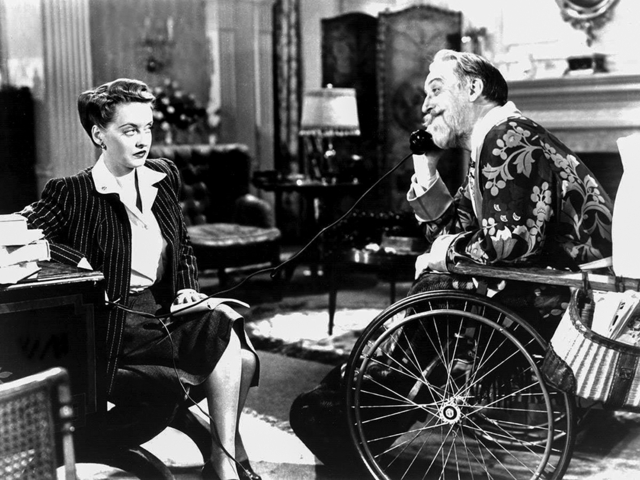 "Her perfectionism and Yankee work ethic," Kathy wrote, "combined with her peerless talent, single-handedly (and thanklessly) rescued at least one movie studio from bankruptcy."
The Davis persona would be back in full force a year later with Now, Voyager, and she'd make Mrs. Skeffington before the war was over. She'd leave Warners by the end of the decade, but return to top of her form with a vengeance with Margo Channing and All About Eve at the start of the '50s. It all feels like epilogue after that for me, though Kathy might have disagreed.
Woollcott would die a year later, suffering a heart attack during a radio debate on Hitler's guilt in starting the war. Clifton Webb's Waldo Lydecker in Laura a year later is probably the posthumous apogee of his public reputation.
As both a movie and a play, The Man Who Came to Dinner would remain evergreen. Orson Welles starred as Whiteside in a 1972 television adaptation, with Lee Remick as Maggie, Joan Collins as Lorraine, Marty Feldman as Banjo, Don Knotts as the doctor and Mary Wickes returning as Nurse Preen. (I have not seen it but suspect that it might be better than the strenuous and exhausting original.) The play is still a community theatre favorite; it's easy to imagine the biggest middle-aged ham in every amateur dramatic group longing to play Sheridan Whiteside: Alexander Woollcott's final gift to the world.
Mark Steyn Club members can let Rick know what they think by logging in and sharing in the comments below, as access to the comments section is one of many benefits that comes along with membership in the Mark Steyn Club.