If you need to understand why a modern neo-noir film like director Shane Black's The Nice Guys (2015) is as much a comedy as a story about private detectives and gruesome murders on the seedy streets of Los Angeles, the best place to start is probably Howard Hawks' The Big Sleep (1946).
Everybody acknowledges the wry humour in Raymond Chandler's novels, but Humphrey Bogart's comedic talent is a bit more underappreciated. Like any natural comedian, he had the gift of timing, though it was probably his onscreen partnership with Lauren Bacall that brought it out – the two of them were clearly having fun with the banter in their dialogue, and given the improbabilities of the storyline of The Big Sleep, it's certain that Hawks made a wise decision to stress dialogue over plot.
What made comedy so rare in classic film noir was, yes, the simple fact that chemistry and talent like Bogart and Bacall's weren't something you could rely on, but also squeamishness at getting laughs while the bodies piled up. Given that standards and our shared understanding of decorum are so much lower today, it's not surprising that this isn't much of an issue anymore.
The Nice Guys begins with the camera panning up and over the Hollywood sign at night; the letters in the famous sign are in ruins, and we're helpfully told that it's 1977. (A public campaign to restore the landmark sign headed by Hugh Hefner would begin a year later.) In one of those houses in one of those neighbourhoods built into the sides of the city's many canyons, a boy sneaks into a bedroom and fishes a copy of Cavalier magazine from under his dad's bed.
He's walking through the house, appreciating the centerfold photo of one Misty Mountains, when we see a car through a kitchen window, going at speed and missing the turn in the road above the house. The Pontiac Firebird bounces down the hillside, crashes through the house, and comes to a rest on its roof. The boy sees a vanity license plate reading "MISTY M" and finds the driver where she was thrown from the car, her dress torn open, draped over a rock in the same pose as her centerfold.
Her last words before dying are "How do you like my car, big boy?" The boy takes off his pyjama top and covers her up as we hear the police sirens. In one very showy, expensive scene, the film establishes the setting and the time, as well as pinning in place three of the things the film will be about: cars, porn and kids.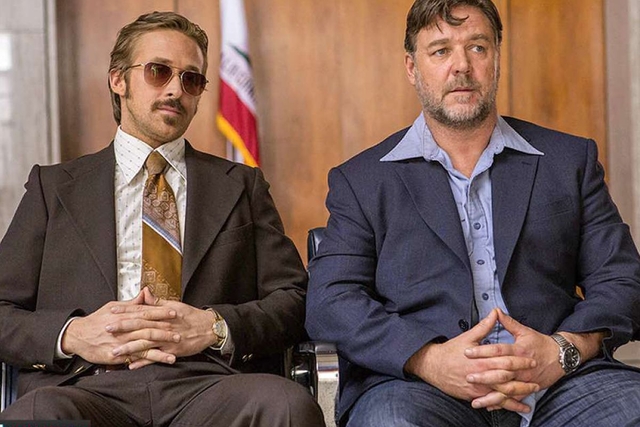 "There's something wrong with kids today," says Jackson Healy (Russell Crowe) in the opening narration. "They know too much." Healy knows this because part of his job as hired muscle is to deliver warnings in the most painful way possible (brass knuckles are used) to creeps like the guy in his thirties who has a 13-year-old in his house in the middle of the afternoon. "Sure he's three times her age, but he's got money for pot and he drives a nice car."
Another person who knows this is Holland March (Ryan Gosling), an ex-cop, private eye, widower and alcoholic with a 13-year-old daughter of his own, Holly (Angourie Rice). He's worried about what kind of world is in store for her, and despairs to Healy that "the days of ladies and gentlemen are over."
Healy is hired by a young woman named Amelia (Margaret Qualley) to scare away some stalkers. March is trying to track down Amelia in connection with the death of Misty Mountains, after he's hired by the dead porn star's aunt, who swears she saw Misty alive two days after her fatal crash. Healy and March finally meet when the muscle introduces himself to the private eye with his signature sucker punch, takes away his gun and breaks his arm.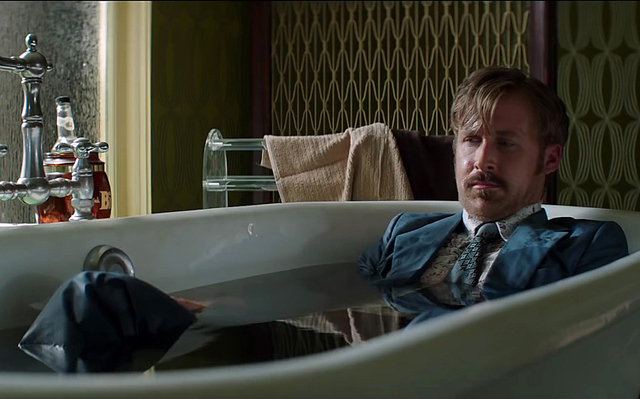 But before this can happen we meet March in his bathtub, fully dressed, coming off a bender. A phone call from Holly wakes him up; she reminds him that it's her birthday, and that he needs to go to work, the majority of which is distinctly unedifying and sleazy.
"I work in a cesspool," he tells us during his voiceover introduction. When he wakes up in the tub, he notices that someone has written "You will never be happy" with a smiley face on his hand. If he hasn't bottomed out yet, he's getting close.
In addition to the considerable moral foregrounding Black does with the film's opening scenes, he tries to paint a picture of a now-vanished Los Angeles with the kind of detail that would only be outdone by Quentin Tarantino in Once Upon a Time in Hollywood.
Healy, for instance, lives in his office above The Comedy Store, L.A.'s legendary stand-up club. On the marquee when we see him walk into the building carrying a case of YooHoo: Robert Klein, Richard Lewis, Tim Allen and Elayne Boosler.
Shane Black wrote his ticket in Hollywood with the success of his first produced script for Lethal Weapon (1987). He wrote the sequel, and made his reputation with scripts for action films like The Last Boy Scout (1991), Last Action Hero (1993) and The Long Kiss Goodnight (1996). He's also known for uncredited contributions to the scripts to Predator (1987), Dead Heat (1988), The Hunt for Red October (1990) and Robocop 3 (1993).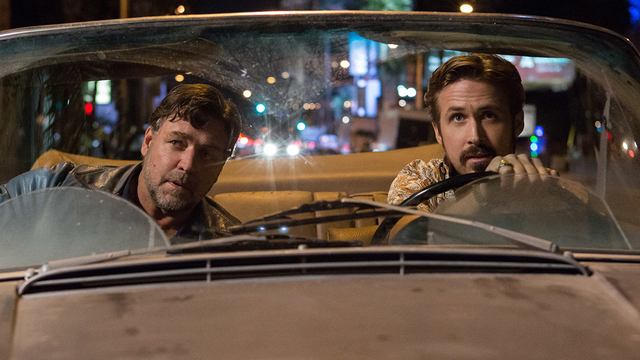 Burned out, he took a nearly ten-year hiatus before returning with Kiss Kiss Bang Bang (2005), a neo-noir that he wrote and directed, and which apparently helped so much with the rehabilitation of co-star Robert Downey Jr.'s reputation that it was key to getting him cast in Iron Man (2008), at the genesis of the Marvel Cinematic Universe.
Black's specialty is the buddy action film – nothing new, but a subgenre whose rules he substantially re-wrote with Lethal Weapon. He's considered a god among a certain type of young male film geek who revere the liberties he takes with the genre, who love a self-consciously clever script loaded with black humour, and who constantly complain that franchise-loving Hollywood can barely remember how to write characters who aren't simply walking plot devices. These are young men who often dream of being creative players in the business, so Black (like Quentin Tarantino) embodies a fantasy fulfilled.
Both Kiss Kiss Bang Bang and The Nice Guys are really about the evolving friendship of two men who are at odds when the films begin. In the former film, Val Kilmer plays "Gay" Perry van Shrike, a semi-legendary private detective hired by a movie producer to coach Harry (Downey), a small-time thief from New York City who blundered into an audition while fleeing the cops and took the ticket to Hollywood to escape arrest. They blunder on a murder, which leads to several more, but it's really about the two men, driving and running and hiding all over Los Angeles, trading insults and wise cracks.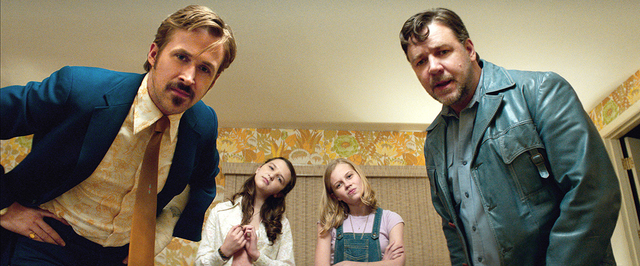 Filling out the protagonists to a trio in the earlier film was Michelle Monaghan as Harmony, Harry unrequited crush from their midwestern youth, now a struggling actress in L.A. In The Nice Guys Holly fills out the trio – a wise child who's really the only moral centre in the picture, asking both men frankly if they're bad people, and telling her father that he's "the worst detective in the world."
Holly is in the vanguard of Generation X (and precisely the same age I'd have been in 1977). As Healy says, she knows too much, and after stowing away in the trunk of her father's Mercedes convertible, she forces the two men to let her follow them into a big Bel Air party being thrown by a porn producer, where she does much better detective work finding Amelia than either Healy (who gets into a fight with one of the roving heavies following them around) or her father, who gets sloppy drunk and falls off the mansion's balcony.
Generation X had the privilege to grow up in the cratered ruins of the sexual revolution, where we were able to witness or access more frankly sexual or violent media than any previous generation (though nowhere near as much as the ones that would follow). There was an undeniable sense that we were being sexualized too early, especially if you were a girl, and I've never met any of my cohort who didn't come to resent it, as much as the "hands off" parenting that came off to a young person as simple indifference.
(It's no wonder that, when we finally got around to having families, we helped invent the concept of "helicopter parenting.")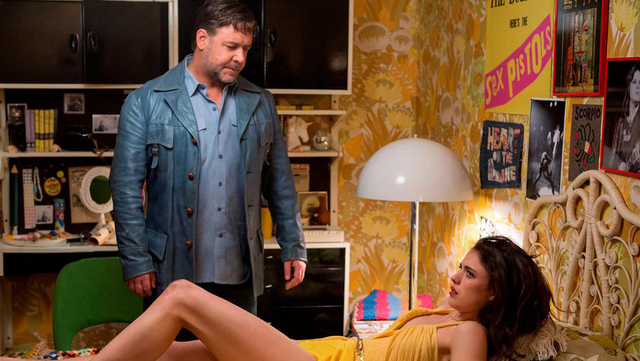 This portrait of the '70s as moral scorched earth was prevalent even at the time – see my review of Robert Aldrich's Hustle – but it's interesting how contemporary films like The Nice Guys depict it as accepted truth. (Strange, though, to contrast it with how the '70s small town childhoods of Harry and Harmony in Kiss Kiss Bang Bang are presented in flashbacks with a literal golden glow.)
Like Harry in Kiss Kiss Bang Bang, complaining bitterly about how Hollywood attracts already damaged young women from all over America and breaks them even more, Marsh knows that he's failing as a parent, an obvious fact that he's even willing to use as a ploy to distract one of the roving killers when he corners him and Holly. Which gives you some idea how willing Black is in his films to play nearly anything for laughs.
There are plenty of laughs as we follow his "heroes" around town; as a writer Black's priority is banter – the wry, knowing, self-reflexive dialogue that Harry and Perry and Marsh and Healy use to communicate over their diminishing hostility. The routine they start to develop is his barometer for their character development, and a way to undercut the hundreds of tropes and cliches waiting for them on their hardboiled quest.
Black is the kind of writer who names a minor character in Kiss Kiss Bang Bang "Flicka," just so as a director he can have Harmony refer to her later in the picture as "my friend Flicka." If that's the kind of joke you love to have pepper a movie, Black is the filmmaker for you.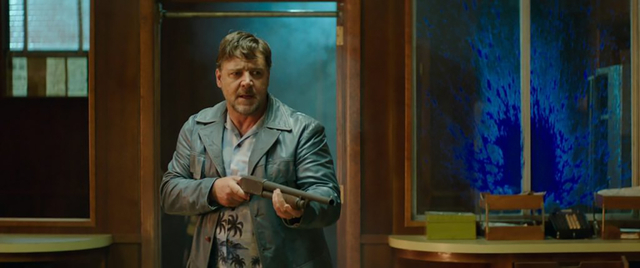 What nearly every celebration of The Nice Guys celebrates is how the film gets great, unexpected performances from Crowe and Gosling. Crowe, who played much the same character in another neo-noir, L.A. Confidential (1997), seems like he's enjoying himself much more alongside Gosling than Guy Pearce and Kevin Spacey.
And Gosling, who has played a number of heroes defined in some way by their weakness, does a lot with March's cowardice, incompetence and physical and mental decline. There's the scene where he does a note-perfect Lou Costello impression after finding the corpse of the porn producer after falling off the man's balcony, and another where he falls asleep at the wheel of his Mercedes and hallucinates a huge, talking killer bee in the back seat of the car.
The scene also includes the set up for a later payoff, with a hidden ankle holster that was never there; just one instance of Black taking a tough guy trope and turning it on its head. And then there's the scream he creates for Marsh – a high, girlish squeal that he gets to use quite a lot.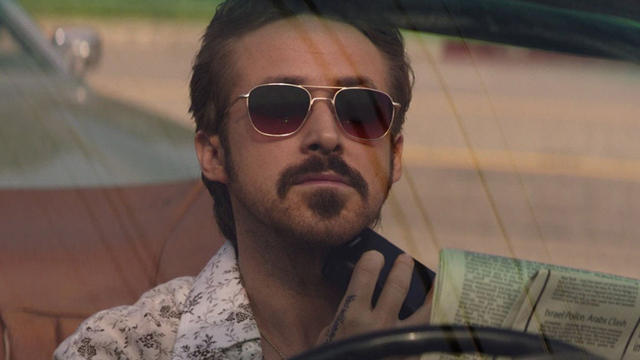 All of this is good, as it distracts from a plot that falls apart at the end only slightly less than the one in Kiss Kiss Bang Bang – a needlessly elaborate conspiracy involving air pollution, the Big Three automakers, the Department of Justice, a porn movie and the suppression of catalytic converters.
At the centre of that is Kim Basinger, also returning from L.A. Confidential, as Amelia's mother and a senior official in the Justice Department; she's not very good, but that's probably just because Black ultimately didn't have much interest in the conspiracy and its porn reel MacGuffin.
"You can't take Detroit down!" Basinger's character proclaims, which is funny since we all know how Detroit did a pretty good job taking itself down over the next three decades, and catalytic converters are now so common that they've become a profitable sideline for bottom-feeding thieves.
"Five years tops we're all driving electric cars from Japan," Marsh tells Healy; more proof that there really is no such thing as a period picture as much as a movie about today in period drag.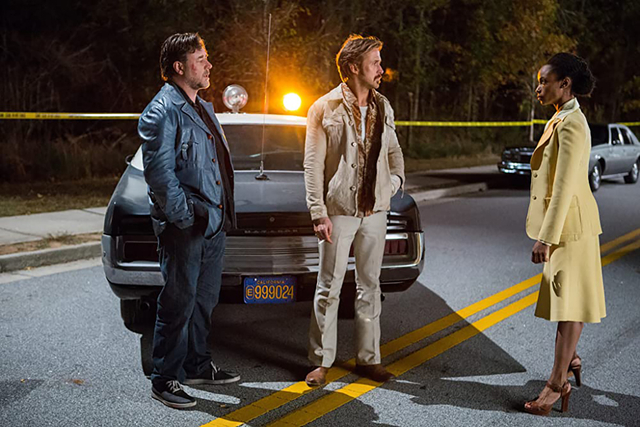 Like at the end of Kiss Kiss Bang Bang, our two heroes are shown partnering up in their own detective agency – endings that seem like hopeful setups for potential sequels. It was hard to miss Black's obvious laying of ground for a Nice Guys sequel, but the film performed poorly during its opening weekend, losing audience to Angry Birds 2, of all things.
Black hasn't suffered too badly for it. His relationship with Robert Downey Jr. after Kiss Kiss Bang Bang got him the plum gig of writing and directing Iron Man 3 (2013), the best film in that series and one of the best in the MCU according to people who care. The success of that film bankrolled The Nice Guys, where Downey does an uncredited cameo as the corpse of the porn producer. (I can't speak for the quality of Iron Man 3, as I'm nearly 60 and can't waste another precious minute on superhero films.)
Obviously desperate for another hit, Black decided to return to the troubled Predator franchise. (He had a small role, dying early, in the original Predator picture in 1987.) He wrote and directed The Predator in 2018, a "sequel not a re-boot" according to the director, and nevertheless considered the worst film in his catalogue. (Sadly, I can attest to that.)
With no Nice Guys sequel on the horizon, Black is taking another kick at the hardboiled can. He's partnered with Amazon and Downey – now free from the Iron Man suit – to produce a series of movies and shows based on Donald E. Westlake's Parker crime novels, starting with a film provisionally titled Play Dirty, according to a Variety story from last year.
Here's hoping that lets Black progress even further along from the path he started with his neo-noir films, since reinventing himself as a writer-director. His blend of comedy and crime thriller has turned out to be a resonant mirror for the times, and for audiences who can laugh at murder, and shrug when the real bad guys get away.
Mark Steyn Club members can let Rick know what they think by logging in and sharing in the comments below, as access to the comments section is one of many benefits that comes along with membership in the Mark Steyn Club.