When Doris Day made Teacher's Pet (1958) she was arguably near the pinnacle of her career as a movie star. Love Me or Leave Me (1955), the final film in her Warner Bros. contract, was her biggest hit and launched her away from light comedies and musicals into more dramatic roles. She followed it up with Alfred Hitchcock's The Man Who Knew Too Much a year later, a picture that firmly established her talent as an actress while introducing her signature tune, "Che Sera Sera."
The films she made around this time are interesting, whether they're good (Pajama Game) or bad (Julie, Tunnel of Love), as they exist in that brief window between shedding her Warner's ingenue image and assuming (or being forced to assume) the one that would unfairly characterize her public persona for decades to follow: "America's wholesome virgin" and "Miss Chastity Belt," as she'd witheringly describe it at the start of her 1976 memoir, Doris Day: Her Own Story.
Day had a chance to do a little bit of everything in Teacher's Pet, which was a bit of a comedy, occasionally a drama, and provided the rare opportunity to see both Day and Mamie Van Doren sing versions of the same song. She also got to share the screen with Clark Gable as her leading man – twenty-one years her senior, still known as the "King of Hollywood," and only two years away from his death from a sudden heart attack.
Gable plays James Gannon, the city editor for a major New York broadsheet. Gannon is precisely what nearly every newspaper journalist would have been at the time – from humble working class origins, indifferently schooled but a newsroom veteran, having worked his way up from the press room or as a lowly copy boy under the tutelage of similar men.
Gannon presides over a bustling newsroom with a gruff belligerence that his staff expect from anyone in his position. He sits at a big table in the middle of the room surrounded by other grizzled veterans, and we learn about his worldview from his relationship with two younger men near the bottom of the editorial totem pole.
There's Barney (Nick Adams), a copy boy from a working-class family who worships Gannon. We meet him only after we're introduced to his mother, who sneaks away from a group touring the paper's offices to plead with Gannon to get Barney to go back to school. Then there's Miller (Peter Baldwin), a cub reporter stuck behind the research desk, whose fraternity key hanging from his vest irritates Gannon; he has no time for "college boys" and says he keeps Miller around "for a laugh."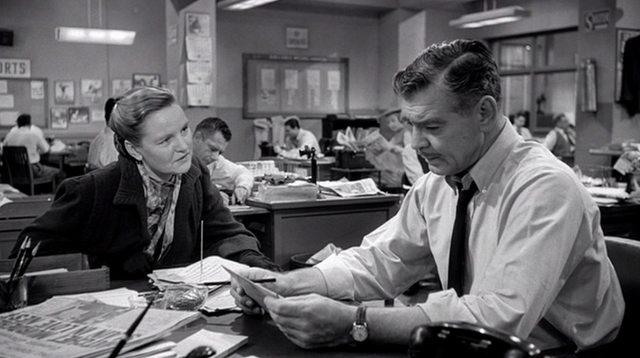 Gannon had been forwarded a letter from his boss – an invitation to talk to a university journalism class, which he'd answered with a blunt dismissal of the idea that his profession can be taught in a classroom. This was not the response his managing editor expected of him, and he's firmly ordered to not only put in an appearance at the class but to apologize to the instructor, Erica Stone (Day).
Gannon arrives at the school – obviously Columbia University, and home since 1912 to a Graduate School of Journalism founded by Joseph Pulitzer. He approaches a mousy older woman, assuming her to be the professor, but finds out that Stone is actually the attractive blonde he'd leered at a moment earlier when she walked into the room. He winces and grimaces while Erica reads his letter out loud, dismissing him as a relic from the Great Depression, then quietly sneaks out.
There'd be no film beyond this point if her criticism hadn't stung Gannon's pride. (It helps, of course, that it was delivered by Doris Day.) He decides to return to the class, registers himself as a student named Gallagher, a wallpaper salesman sent by his boss to learn how to produce a company newsletter, and begins trying to undermine Erica's lectures and her idealistic descriptions of the purpose of journalism.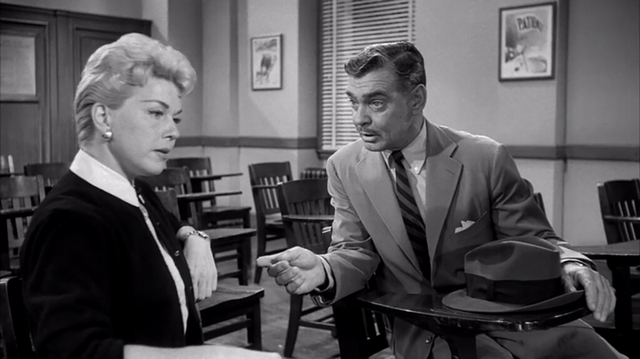 At the end of the '50s the newspaper business was still a good one. Newspaper circulation – which included multiple daily editions of the several competing papers doing business in most large cities – was over 100% of US households. It would slowly but steadily decline over the decades, to below 30% by 2018. Weekday circulation of daily newspapers was nearly 60 million at the turn of the millennium; by 2020 it had fallen to 24.2 million.
This does not take into account the decline in public trust in the news media, which is either increasing slightly or declining steeply, depending on which political party you support. When I was laid off from my newsroom job over a decade ago, the news media was full of stories about the dismal future of newspapers, but that's an old story, broadly understood as a fact of life, and now newspapers either slip off into a half-life online or disappear altogether without more than a cursory item to mark their passing.
If you made a film today where a newspaper was a major setting, it would likely be a period story; any contemporary one would be set at a cable news network or a website staffed entirely by young people, and in either case they'd both work under the constant threat of layoffs. And now that AI programs are good enough to author readable copy indistinguishable (or grammatically better) than clickbait, you definitely wouldn't make a film featuring an idealistic journalism professor obsessed with standards and integrity or a crusty media veteran who learned his trade coming up through the ranks. (What ranks?)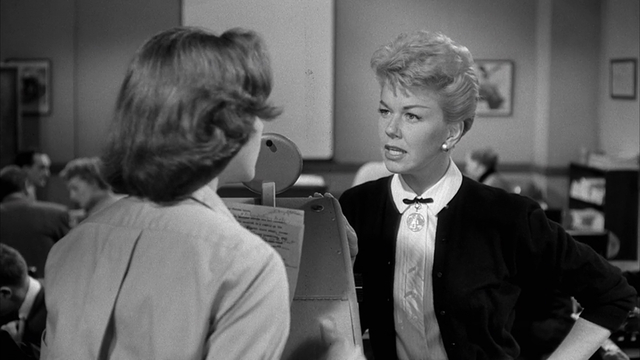 A documentary about the history of newspapers made in 1999 begins with the presses of the San Francisco Examiner thundering away, and ends by talking about the challenges coming over the horizon from the internet. It's a period piece, but it's history I lived through; I worked for newspapers that had printing presses in their buildings, and watched the presses, the staff, then the buildings themselves shrink or disappear entirely.
The Examiner was founded in 1863 as a pro-Democratic Party paper and was once part of the Hearst empire. In 1999 it was a daily newspaper with a weekday circulation of just over 114,000. Today it publishes just three times a week: Wednesday circulation is 60,000 copies; Thursday circulation is 76,410. In 2021 Carly Schwartz, formerly the editor of a Google internal newsletter, was hired as the paper's new editor-in-chief. A year later Schwartz left the Examiner "to write her memoir and go to Burning Man."
Day's Erica inspires her students with quotes from her father, a legendary newspaper editor, Pulitzer Prize winner and proprietor of the Eureka Bulletin, a small-town newspaper with a global reputation. At first I assumed that, because of Erica's surname, her father's character had been inspired by I.F. "Izzy" Stone, an influential progressive journalist (and suspected Soviet agent) who published I.F. Stone's Weekly from 1953 to 1971.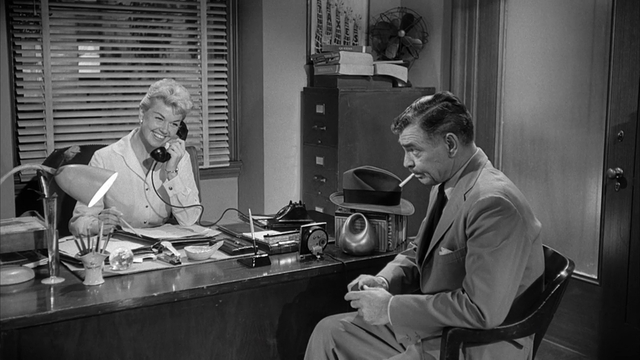 He was actually based on William Allen White, publisher of the (still existing) Emporia Gazette and winner of a 1923 Pulitzer Prize for an editorial about free speech. Erica considers her father a model of journalistic integrity, and impresses on her students the six key questions in journalism – Who, What, Where, When, How and Why? – with a stress on the last one that Gannon doesn't share.
As long as the first five questions are answered, attempts to answer the "Why?" are speculation, and a temptation to pad out column inches that should be filled with the advertising that actually pays for the paper. "Why?" is a question for the editorial page, and not his department.
Teacher's Pet was directed by George Seaton, who began his Hollywood career as a writer, with credited and uncredited work on pictures like A Night at the Opera, A Day at the Races, Stage Door, The Wizard of Oz, Charley's Aunt and The Song of Bernadette. His first directing job was Diamond Horseshoe, a 1945 Betty Grable picture; his biggest hit before Teacher's Pet was Miracle on 34th Street, and he would go on to direct The Counterfeit Traitor and Airport.
Seaton did his best to create an authentic newsroom setting. The city room is a replica of the one at the New York World Telegram and Sun, which would cease publication in 1966. (Newspapers have always lived precarious and sometimes brief lives.) The newsroom was also populated with real journalists, flown in from all over the US and Canada; there are cameos by Hollywood columnists such as Joe Hyams, Army Archerd, Sidney Skolsky and Vernon Scott. It was a brilliant move that guaranteed press for the film beyond a mere review.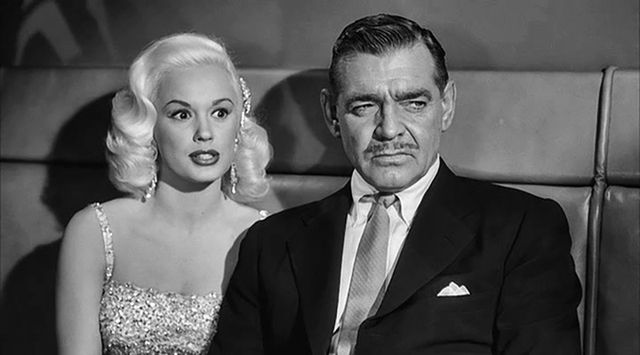 Cary Grant and Jimmy Stewart both turned down the role of Gannon, saying they were too old, but Gable – older than both of them – didn't share their objection, though the writers (Fay and Michael Kanin) had to change the part from a reporter to an editor to make Gable's Gannon believable. Haskell Boggs shot the film in black and white VistaVision to help disguise Gable's age but Boggs' artless lighting (the cinematographer was more at home on television) is hardly successful at the task.
If Gable looks rough, Day looks great, costumed by Edith Head in figure-hugging pencil skirts and suits and even a classic little black dress. The film gives us plenty of opportunity to appreciate Day's figure, as Gable's Gannon frequently ogles Erica, with Boggs' camera following his gaze dutifully.
The most curious criticism of Day was that her persona wasn't merely virginal but sexless. This sounds curious when you read, for instance, producer Ross Hunter – a gay man who would produce Day and Rock Hudson in the blockbuster trio of films that began a year later with Pillow Talk – recalling that "Doris hadn't a clue as to her potential sex image and no one realized that under all those dirndls lurked one of the wildest asses in Hollywood."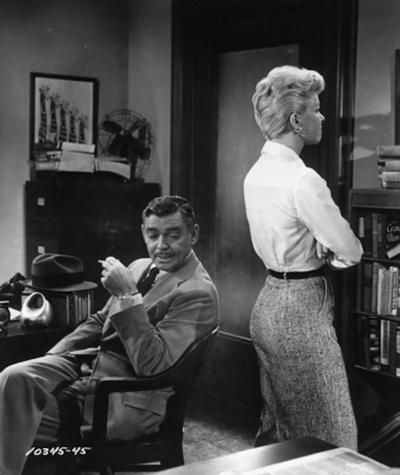 Thanks to Gable, Boggs and Edith Head in Teacher's Pet it's duly noted.
It's easy to see how the film, originally written as a drama, unconsciously follows the structure of a screwball comedy with the usual roles reversed – Gable is the comic protagonist and Day the "straight woman" foil. It even has the romantic triangle we see in so many screwballs, with Gig Young as Dr. Hugo Pine, a renowned psychologist and rival for Erica's affections – essentially the deserving but still outgunned Ralph Bellamy role.
The rivalry between Gannon and Pine comes to a head at the nightclub where Gannon's erstwhile girlfriend – showgirl Peggy DeFore (Van Doren) – is the featured act. Erica and Pine arrive on a date, and Gannon invites himself to sit at their table, which begins a territorial pissing match between the men. Pine, the egghead, turns out to have a keen memory for sports trivia, plays a mean bongo, and even trumps Gannon's war story from Okinawa by revealing that he was on the USS Enterprise when it was hit by the kamikaze that Gannon only watched from another ship.
Gannon's humiliation is intensified when Peggy does her big number – a sloppy bump and grind to a ditty called "The Girl Who Invented Rock and Roll." It even looks like he failed to drink Pine under the table – until it turns out that Gannon paid the bartender five bucks to spike Pine's drink, while Pine only paid him two.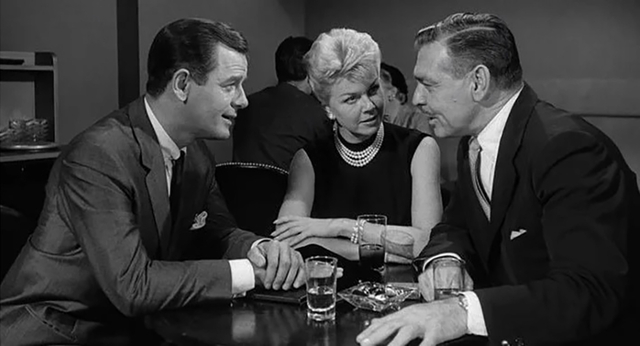 After pouring Pine into his bed, Gannon takes Erica home and she invites him up for coffee. She can't resist teasing him about Peggy and her act, and Day does her own version of "The Girl Who Invented Rock and Roll" with a little burlesque around her apartment. In his book Considering Doris Day: A Biography, Tom Santopietro writes that "the real punchline here is that Doris Day, with her seductive singing voice, natural dance ability and sensational figure, is far sexier than blatant sexpot Mamie Van Doren ever could be."
The qualities and appeal of Doris Day have been a tempting subject, even a politicized one, since she hit her box office peak with Pillow Talk. Critic Dwight Macdonald, who made war on middlebrow and middle class culture for most of his career, would write in 1962 about "The Doris Day Syndrome." Day was, in his (to my eyes, largely erroneous) opinion:
"...as wholesome as a bowl of cornflakes and at least as sexy. [Her face is] unmarked by experience, thus titillating the American male's Lolita complex...No wonder Doris Day is Hollywood's No. 1 box-office property. I suspect most American mothers would he pleased, and relieved, if their daughters grew up to resemble Doris Day. She has the healthy, antiseptic Good Looks and the Good Sport personality that the American middle class – that is, practically everybody – admires as a matter of duty."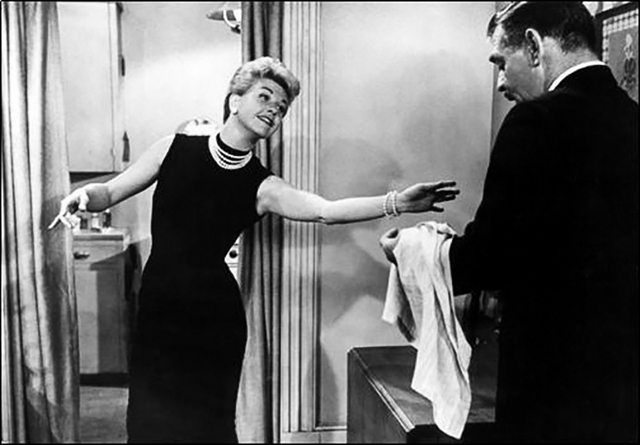 There are modern academic articles with titles like Philip M. Gentry's "The Blonde Who Knew Too Much: The Whiteness of Doris Day," (published in his book What Will I Be: American Music and Cold War Identity), and Dennis Bingham's "Before She Was a Virgin: Doris Day and the Decline of Female Film Comedy in the 1950s and 1960s," published in Cinema Journal in 2006. There are a lot of attempts to decode the sexual morality and the implied hierarchies of exploitation and oppression in Day's movies, which have become irresistible treasure troves for this sort of analysis, as Bingham demonstrates:
"Day falls in love with, and is willing to give herself sexually to, the 'sensitive man,' the disguise. The joke on women - or is it on men? - is that the kind of man a 'nice girl' goes for doesn't exist. Given the sexual Machiavellianism of the men she runs up against. Day might be forgiven for preferring 'singleness,' as the ads for Pillow Talk proclaimed. However, after the sham is exposed - always just before Day is actually seduced - the man, implicitly or explicitly, discovers that the encounter has drawn out a genuine tenderness in him. He then sets out to meet the woman halfway, in what is understood as a marriage of equals. Of course, star signification plays a leading role here; audiences of the fifties expected a Hudson, a Gable, or a Gary Grant to be sincere at heart and knew that, once smitten by good-natured Doris Day, the hero would do the right thing."
Whatever you might think about this sort of writing, what's hard to deny is that Doris Day and her films have been made to bear a lot of weight as cultural artifacts, decades after they were made, after Day left the movie business, and even after her death.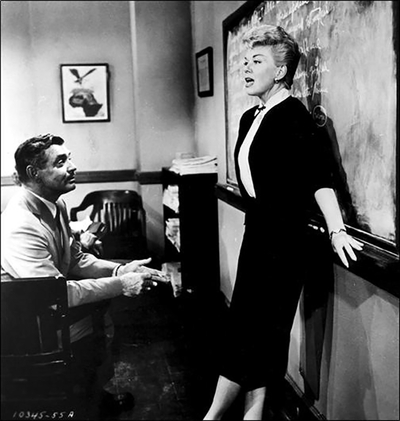 Bingham's summary of a Day picture's plot isn't off the mark, though, and when Gannon is forced to confront the inflexibility of his opinions, and after Erica discovers his deception, the hard-bitten newspaper editor has a crisis of conscience, even identity, telling Pine that he's become "just a big, understanding, remorseful slob."
Pine, having conceded defeat, is trying to soften Erica up to forgive him when the older man suddenly charges from the next room, where he thought he was going to lick his wounds and confront his failings, but ended up reading old issues of Erica's father's newspaper left there by Pine. He doesn't see Erica, but announces to Pine that he has his confidence back, having finally read the Eureka Bulletin and realized that it was total junk.
Old man Stone might have written a Pulitzer-worthy editorial, but his paper was really just a provincial news sheet, full of rural gossip, trite ruminations and boasting a single page of advertising. Printing it required none of the skill, manpower and effort required to put out several editions of a fat daily newspaper, written to immovable deadlines and created by a huge staff armed with specialized talents, loaded with crucial advertising, in a market crowded with competition.
Gannon might have been forced to admit that journalism can be taught in a classroom, but Erica has had to confront the truth about her sainted father's work, whose reputation was built on nostalgia and conventional wisdom.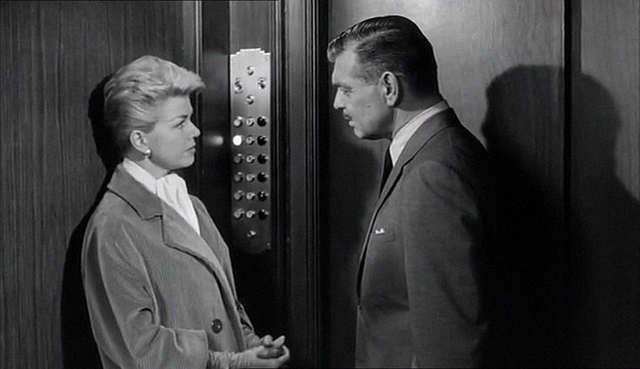 Personally, I'm still not sure that the influx of journalism school graduates into the newsroom, replacing the Gannons who once filled the place, was ultimately a gift to newspapers. Certainly the pursuit of "Why?" and all the very subjective, hasty, fashionable and biased answers that it produced did no favours to readership or reporting as it spilled out from the op-ed pages.
Whether that was one of the main causes of the not-quite-but-give-it-time fatal decline of the newspaper will probably never be definitively known. The business model that made newspapers thrive was over a century old and vulnerable to disruption – and it came, with a technological revolution that wasn't even overdue. And in any case the tragically late and usually incorrect responses of owners, managers and newsroom bosses did nothing to delay the inevitable, often speeding it along.
By the time I spent my years in newsrooms, they weren't really the kind of place I'd miss. Those celebration of newspapers and old media culture, certainly since their inevitable end came into view in the last two decades, feels like that undeserved nostalgia for the Eureka Bulletin: a longing for something that never existed, and only occasionally achieved its potential.
Mark Steyn Club members can let Rick know what they think by logging in and sharing in the comments below, as access to the comments section is one of many benefits that comes along with membership in the Mark Steyn Club.