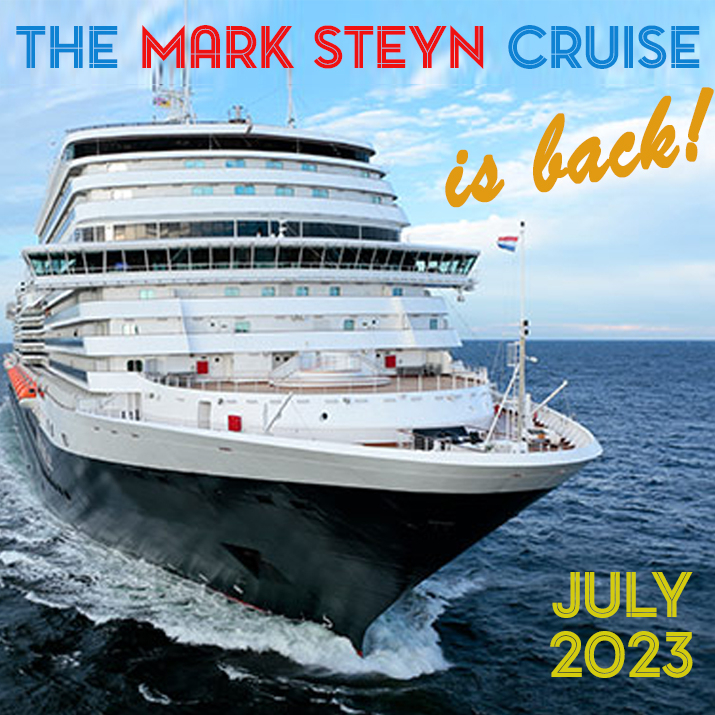 If you enjoy The Mark Steyn Show on your Smart TV or not so smart desktop, we'll also be doing it live at sea during the 2023 Mark Steyn Cruise - and with all of your favourite guests, from Bo Snerdley and Michele Bachmann to Leilani Dowding and Eva Vlaardingerbroek. More details here.
~Steyn continues to convalesce from his brace of heart attacks, but, after a weekend back in his iron lung, he will return tonight to launch a brand new week of The Mark Steyn Show. The action starts at 8pm UK time - which for this week only is 4pm North American Eastern/1pm Pacific. He's slowly building up the output, health permitting, but he's committed to at least three shows this week, and maybe a fourth something or other.
If you missed any of last week's appearances, you can find them all here:
MONDAY
Steyn is found guilty by Ofcom plus Kathy Gyngell on the limited hangout
and Yasmine Mohammed on Your Brit Wanker Copper of the Day
TUESDAY
Stats man Jamie Jenkins and media exec Mark Sharman
on Steyn's conviction by Ofcom
WEDNESDAY
Our midweek panel show taking the pulse of the planet with
Leilani Dowding, Alexandra Marshall and Dominique Samuels
THURSDAY
A Steyn Show special that could not be broadcast on GB News
featuring Mark in conversation with Naomi Wolf
If you've missed any Steyn Show in recent weeks, you can find them all in reverse chronological order, plus many more from the archives, listed here.
~Notwithstanding Mark's ill health, he had a busy weekend, starting with Steyn and his former Speccie/Telegraph colleague James Delingpole in a substantive near-two-hour edition of the Delingpod, available for listening or viewing on all the usual platforms. Shortly thereafter, Mark back in the chair for our Clubland Q&A. For his Saturday movie date Rick McGinnis awarded himself The Oscar, and Tal Bachman on Sunday went all Old Testament. Steyn's Song of the Week told the story of a Cole Porter classic with help from Artie Shaw and Julio Iglesias.
If you were too busy spending the weekend not watching the Oscars, we hope you'll want to check out one or three of the foregoing as a new week begins.
~The Mark Steyn Show is a special production of The Mark Steyn Club, now in our sixth year. Membership in the Steyn Club comes with some unique benefits, including:
~Our archive of Mark's audio adventures, Tales for Our Time;
~Exclusive Steyn Store member pricing on over 40 books, mugs, T-shirts, and other products;
~The opportunity to engage in live Clubland Q&A sessions such as this Friday's;
~Transcript and audio versions of The Mark Steyn Show and other video content;
~Mark's ongoing series of video poetry and other weekend specials;
~Advance booking for his live appearances around the world, including the annual Mark Steyn Cruise;
~Customized email alerts for new content in your areas of interest;
~and the chance to support our print, audio and video ventures as they wing their way around the planet.
See you back here for your comments on tonight's show.