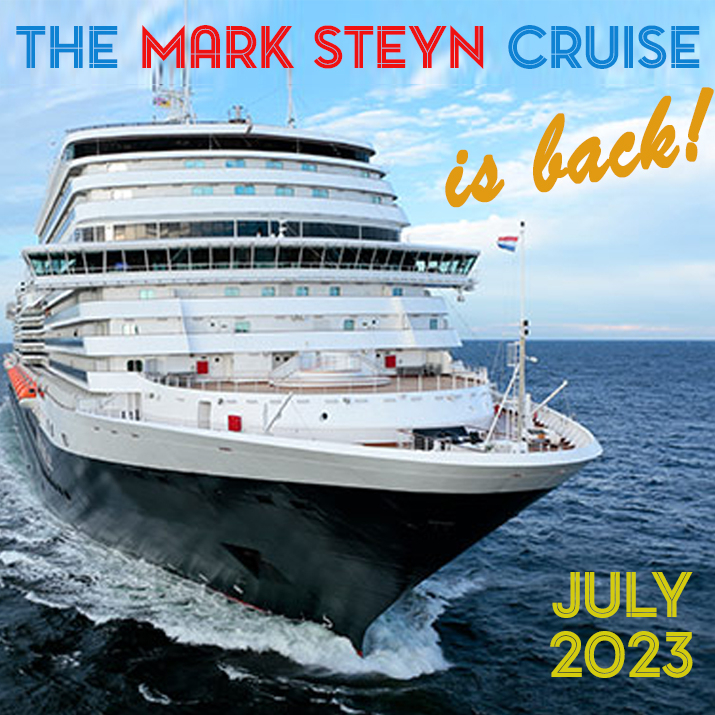 If you enjoy The Mark Steyn Show on your Smart TV or not so smart desktop, we'll also be doing it live at sea during the 2023 Mark Steyn Cruise - and with all of your favourite guests, from Bo Snerdley and Michele Bachmann to Leilani Dowding and Eva Vlaardingerbroek. More details here.
~Steyn continues to convalesce from his brace of heart attacks, but, after a weekend back in his iron lung, he will return tonight to launch a brand new week of The Mark Steyn Show. The action starts at 8pm UK time - which for one more week only is 4pm North American Eastern/1pm Pacific. He's slowly building up the output, health permitting, but he's committed to at least three shows this week, and maybe a fourth something or other.
If you missed any of last week's appearances, you can find them all here:
MONDAY
A Steyn Show special on how the EU and the British establishment
leveraged Ireland to subvert and ultimately destroy Brexit
TUESDAY
Chief Gammon June Slater and the Stats Man Jamie Jenkins join Mark
- plus a heartwarming Disney finale!
WEDNESDAY
Our midweek panel show taking the pulse of the planet with
Leilani Dowding, Alexandra Marshall and Eva Vlaardingerbroek
THURSDAY
Last April Steyn did a show touching on the media's Covid censorship.
Then Ofcom censored it. So, naturally, Mark re-aired it with a new introduction.
If you've missed any Steyn Show of recent weeks, you can find not only our latest edition but some 250 from the archives, all in reverse chronological order, listed here.
~Steyn Show mainstay Alexandra Marshall (who'll also be on this summer's Mark Steyn Cruise) has a follow-up to one of the topics discussed on a recent midweek show - science's increasing ease with animal-human hybrids. She begins thus:
In 2021, under the cover of Covid, scientists from China, Spain, and America created embryos that shared human and macaque monkey DNA...
This seems likely to work well. Now that the "Follow the Science" fetishists are willing to admit the Covid "escaped from a lab", who knows what else will be escaping from a lab a year or two hence?
~The post-Steyn GB News continues to deteriorate: exchanging independent-minded presenters for Tory placemen is working out about as well as you'd expect. Saturday's overall primetime audience (7-11pm) was down to a wretched 20,000, and it's having a knock-on effect on the rest of the schedule: on Sunday at 3pm precisely 100 viewers were tuned in across the British Isles. The forthcoming John Cleese show may turn that around, although Mr Cleese himself seems ever more distant from his alleged soon-to-be colleagues.
~Notwithstanding Mark's ill health, he had a busy weekend at SteynOnline, starting with a St Patrick's Day edition of our Clubland Q&A. For his Saturday movie date Rick McGinnis had a fit of the Tremors, and Tal Bachman on Sunday had a guest column by God. Steyn's Song of the Week celebrated Mothering Sunday in the British Isles and Nigeria with a special on the Golden Age of the Mother Song.
If you were too busy spending the weekend coordinating federal-state-munical plans for Trump's arrest tomorrow, we hope you'll want to check out one or three of the foregoing as a new week begins.
~The Mark Steyn Show is a special production of The Mark Steyn Club, now in our sixth year. Membership in the Steyn Club comes with some unique benefits, including:
~Our archive of Mark's audio adventures, Tales for Our Time;
~Exclusive Steyn Store member pricing on over 40 books, mugs, T-shirts, and other products;
~The opportunity to engage in live Clubland Q&A sessions such as this Friday's;
~Transcript and audio versions of The Mark Steyn Show and other video content;
~Mark's ongoing series of video poetry and other weekend specials;
~Advance booking for his live appearances around the world, including the annual Mark Steyn Cruise;
~Customized email alerts for new content in your areas of interest;
~and the chance to support our print, audio and video ventures as they wing their way around the planet.
See you back here for your comments on tonight's show.