There was a time when you could stop a reasonably intelligent conversation dead by noting casually that Britain still had not paid off the debt it incurred to the US during World War Two – or that it was not paid off until 2006, depending on when you wanted to perform this only faintly annoying dinner party stunt. As a fact it was obscure enough that Sir Christopher Meyers, in his introduction to Mortgaged to the Yanks, a 2007 BBC documentary, admitted that he had no idea about the debt during his time as British ambassador to Washington from 1997-2003.
Britain was bankrupt, Meyers goes on to tell the viewer, and America chose V-J Day to pull the plug on the Lend-Lease Act and its economic support to Britain; a year later the US and Canada gave Britain a nearly US$5 billion loan at 2% interest. The last payment of $83 million was made on Dec. 29, 2006, six years late, Britain having suspended annual payments six times when exchange rates were unfavorable. In the end the UK paid back $9.5 billion to the US and Canada.
The most immediate consequence of this debt was that the UK lived with shortages and rationing for over a decade after the defeat of Japan and Germany, while watching both Allies and former enemies rapidly leave them behind economically. I am assured that there was nothing very funny about this state of affairs, but Ealing Studios did the British thing and found a way to mine humour out of this prolonged discomfort very early on with Passport to Pimlico (1949).
After Georges Auric's orchestral fanfare over the opening credits, the film begins with a Latin rhumba playing on a radio while the camera pans over a sweltering scene. A man in a linen suit mops his neck as he looks out a window; a woman in a bathing suit suns herself on a rooftop. You'd imagine you were in some exotic, equatorial locale like Cuba or Panama until the camera passes over the front of a fishmonger's shop and rests on a horse and cart trundling towards us in the dawn's light, in front of an elevated railway and underpass.
We're in London during a summer heatwave and the residents of Pimlico are beset by the heat as well as the straitened circumstances of postwar life. We meet PC Spiller (Philip Stainton), the local plod, bank branch manager Wix (Raymond Untley) – the man in the linen suit – and the sunbathing young lady: Molly Reed (Jane Hylton), who works for Huggins, the fishmonger. Other local merchants include the ironmonger Pemberton (Stanley Holloway), his commonsensical wife Connie (Betty Warren), their pretty daughter Shirley (Barbara Murray), and dress shop owner Edie Randall (Hermione Baddeley).
In addition to rationing and the heat, Wix is being thwarted by his small-minded regional manager, Huggins is carrying a flame for Shirley while oblivious to the attentions of Molly, and Pemberton is at loggerheads with the local council over a park and swimming pool he wants to build on part of the neighbourhood's ample cleared bombsites; they tell him they're in "no position to finance daydreams." Pimlico is also host to one of the last unexploded bombs in the city, which is detonated ahead of schedule by a group of boys who roll a huge wooden reel into the hole left by sappers.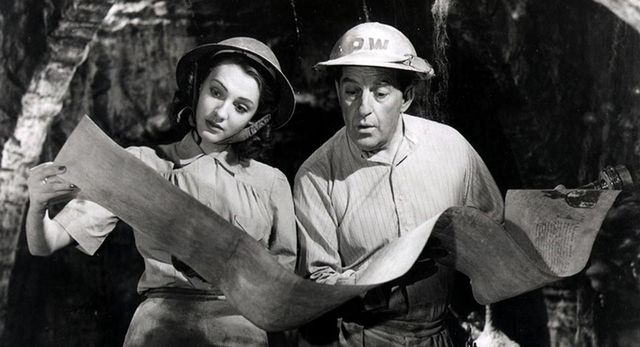 Pemberton accidentally falls into the crater and discovers a hidden chamber deep below the ground –all that remains of a mansion that once sat on the site, and filled with treasure that Wix dutifully locks in the bank's vault. A portrait and a parchment reveal it to be the property of an exiled Burgundian Duke whose estate was declared foreign soil by Edward IV – an obscure but legally binding historical oddity revealed to both the residents of Pimlico and the bureaucrats at Whitehall by Professor Hatton-Jones, an eccentric Burgundian expert played with customary vigour by Margaret Rutherford.
The idea for the film came to screenwriter T.E.B. "Tibby" Clarke when he read a newspaper article about the Canadian government passing an act of parliament declaring the Ottawa hospital rooms where the exiled Princess Juliana of Holland gave birth as Dutch territory, so that the newborn Princess Margriet could keep her place in the royal succession. Passport to Pimlico was set during the heatwave of 1947 but filmed during the rainy summer of 1948 on Ealing's suburban soundstages and on a huge outdoor set constructed not in Pimlico but just over the Thames to the east in Lambeth, which had been more conveniently leveled by the Luftwaffe.
(The setting was chosen mostly to make the title more alliterative. It also evoked the kind of quaint British cartographical eccentricity that Americans found charming; Pimlico had the gentle strangeness of places like Tooting, Wapping and Neasden, while not as comically overdone as, say, Little Dribbling, Great Snoring or Upton Snodsbury.)
The Pimlico of today is a prestigious address, as desirable as adjacent Belgravia, but before the war it had been in steep decline, included in inventories of west end slums and home to offices of the Labour Party and the Trades Union Congress as well as fascist leader Oswald Mosley until he was arrested in 1940. The Free French government had their headquarters there during the war, and bomb damage made it ripe for redevelopment and housing estates afterward.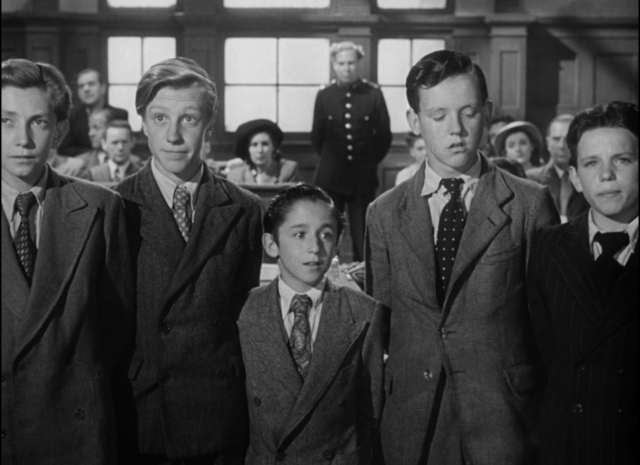 Clarke and director Henry Cornelius portray it as an uneasy enclave – home to enterprising working-class merchants waiting to see what the ambitious but cash-strapped Labour government has in store for them. Flattened city blocks sit between empty streets and gutted, roofless tenements – vistas that Britons in Blitz-damaged cities would live with for decades.
It's nearly a lifetime and a world away from today. In Austerity Britain: 1945-51, historian David Kynaston does his best to set the scene with a page-long paragraph describing the Britain of 1945:
"No supermarkets, no motorways, no teabags, no sliced bread, no frozen food, no flavoured crisps, no lager, no microwaves, no dishwashers, no Formica, no vinyl, no CDs, no computers, no mobiles, no Pill, no trainers, no hoodies, no Starbucks. Four Indian restaurants. Shops on every corner, pubs on every corner, cinemas in every high street, red telephone boxes, Lyons Corner Houses, trams, trolleybuses, steam trains. Woodbines, Craven 'A', Senior Service, smoke, smog, Vapex inhalant...Milk of Magnesia, Vick Vapour Rub, Friar's Balsam, Fynnon Salts, Eno's, Germolene. Suits and hats, dresses and hats, cloth caps and mufflers, no leisurewear, no 'teenagers'. Heavy coins, heavy shoes, heavy suitcases, heavy tweed coats, heavy leather footballs, no unbearable lightness of being. Meat rationed, butter rationed, lard rationed, margarine rationed, sugar rationed, tea rationed, cheese rationed, jam rationed, eggs rationed, sweets rationed, soap rationed, clothes rationed. Make do and mend."
It was a war economy with no war, and even as the country's factories re-tooled for peacetime, nearly everything considered a luxury good was earmarked for export to help pay off the debt. Drawing from diaries and the collected research of Mass Observation, Kynaston paints a picture of rationing and shortages without apparent end, of everything from food and automobiles and houses to the fuel to cook and drive and keep them warm.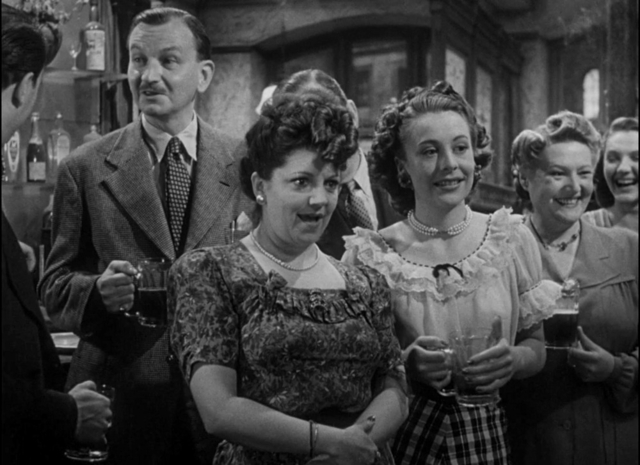 He quotes the then-unpublished novelist Barbara Pym, who writes that she and her sister Hilary have "taken a flat – in Pimlico, not a very good district, but perhaps we shall raise the tone...It is on the corner of Warwick Square and really quite nice. Anyway we are so lucky to get anywhere at all, as it is practically impossible to get flats and you really can't choose at all."
In The Secret Life of Ealing Studios: Britain's Favourite Film Studio, author Robert Sellers recalls how, during post-production, the government announced that it was easing rationing on certain items, "and a despondent murmur ran around the studio that the public would regard the film as outdated." Director Cornelius solved this with an insert after the main credits, with the words "Dedicated to the memory of..." and a shot of a laurel wreath surrounding a clothing ration book and a pile of ration coupons.
It apparently elicited the appropriate laughter from audiences at the time, and in any case only bread and clothing came off rations by the spring of 1949. It wouldn't be until 1954 that meat and the last of food rationing would finally end, though coal would remain rationed until 1958, and petrol rationing returned briefly during the Suez Crisis.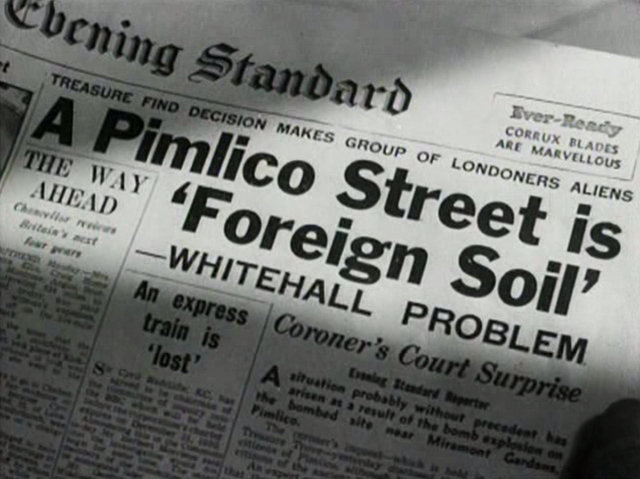 Back in Pimlico Professor Hatton-Jones informs the coroner's inquiry convened to establish who's entitled to the Burgundian treasure that it's technically the property of the residents of the long-dead Duke's estate, who aren't British at all by the provisions of the still-legal parchment but the last sovereign Burgundians in Europe.
"Blimey, I'm a foreigner," exclaims PC Spiller.
This inspires the residents of Pimlico to lightheartedly proclaim their secession from Britain, tearing up their ration books and identity cards in the local pub, beginning a celebration in violation of closing time. When Spiller's superintendent tries to discipline him for not enforcing pub hours, he informs him that he's no longer bound by London's constabulary, and when his district manager threatens to reassign him to a rural branch, Wix declares his branch an independent bank, the treasure its holding, before telling showing his superior the door.
(Film Movement, the company that recently reissued Passport to Pimlico along with many other Ealing classics, called the film "a hilarious precursor to Brexit" in their trailer.)
The newly-minted Burgundians barely have a morning to celebrate their liberation from rationing and regulation when the neighbourhood is suddenly thronged with Londoners eager to buy goods off-book and tax-free, followed by a stream of carts pushed by street peddlers and black marketeers just as happy to turn Pimlico into their own free trade zone, hawking rationed and export goods that have "fallen off the truck."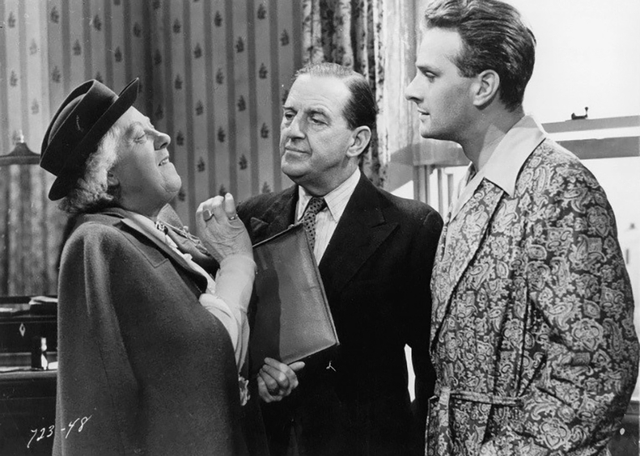 Watching their chance at profits evaporate as their streets are turned into a "spiv's paradise", the Burgundians appeal to the government for help, but Whitehall is unsure whose problem they are, bouncing the responsibility from the Home Office to the Foreign Office like a hot potato. In any case, they can't have diplomatic relations with the state of Pimlico until a descendant of the last Duke appoints a council of representatives. In the meantime they set up customs and immigrations checkpoints on the borders of Pimlico, which they fortify with police and coils of barbed wire.
Right on cue a handsome young Frenchman shows up; Sébastien de Charolais (Paul Dupuis) works in a hotel in Dijon and claims to be the last living descendant of the Duke of Burgundy – a fact that Professor Hatton-Jones is happy to corroborate. He moves into a room above the pub, appoints Pemberton as his prime minister, Wix as chancellor of the exchequer, and begins a romance with Shirley Pemberton, to the hangdog chagrin of Huggins.
Enjoying the cool night air together on the roof of the ironmonger's shop, Shirley and Sébastien survey the bomb-gapped streets of Pimlico under the moonlight and streetlamps. Shirley, as untraveled as any working-class Londoner at the time, is sure that his hometown is far more picturesque, and describes her fantasy of an ancient town square, an old river and castle walls. He says that sounds lovely, but the town square in Dijon is full of trams and there's a cement factory where the castle used to be; it's a remarkably prescient satire of a Europe that, bomb-damaged or not, is starting to take on the same depressing urban landscape.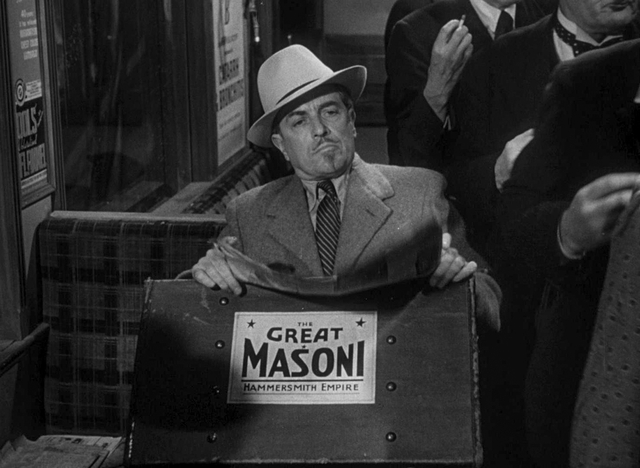 The cold war between Pimlico and Britain heats up when the Burgundians retaliate and begin stopping subway trains traveling beneath their tiny statelet – an echo of the detours and "dead stations" on Berlin's U-Bahn when the city was divided between east and west – and begin their own customs and immigration checks.
Up above, the government sends in a truck with a loudspeaker blasting pleas for the Burgundians to come to their senses and obey the people in charge. Pemberton outfits his own truck with a Tannoy and they face off with a blaring war of words, the ironmonger giving voice to the sentiment of much of the audience when he shouts that "we're sick and tired of your voice in this country!"
In Austerity Britain, David Kynaston writes that "within a year of VE Day there had set in not only a widespread sense of disenchantment – with peace, perhaps even with the Labour government – but also a certain sense of malaise, a feeling that society, which broadly speaking had held together during the war, was no longer working so well, was even starting to come apart."
He quotes the recently demobilised writer Rupert Croft-Cooke, returning to London and being "struck by how often he saw 'the feelings of gentle people, of naturally timorous people being trampled on by loud-mouthed bullies, frequently in uniform,' such as policemen or public-transport officials or cinema commissionaires. Such behaviour was hardly the result of the new political dispensation but in difficult times could not but stimulate anti-government feelings."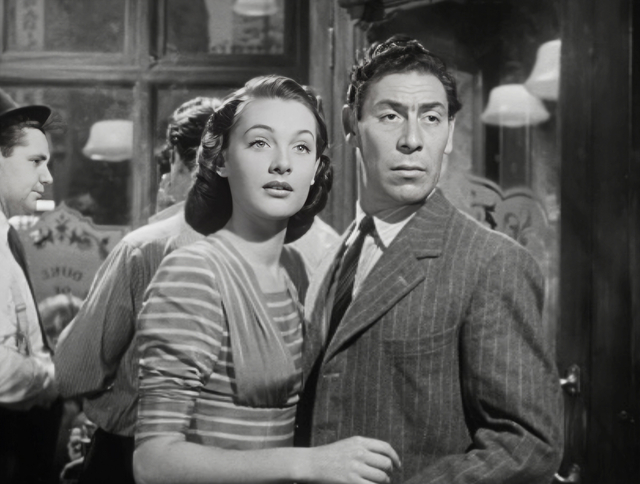 In her novel Private Enterprise (1947), Angela Thirkell wrote about ration books with pages "called 'Do Not Fill In Anything In This Space', and 'Points' and 'Personal Points', and 'Do Not Write On This Counterfoil Unless Instructed', and large capital T's and K's and little things called Panels whose use nobody knew, and a thing called Grid General which meant absolutely nothing at all..."
Thirkell wrote that after a year of peace there was "a great increase of boredom and crossness, which made people wonder what use it had been to stand alone against the Powers of Darkness if the reward was to be increasing discomfort and a vast army of half-baked bureaucrats stifling all freedom and ease, while some of the higher clergy preached on Mr. Noël Coward's text of 'Don't let's be beastly to the Germans', only they meant it and he didn't."
After the city turns off their utilities, the Burgundians stage a covert operation, tapping a water main with fire hoses and re-filling their old civil defense emergency reservoir. They send the children away – echoes of the evacuations at the beginning of the Blitz – and prepare for a siege. After their pooled food reserves are spoiled by a basement flood and their own rationing plan is destroyed, they're preparing to give up when Londoners begin throwing food over the barriers to them.
Crowds gather by the barbed wire to toss food across, throw provisions from passing subway trains, and even start an airlift to feed Pimlico, trapped behind an "iron curtain" – a helicopter hovers overhead and pipes milk down into cans, a plane parachutes pigs, and shipments of provisions arrive from other London boroughs and from Sébastien's countrymen. Suddenly Pimlico is better fed than the rest of the country.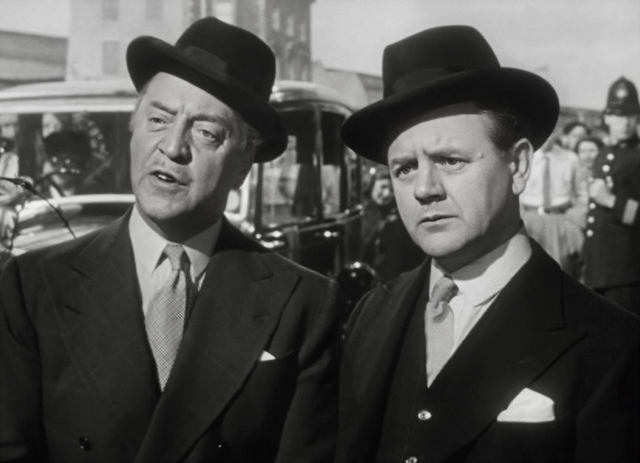 If there was any upside to wartime or postwar rationing, it was the democratizing effect of putting everyone up and down the classes on the same restricted, dismal diet. In his book, Kynaston notes that even in the House of Commons, "the only meat on the menu was whale or seal steak – 'both disgusting' according to one new Labour MP, Aidan Crawley – while even a 'white tie and tails' banquet could disappoint. 'Of course the meal was terrible,' noted Raymond Streat in the New Year, down from Manchester for the News Chronicle's big centenary beano at Dorchester House. 'A speck of hot lobster: an impossibly tough and exceedingly small leg of chicken: a tiny bit of not very sweet, sweet and a cup of coffee.'"
A scene in Passport to Pimlico shows the two Whitehall bureaucrats tasked with the Pimlico negotiations sharing a towel in a communal sink in their offices and using a bar of soap one of them had pilfered from a reception at the French embassy. Invited to Pimlico for a meeting, they wonder eagerly just what might be on the menu in the suddenly food-rich statelet.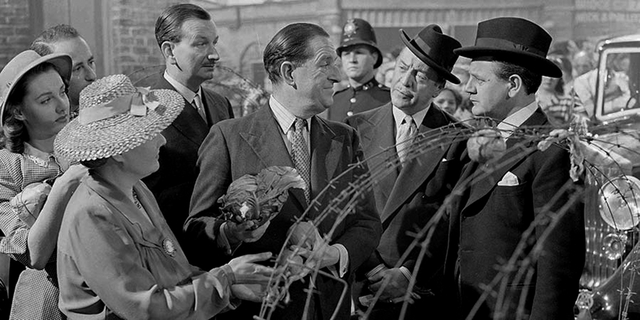 Their siege of Pimlico has turned into a public relations disaster, so the government are eager for a solution, which Wix provides with a brainstorm: they'll lend Whitehall the Burgundian treasure in exchange for interest payments and a return to Britain. Their battle, while it appeared to be about ration books and government regulation, was ultimately about principle and the peculiar freedoms of being British.
Or as Connie Pemberton says, scolding her husband when he gets carried away with his Burgundian rebellion: "We were always English, and we will always be English, and it's just because we're English we're sticking out for our right to be Burgundians."
Kynaston writes that Passport to Pimlico was "on the surface, anti-state in its message (like Whiskey Galore!) and indeed anti-Labour government." But at the end, while the Pimlico rebels lay out a celebratory banquet on long tables on the bombsite, they place newly-issued ration books at each setting. "I never thought people'd welcome the sight of these things again," says PC Spiller.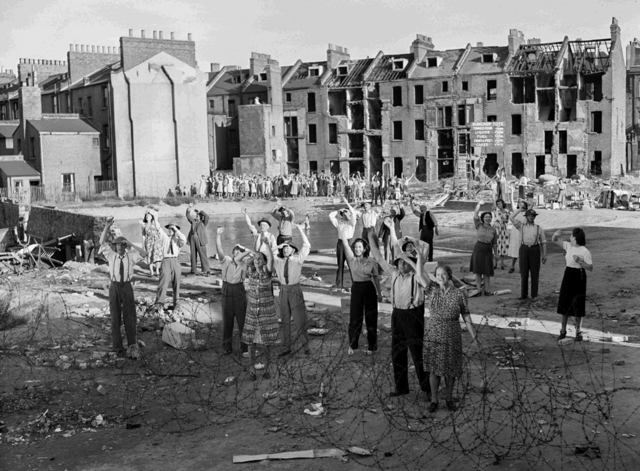 "The film ends in nostalgic wartime mood," writes Kynaston, "with the state once again benign, community spirit strong, and an unnatural heat wave giving way to reassuring rain and cold. The left-of-centre '1945' verities had been reasserted."
And so Pimlico retreats from the free market to the stiff embrace of Keynesian central planning, the budding welfare state and decades of debate about the extent of nationalisation. "We're back in England," says Pemberton, just as the Burgundian sunshine disappears and the banquet is washed out in a deluge of British rain.
Mark Steyn Club members can let Rick know what they think by logging in and sharing in the comments below, as access to the comments section is one of many benefits that comes along with membership in the Mark Steyn Club.