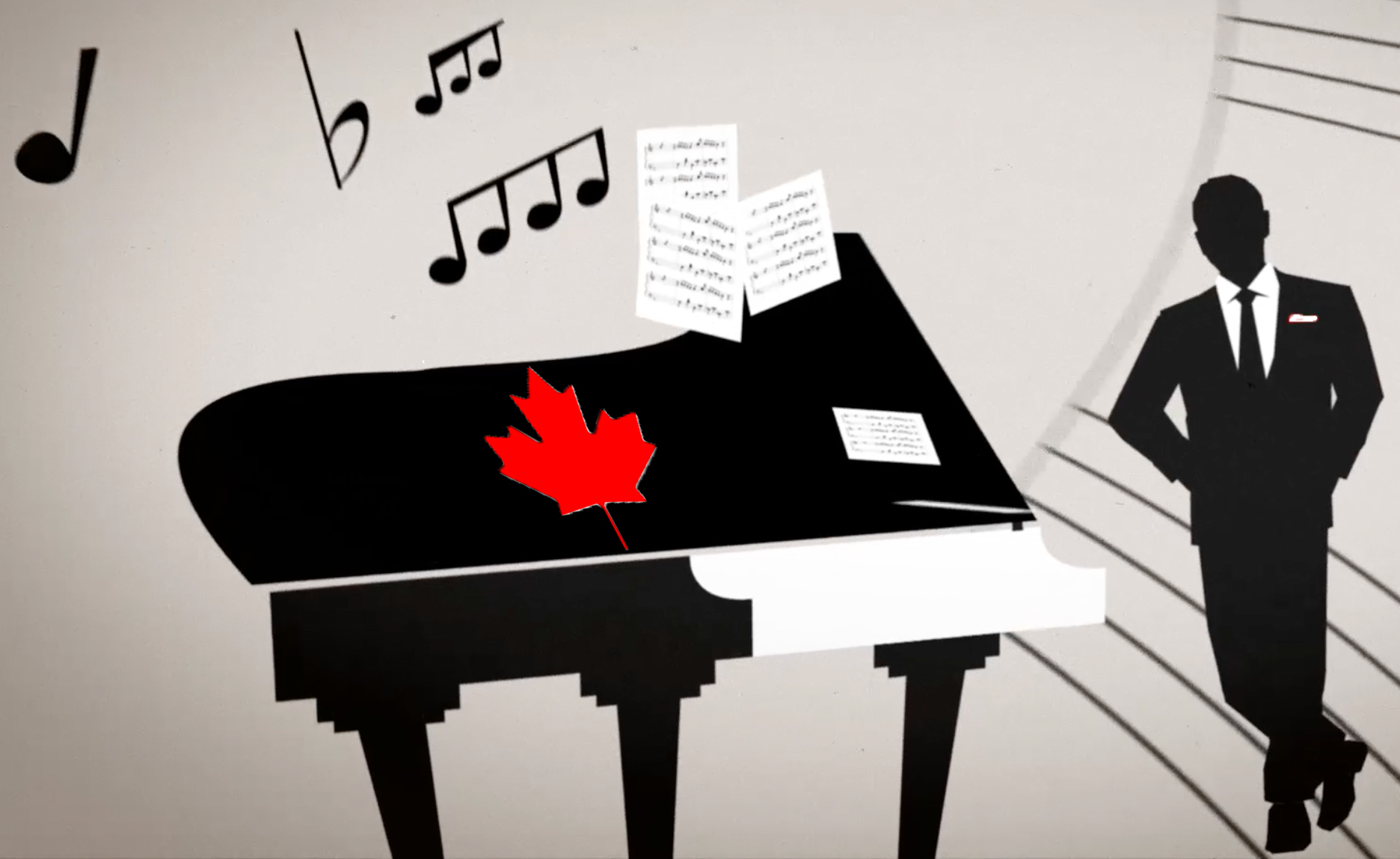 The Dominion of Canada celebrates its 150th birthday this Saturday. The official observances include a viceregal gaffe and prime ministerial socks. But here at SteynOnline we're celebrating with some great Canadian songs - most of which are not thought of as Canadian. We previewed the series with America's Number One hit of 1967 from a very English movie, and then moved on to one of my very favorite Canadian songwriters and Billboard's first ever American Number One record.
As longtime readers will know, our regular correspondent on matters of classic boomer pop is Los Angeles reader Dan Hollombe. When it comes to Sixties hit parade stuff I'm happy to defer to Dan and to our recent Mark Steyn Show guest Tim Rice. Not so long ago, I was talking to Tim about some flotsam and jetsam of pop arcana - Tim is faintly scary on such topics because he can visualize every detail of the label of the single as he's talking about it. But then, a couple of days later, I chanced to hear Bill Kenwright, legendary theatrical producer and chairman of Everton footie club, on the radio being even more arcane and abstruse. And I was thinking it would be great to put both guys on a show called "Name That B-Side". It occurred to me, however, that, like "Jeopardy", we'd need a third player, and I couldn't think of anybody in the Rice/Kenwright league until I remembered Mr Hollombe. So we've got the players; all we need to do is fly them in to shoot the pilot.
At any rate, Dan has excelled himself for our Canadian Content sesquicentennialpalooza. He writes from Los Angeles:
Greetings Mark,

When it comes to Canadian music, there is so much greatness out there by the likes of Joni Mitchell, Gordon Lightfoot, Ian Tyson, Neil Young, Randy Bachman etc, that you could easily spend a decade writing daily essays and never run out of subject matter. I just want to tell you about two quirky one-offs that I happen to love, that very few Americans know about, one from Vancouver, the other Quebec.

LOOKING AT A BABY by The Collectors is just plain groovy hippy sunshine-pop from early 1967. It's easily just as catchy as all the other great tunes from the first half of that year (Up Up And Away, Ruby Tuesday, Windy etc), but there simply wasn't enough room for it on the U.S. charts amidst such an embarrassment of riches.

"Plattsburgh Drive-In Blues", however, is something I only became familiar with via YouTube. It's from 1969, and this woman is currently married to Bernard Landry (not kidding). I have no idea what she is singing, as I don't speak the language, but the weird melody, creepy vox organ and strange chord progression are more than enough to hold my attention. The only word I can make out appears in the first line..."Michigan." This initially led me to believe that Plattsburgh must be someplace on the Michigan/Canadian border. A quick sojourn to Wikipedia revealed that it's actually on the New York/Canadian border.

Looking forward to reading all your columns this week. I just hope there isn't too much Leonard Cohen in them.
For non-Canadians, Bernard Landry is a former Premier of Quebec, and a man of faintly ridiculous self-regard. He once chaired a Quebec cabinet meeting devoted to the pressing matter of who was going to get which Canadian Government building after they've declared independence and proclaimed la République québécoise. Obviously he'd be getting the Canadian Crown's prime Quebec real estate, the viceregal residence La Citadelle, all to himself. But you can't help feeling that serious independence movements hold the revolution first before divvying up the property...
Be that as it may, Quebec secessionists, in my experience, marry fine-looking ladies, and, as it happens, I've met Mme Landry. Chantal Renaud was, indeed, a yé-yé singer all those years ago, when hit records did not travel quite as speedily around the globe and the local talent could get a piece of the action. So, when France's delightful Sylvie Vartan had a hit with "Comme un garçon", Mlle Renaud jumped on it and had a hit in la belle province. But how Dan Hollombe stumbled on "Plattsburgh Drive-In Blues", from the end of the Sixties, I know not. I didn't think it was known outside the world of franco-pop, so, if this is the first time for our American and Aussie and Brit readers, give it a listen:
There's no reason why anyone in California should know where Plattsburgh is, but it is, in fact, just south of Montreal in upstate New York. I mentioned the other day how absurdly large Burlington, Vermont looms in the imagination of the Quebeckers in Denys Arcand's film Les Invasions Barbares. But Plattsburgh, land of cheap-o charter flights to the Caribbean and tatty discount malls, is almost as mythical for northern daytrippers. I doubt it's ever been hymned as delightfully, though, as by Mme Renaud. Dan is quite right that the first line contains the word "Michigan", but it's nothing to do with the state. It's a reference to "Michigan Red Hots", which is a Plattsburgh area delicacy: Hot dogs made with red-skin franks and a hottish sauce. Try Gus's Red Hots just north of town, or McSweeney's just west. Alors:
'Donne-moi deux Michigan Red Hots
Pis un gros sac de pinottes
Un cornet de crème en glace'
'Eille dépêche toi, la vue commence
Ti-gars, laverais-tu mon windshield?
'You take Canadian money?
Lève donc ta vitre, les bébittes rentrent'
'Oui mais faut bien que la fumée sorte'
Plattsburgh Drive-In Blues...
Which means:
'Give me two Michigan Red Hots
Plus a big bag of peanuts
And an ice-cream cone'
'Hey, hurry up, the show's starting
Wanna wash the windshield, kid?'
'You take Canadian money?
Put up your window, the bugs are coming back'
'Yeah, but the smoke's gotta get out'
Plattsburgh Drive-In Blues...
Unilingual Americans shouldn't feel bad about not understanding the lyric because it would be incomprehensible to a lot of well-spoken Frenchmen, too. It's written very much in Québécois vernacular. "Pinottes" - "peanuts" - is a terrible bit of franglais: That would be un sachet de cacahuètes at the Académie française snack bar. The French prefer to say crème glacée rather than crème en glace, and moustiques for
bébittes, and oh my, ti-gars for petit garçon is super-Quebecky. The second chorus is just as good:
'Bebé, passe moi donc l'sac de chips
Pis mets du vinaigre, mon pit'
'Mais jette donc ta grosse gomme dehors
À place d'la jeter dans l'cendrier'
'Viens donc te tasser à côté de moé
Ma tout est traduit en français'
'C'est un film d'action, j'l'ai déjà vu...'
Which is kinda sorta:
'Baby, pass me the bag of fries
And put vinegar on, hon'
'But throw your big gum out
Instead of sticking it in the ashtray'
'Why don't you move a little closer?
I'll translate everything into French'
'It's an action flick, I've already seen it...'
Fabulous, and again all in Quebeckerish. Who'd have thought the best song about a Saturday night out in Plattsburgh would be Canadian?
The composer is Gene Williams, who was born in Nova Scotia to an anglo dad and franco mum. When he was three, the family moved to Montreal, and by the time he was in his teens he had a band called Gene and the G-Notes touring Quebec performing covers of Beatles hits. Everybody was doing it back then: René Angélil is known in Vegas and LA as the late husband of Céline Dion, but in the Beauce and Eastern Townships he's beloved as one of Les Baronets. At any rate, Chantal Renaud, demonstrating the skill she would later deploy as a successful scriptwriter in France, sharpened and polished the lyrics into a real slice of upstate life.
On the other hand, I'm not sure M et Mme Landry are the drive-in couple one should turn to to celebrate the 150th birthday of Canada. So I started thinking about other Canadian songs of New York. There is, of course, the great Quebec nationalist anthem by Gilles Vigneault that our dear friend Patsy Gallant turned into a worldwide disco anthem as "From New York to LA". And I myself reversed the process - on stage for Steynamite at the Metro Centre in Toronto, when I marked the bicentennial of the War of 1812 by turning Kander & Ebb's "New York, New York" into a song about my hometown's original name, "York, York". Bit of a one-joke song, but, if the one joke is solid, you'd be surprised at the mileage you can get out of it.
Nevertheless, if we had to pinpoint the most successful New York song by a Canadian, it would have to be this:
I like New York in June
How About You?
I like a Gershwin tune
How About You?
That's one of the most memorable opening lines in any song, but the lyric hymning New York in June was written by a gentleman born in Vancouver in May. Ralph Freed was born on May 1st 1907 in Vancouver, British Columbia, and, although he hit it biggish down south, he didn't write exclusively about the charms of the Great Satan. Even in Hollywood, he wasn't averse to celebrating his native land: Consider, for example, his songs, including the robust ode "Saskatchewan", for the lively 1942 film Pierre Of The Plains, starring John Carroll as the eponymous plainsman Pierre, who wants to stop his beloved Daisy, a local saloon-keeper, from marrying the dodgy Mountie "Jap" Durkin. Still, it seems reasonable to assume that, almost half-a-century after his death, that Ralph's words on New York in June have proved more lucrative for his heirs and relicts than any of his ones about Moose Hill, Saskatchewan at any time of year.
Ralph Freed was the much younger brother of another lyricist, Arthur Freed, born in 1893 in Charleston, South Carolina. The Freeds - or Grossmans, as they then were - moved to Seattle and raised their children on the Washington coast, with occasional detours up to British Columbia. Arthur went on to write "Singin' In The Rain" and a bunch of other songs for the very earliest talking pictures, and then, after a stint as associate producer on The Wizard Of Oz, moved into the executive office and became head of MGM's Freed Unit, producing all the very greatest movie musicals of the Forties and Fifties, including Easter Parade, An American In Paris, Gigi, Singin' In The Rain and On The Town. (See my salute to one of the many talents he nurtured, director Stanley Donen.) Ralph followed his older brother to Hollywood and, while he never matched Arthur's success, he had gainful employment in the movie biz for a good couple of decades - with a little help from his pal in the corner office. It was Arthur Freed who optioned the Broadway hit DuBarry Was A Lady, decided the Cole Porter score was a stinkeroo, and hired his kid brother to improve it. Ralph replaced Porter with sophisticated authentically Gallic numbers such as "Madame, I Love Your Crepes Suzette".
Still, one of his earliest songs, "Little Dutch Mill", was a Number One for Bing Crosby for a month in 1934, although it hasn't been heard terribly often since. But "You Leave Me Breathless" is a lovely ballad, and "Babes On Broadway" is the rouser that defines the whole Judy Garland-Mickey Rooney let's-do-the-show-right-here-in-the-barn ethos. It's hard not to warm to a line like "Oh, we're milkin' applause instead of milkin' a cow". The first time Sinatra sang Ralph Freed was with the Tommy Dorsey band in July 1940 - a song written with Joseph Meyer and Carl ("Marshmallow World") Sigman, and recorded in a rather jaunty arrangement, considering the theme:
Love Lies
Have a way of sounding true
When Love Lies
Come from one as sweet as you...
Don't you just hate that? A year later, the film Babes On Broadway would produce Ralph Freed's most enduring song. It's what they call a "catalogue song" or a "laundry list", an accumulation of specifics that all go to prove the same point - that "You're The Top" or "They Can't Take That Away From Me" or "These Foolish Things remind me of you". The verse sets it up:
When a girl meets boy
Life can be a joy
But the note they end on
Will depend on
Little pleasures they will share
So let us compare...
In other words, what have they got in common? And fortunately they've got plenty of "little pleasures" that they share:
I love a fireside
When a storm is due
I like potato chips
Moonlight and motor trips
How About You?
Talk about compatible! None of that bickering over the mosquitoes and the ashtray like at the Plattsburgh Drive-In. Judy and Mickey introduced it, and Burton Lane, a gentle giant of popular music, provided the music. Lane was born in 1912 and was a professional songwriter by his teens. He went on to write the scores for Finian's Rainbow (which Frank produced an all-star cast album of) and On A Clear Day You Can See Forever (which he recorded a couple of songs from), but in his early days Lane was an assignment writer in Hollywood. He had an eye for talent - he's often credited with "discovering" the 11-year old Judy Garland, and certainly, by the time of Babes On Broadway, he knew her well enough to craft a song that's perfect for her. Most laundry lists are a chance for lyricists (or at least their rhyming dictionaries) to show off ("You're The Top/You're the Colosseum/You're The Top/You're the Louvre Museum"), but Ralph Freed's is so down to earth and everyday it has an entirely different quality.
A few years ago, Burton Lane told me, as you can hear in this audio special, that Freed's lyric is wonderful, but that the composed managed to slip a line in, too: Lanee beamed proudly and revealed that he'd suggested the second image in the song - "I like a Gershwin tune." While barely out of short pants, young Burton had been befriended by the Gershwin brothers who'd helped him get his first foot on the showbiz ladder. And in 1941, just four years after George's early death, this line was a small acknowledgment by Lane to his great mentor. Gershwin isn't the only real person cited in "How About You?" Here's a couplet that dates the song:
I'm mad about good books
Can't get my fill
And Franklin Roosevelt's looks
Give me a thrill...
That's been given a few updates over the years. The sentiment sat nicely in young Judy's voice, but when Frank recorded it with the Dorsey band at the end of 1941 he kept the FDR line. He was a big fan of Roosevelt, and in fact his son Frank Sinatra Jr has the perhaps unique distinction of being a Junior with an entirely different name from the Senior. That's to say, Pop was Francis Albert Sinatra but he named his kid Franklin Wayne Emmanuel Sinatra. I'm not sure about "Wayne", but "Emmanuel" was after Sinatra's second father Manie Sachs at Columbia, and "Franklin" was from Roosevelt. After Sinatra re-recorded "How About You?" for the blockbuster Songs For Swingin' Lovers in 1956, everybody and his cat started singing it and concluded that maybe the reference to the late President required updating. Rosemary Clooney changed it to "and Frank Sinatra's looks". Bobby Darin kept the idea of political glamor: "And Mister Kennedy's looks/Give me a thrill..." (the extra syllable is awkward). As far as I know, the Dixie Chicks have yet to sing "And George W Bush's looks/Give me a thrill..." But perhaps the coolest rewrite was by Sinatra himself on that '56 recording with Nelson Riddle, tipping the fedora to a great pal:
And James Durante's looks
Give me a thrill...
Indeed.
The mistake composers make with list songs is to assume it's all about the lyric and to phone in the tune. But Burton Lane wrote what Alec Wilder called "a marvelous, healthy, rhythmic ballad". Even the title phrase varies in unusual ways - the third "How about you?", in the 15th bar, puts the "how" on a high D sharp, full of romantic yearning. And the irresistible device of the rat-a-tat-tat repeated notes - "I like po-ta-to chips/Moon-light and mo-tor trips" - returns even more dramatically in the conclusion:
Holding hands
In the movie show
When
All the lights are low
May not be new...
That's the very definition of songwriting: not words, not notes, not a lyric, not a melody, but the two so inextricably linked that they're indivisible. Was the tune written to accommodate the lines or vice-versa? I asked Burton Lane and he couldn't recall. "All I remember is that I thought it was a terrific idea for a song," he said, "and we were so enthusiastic about it we wrote it very quickly, and I knew we'd got it right. Sometimes that happens."
The lightning never struck quite as bright for Ralph Freed ever again. He died in February 1973 and his older brother Arthur followed a couple of months later. But this song shines on, and a few years ago accompanied Ralph Freed on his posthumous induction into the Canadian Songwriters' Hall of Fame. I like a Burton Lane tune in a Nelson Riddle arrangement with a Frank Sinatra vocal - how about you? And, if only for the gift of this song, I'll always be quite partial to Vancouver in May:
I like it
How About You?
~Join us for another entry from Mark's Maple Songbook tomorrow, just after his appearance with Tucker Carlson on Fox News.
Members of The Mark Steyn Club get to have at it in our comments section. So, if you're a Club member from Plattsburgh, Saskatchewan or anywhere else, then feel free to take issue with him by hitting the comments thread below. For more on The Mark Steyn Club, see here.