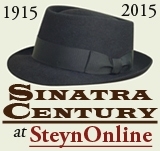 Happy New Year, and welcome to 2016. We have some films for first-footing, a song for the season, and a look back at my take on the big news stories of the year.
But last year was, of course, Frank Sinatra's centennial, and, before we finally close the book on 2015, here for the New Year holiday weekend is one last episode of The Song Is You. In this ancillary series to our Sinatra Songs of the Week, composers and lyricists tell the stories behind some of the great standards Sinatra sang.
This episode features songs by a trio of great composers: Burton Lane is the writer of such standards as "On A Clear Day You Can See Forever"; Jerry Herman has given us Broadway blockbusters like Mame and La Cage aux Folles; and Cy Coleman was a force in pop, jazz, film and theatre for half-a-century. Herman talks about getting chart hits from show scores, Coleman recalls the song he wrote in the tempo of Cary Grant's walk, and Lane explains why he likes a Gershwin tune - how about you?
Along the way we hear a lot of big songs, including "Witchcraft", "The Best Is Yet To Come", "Hello, Dolly!" and a brace of classics from Songs for Swingin' Lovers - "How About You?" and "Old Devil Moon" - plus one of the wackiest numbers Frank ever recorded: "I'll Take Tallulah." These recordings span all stages of Sinatra's career, from the Tommy Dorsey days through Columbia, Capitol and Reprise, with appearances by Jo Stafford, Ella Logan, the Pied Pipers and the Count Basie band, and arrangements by Paul Weston, Sy Oliver, Axel Stordahl, Percy Faith, Nelson Riddle, Billy May and Quincy Jones.
Click above to listen.
We hope you've enjoyed our Sinatra centennial observances these last twelve months. Don't forget our Song of the Week returns to its regular schedule, late on Sunday night, January 3rd.
And if you've missed one of our previous editions...
In Episode One of The Song Is You, Mitchell Parish, Phil Springer, and Betty Comden and Adolph Green talk about songs such as "Stardust", "Sweet Lorraine", "How Little We Know", "New York, New York" and "Lonely Town".
In Episode Two, we hear from Irving Caesar, Ann Ronell and Alan Jay Lerner about "Almost Like Being In Love", "I Could Have Danced All Night", "On A Clear Day", "Tea For Two" and "Willow, Weep For Me".
In Episode Three, I talk to Alan Bergman, one half of the great writing team of Alan and Marilyn Bergman, whose songs include "Windmills of Your Mind", "The Way We Were" and "You Don't Bring Me Flowers". But, long before their big movie numbers, Alan and Marilyn were young, unknown writers in Los Angeles who nevertheless managed to get Sinatra to record a handful of their songs, including "Nice 'n' Easy" and the swingin' nursery rhyme "Ol' MacDonald".
In Episode Four, we celebrate half-a-century of Sinatra Christmas recordings, and enjoy a few moments with Hugh Martin, composer of "Have Yourself A Merry Little Christmas", Sammy Cahn, lyricist of "The Christmas Waltz", and the daughter of Irving Berlin, who gave us "White Christmas".
In Episode Five, Jule Styne talks about his early days as Frank's house composer in the early Forties, Susan Birkenhead takes us through the genesis of Sinatra's last great saloon song, and we end with a certain blockbuster New York song by Kander & Ebb, with a word from Liza Minnelli.
~For a century's worth of Sinatra songs see here. For Mark's podcast with longtime Sinatra conductor Vincent Falcone, you can find Part One here and Part Two here. For Steyn's take on Sinatra at the movies see here. And Mark's original 1998 obituary of Frank, "The Voice", can be found in the anthology Mark Steyn From Head To Toe, while you can read the stories behind many other Sinatra songs in Mark Steyn's American Songbook. Personally autographed copies of both books are exclusively available from the SteynOnline bookstore.