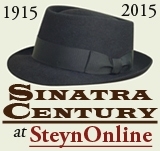 Last weekend marked the one hundredth anniversary of the birth of Frank Sinatra. So as a seasonal postscript to our celebrations here's a special Yuletide edition of The Song Is You, the ancillary series to our Sinatra Songs of the Week.
In this episode, we enjoy half-a-century of Frank's Christmas performances, from the Forties to the Nineties. There are plenty of favorites along the way, including "Winter Wonderland", "It Came Upon The Midnight Clear", "We Need A Little Christmas", "O Little Town Of Bethlehem", "Jingle Bells", "Silent Night" and more - plus a few you may not be so familiar with. We'll also hear from the daughter of Irving Berlin, writer of "White Christmas"; Sammy Cahn, lyricist of "Let It Snow! Let It Snow! Let It Snow!"; and Hugh Martin, composer of "Have Yourself A Merry Little Christmas". Along with Frank, there are songs from from Nancy Sinatra, Bing Crosby, Jack Jones, Cyndi Lauper - and the only Bond villain to record a Christmas number written by Sinatra.
If you enjoy The Song Is Yule, don't forget to check out the rest of the series. In Episode One of The Song Is You, Mitchell Parish, Phil Springer, and Betty Comden and Adolph Green talked about such Sinatra songs as "Stardust", "Sweet Lorraine", "How Little We Know", "New York, New York" and "Lonely Town".
In Episode Two, we heard from Irving Caesar, Ann Ronell and Alan Jay Lerner about "Almost Like Being In Love", "I Could Have Danced All Night", "On A Clear Day", "Tea For Two" and "Willow, Weep For Me".
In Episode Three, Mark talked to Alan Bergman, one half of the great writing team of Alan and Marilyn Bergman, whose songs include "Windmills of Your Mind", "The Way We Were" and "You Don't Bring Me Flowers". But, long before their big movie numbers, Alan and Marilyn were young, unknown writers in Los Angeles who nevertheless managed to get Sinatra to record a handful of their songs, including "Nice 'n' Easy" and the swingin' nursery rhyme "Ol' MacDonald".
~For a century's worth of Sinatra songs see here. For Mark's podcast with longtime Sinatra conductor Vincent Falcone, you can find Part One here and Part Two here. For Steyn's take on Sinatra at the movies see here. And Mark's original 1998 obituary of Frank, "The Voice", can be found in the anthology Mark Steyn From Head To Toe, while you can read the stories behind many other Sinatra songs in Mark Steyn's American Songbook. Personally autographed copies of both books are exclusively available from the SteynOnline bookstore.
~Elsewhere, don't forget the Pundette's Sinatra Hot 100, and the Evil Blogger Lady's own birthday salute. And Bob Belvedere looks back over a very good centenary year.