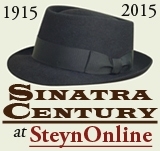 This weekend marked the one hundredth anniversary of the birth of Frank Sinatra. So to round out our celebrations here's another edition of the ancillary series to our Sinatra Songs of the Week, The Song Is You, in which composers and lyricists tell the stories behind some of the great standards Sinatra sang.
This episode is devoted, for the first time, to just one writer - Alan Bergman. With his wife Marilyn, Alan has written such songs as "Windmills of Your Mind", "The Way We Were" and "You Don't Bring Me Flowers". But, long before their big movie numbers, Alan and Marilyn were young, unknown writers in Los Angeles who nevertheless managed to get Sinatra to record a handful of their songs. In this show, Alan Bergman talks to Mark about the classic "Nice 'n' Easy" and the swingin' nursery rhyme "Ol' MacDonald", plus Sinatra performances of later songs by the writers he always called "the kids" such as "How Do You Keep The Music Playing?", "What Are You Doing The Rest Of Your Life?" and many more - with an occasional assist from Dean Martin, Gene Kelly and others. And Alan himself sings "Nice 'n' Easy"'s lesser known second chorus - and tells the story of the great magnum opus they wrote at Sinatra's request.
Click above to listen.
Alan Bergman will be back with us later this month for a seasonal edition of The Song Is You. In Episode One, Mitchell Parish, Phil Springer, and Betty Comden and Adolph Green talked about songs such as "Stardust", "Sweet Lorraine", "How Little We Know", "New York, New York" and "Lonely Town".
In Episode Two, we heard from Irving Caesar, Ann Ronell and Alan Jay Lerner about "Almost Like Being In Love", "I Could Have Danced All Night", "On A Clear Day", "Tea For Two" and "Willow, Weep For Me".
~For a century's worth of Sinatra songs see here. For Mark's podcast with longtime Sinatra conductor Vincent Falcone, you can find Part One here and Part Two here. For Steyn's take on Sinatra at the movies see here. And Mark's original 1998 obituary of Frank, "The Voice", can be found in the anthology Mark Steyn From Head To Toe, while you can read the stories behind many other Sinatra songs in Mark Steyn's American Songbook. Personally autographed copies of both books are exclusively available from the SteynOnline bookstore.