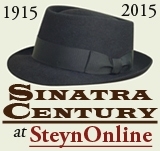 In the final days of this Sinatra centenary year we're running a couple of final editions of the ancillary series to our Sinatra Songs of the Week, The Song Is You, in which composers and lyricists tell the stories behind some of the great standards Sinatra sang.
This episode features songs by one of the composers closest to Frank: Jule Styne. From the Steyn archives, Steyn talks to Styne about his early days as a child entertainer in London before the First World War and how he came to America - and the slender thread of history linking Frank Sinatra to the great Scots entertainer Sir Harry Lauder. And we'll hear Frank sing a lot of Jule's early hits - "I've Heard That Song Before", "Saturday Night (Is The Loneliest Night Of The Week)", "Time After Time", "Let It Snow! Let It Snow! Let It Snow!" and "Guess I'll Hang My Tears Out To Dry".
And then we'll leap ahead four decades to spend some time with Susan Birkenhead, Jule Styne's lyricist on two of the very last songs he wrote for Frank. Since Jelly's Last Jam hit Broadway in the early Nineties, Miss Birkenhead has been one of America's most admired theatre lyricists. But Susan will take us back to the very early days of her career to recall the day Jule Styne called up and said she had 24 hours to write a new saloon song for Frank. We'll also look at contrasting approaches to musicalizing the sabbath ...and a bacon breakfast.
And we'll close things out with a Sinatra anthem:composer John Kander sits at the piano to explore variations on a theme from "New York, New York". We'll hear Kander, his lyricist Fred Ebb, and their pal Liza Minnelli muse on their first show together - and we'll listen to the team's first attempt at "New York, New York", which is very different from the version Sinatra sent winging around the world.
Click above to listen.
In Episode One of The Song Is You, Mitchell Parish, Phil Springer, and Betty Comden and Adolph Green talk about songs such as "Stardust", "Sweet Lorraine", "How Little We Know", "New York, New York" and "Lonely Town".
In Episode Two, we hear from Irving Caesar, Ann Ronell and Alan Jay Lerner about "Almost Like Being In Love", "I Could Have Danced All Night", "On A Clear Day", "Tea For Two" and "Willow, Weep For Me".
In Episode Three, I talk to Alan Bergman, one half of the great writing team of Alan and Marilyn Bergman, whose songs include "Windmills of Your Mind", "The Way We Were" and "You Don't Bring Me Flowers". But, long before their big movie numbers, Alan and Marilyn were young, unknown writers in Los Angeles who nevertheless managed to get Sinatra to record a handful of their songs, including "Nice 'n' Easy" and the swingin' nursery rhyme "Ol' MacDonald".
In Episode Four, we celebrate half-a-century of Sinatra Christmas recordings, and enjoy a few moments with Hugh Martin, composer of "Have Yourself A Merry Little Christmas", Sammy Cahn, lyricist of "The Christmas Waltz", and the daughter of Irving Berlin, who gave us "White Christmas".
~For a century's worth of Sinatra songs see here. For Mark's podcast with longtime Sinatra conductor Vincent Falcone, you can find Part One here and Part Two here. For Steyn's take on Sinatra at the movies see here. And Mark's original 1998 obituary of Frank, "The Voice", can be found in the anthology Mark Steyn From Head To Toe, while you can read the stories behind many other Styne and Sinatra songs in Mark Steyn's American Songbook. Personally autographed copies of both books are exclusively available from the SteynOnline bookstore.