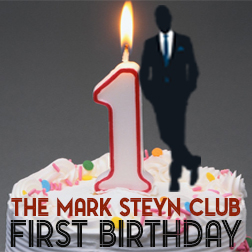 Welcome to our first-anniversary audio adventure in our popular series Tales for Our Time. This is the fourteenth of our radio serials, and it's especially timely if you're contemplating this weekend's Royal Wedding at St George's Chapel and wondering why you can't marry into royalty. So here's an alternative solution: find a far-flung pinprick on the map and become its king. Alas, taking the crown is a piece of coronation cake; keeping it is the tricky part.
As I've emphasized since we launched The Mark Steyn Club one year ago, our regular content - all my daily commentary, cultural and geopolitical essays, our weekend movie and music features, SteynPosts and On the Town and all the rest - will always be free to everyone around the planet. In fact, in the course of a week we now offer more free content than at any point in our fifteen-year history. But we have spent the last year letting Club members in on a few experimental features which, in the event they turn out sufficiently non-incompetent, we might eventually make more widely available. Tales for Our Time is one such experiment - a series of monthly audio adventures that began one year ago with my serialization of Sir Arthur Conan Doyle's cracking tale of an early conflict between jihadists and westerners in The Tragedy of the Korosko. In the twelve months since, we've gone on to present my radio readings of classic fiction by Dickens, Conrad, Gogol, H G Wells, Anthony Hope, Jack London, Scott Fitzgerald, John Buchan, Robert Louis Stevenson - plus a piece of non-classic fiction by yours truly. You can find them all here.
Our latest tale is an encore appearance by Rudyard Kipling, who has hitherto only appeared in this series as a Halloween bonus short story. In this case, we're presenting one of the author's very earliest successes - first published by the Indian Railway Library in 1888. It begins when a local journalist (more or less Kipling himself) finds himself in an Intermediate train carriage:
The beginning of everything was in a railway train upon the road to Mhow from Ajmir. There had been a deficit in the Budget, which necessitated travelling, not Second-class, which is only half as dear as First-class, but by Intermediate, which is very awful indeed. There are no cushions in the Intermediate class, and the population are either Intermediate, which is Eurasian, or native, which for a long night journey is nasty; or Loafer, which is amusing though intoxicated. Intermediates do not patronize refreshment-rooms. They carry their food in bundles and pots, and buy sweets from the native sweetmeat-sellers, and drink the roadside water. That is why in the hot weather Intermediates are taken out of the carriages dead, and in all weathers are most properly looked down upon.

My particular Intermediate happened to be empty till I reached Nasirabad, when a huge gentleman in shirt-sleeves entered, and, following the custom of Intermediates, passed the time of day. He was a wanderer and a vagabond like myself, but with an educated taste for whiskey. He told tales of things he had seen and done, of out-of-the-way corners of the Empire into which he had penetrated, and of adventures in which he risked his life for a few days' food. "If India was filled with men like you and me, not knowing more than the crows where they'd get their next day's rations, it isn't seventy millions of revenue the land would be paying — it's seven hundred million," said he; and as I looked at his mouth and chin I was disposed to agree with him. We talked politics — the politics of Loaferdom that sees things from the underside where the lath and plaster is not smoothed off — and we talked postal arrangements because my friend wanted to send a telegram back from the next station to Ajmir, which is the turning-off place from the Bombay to the Mhow line as you travel westward. My friend had no money beyond eight annas which he wanted for dinner, and I had no money at all, owing to the hitch in the Budget before mentioned...
And thus a request for a small favor brings our narrator into the orbit of Daniel Dravot and Peachey Carnahan, two English chancers on the make in India.
When next he sees them, they are embarked on a scheme to make themselves kings of Kafiristan. As I explain in my introduction, Kafiristan is an actual place - although changed beyond recognition since Kipling's day. I also talk about the real-life versions of "the man who would be king" - like Sir James Brooke, KCB, who became the first "White Rajah" of Sarawak. To hear Part One of The Man Who Would Be King, prefaced by my own introduction to the tale, please click here and log-in.

We launched The Mark Steyn Club exactly a year ago, and I'm overwhelmed by all those members across the globe who signed up to be a part of it and then enthusiastically re-subscribed this month - from Fargo to Fiji, Vancouver to Vanuatu, Cook County to the Cook Islands, West Virginia to the West Midlands. As I said at the time, membership isn't for everyone, but it is a way of ensuring that all our content remains available for everyone. None of it's going behind a paywall, because I want it out there in the world, being read and being heard and being viewed, and maybe changing an occasional mind somewhere along the way.
However, we are offering our Club members a few extras, including the opportunity to join us at sea on the inaugural Mark Steyn Club Cruise, on which I'll be doing a live Tale for Our Time. I'm truly thrilled to see that one of the most popular of those extras these last twelve months has been our nightly radio serials. I did do a little professional story-reading a zillion years ago, so, if these fancies tickle you, we may release them as audio books on CD or Audible a ways down the road. But for the moment it's an exclusive bonus for members. If you've enjoyed our monthly Steyn Club radio adventures and you're looking for a present for a fellow fan of classic fiction, I hope you'll consider our limited-time-only Club Gift Membership. Aside from Tales for Our Time, The Mark Steyn Club does come with other benefits:
~Exclusive Steyn Store member pricing on over 40 books, mugs, T-shirts, and other products;
~The opportunity to engage in live Clubland Q&A sessions with yours truly (such as this coming Tuesday's);
~Transcript and audio versions of The Mark Steyn Show, SteynPosts, and our other video content;
~Our club newsletter The Clubbable Steyn;
~My video series of classic poetry;
~Priority booking for the inaugural Mark Steyn Club Cruise from Montreal to Boston;
~Advance booking for my live appearances around the world;
~Customized email alerts for new content in your areas of interest;
~and the opportunity to support our print, audio and video ventures as they wing their way around the planet.
To become a member of The Mark Steyn Club, please click here - and don't forget that special Gift Membership. As soon as you join, you'll get access not only to The Man Who Would Be King but to all our other audio adventures below.
One other benefit to membership is our Comment Club privileges. So, whether you like this fourteenth Tale for Our Time, or think I'm a mere pretender to the audio-book crown, then feel free to comment away below. And do join us tomorrow for Part Two of The Man Who Would Be King - as well as the results of our birthday competition to find something actionable in my essay on "Oh Happy Day", and the announcement of the winners of the the first annual Cary Katz Scofflaw Deadbeat Sleazebag Self-Suing Great Patriotic Bum Award
For previous Tales for Our Time, click below:
#1: The Tragedy of the Korosko
by Sir Arthur Conan Doyle
#2: The Time Machine
by H G Wells
#3: The Secret Agent
by Joseph Conrad
#4: The Prisoner of Zenda
by Anthony Hope
#5: The Cat That Walked By Himself
by Rudyard Kipling
#6: The Diamond as Big as the Ritz
by F Scott Fitzgerald
#7: The Rubber Check
by F Scott Fitzgerald
#8: A Christmas Carol
by Charles Dickens
#9: Plum Duff
by Mark Steyn
#10: To Build a Fire
by Jack London
#11: The Overcoat
by Nikolai Gogol
#12: The Thirty-Nine Steps
by John Buchan
#13: The Strange Case of Dr Jekyll and Mr Hyde
by Robert Louis Stevenson