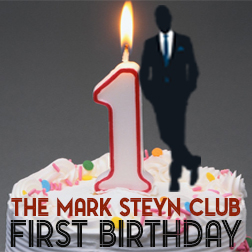 As this Royal Wedding weekend draws to a close, welcome to Part Three of my somewhat pertinent serialization of The Man Who Would Be King. Kipling's whimsical classic, first published by the Indian Railway Library in 1888, is the Mark Steyn Club first anniversary selection for our series of audio adventures, Tales for Our Time.
In tonight's episode two years have passed since a brace of English adventurers set off to become kings of Kafiristan. Our narrator has not heard a word of them - until one sweltering summer afternoon...
There crept to my chair what was left of a man. He was bent into a circle, his head was sunk between his shoulders, and he moved his feet one over the other like a bear. I could hardly see whether he walked or crawled — this rag-wrapped, whining cripple who addressed me by name, crying that he was come back. 'Can you give me a drink?' he whimpered. 'For the Lord's sake, give me a drink!'

I went back to the office, the man following with groans of pain, and I turned up the lamp.

'Don't you know me?' he gasped, dropping into a chair, and he turned his drawn face, surmounted by a shock of gray hair, to the light.

I looked at him intently. Once before had I seen eyebrows that met over the nose in an inch-broad black band, but for the life of me I could not tell where.

'I don't know you,' I said, handing him the whiskey. 'What can I do for you?'

He took a gulp of the spirit raw, and shivered in spite of the suffocating heat.

'I've come back,' he repeated; 'and I was the King of Kafiristan — me and Dravot — crowned Kings we was!'
Alas, it was a short reign.
Members of The Mark Steyn Club can hear Part Three of our adventure simply by clicking here and logging-in. Parts One and Two can be found here - and if you've only joined in recent days and missed a year's worth of serials (Conan Doyle's The Tragedy of the Korosko, H G Wells' The Time Machine, Joseph Conrad's The Secret Agent, Anthony Hope's The Prisoner of Zenda, plus Dickens, Gogol, Jack London, John Buchan, Scott Fitzgerald, Robert Louis Stevenson and more Kipling), you can find them all here.
Owen Morgan, one of our first-week Founding Members from the UK, writes:
This is a terrific reading - thank you. I've always loved this story and Kipling in general. Several decades ago, Kipling was one of the most prolific (posthumous) contributors to the Oxford Dictionary of Quotations, until a new editrix announced that she was removing all, or most, of his racist, sexist, transgenderist (oh, no, hang on: they hadn't invented that one yet) stuff, to make room for more Germaine Greer, I assume. Thankfully for me, I abandoned dictionaries of politically correct slivers of speech and sought out the original texts, instead.
Well, you could do worse than Germaine Greer, Owen, by comparison with what's followed. But I take your point. Kipling is insightful and quotable - which is why lesser scribes prefer to revile him without reading him, and why we here go back to the source.
If you have friends who might appreciate Tales for Our Time, we have a limited-time Steyn Club Gift Membership that lets them in on that and all the other fun in The Mark Steyn Club. And in return the Club helps support all our content - whether in print, audio or video - and keep it out there in the world for everyone. In return, membership confers, aside from Tales for Our Time, a few other benefits:
~Exclusive Steyn Store member pricing on over 40 books and other items;
~The opportunity to take part in our Clubland Q&A sessions;
~Transcript and audio versions of The Mark Steyn Show and our other video content;
~Our newsletter The Clubbable Steyn;
~My series of video poetry;
~Priority booking for the inaugural Mark Steyn Club Cruise from Montreal to Boston;
~Advance booking for my live appearances around the world;
~Customized email alerts for new content in your areas of interest;
~A couple of new Club features we'll be launching to coincide with our first anniversary;
~and the opportunity to support our print, audio and video ventures as they wing their way around the globe.
To become a member of The Mark Steyn Club, please click here - and, for a friend or family member, don't forget that Gift Membership. We thank all our first-month Founding Members from last May who have eagerly signed up for a second year in which, among other delights, we shall set sail on the inaugural Mark Steyn Club Cruise.
Please join me tomorrow for Part Four of The Man Who Would Be King.