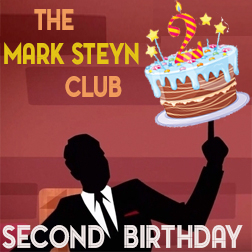 Just ahead of my appearance on "Tucker Carlson Tonight", here's the penultimate episode of our Mark Steyn Club second-birthday Tale for Our Time - H G Wells' horrific story of man and beast and the thin dividing line, The Island of Dr Moreau.
If you've yet to hear any of our Tales for Our Time from these first two rollicking years of the series, we've put them all together in a new convenient Netflix-style home page that lets you pick them out by thriller or fantasy or romance or whatever tickles your fancy of an evening. So far listeners seem to like it.
We always get queries about the music we use, so I should say that for The Island of Dr Moreau we turned to Brahms and his cycle of "four serious songs" - Vier ernste Gesänge - composed the same year Wells published his novel, 1896. I used a transcription for violin of the first song, so we don't hear the text: "Denn es gehet dem Menschen wie dem Vieh" - which, if you know your Ecclesiastes, is: "For that which befalleth the sons of men befalleth beasts." Which seems kind of appropriate, although probably illegal to say if you have the misfortune to be an Australian rugby-playing vassal.
In tonight's episode, Prendick is doing his best to ensure that what's befalling the beasts is not going to befall him:
I faced these people, facing my fate in them, single-handed now,—literally single-handed, for I had a broken arm. In my pocket was a revolver with two empty chambers. Among the chips scattered about the beach lay the two axes that had been used to chop up the boats. The tide was creeping in behind me. There was nothing for it but courage. I looked squarely into the faces of the advancing monsters. They avoided my eyes, and their quivering nostrils investigated the bodies that lay beyond me on the beach. I took half-a-dozen steps, picked up the blood-stained whip that lay beneath the body of the Wolf-man, and cracked it. They stopped and stared at me.

"Salute!" said I. "Bow down!"
Will it work? We'll find out in Part Fourteen of The Island of Dr Moreau. Members of The Mark Steyn Club can hear me read this penultimate installment simply by clicking here and logging-in. Earlier episodes can be found here.
Thank you for all your kind comments on this second anniversary of the Steyn Club. Vicki, a First Week Founding Member from Colorado, writes:
Have thoroughly enjoyed my membership so far and looking forward to year three
- although Vicki adds that, if the Katz/Blaze TV litigation ever ends, she may "slack off". Fortunately there's no chance of that happening.
Jeff from Rye in Victoria (Oz, not BC) says he "must support Mark's brilliant and gutsy writings and posts in the face of growing leftist repression". No chance of that ending any time soon, either. But even as we celebrate our Founding Members in this birthday season we love to have new members, too. So we welcome aboard Kim from Northborough, Massachusetts who, having "been privileged to read and watch your content free for several years", has decided to become a fully-fledged Steyn Clubber. Thank you, Kim - and we hope you'll check out the first two years of Tales for Our Time.
If you'd like to join Kim & Co in The Mark Steyn Club, you'll find more details here - and don't forget our special Gift Membership. Please join me tomorrow evening for the concluding episode of The Island of Dr Moreau - and see you on TV in an hour or two with Tucker Carlson, live across America at 8pm Eastern/5pm Pacific.