SteynPosts

Being as how I'm in Toronto for my Indigo gig with Heather Reisman tonight, I thought I'd make an in-studio appearance with John Oakley rather than doing it via the bit of wet string stretching from New Hampshire to Toronto. We discussed the enforced public recanting by Benedict Cumberbatch, who accidentally referred to people of color as "colored people", or vice-versa - and we also talked about the so-called "sex education" curriculum, which is really the appalling and evil ...
SteynPosts

Just ahead of Wednesday's live appearance at Indigo Books in Toronto, I checked in with my old National Post comrade Don Martin at CTV's "Power Play". We discussed Canadian troops firing back at ISIS, and the broader issue of the Islamic State - oh, and Justin Trudeau, too...
On the Air
Mark joined Ezra Levant on Sun News to chew over the jihad and political correctness
SteynPosts
Joseph Brean interviews Mark in Canada's National Post
The [Un]documented Mark Steyn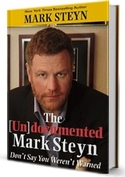 Mark is a little under the weather this weekend, and resting up before his live appearance in Toronto this Wednesday. But his excruciating pain momentarily lessened when he read this review of The [Un]documented Mark Steyn by Charles C W Jang in The Dartmouth Review:
The Hugh Hewitt Show
On Thursday I kept my regular date on The Hugh Hewitt Show, where Hugh took me on a quick tour of a crumbling world...
SteynPosts

President-in-Waiting Hillary Rodham Clinton is already giving out signals that a mere 40-car motorcade may no longer be enough...
Mann vs Steyn
The Corner post that launched a lawsuit...
Ave atque vale

Kit Carson was Rush Limbaugh's Chief of Staff, so Rush dubbed him "H R" - as in H R Haldeman, who fulfilled the same role for Richard Nixon. The dramatis personae of the Nixon White House aren't quite as reflexively familiar to an unassimilated foreign guest-host such as myself, and it took me awhile to get on top of it: on one early show, I referred to him as "R F", which bemused him. "Where did that come from?" he asked. After thinking about it, I figured I must have confused H R with R F, the studio boss of "Monumental Pictures" in Singin' In The Rain.
Kit liked that. He had been an actor, dreaming of Broadway, not talk radio. But 27 years ago he accepted a job with a guy whose radio show was growing a little faster than he could handle...
Steyn's Song of the Week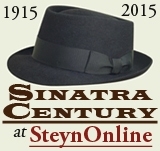 We're spending this weekend with the Isham Jones/Gus Kahn end of the Sinatra songbook. Following "It Had To Be You" on Friday, here's a song Frank sang for almost half-a-century from June of 1940, as the new boy vocalist with a hit orchestra, to deep into the 1980s, as a lion in winter jumpin' all over a hard-swingin' band...
Seasons of Steyn

Even in the Lucky Country, the battle for freedom of expression is not going as well as it might...
Mark at the Movies

One of Clint Eastwood's best movies - as producer, director and composer
Steyn's Song of the Week

An ├╝ber-standard everyone sang before Frank
SteynPosts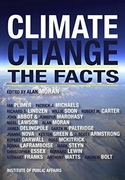 As I mentioned the other day in relation to Michael E Mann's latest "hockey stick", I'm honored to be alongside some of the most eminent scientists and some of the most rollicking commentators in a new book called Climate Change: The Facts...