Steyn Live!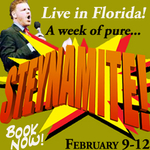 Join Mark for a week of pure Steynamite in the Sunshine State as he flies south for a snowbird tour across Florida this February. Tickets go on sale this morning - Wednesday December 4th - and they make a great Christmas gift for the Steyn fan in your family.
If you only know Mark from print, TV and radio, you're in for a treat: There's nothing quite like joining Steyn for an evening of "the usual blend of comedy and terror". "At one point, I just lost it. I was laughing so hard, I couldn't breathe," said Catherine Sims, after seeing Mark at Hillsdale College. "The best night of my entire life," declared satisfied customer M Craig Williams after catching Steynamite in Toronto.
This is Mark's first statewide tour of Florida, and, as with last year's sell-out tour of Australia, you won't want to leave it too late to book seats. Tickets are available direct from the theatres:
February 9th - Jacksonville: Symphony Hall at the Times Union Center for the Performing Arts
box office: (904) 633-6110
February 10th - St Petersburg: The Mahaffey Theatre
box office: (727) 893-7832 or (800) 874-9020
February 11th - Ft Pierce: The Sunrise Theatre
box office: (772) 461-4775
February 12th - Ft Myers: The Barbara Mann Performing Arts Hall
box office: (239) 481-4849 or (800) 440-7469
February 13th - Miami: The Olympia Theatre at Gusman Center
box office: (305) 372-0925
See you in the Sunshine State for Steynamite in Florida!
In the News
…because sometimes only a Canadian will do
Mann vs Free Speech
A call for support from Jack Fowler
Steyn's Song of the Week

For the first of our seasonal Songs of the Week this December, here's a number that first appeared on the Hit Parade 60 Christmases ago - 1953 - and, despite a rather obvious period sensibility, has proved amazingly durable:
Santa Baby
Slip a sable under the tree
For me
Been an awful good girl
Santa Baby
So hurry down the chimney tonight...
Making Spirits Bright

We've everything for the Steyn fan in your family this Christmas, from "A Marshmallow World" to the post-American world. Don't forget Mark & Jessica's Christmas album with almost an hour of great seasonal music - and it's an even better bargain when you buy it with The Mark Steyn Christmas Show, two hours of live music and great conversation with Martha Stewart, Tim Rice and Mark's other guests. And that's just the start...
Steyn on the World
Worse than Munich
The Rush Limbaugh Show
Highlights from Mark's guest-hosting stint
In the Corner
The lavishly funded mediocrity of American education
In the Corner
Single-payer universal sterilization
In the Corner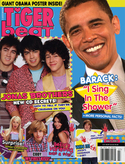 Five exciting things you never knew about President Obama!
In the Corner
Dylan joins Steyn in the hatemongering Christmas crooner category
Mann vs Free Speech
The science is unsettled
In the Corner

Has Netanyahu lost his nerve?
In the Corner

An Obama joke is no laughing matter
Mann vs Steyn
The Corner post that launched a lawsuit...