The Hugh Hewitt Show

Yesterday I kept my regular Thursday date with Hugh Hewitt. Wracked by laryngitis, Hugh's voice had been relocated to a private server and he was reduced to a husky whisper as he brought me up to speed on the news of the day: HUGH HEWITT: I want to begin by telling you that ISIS attacked the archaeological site at Nimrod today, and Libya says their oil fields are in the hands of the militants, and ISIS is believed to have 46,000 Twitter accounts. These are all front page stories. But we're ...
SteynPosts

The most important anniversary this year is marked on June 15th - the day, eight centuries ago, when a king found himself in a muddy field on the River Thames near Windsor Castle with the great foundational document of modern liberty under his nose and awaiting his seal. The world has come a long way since then, and not always for the best. A couple of years back, testifying to the House of Commons in Ottawa about Canada's (now repealed) censorship law, I said the following: Section 13 is at ...
SteynPosts

Our leftie friends at Mother Jones put it this way: Benjamin Netanyahu just mansplained Iran to Obama Er, okay. Glad you said that because there'd be no end to it if some rightie guy sneered that Obama was our first female president. For what it's worth, I prefer mansplaining to 'Bamsplaining, where he peddles a lot of gaseous pap interrupted by cheap digs at straw men and all delivered in that set-your-watch-by-it left-right prompter-swivel. (To stick with the Mother Jones shtick, real men ...
SteynPosts

We are bedeviled by what Joe Biden would assuredly call "but buddies". I'm wearily familiar with all those civilizational sell-outs who begin "Of course, I'm in favor of free speech but..." Whatever follows the "but" means the bit before the "but" is not true. Still, it's a riskier rhetorical device to try before a live crowd. At AIPAC yesterday, Susan Rice acknowledged that there were those who wanted Iran to forgo all domestic nuclear enrichment capacity. At which the crowd cheered and indeed ...
SteynPosts

The news this last week reminded me of a piece of mine from May, called "Michael E Mann: Liar, Cheat, Falsifier and Fraud" (I toned down the headline upon the advice of counsel). Therein I wrote: It's always fun in a legal battle to have something bigger at stake than a mere victory. In Canada, we put the "human rights" system itself on trial, to the point where the disgusting and indefensible "hate speech" law Section 13 was eventually repealed by Parliament. It seems to me that in this ...
Mann vs Steyn
The Corner post that launched a lawsuit...
Steyn's Song of the Week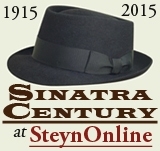 Question: What's the connection between the Muslim call to prayer and Frank Sinatra?
Answer:
Night And Day
You are the one
Only you beneath the moon and under the sun...
Well, that's the way Cole Porter told it...
Steyn on America

Tiger Beasley Tweets of yesterday's SteynPosts: You know it's been a bad day when @MarkSteynOnline's digest doesn't even include Boehner's indigestible betrayal. You mean the cave-in on DHS? Gee, I suppose I could have mentioned it, but honestly, why bother? It's hardly news that Republicans can't play this game. From my column of October 18th 2013: By Wednesday, however, it was business as usual. Which is to say the usual last-minute deal just ahead of the usual make-or-break deadline to ...
Defend Free Speech!

I'm a little under the weather (which is not as chronic as being under the climate), but I wanted to add something to what I said the other day about thug operator Raúl Grijalva, Democrat Representative from Arizona and Ranking Member of the House UnEnvironmental Activities Committee. It is not a small thing when even a jumped-up twerp hack announces that the national legislature of the world's superpower is targeting seven private citizens for disagreeing with him. In this case Commissar ...
Steyn's Song of the Week

E A Swan?
Who's he?
Well, if you saw Frank Sinatra on stage, pretty much right up till the end in the Nineties, there would come a moment when he'd say something along the lines of...
Mark at the Movies

A cinematic blockbuster in which the megalomaniac super-villain out to take over the world is ...a climate-change activist