SteynPosts
In case you missed it, here's how the last seven days looked to Mark
Defend Free Speech!
The other day I quoted this letter from Mindy Alter in The National Post: Mark Steyn reminds us of the similarities between jihadists and climate-change alarmists. Both are fanatical. Both hew to ideologies that brook no dissent or criticism. Both go ballistic — albeit in markedly different ways — when some "blasphemer" has the audacity to make withering fun of them and their orthodoxies. Most crucially, however, is the fact that both are control freaks who seek to micro-manage our lives, the ...
On the Air
Anne Hidalgo, the socialist Mayor of Paris, is threatening to sue Fox News for referring to Muslim "no-go zones" in the city - which absurd legal threat demonstrates perfectly the sincerity of the French establishment's commitment to free speech in the wake of the Charlie Hebdo massacre. On Thursday, I dropped in at Sun News to chew over that and other aspects of Europe's Islamization with Ezra Levant. Click below to watch: Some of us have been following this topic for a long time. Almost nine ...
On the Air

Mark had a lively crowd for his event at Indigo Books in Toronto with Heather Reisman, which he'll have more to say about later. But in the meantime here's a couple of Wednesday media appearances. First, he joined Global's Morning Show for a wide-ranging discussion with Liza Fromer, Rosey Edeh, Kris Reyes and Antony Robart - a quartet of hosts all of whom were remarkably well-informed about his book. Click below to watch...
SteynPosts

Mark talks politically correct re-education camp with John Oakley
SteynPosts

Mark talks ISIS and Justin Trudeau with his old National Post comrade Don Martin on CTV's "Power Play"
On the Air
Mark joined Ezra Levant on Sun News to chew over the jihad and political correctness
SteynPosts
Joseph Brean interviews Mark in Canada's National Post
Mann vs Steyn
The Corner post that launched a lawsuit...
In the News

Joseph Brean of Canada's National Post caught up with me at the Art Spiegelman retrospective at the Art Gallery of Ontario for a discussion of art and jokes in an age of fear and jihad: Mr. Steyn, likewise, has a darkly funny line about Barbie dolls in Islamic dress in an essay that is republished in his new book, which he promoted this week in Toronto, The Undocumented Mark Steyn: "You'll be glad to know the dolls are anatomically accurate: Burqa Barbie has no clitoris." "I like taking old ...
SteynPosts

I had a grand time at Indigo Books at Toronto's Manulife Centre on Wednesday night, and I thank Heather Reisman for very graciously including me in her roster of extremely distinguished authors. The joint was SRO - and from quite early on, as Eye On A Crazy Planet reports: My pal Mitch Wolfe, a writer for Canada Free Press, mentioned to me that he arrived at 4 pm for the 7 pm start. Even so, it was so crowded he was still only able to watch in a densely packed standing section at the rear of ...
Ave atque vale

Kit Carson was Rush Limbaugh's Chief of Staff, so Rush dubbed him "H R" - as in H R Haldeman, who fulfilled the same role for Richard Nixon. The dramatis personae of the Nixon White House aren't quite as reflexively familiar to an unassimilated foreign guest-host such as myself, and it took me awhile to get on top of it: on one early show, I referred to him as "R F", which bemused him. "Where did that come from?" he asked...
Steyn's Song of the Week

We're spending this weekend with the Isham Jones/Gus Kahn end of the Sinatra songbook. Following "It Had To Be You" on Friday, here's a song Frank sang for almost half-a-century from June of 1940, as the new boy vocalist with a hit orchestra, to deep into the 1980s, as a lion in winter jumpin' all over a hard-swingin' band...
Seasons of Steyn

Even in the Lucky Country, the battle for freedom of expression is not going as well as it might...
SteynPosts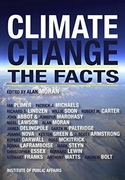 As I mentioned the other day in relation to Michael E Mann's latest "hockey stick", I'm honored to be alongside some of the most eminent scientists and some of the most rollicking commentators in a new book called Climate Change: The Facts...