Steyn on America
I have a strong dislike of the current fashion among American's decrepit and unreadable newspapers for "fact-checker" columns, because the practice attempts to cloak run-of-the-mill hacks in an aura of dispassionate authority that they do not, in fact, possess. Case in point: The Washington Post's Glenn Kessler, who has awarded "four Pinocchios" to Donald Trump, for claiming to recall seeing "thousands" of Jersey City Muslims celebrating on September 11th 2001. Mr Kessler wrote: Trump says that ...
SteynPosts
My new cat album, Feline Groovy: Songs for Swingin' Cats, is now available for pre-order at iTunes. I don't really know how all that stuff works, but I think you get one track instantly if you buy now. The official release date is next Monday. It's also at Amazon, in CD and digital format. ~I'm half-Belgian, which makes my beloved cat Marvin, to whom Feline Groovy is dedicated and who appears with me on the album cover, Belgian by adoption. So both of us are somewhat aghast at the sight of ...
SteynPosts
In case you missed it, here's how the last seven days looked to Mark
Hannity on Fox News

On Thursday night I checked in with Sean Hannity on Fox News. After a tense exchange over my forthcoming album Feline Groovy: Songs for Swingin' Cats, we moved on to the news of the hour - in particular the President's very unpresidential performance overseas this week, and the contrast with, say, John Howard and Tony Blair after 9/11. Meanwhile, it's business as usual for the Religion of Peace. Five dead in Tel Aviv (Jews), three dead in Mali (Christians). In the latter attack, terrorists ...
SteynPosts
On Wednesday I spoke to New England radio colossus Howie Carr about Paris, Isis, John Kerry and the pitiful reaction of the United States government. You can hear the full interview here. ~Paris, meanwhile, is pressing ahead with its Big Climate jet-set jamboree in order to defy the terrorists and show that, no matter what they do, they'll never stop us from obsessing about rising sea levels in the Maldives in the 22nd century...
Hannity on Fox News

Mark and Sean on President Obama's curious indifference to the rise of ISIS
Steyn on the Oakley Show
Mark and John discussJohn Kerry's statement about the "legitimacy" of the Charlie Hebdo attack
On the Air

The Islamic State has more tentacles than Spectre
Mann vs Steyn
The Corner post that launched a lawsuit...
Steyn's Song of the Week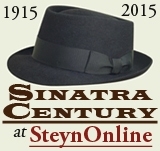 On the first of our Sinatra Century audio specials, Frank's longtime pianist and conductor Vincent Falcone talks, among other things, about the singer's relationship with the George Harrison ballad "Something". So I thought we'd spend a little time with the song as we head into the final stretch before the big 100th birthday.
In November 1968 George Harrison and his then missus Pattie Boyd attended the recording sessions in Hollywood for Sinatra's album Cycles...
On the Town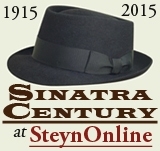 Since January we've been celebrating Frank Sinatra's centenary year at SteynOnline, but mostly in writing. As the formal 100th birthday looms, I thought we'd crank it up and hear some of the actul music, with a few audio specials this month and next. To get things going, here's part one of my conversation with a man who played piano and conducted for Sinatra during the Seventies and Eighties: Vincent Falcone Jr.
Vinnie, as Frank called him, was a big part of a very exciting time in the Sinatra stage act...
Mark at the Movies

In the summer of 2012 my daughter and I spent a few days at a bleak and isolated Highland hunting lodge, which, as I said to her at the time, felt like John Buchan's Scotland - the place where a thriller chase winds up. I had the wrong author, but right genre. A couple of months later, the new Bond film reached its denouement in a similarly desolate Caledonian* haunt - the eponymous Skyfall, the name of 007's childhood home. It was an innovative end for a Bond movie, at least to those of us for ...
Steyn on America
The British Home Secretary, Theresa May, was a little behind the curve when she reacted to the bloodbath in Paris by insisting that "the attacks have nothing to do with Islam". This is the old spin that, although some terrorists might claim to be Muslim, there's nothing inherently Muslim about their terrorism. But why be so modest? In the United States, the most senior members of the Democrat establishment are taking it to the next level. Secretary of State John Kerry: It has nothing to do with ...
Steyn's Song of the Week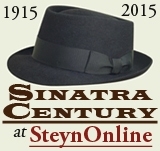 Until the mid-1960s Broadway was the biggest supplier of the most enduring standards ...and then gradually it all sputtered to a halt, and even hit shows didn't produce really popular songs. With one notable exception...
Steyn on Britain and Europe

Hashtagistan vs the real world
Steyn on Culture

For John Oliver, to say anything other than "f**k" might offend someone...