Steyn Live!
Listen to Rack Your Brain on 970 WFLA at 6:55am all this week to win tickets to see Mark In Tampa Bay.
Steyn's Song of the Week

Continuing our December series on great Christmas songs and the men who wrote them, here's Mark's two-part audio tribute to Hugh Martin, writer of one of the most popular of all seasonal standards - including, from the Steyn archives, a rare live performance of "Have Yourself A Merry Little Christmas" by the composer himself. To hear Part One, click here. For Part Two, click here.
SteynPosts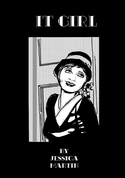 If you're still struggling with holiday gift ideas as we count down to Christmas, the Pundette reminds us of some of the many charms of Mark's Christmas album with Jessica Martin. She concludes that her favorite track is the tale of "The Christmas Glow Worm", which you can download here. But be warned – "Glow Worm" is a real ear worm, or Ohrwurm, as they say in Germany.
Miss Martin is in especially fine voice on "Glow Worm", but there's only so much duetting with Mark a girl can take. So Jessica has branched out and published her first comic book, It Girl, a biographical portrait of 1920s movie star Clara Bow. A few weeks ago, Mark was at the beautiful Renaissance Theatre in Mansfield, Ohio, which opened in 1928 with Clara Bow and a special screening of Get Your Man. So he essayed, somewhat ill-advisedly, the world's first Clara Bow/Miley Cyrus joke. Jessica's words and pictures on Miss Bow are far sounder, and you can order the comic direct from her online store for £3.50 - which is just under six bucks in US, Canuck or Oz – plus shipping.
If you live in the south-eastern United States, why not give the gift of Steyn live and in person this Christmas season? Early in the New Year, Mark will be making a Steynamite snowbird tour across Florida, from Jacksonville to St Petersburg, Fort Pierce to Fort Myers, and finally to Miami. Tickets for all performances are on sale now, and they're a perfect gift for Steyn fans who know him from print and broadcasting but have never seen him live on stage. More details here - and more SteynOnline holiday specials here.
The Hugh Hewitt Show

Here's the transcript from Mark's recent appearance with guest host host Arthur Brooks
On The Air

Here's the audio of the full hour of Mark and Dennis
Steyn Live!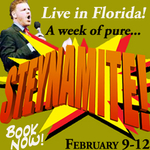 Join Mark for a week of pure Steynamite in the Sunshine State as he flies south for a snowbird tour across Florida this February. Tickets are on sale now, and they make a great Christmas gift for the Steyn fan in your family.
If you only know Mark from print, TV and radio, you're in for a treat: There's nothing quite like joining Steyn for an evening of "the usual blend of comedy and terror". "At one point, I just lost it. I was laughing so hard, I couldn't breathe," said Catherine Sims, after seeing Mark at Hillsdale College. "The best night of my entire life," declared satisfied customer M Craig Williams after catching Steynamite in Toronto.
This is Mark's first statewide tour of Florida, and, as with last year's sell-out tour of Australia, you won't want to leave it too late to book seats. Tickets are available direct from the theatres:
February 9th - Jacksonville: Symphony Hall at the Times Union Center for the Performing Arts
box office: (904) 633-6110
February 10th - St Petersburg: The Mahaffey Theatre
box office: (727) 893-7832 or (800) 874-9020
February 11th - Ft Pierce: The Sunrise Theatre
box office: (772) 461-4775
February 12th - Ft Myers: The Barbara Mann Performing Arts Hall
box office: (239) 481-4849 or (800) 440-7469
February 13th - Miami: The Olympia Theatre at Gusman Center
box office: (305) 372-0925
See you in the Sunshine State for Steynamite in Florida!
Michael Mann vs Free Speech
A little unease from the bedwetter left
In the Corner
There's something to be said for it.
Ave atque vale
Birther of Arabia?
In the Corner
When Obama has your PIN…
In the Corner
The most economically free state in North America isn't a state
In the Corner
What hasn't Thamsanqa Jantjie done?
Steyn on the World

"I don't want to be emotional but this is one of the greatest moments of my life," declared Nelson Mandela upon meeting the Spice Girls in 1997. So I like to think he would have appreciated the livelier aspects of his funeral observances. The Prince of Wales, who was also present on that occasion in Johannesburg, agreed with Mandela on the significance of their summit with the girls: "It is the second-greatest moment in my life," he said. "The greatest was when I met them the first time." His Royal Highness and at least two Spice Girls attended this week's service in Soweto, and I'm sure it was at least the third-greatest moment...
In the Corner
The gaping nullity of Annie Kuster
Happy Warrior

For much of last year, a standard trope of President Obama's speechwriters was that there were certain things only government could do. "That's how we built this country — together," he declared. "We constructed railroads and highways, the Hoover Dam and the Golden Gate Bridge. We did those things together." As some of us pointed out, for the cost of Obama's 2009 stimulus bill alone, you could have built 1,567 Golden Gate Bridges...
Mann vs Steyn
The Corner post that launched a lawsuit...