SteynPosts
In case you missed them, here's a few Steyn highlights from the last week
Defend Free Speech!
[UPDATE! Popehat takes a different view - with which not just crazy ol' me but my crackerjack legal team disagree.] As super-attentive readers will know, re the upcoming Mann vs Steyn trial of the century, I was not part of my fellow defendants' appeal to the DC Appeals Court to rule on whether DC's anti-SLAPP law is appealable - because I reckoned it would all prove a waste of time and, therefore, we might as well get the hell on with the trial. However, I confess that even I did not foresee ...
Seasons of Steyn

All things considered, today's Commonwealth service marking the 100th anniversary of the Gallipoli landings was moving and dignified. It was Winston Churchill's idea to open up a new front in the Great War as "an alternative to chewing barbed wire in Flanders". It proved to be one of the worst disasters in 20th century imperial history: By the end, the British and Ottoman empires had lost roughly the same number of men - about 200,000 apiece. On the invading side, the dead numbered 34,072 from ...
The Hugh Hewitt Show
It turns out that, while we were all worrying about the mullahs' nuclear program, the Clintons' nuclear program was going gangbusters. Kazakhquiddick dominated the conversation on my weekly chat with Hugh Hewitt: HUGH HEWITT: I'm looking at an extraordinary article – Cash Flowed To Clinton Foundation As Russians Press For Control Of Uranium Company. It's by Jo Becker and Mike McIntire from today's New York Times. It's almost unfathomable that Hillary Clinton would consider running for president ...
Steyn on Britain and Europe

Happy St George's Day to all our English readers, and Happy Independence Day to all our Israeli readers. It's not often they fall on the same day, but it's not inappropriate. Once upon a time, you could find quite a few English flags bearing the Cross of St George in and around Jerusalem, for one reason or another... You can still see the legacy of the Crusader Cross in village high streets up and down England - for the moment. In The [Un]documented Mark Steyn (personally autographed copies of ...
SteynPosts

I wrote on Saturday about my favorite foreign minister, Julie Bishop, and compared her fashion choices for meeting President Rouhani with her fashion choices for meeting with me. So it's only fair to note her visit on Tuesday to the offices of Charlie Hebdo: Ms Bishop said it was a "love your work" gesture. "We see satire as an integral part of French society," Ms Bishop told the staff as she presented the cartoon. "Satire is controversial, it's provocative, it offends all religions, all ...
On the Air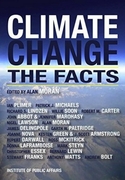 I'm out and about on the airwaves talking up Climate Change: The Facts this week, starting this morning with Bill Bennett's Morning in America. You can hear the whole show here - I'm on for the last half-hour, but the whole thing's a fun listen, starting with a little Livy on Bill's "Latin Tuesday" feature. Bill and I talked about climate issues - he's very well up on Antarctic expeditions, Scott and Admundsen et al, but we also chewed over a little electoral politics re Hillary, and some ...
Mann vs Steyn
The Corner post that launched a lawsuit...
Steyn on America

One of the lessons learned by the Clintons back in the Nineties is that, if you're gonna have a scandal, have a hundred of 'em. And then it's all too complicated and just gives everyone a big headache, and they go back to watching "Friends" or "Baywatch" or whatever it was back then. When a scandal gets too easy to follow, that's where the danger lies. As things stand, Vladimir Putin has wound up with control of 20 per cent of American uranium production. That's almost too funny an update of ...
Steyn's Song of the Week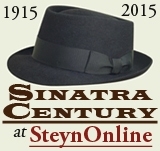 When I first got interested in the great standard songs as a teenager, I sort of assumed that they were all written by the big names - Cole Porter, Gershwin. It took a while to dawn that not everything from, say, the Thirties was concocted by a major writer for a famous Broadway score or a Fred Astaire movie. So after a while, when I heard a song I liked, I'd say, "Hey, I wonder who wrote that." Quite often, the answer would be "Matt Dennis & Tom Adair". Let's just stick to the Sinatra end of their catalogue: Who wrote "The Night We Called It A Day"? Matt Dennis & Tom Adair. Who wrote "Let's Get Away From It All"? Matt Dennis & Tom Adair. Who wrote "Violets For Your Furs"? Matt Dennis & Tom Adair. Who wrote "Angel Eyes"? Matt Dennis. Who wrote "There's No You"? Tom Adair. And who wrote..?
Mark at the Movies

One of my boys said to me the other day, "Hey, can we watch Hitchhiker's Guide to the Galaxy?" - which surprised me because I thought the Hitchhiker's cult had waned sufficiently that it would have passed his generation by. As it happens, it's ten years ago this week since the movie came out - intended as the first of a series but received so badly that we'll be waiting for a sequel a long time. Nevertheless, I found the picture interesting as a study in adaptation, which is the main reason ...
Steyn's Song of the Week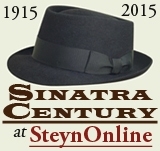 Before St George's Day fades for another year, I thought we'd have a Sinatra English song.
He sang a lot over the years, from Rudyard Kipling's barrack-room ballad "Road To Mandalay" and the most beautiful song of the Great War, "Roses Of Picardy", all the way to the Swingin' Sixties, and the Beatles' "Yesterday" and "Something", and John Barry and Don Black's "Born Free", and Geoff Stephens' "Winchester Cathedral"...
SteynPosts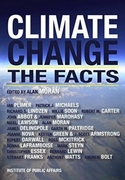 I've had a fun time out on the Earth Day airwaves talking about Climate Change: The Facts. That's the new book featuring me and some of the world's most eminent scientists on the state of the climate debate as we prepare to enter the third decade of the global-warming pause. And I'm thrilled to find that the book is currently Number One on the Climatology Hit Parade, ahead of Naomi Klein, Naomi Oreskes and any number of Naomis, and also Number One on the Environmental Policy Hot 100.
If this keeps up, in the forthcoming Mann vs Steyn trial I may call myself as an expert witness.
My sincere thanks to everyone who's bought this important new book. The turn-of-the-century cartoon science of the hockey stick is over, and it's time for climate science to make a new start...
Seasons of Steyn

Happy Earth Day! I've been out and about promoting the official Earth Day release of the new paperback Climate Change: The Facts...