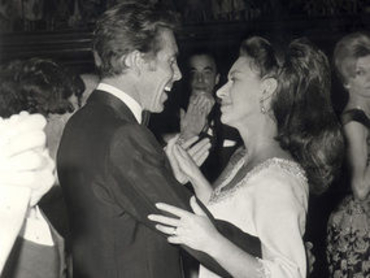 Anthony Armstrong-Jones was the first commoner to marry a British king's daughter in 400 years, and in 1960 his profession - "society photographer" - lent a dash of trendiness and modernity to the Royal Family. By the time of his death 57 years later, the first Earl of Snowdon, a prodigious swinger of Swinging London, seemed far more quaintly passé than any of the more conventional royal consorts. Serially unfaithful both to Princess Margaret and her successor as his countess, Tony Snowdon (as ...
Steyn's Song of the Week

We don't exactly take requests in our Song of the Week department, so this week's song is really a bit of post-2016 housekeeping by me. A few weeks ago we bade farewell to Leonard Cohen, but not to a fellow songwriter who died a few days later. Which prompted this letter from longtime reader Daniel Hollombe: Hello Mark, I've got a confession. Leonard Cohen is one of those people like Tim Hardin and Tim Buckley, who was much beloved by music critics, but who I never quite got. Like the other ...
SteynPosts

In case you missed it, here's how the last seven days looked to Mark
Steyn on America

Tonight's Mark Steyn Show is the second of our weekend editions, where we focus not on the flotsam and jetsam of politics but on the big cultural questions and the small pleasures of life. This weekend's theme is the future, the day after tomorrow, the world circa 2026, 2029 - as seen in a brand new novel, and an old but influential movie. More details here. ~As readers will know, a somnolent and unimpressive troika of judges on the DC Court of Appeals, having sat on a fairly routine bit of ...
The Mark Steyn Show
On Tuesday's edition of The Mark Steyn Show, we discuss among other things Meryl Streep and the Hollywood victim card, and the rampaging epidemic of "cultural appropriation". The bestselling novelist Lionel Shriver joined Mark to discuss the latter topic - and whether a non-Mexican can wear a sombrero, as Lionel did (see right). The New Yorker did not care for it.
For the full episode of The Mark Steyn Show...
Mann vs Steyn
The Corner post that launched a lawsuit...
Mark at the Movies
From this weekend's Mark Steyn Show, here's another video edition of our Mark at the Movies department, in which Tom Gunning, author of The Films of Fritz Lang, joins Mark to celebrate the 90th anniversary of Lang's futuristic masterpiece, Metropolis:
Steyn's Song of the Week

For this week's live-music edition of Steyn's Song of the Week, Maria Muldaur temporarily abandons "Midnight at the Oasis" for a wild jungle ride:
Mark at the Movies
From this weekend's Mark Steyn Show, here's a video edition of our Mark at the Movies department, in which The New York Post's Kyle Smith joins me with a remembrance of Debbie Reynolds and Carrie Fisher, and we discuss this year's supposed Oscar shoo-in, La La Land: