SteynPosts
In case you missed it, here's the last seven days as seen by Mark
Ten Years Ago

We're opening our weekend movie a little early this week, in time for Good Friday. On Saturday night we'll have another seasonal entertainment for you, but this Easter marks the tenth anniversary of the release of Mel Gibson's blockbuster so we thought we'd mark the occasion. Mel has spent the last decade getting a little crazier with every year that passes, and, surprisingly, there have been no attempts to follow the success of this film. But back in 2004 it was impressive not just ...
The Hugh Hewitt Show
On yesterday's pre-Easter edition of the Hugh Hewitt show, Hugh and I discussed the Democratic Party candidate of 2052, Hillary Rodham Clinton's foreign-policy "legacy", and free-speech rights for showbiz celebrities. I also commented on the Virginia Supreme Court's decision to side with Michael E Mann over the American media, and not require him to release his emails...
SteynPosts

Happy Easter, Happy Passover. On this Good Friday, we mark the tenth anniversary of Mel's movie, and over the weekend we'll have something with a lighter touch. Caroline Glick, my old colleague from The Jerusalem Post, has a column using a very Steynian word, "The Disappearance of America's Will": The most terrifying aspect of the collapse of US power worldwide is the US's indifferent response to it. In Europe, in Asia, in the Middle East and beyond, America's most dangerous foes are engaging ...
The Rush Limbaugh Show

I was honored to be back behind the Golden EIB Microphone today, while Rush is undergoing surgery in California. Here's a sampling of what we chewed over in the course of three hours...
SteynPosts
The Virginia Supreme Court favors Michael E Mann over the state's Freedom of Information Act
SteynPosts
Notes around the Anglosphere: ~For American readers: Rush is having surgery tomorrow and it's my privilege to return to the Golden EIB Microphone to host America's Number One radio show. Three hours of substitute-host-level Excellence in Broadcasting starts live coast to coast at 12 noon Eastern/9am Pacific. ~For Aussie readers: My cover story on freedom of expression in this week's Speccie can be read here. I'm increasingly struck by how little the cause of free speech resonates these days ...
Steyn on the World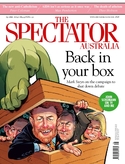 I'm back in The Spectator this week in both Australia and the United Kingdom. Down Under, as you can see, I'm the cover story; in the Mother Country, I take second billing to God and Richard Dawkins (not sure who gets top billing between them). It's an overview of recent free-speech issues, from California to Canberra...
SteynPosts

The Bureau of Land Management rules the 26th largest country on earth
SteynPosts

The photo at right is from the showdown between the Bundy family and the Bureau of Land Management, which is to Nevada as the Red Army is to Eastern Ukraine...
Mark's Mailbox

I often thank those from far-flung parts - Latvia, Finland, India, Singapore, Georgia (the ex-Soviet one, not the Ray Charles one), Indonesia, Brazil, and even the Falkland Islands - who've helped support my pushback against serial litigant and fake Nobel Laureate Michael E Mann. But I ought to express my gratitude for those nearer to our corporate head office. After all these years in New Hampshire, I open my mouth in the general store and still sound like I got off the boat yesterday. But ...
Seasons of Steyn

Heading back from Montreal late the other night, I pulled up in front of the guard on the US side of the Quebec/Vermont border. He asked the usual questions, and then said, "Are you bringing anything back from Canada?" "Oh, just some Easter eggs," I said, breezily - and instantly regretted it. The hitherto somewhat somnolent agent sprang visibly alert. "Easter eggs..?"
Defend Free Speech!
As part of its just launched free-speech campaign, Spiked! over in London has a big piece on Brandis. That's not a misspelling for Brandeis, the supposed scholarly institution that reminds us that, as Kate McMillan likes to say, the opposite of diversity is university. No, Brandis is George Brandis, QC, the Attorney-General of Australia. Mr Brandis introduced me when I spoke in Brisbane in Queensland two years ago, and I was very touched not by anything he said about me and my free-speech ...
Defend Free Speech!

Today, a decision is expected from the Virginia Supreme Court re "hockey stick" climate alarmist Michael E Mann's continued attempts to obstruct access to his data. A bunch of big media - NPR, The Washington Post et al - have filed briefs opposing Mann and the University of Virginia because they understand that a victory for him would be a massive defeat for freedom of information that would more or less gut the law in that state.
Likewise, were he to prevail in the upcoming Mann vs Steyn trial of the century at the DC Superior Court, it would be the biggest setback for the First Amendment in the half-century since New York Times vs Sullivan...
One Year Ago

Exactly twelve months ago, on April 15th 2013, at 3.35pm, I wrote in a short post: "There are reports of two huge blasts and multiple serious injuries at the finish of the Boston Marathon." Herewith, a few excerpts from what I wrote in the days that followed...
Steyn's Song of the Week

Six decades ago - April 12th 1954 - a chubby-faced kiss-curled man pushing 30 with a backing group named after a theory published in Synopsis Astronomia Cometicae in 1705 went into the recording studio at the Pythian Temple on West 70th Street in New York and sang a song written by a man born in the 19th century...
Mann vs Steyn
The Corner post that launched a lawsuit...