Steyn on America

A year ago, I wrote:
For me, the issue this US election season is the corruption. Sure, I'd like a balanced budget and less debt and repeal of Obamacare, but I'm getting used to being sold out on those issues. So I'm down to the bare minimum requirement for a politician: The corruption nauseates me, and, if it doesn't nauseate the candidates, then that explains a lot about why nothing happens on any of those other matters. It's in the air, it's in my nostrils, and I'm sick of choking on it...
Steyn on the Oakley Show

It's always fun to start the day with the great John Oakley on Toronto's AM640. Today we discussed the aftermath of the Iowa caucus, including Hillary running the quarters in the constitutionally mandated Presidential Coin Toss, and Ted Cruz's brilliant comic timing when introducing me at the US Senate. We also discussed climate know-nothing David Suzuki's latest call for those who disagree with him to be "thrown in jail". Even by the standards of the climate mullahs, Suzuki routinely calls for ...
SteynPosts

Happy Iowa Caucus Eve to you. For our readers Down Under, Mark's nationwide tour of Australia kicks off two weeks today - on Valentine's Day live in Perth. Most dates are already sold out, but there are still tickets available for the final night in Sydney and for Steyn's debut appearance in, er, Cloncurry. They're going fast, though, so don't leave it too late...
SteynPosts

Great news! Anglican bishops are moving toward the same position on facial hair as Mullah Omar: Vicars should grow BEARDS to reach out to Muslims in their areas, says Bishop of London Yes, the Taliban comes to the Angliban Communion: One of the priests praised by the Bishop of London, the Rev. Atkinson told The Telegraph he found having a beard had helped provide a connection with many people in his parish, around 85 per cent of whom are Muslim... The heart of the Cockney East End: 85 per cent ...
SteynPosts

During the Cold War, the Soviet Union funded "peace movements" throughout the west - because for the Soviets "peace" meant "the absence of opposition". In our time the new peace movement is Islam. And so we are told today, from the podium of a mosque with "extremist" "links", that the very word Islam means "peace". Actually, it means "submission" - ie, the absence of opposition. The only difference between then and now is that instead of being chanted by scrofulous hippies protesting outside a ...
Steyn on America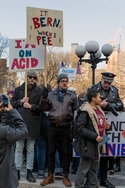 Thank God that's over. You don't have to be an Amtrak conductor to want to punch the next guy who says, "There are three tickets out of Iowa." In the end, Ted Cruz won eight delegates and Donald Trump seven. Which doesn't sound so bad for Trump. Except that Marco Rubio also won seven delegates. Had the caucus been held 24 hours later, Rubementum might have pushed Trump to third place.
There's no point pretending it wasn't a setback for the billionaire party-crasher. Who knows why it happened? Perhaps he should have taken his own advice and shot a guy on Fifth Avenue: That's gotta be worth a couple of points in Polk County. For over six months, each supposedly fatal misstep - from McCain to Muslims - only made him stronger. Now the first actual votes of this interminable process have made him weaker. For a candidate running on the platform that he's a winner and the other guys are losers, the aura of invincibility depended on the perception of invincibility. So it's not helpful to let five thousand hayseeds shuck Trump Tower like a corncob.
Rubio did the usual caucus-night thing. He came third so he hailed himself as the most stunning victor since Wellington at Waterloo and then segued into the stump-speech bollocks about being the son of a bartender and promising a new American century. Ted Cruz followed with a victory speech that lasted most of the new American century. It was the kind of ruthless Canadian triumphalism older Americans haven't seen since the War of 1812, which, like Cruz's speech, went on into the following year. If he wins again next Tuesday, let's hope he cuts to the chase and burns down the White House...
Mann vs Steyn
The Corner post that launched a lawsuit...