SteynPosts

In Saturday's column, I suggested that, somewhat improbably from the late Sam Huntington's point of view, the clash of civilizations is dwindling down to the dar al Islam vs the dar al Gay. The good news is that the dar al Gay now has a national flag. This weekend, the gate-delay channel CNN had an "exclusive" revealing that the black flag of ISIS had been spotted at London's Gay Pride parade, and so they quickly rustled up Peter Berger and other crack national-security analysts to provide ...
SteynPosts
In case you missed it, here's how the last seven days looked to Mark
Steyn on the World

Snapshots of the world: ~From Politico: On Friday evening, the White House was glowing with pride. The Obama administration bathed the north side of the executive mansion in rainbow-colored light to celebrate the Supreme Court's Friday ruling in Obergefell v. Hodges, which guaranteed a constitutional right to same-sex marriage across America... According to a White House official, the lighting was done "to demonstrate our unwavering commitment to progress and equality, here in America and ...
The Hugh Hewitt Show

A few hours before my weekly appearance on The Hugh Hewitt Show, the Supreme Court leaped to the rescue of Obamacare yet again, with not only designated swinger Anthony Kennedy but also Chief Justice John Roberts joining in the 6-3 decision. That's where Hugh and I began: HUGH HEWITT: Here to tell you that Obamacare is not going to be amended or repealed until we get a new president... The federal subsidies are going to stay just as they are. Joining me to talk about this and the much more ...
On the Air

On Wednesday night I swung by Hannity on Fox News to discuss the Democratic Party's uniquely appalling record on racism - unique in the English-speaking world, that is. The starting point, of course, was the Confederate flag flap. The Confederate flag means nothing to me one way or another. Nor does it seem to have meant much to this racist murderer Roof. I mean, he seems to have had no particular objection to it as a cultural marker for genial rednecks in pick-ups - or whatever Howard Dean ...
SteynPosts
Obamacare, the great no-longer-private not-quite-public pushmepullyou of western health-care systems, lives another day. By a 6-3 majority of the Supreme Court, it has been determined that the words "established by the states" now mean "established by whatever". Boy, that John Roberts is really growing in office. I'll be talking about the decision with Hugh Hewitt on the radio today, coast to coast at 6pm Eastern/3pm Pacific. ~Speaking of great moments in the life of a republic, how about this? ...
Mann vs Steyn
The Corner post that launched a lawsuit...
Steyn's Song of the Week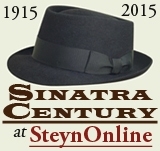 Dominion Day looms - on Wednesday - and we always like to have a Canadian song for the national holiday. Sinatra recorded many maple-infused numbers over six decades, from "I'll Never Smile Again" and "Put Your Dreams Away", both by my fellow Torontonian Ruth Lowe, all the way to Joni Mitchell's "Both Sides Now" and, of course, Paul Anka's "My Way" (he wrote the English lyric). But, for a great national occasion, I figured what could be more Canadian than...
I like New York in June
How About You?
I like a Gershwin tune
How About You?
Ave atque vale

Hard to imagine at the start of yet another dreary summer of superheroes at the multiplex, but once upon a time "The Avengers" didn't mean lurid musclebound rupper-nippled Ãœbermenschen battling malevolent Norse gods across a hole in the time-space continuum over the streets of Manhattan, but an urbane middle-aged toff and a catsuited Carnaby Street dolly bird bantering their way across Swingin' London. That other "Avengers" was a big hit in the US. It was, indeed, the last British telly show to ...
Steyn on America

The landmark Supreme Court decisions are bulk-discounted this week, so here's this hour's. In my conversation with Hugh Hewitt yesterday, I said: As you know, Hugh, I'm not a believer in Supreme Courts that are as supreme as America's Supreme Court is. But here they are redefining an institution that pre-dates the United States by thousands of years with gay abandon. Ireland held a referendum to approve same-sex marriage a few weeks ago. I would not have voted as my fellow Irishmen did, but I ...
Steyn's Song of the Week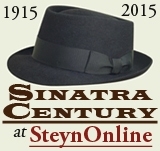 In 1967, Frank Sinatra took part in a panel discussion to mark the dedication of the Cole Porter Library at the University of Southern California. The other participants were Ethel Meman, Fred Astaire, Gene Kelly, Alan Jay Lerner and Jimmy Stewart, which is quite the panel. The playwright Garson Kanin (he wrote Born Yesterday and some of the Hepburn/Tracy movies) moderated the conversation, and at one point asked Frank about whether Porter was one of those composers - like, famously, Richard Rodgers - who just wanted you to do the song the way he'd written it...
Topical Take

Via Ed Driscoll I see that it's half-a-century since Bob Dylan recorded "Like A Rolling Stone". Here's what I had to say about the great man upon the occasion of his 60th birthday back in May 2001. Re the Dean Martin reference below, note that Dylan's big new release this Sinatra centenary year is his album of Frank covers, the very cleverly named Shadows In The Night. The piece below is anthologized in my book The [Un]documented Mark Steyn, personally autographed copies of which are ...