SteynPosts

I bailed on the Academy Awards halfway through that terrible, overwrought opening song, "Moving Pictures". "That's a Tony number, not an Oscar number," I scoffed, and went off to shampoo the cat while singing "Hooray For Hollywood". But, when you go on TV and radio, people tend to ask you about these things, so on the off-chance it comes up with Hugh Hewitt on Thursday afternoon I thought I ought to bring myself up to speed on all the big controversies. Which is how I came to be reading this ...
Defend Free Speech!

No, no, not that Nobel Laureate. Not Michael E Mann - and far be it for me to imply that the tree-ring doesn't fall far from the tree. No, in this case, Mann's sometime boss at the Intergovernmental Panel on Climate Change, Rajendra Pachauri, is facing arrest in Delhi after female employees of TERI (The Energy & Resources Institute) accused him of sexual harassment. See the Times of India story:
Pachauri Gets Relief Till Thursday
As I've noted previously, I'm a contributor to the new book Climate Change: The Facts, and in said tome I happen to mention Dr Pachauri en passant...
Ten Years Ago

It's Oscar Night in America! Among this year's nominees, I rather liked Birdman and The Grand Budapest Hotel but would be surprised if either found big-time favor with the Academy. Instead, it's American Sniper vs identity politics, with Clint Eastwood and Chris Kyle squaring off against a tragic gay, an inspiring cripple, and an extremely boring MLK pic. In such circumstances, I'd bet on the gay guy but he's British, which may lose him points. At any rate, we shall know soon enough. In the ...
SteynPosts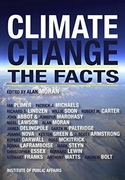 As I mentioned the other day in relation to Michael E Mann's latest "hockey stick", I'm honored to be alongside some of the most eminent scientists and some of the most rollicking commentators in a new book called Climate Change: The Facts...It's available right now from Amazon outlets worldwide...
Mann vs Steyn
The Corner post that launched a lawsuit...
Defend Free Speech!

Fraudulent Nobel Laureate Michael E Mann is fully on board with the President's veto of the Keystone pipeline:
The president was right to veto #KeystoneXL. My thoughts on the matter via The Guardian @GuardianEco
As the Big Climate enforcers see it, when it comes to laying pipe all over the planet, leave that to Rajendra Pachauri...
Steyn's Song of the Week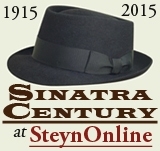 It's the wee small hours after Oscar Night, and so our Sinatra Centenary song is obliged to take a nod at least in the direction of the Academy Awards. Frank made a whole album of Oscar winners, with the unwieldy title of Sinatra Sings Days of Wine and Roses, Moon River, and Other Academy Award Winners. But he also recorded many other Best Song victors in the course of his career. By my count, it's 20, including "The Way You Look Tonight", "Thanks For The Memory", "Over The Rainbow", "White Christmas"...
Mark at the Movies

For Oscar weekend: Bill Murray and Scarlett Johansson in a great Oscar-loser
Steyn on America

If Obama were working for the other side, what exactly would he be doing differently?
Steyn's Song of the Week

An anthem to "the town that Billy Sunday couldn't shut down"