Steyn's Song of the Week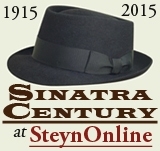 On the first of our Sinatra Century audio specials, Frank's longtime pianist and musical director Vincent Falcone talks about the many years he spent working with the singer mostly on stage but also in the studio. For example, on September 19th 1979 in Los Angeles, it fell to Vinnie Falcone to conduct what would become one of the biggest Sinatra recordings of all time:
Start spreading the news
I'm leaving today
I want to be a part of it...
As I say on the podcast, it's one of the most famous records on the planet. I mention that it turns up as a musical joke en passant during a car chase in the new Bond movie, Spectre. Just the opening bars - that famous John Kander vamp that Vincent Falcone conducts - and that's all it needs, because few records have such an instantly recognizable intro...
Defend Free Speech!

On this Thanksgiving eve, I am thankful for many things, but the sclerotic and depraved "justice" system of America's capital city is not one of them. Today marks the first anniversary of my trip to Washington for oral arguments at the District of Columbia Court of Appeals. So Thanksgiving and the Mann vs Steyn defamation suit are inextricably yoked for as long as this case continues, which on present form will be at least until the rising sea levels wash away the entire hellish DC ...
SteynPosts

The big news this morning is that Turkey, a Nato member, has shot down a Russian jet, which is a complication when President Hollande is inviting Obama to join him in teaming up with Putin to fight Isis...
SteynPosts
My new cat album, Feline Groovy: Songs for Swingin' Cats, is now available for pre-order at iTunes. I don't really know how all that stuff works, but I think you get one track instantly if you buy now. The official release date is next Monday. It's also at Amazon, in CD and digital format. ~I'm half-Belgian, which makes my beloved cat Marvin, to whom Feline Groovy is dedicated and who appears with me on the album cover, Belgian by adoption. So both of us are somewhat aghast at the sight of ...
Steyn on America
The British Home Secretary, Theresa May, was a little behind the curve when she reacted to the bloodbath in Paris by insisting that "the attacks have nothing to do with Islam". This is the old spin that, although some terrorists might claim to be Muslim, there's nothing inherently Muslim about their terrorism. But why be so modest? In the United States, the most senior members of the Democrat establishment are taking it to the next level. Secretary of State John Kerry: It has nothing to do with ...
Hannity on Fox News

On Thursday night I checked in with Sean Hannity on Fox News. After a tense exchange over my forthcoming album Feline Groovy: Songs for Swingin' Cats, we moved on to the news of the hour...
Seasons of Steyn

Happy Thanksgiving to all our American readers. Here are a few Thanksgiving thoughts from me over the years. First, from on the radio with Hugh Hewitt eight years ago: HUGH HEWITT: "Thanksgiving," you write, "excepting the premature and somewhat undernourished Canadian version, is unique to America." You write that Europeans really just don't get this. MARK STEYN: No, it's very strange that Europeans don't quite understand what the Thanksgiving holiday is all about. You know, holidays in ...
Steyn on America
I have a strong dislike of the current fashion among American's decrepit and unreadable newspapers for "fact-checker" columns, because the practice attempts to cloak run-of-the-mill hacks in an aura of dispassionate authority that they do not, in fact, possess. Case in point: The Washington Post's Glenn Kessler, who has awarded "four Pinocchios" to Donald Trump, for claiming to recall seeing "thousands" of Jersey City Muslims celebrating on September 11th 2001. Mr Kessler wrote: Trump says that ...
Steyn's Song of the Week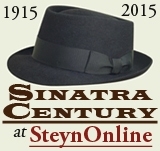 On the first of our Sinatra Century audio specials, Frank's longtime pianist and conductor Vincent Falcone talks, among other things, about the singer's relationship with the George Harrison ballad "Something". So I thought we'd spend a little time with the song as we head into the final stretch before the big 100th birthday.
In November 1968 George Harrison and his then missus Pattie Boyd attended the recording sessions in Hollywood for Sinatra's album Cycles...
On the Town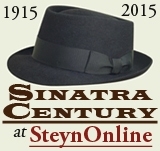 Since January we've been celebrating Frank Sinatra's centenary year at SteynOnline, but mostly in writing. As the formal 100th birthday looms, I thought we'd crank it up and hear some of the actul music, with a few audio specials this month and next. To get things going, here's part one of my conversation with a man who played piano and conducted for Sinatra during the Seventies and Eighties: Vincent Falcone Jr.
Vinnie, as Frank called him, was a big part of a very exciting time in the Sinatra stage act...
Mark at the Movies

In the summer of 2012 my daughter and I spent a few days at a bleak and isolated Highland hunting lodge, which, as I said to her at the time, felt like John Buchan's Scotland - the place where a thriller chase winds up. I had the wrong author, but right genre. A couple of months later, the new Bond film reached its denouement in a similarly desolate Caledonian* haunt - the eponymous Skyfall, the name of 007's childhood home. It was an innovative end for a Bond movie, at least to those of us for ...
Mann vs Steyn
The Corner post that launched a lawsuit...