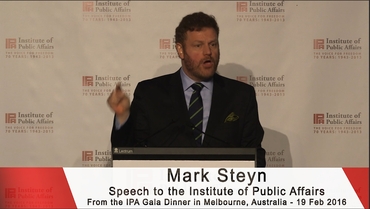 As I mentioned a few weeks back, I'm traveling overseas for some time as part of my research for a forthcoming project. We'll have more news of that in a couple of months. However, I did make a brief reappearance a week ago on the morning after the Australian election (now more or less over), and in the month since I took off, on Brexit, the European Union, the Islamization of the west, and the insecure security state, things seem to be trending in a somewhat Steynian direction. ~Speaking of ...
In the News

With a plunging pound and predictions of economic collapse, the political earthquake in Europe and the United Kingdom is nevertheless looking pretty sweet for a certain Canadian doom-monger...
Steyn on the World

Mark's closing statement from the Munk debate
Steyn on Canada and the Commonwealth

The moment an audience of Toronto liberals confronted reality
Steyn on the World

For my appearance at Parliament House in Canberra, I had the great privilege of being introduced by Australia's Foreign Minister, Julie Bishop. The last time she introduced me she had to sit through my version of "Kung Fu Fighting"...
Mann vs Steyn
The Corner post that launched a lawsuit...
Defend Free Speech!
Mark talks climate change with The New Criterion
Topical Take

Francis Crick, the man who gave us DNA, was born a century ago today...
Defend Free Speech!

On the vast placid frozen lake that is the Mann vs Steyn case there has been a small development...
On the Town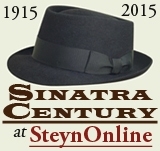 Alan Bergman, co-author of "The Way We Were" and "Windmills of Your Mind", talks to Mark about the songs he wrote for Sinatra...
Mark at the Movies

Steyn on the new Bond film - and the return of Blofeld