Steyn on the Oakley Show

Today I started the day with Toronto's Number One morning man, talking Obama's ice follies in Alaska and then the even more rapid melt of Hillary's presidential campaign. And just to connect the two of them up, I advanced my theory that, as the only guy on the planet to have blown up the supposedly indestructible Clinton Machine (in 2008), Obama was lining up to do it all over again. Oh, and given that the President has been kind enough to do so many visually striking promotional tie-ins for my ...
Defend Free Speech!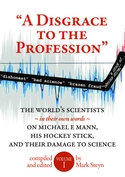 Today has been proclaimed by His Holiness the Pope as the first International Day of Prayer for Climate Change. Getting into the spirit, the President of the United States took a 9,000-mile round-trip by private wide-bodied jet to give his usual calm, measured, prudent environmental speech:
Obama On Climate Change: Act Now Or Condemn World To A Nightmare
So I couldn't have picked a better day for the official launch of my new book:
"A Disgrace to the Profession":
The World's Scientists ~ in Their Own Words ~ on Michael E Mann,
his Hockey Stick, and Their Damage to Science
Volume One
Edited by Mark Steyn
with illustrations by Josh
The book is exactly what it says: The story of the most famous science graph of the 21st century and how it led, via Al Gore's movie and the United Nations, to a world of cartoon climatology where Obama, the Prince of Wales and other world leaders now routinely talk like the kind of gibbering apocalyptic loons who used to walk the streets with sandwich boards predicting the end of the world...
SteynPosts

Today, Tuesday, is the official release date of my new book "A Disgrace To The Profession". I'll be appearing with Sean Hannity later tonight on Fox News (details at right), but I'd like to thank His Holiness the Pope for arranging the ultimate promotional tie-in by proclaiming my book's launch day as the International Day of Prayer for Climate Change. Thousands of Kindle pre-order customers will find their prayers answered, as the digital "Disgrace" is magically waiting to greet them when they ...
On the Air

I always enjoy my visits to The Tommy Schnurmacher Show at Montreal's CJAD 800. This morning I put in a word for my new book "A Disgrace To The Profession", which is officially released tomorrow...
Ten Years Ago

Hurricane Katrina made landfall exactly a decade ago
The Hugh Hewitt Show
The only man ever to destroy the Clinton Machine is planning to do it all over again
SteynPosts

There is nothing worth reading in American newspapers and they entirely deserve to go out of business
Mann vs Steyn
The Corner post that launched a lawsuit...
Hannity on Fox News

On Tuesday night I checked in with Hannity on Fox News to chew over the remorseless withering of the Hillary Clinton campaign. Sean and I discussed the politics and the criminality of her server arrangements and their consequences for American foreign policy: Mark Steyn said on "Hannity" tonight that Hillary Clinton's emails show that U.S. allies, such as former U.K. Prime Minister Tony Blair, were aware that she was using a private email address during her time as secretary of state. "It's ...
Steyn's Song of the Week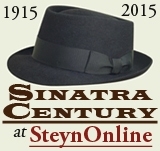 On the radio a few months back, I heard an old Wink Martindale interview with Ella Fitzgerald, from the Seventies. And apropos her famous songbook series - Kern, Gershwin, Porter, etc - Wink asked if there was one of those great writers with whom she felt a special affinity. And Ella demurred, and added that sometimes a great song could be written by somebody the public had never heard of - "like the boys who wrote 'Angel Eyes'." And you sort of got the impression that, if she'd been put on the spot, she herself couldn't reliably have fished their names out of the old mental filing cabinet. But she knew their song, and she loved their song...
Mark at the Movies

In yesterday's Sinatra Century entry, I mentioned that "Come Fly With Me" had turned up in Steven Spielberg's Catch Me If You Can, which is as good a reason as any to select the film as a visual accompaniment to the song - and this weekend's movie date...
Defend Free Speech!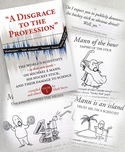 My new book is officially released on Tuesday, which means if you pre-order it on Kindle before the big day it will magically be waiting for you on your thingummajig before you even wake up in the morning. How cool is that?
I wrote the book because climate mullah Michael E Mann attempted to sue me into silence, and it's necessary to let like-minded bullies know that that doesn't work. So my personal favorite quote on the book so far comes from ...
Steyn's Song of the Week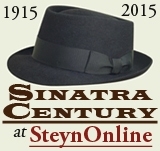 A few months ago, 20-year-old pop star Meghan Trainor gave an interview to Entertainment Weekly about her big international hit "All About That Bass", in the course of which she was asked:
Who were your idols as songwriters?

Phil Collins. And Stevie Wonder. And what always messed me up were Frank Sinatra songs, because of the lyrics and the melodies and how catchy they are. Even if I was going in to write for Rihanna, I'd put on Frank Sinatra and hear 'You may hear angels cheer/'Cause we're together'. No one writes like that anymore, because it's hard.
Defend Free Speech!

We're a few days away from the official launch of my new book, and it's already doing quite nicely at Amazon in print and Kindle - and not too shabby north of the border, too...