Steyn Live!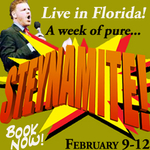 Join Mark for a week of pure Steynamite in the Sunshine State as he flies south for a snowbird tour across Florida this February. Tickets go on sale this morning - Wednesday December 4th - and they make a great Christmas gift for the Steyn fan in your family.
If you only know Mark from print, TV and radio, you're in for a treat: There's nothing quite like joining Steyn for an evening of "the usual blend of comedy and terror". "At one point, I just lost it. I was laughing so hard, I couldn't breathe," said Catherine Sims, after seeing Mark at Hillsdale College. "The best night of my entire life," declared satisfied customer M Craig Williams after catching Steynamite in Toronto.
This is Mark's first statewide tour of Florida, and, as with last year's sell-out tour of Australia, you won't want to leave it too late to book seats. Tickets are available direct from the theatres:
February 9th - Jacksonville: Symphony Hall at the Times Union Center for the Performing Arts
box office: (904) 633-6110
February 10th - St Petersburg: The Mahaffey Theatre
box office: (727) 893-7832 or (800) 874-9020
February 11th - Ft Pierce: The Sunrise Theatre
box office: (772) 461-4775
February 12th - Ft Myers: The Barbara Mann Performing Arts Hall
box office: (239) 481-4849 or (800) 440-7469
February 13th - Miami: The Olympia Theatre at Gusman Center
box office: (305) 372-0925
See you in the Sunshine State for Steynamite in Florida!
Happy Warrior

For much of last year, a standard trope of President Obama's speechwriters was that there were certain things only government could do. "That's how we built this country — together," he declared. "We constructed railroads and highways, the Hoover Dam and the Golden Gate Bridge. We did those things together." As some of us pointed out, for the cost of Obama's 2009 stimulus bill alone, you could have built 1,567 Golden Gate Bridges — or one mega–Golden Gate Bridge stretching from Boston to just ...
The Hugh Hewitt Show
(Transcript) In his recent appearance on The Hugh Hewitt Show, Mark discussed the passing of Nelson Mandela and more.
Making Spirits Bright

We've everything for the Steyn fan in your family this Christmas, from "A Marshmallow World" to the post-American world. Don't forget Mark & Jessica's Christmas album with almost an hour of great seasonal music - and it's an even better bargain when you buy it with The Mark Steyn Christmas Show, two hours of live music and great conversation with Martha Stewart, Tim Rice and Mark's other guests. And that's just the start...
In the News
…because sometimes only a Canadian will do
Mann vs Steyn
The Corner post that launched a lawsuit...
In the Corner
Obamacare goes phishing
In the Corner
A new book on John Buchan
Steyn on America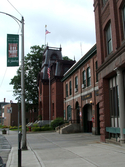 One consequence of the botched launch of Obamacare is that it has, judging from his plummeting numbers with "Millennials," diminished Barack Obama's cool. It's not merely that the website isn't state-of-the-art but that the art it's flailing to be state of is that of the mid-20th-century social program. The emperor has hipster garb, but underneath he's just another Commissar Squaresville. So, health care being an irredeemable downer for the foreseeable future, this week the president pivoted (as they say) to "economic inequality," which will be, he assures us, his principal focus for the rest of his term. And what's his big idea for this new priority? Stand well back: He wants to increase the minimum wage!
Meanwhile, Jeff Bezos of Amazon (a non-government website) is musing about delivering his products to customers across the country (and the planet) within hours by using drones.
Drones! If there's one thing Obama can do, it's drones. He's renowned across Yemen and Waziristan as the Domino's of drones. If he'd thought to have your health-insurance-cancellation notices dropped by drone, Obamacare might have been a viable business model. Yet, even in Obama's sole area of expertise and dominant market share, the private sector is already outpacing him....
In the Corner
The ultimate finger on the NYPD's trigger
In the Corner
The lavishly funded mediocrity of American education
In the Corner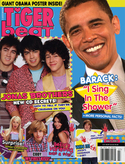 Five exciting things you never knew about President Obama!
In the Corner
Single-payer universal sterilization