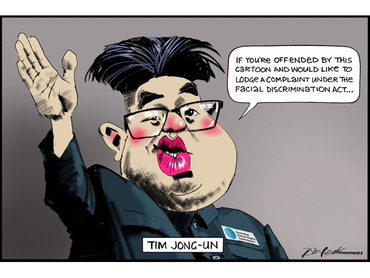 I believe our headline was first coined by the Instapundit, who was kind enough to apply it to my book "A Disgrace to the Profession". But I'm glad to see, following the latest attempt to use Australia's disgraceful Section 18C to throttle freedom of speech Down Under, that The Australian's Bill Leak is introducing the concept to the Antipodes. His latest cartoon (right) features Tim Soutphommasane, the totalitarian hack who trousers a third of a million a year as Oz's "Racial Discrimination" ...
Steyn on America

Just ahead of tonight's final debate (from which I shall be several thousand miles away): As I've said for years - on radio, TV and in print - for me the overriding issue in American politics is the corruption. In the Obama era, we have seen the remorseless merging of the party and the state - in the IRS, in the Justice Department and elsewhere. Whatever one feels about, say, Scandinavia, they at least come to their statism and socialism more or less honestly. Not so the United States. It's bad ...
Topical Take

This week Bob Dylan became the first songwriter to win the Nobel Prize for Literature - to general acclamation. But not from me, and I'd feel the same way if they'd given it to Cole Porter or Oscar Hammerstein or W S Gilbert. Ira Gershwin liked to cite the old Encyclopedia Britannica definition: SONG is the joint art of words and music, two arts under emotional pressure coalescing into a third. Bob Dylan is a practitioner of that third art: not words, not music, but the transformation that ...
Steyn's Song of the Week

A pop culture footnote to our tenth-anniversary observances of America Alone
Mark at the Movies

Hillary Clinton enjoys the support, one assumes, of 99 per cent of Hollywood liberals. Yet it wasn't that way last time she was in the White House...
Mann vs Steyn
The Corner post that launched a lawsuit...
Defend Free Speech!

The war on free speech across the western world: like the Charlie Hebdo killers, the Government of Australia is out to shut up cartoonists
Ten Years Ago

In today's Toronto Sun, Andrew Lawton pays his own anniversary tribute to America Alone...
Steyn on Culture

Step forward, Richard Dreyfuss, star of Jaws and fan of America Alone...
Steyn on the World

Here's the passage from America Alone: The End of the World as We Know It that got me in hot water with the totalitarian hacks of Canada's "human rights" commissions...
Steyn on Britain and Europe

Here's how America Alone: The End of the World as We Know It actually begins. Page one...
Ten Years Ago

Ten years ago America Alone: The End of the World as We Know It hit the bookstores...