SteynPosts
White House flack Josh Earnest calls the Planned Parenthood videos "selectively edited". No. What's being "selectively edited" is the baby: Eyeballs, hearts, blasting out brains--all in a day's work at #PlannedParenthood This is depravity, and it happens every day in Planned Parenthood clinics across America - and only in America. As I've said repeatedly, Sweden doesn't do it, France doesn't do it, Norway doesn't do it... Question to Hillary Clinton and Nancy Pelosi: Is every European social ...
On the Air

This morning I started the day with the great John Oakley on Toronto's AM640. In light of the latest revelations re Donald Trump - he raped at least one of his wives!!! his kids have killed and grilled every single animal on the endangered species list!!!!! - we discussed the way the normal rules of American politics apparently do not apply to the new GOP frontrunner.
Given that the "normal rules" of American politics have delivered America into the hands of a permanent ruling class content to preside over a hyper-regulated, corrupt, cronyist, indebted borderless ruin mitigated according to taste by a deranged hyper-sexualized identity-politics totalitarianism hunting down homophobic bakers and confederate-flag decals, I'm relatively relaxed about that. Your mileage may vary...
On the Air

On Monday night I joined Sean Hannity at Fox News to discuss Planned Parenthood and Donald Trump. Judging from Twitter commentary, many Americans are prepared to defend the harvesting of baby body parts by Cecile Richards and her staff. If so, shame on you. I wrote last week that no other country in the civilized world has a "Planned Parenthood": a billion-dollar abortion conglomerate. One Tweeter said so what? Abortion is only "three per cent" of what Planned Parenthood does. In fact, as I ...
SteynPosts

Breaking news from Forbes: Iran Is Not Nazi Germany And Mark Steyn Is Not Winston Churchill ~Hard to follow a headline like that but we'll do our best. Reacting to news that Charlie Hebdo is out of the Motoon business, Douglas Murray writes in The Spectator: The reality is that intimidation and terrorism work. It is the reason why every major publication in the Western world failed to do what Charlie Hebdo had done. And it is the reason why, from Copenhagen to Texas, the people with guns keep ...
Steyn on Canada and the Commonwealth

A few years back, Ezra Levant and I won a series of victories over various of Canada's totalitarian "human rights" commissions, culminating in the repeal by Parliament of the appalling thought-crime law, Section 13. The beneficiaries of the hate-speech racket have never forgiven us, and have spent the intervening years attempting to re-litigate their defeats in any venue that comes to hand. These days I spend most of my time on my luxury yacht in international waters beyond the jurisdictional ...
Mann vs Steyn
The Corner post that launched a lawsuit...
Steyn on America

In a thoughtful review of Ann Coulter's splendid new book, iconoclastic Democrat Mickey Kaus lists the open-borders advocates in American politics: ...the entire Democratic party, half the Republican party, half (secretly) of the politicians who claim to represent the other half of the Republican party, virtually the entire press (including Fox), virtually all of business, and virtually all big money political donors (including the Kochs!). The bit I've bolded helps explain the Trump bump in ...
Topical Take

President Obama has wrapped up his tour of Africa. It was notable, insofar as that word can be applied to the trip, for his somewhat condescending and neo-colonial lecture to his hosts on the need to ease up on the old homophobia. Certainly, Africa is not terribly gay-friendly. But nor are other parts of the planet. In his ardent wooing of Iran, for example, he doesn't seem to have been perturbed in the least by his new best friends' executions of homosexuals, anymore than he is by the ...
Defend Free Speech!

We noted last year the emergence of a new global health crisis: Climate Depression Is For Real. Just Ask A Scientist. Since then, alas, the legions of depressed climatologists have multiplied exponentially, leading some virologists to speculate whether the disease is now airborne and you can catch it just from reading a Michael E Mann #KochMachineDenier Tweet. This month's Esquire contains a massive peer-reviewed story on pre-traumatic planetary-stress disorder: Among climate activists, gloom ...
Steyn's Song of the Week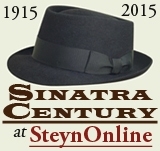 Like the song says:
Fairy tales can come true
It can happen to you...
It happened to Frank Sinatra three months after recording our Friday song, "I've Got The World On A String": He had, finally, a movie role worthy of his talents - Maggio in From Here To Eternity. It opened in August 1953, and was a sensation. Six months later he had an Academy Award - for acting, which, as Sammy Cahn liked to say, "isn't even what he does". On Oscar night, March 2nd 1954, Frank literally ran down the aisle...
Mark at the Movies

This week's movie column is by way of a postscript to last week's, Alfred Hitchcock's Strangers on a Train. Strangers on a Train is a great movie, but not a great train movie. Hitchcock made several of those, from The Lady Vanishes to North by Northwest, and the latter contains what I think of as the all-time great strangers-on-a-train scene...
Ave atque vale

E L Doctorow at the dawn of the American century