Seasons of Steyn

Most of my book The [Un]documented Mark Steyn is written by yours truly, but for six lines on page 243 I roped in the real talent in the family:
Time passes, and moss and lichen creep across ancient grave stones. But the men beneath them are forever young.At Memorial Day observances in my neck of the woods, the veterans are honored by the fifth graders, who read verses for the occasion - both the classics and their own poems. The latter can be a bit hit and miss, and one has to be alert, given the dispositions of some of my neighbors, for give-peace-a-chance war-is-never-the-answer not-so-subtle subtexts. But a couple of years ago my then fifth-grade daughter was asked to write something, and so she did. Nothing to do with me - I was away in Chicago all that week - but I was pleased to see that all the rhymes are true. She is older now and has gotten a little teenagey, as they do, and today she would try to write it more sophisticatedly. But I have always liked its heartfelt directness. So this is my daughter's fifth-grade poem, as a ten-year-old girl delivered it on a small town common for Memorial Day:
The stars and stripes, red, white, and blue
Wave above our heroes true
It makes us cry, it makes us weep
But in our hearts we will keep
The sacrifice our soldiers gave, they shall not die in vain
For they have given us the freedom they have fought to gain
SteynPosts
In case you missed it, here's how the last seven days looked to Mark
Steyn on America

In 2012, a couple of weeks after the assault on the US diplomatic mission in Benghazi, I noted the strange chumminess of Hillary Clinton's eulogies to her "friend" "Chris" Stevens: On Hugh Hewitt's radio last week, National Review columnist Mark Steyn accused the Obama administration of using slain U.S. Ambassador Christopher Stevens as a political prop. Steyn, author of "After America: Get Ready for Armageddon," particularly criticized the way top administration officials — including the ...
The Hugh Hewitt Show
On my weekly appearance on The Hugh Hewitt Show, Hugh and I discussed President Obama's peculiar decision to commit America to a war it can only lose. From The Daily Caller: HUGH HEWITT: Did you see..? Ramadi not only fell, but the Jihadists have pushed out something like 10 kilometers beyond that. It appears as though Baghdad is encircled. MARK STEYN: Yeah, I mean, it's incredible... The United States adopted a strategy that cannot win - these desultory, ineffectual airstrikes. It cannot win. ...
SteynPosts

I didn't quite believe it when I heard that America's commander-in-chief had addressed the graduating class of the Coast Guard Academy and delivered a speech about climate change. But it's true: This brings me to the challenge I want to focus on today -- one where our Coast Guardsmen are already on the front lines, and that, perhaps more than any other, will shape your entire careers -- and that's the urgent need to combat and adapt to climate change. What a bore this time of year is. There ...
On the Air

Steyn swings by Hannity on Fox News, and suggests that Hillary's campaign is a brand new game-show pilot
SteynPosts

Only under the peculiarities of America's mainstream media could you have an interviewer interviewing a man who has written a book disclosing the dodgy donations to the Clinton Foundation without the interviewer disclosing that he himself is a donor to the foundation...
SteynPosts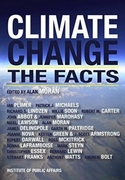 I've had a fun time out on the Earth Day airwaves talking about Climate Change: The Facts. That's the new book featuring me and some of the world's most eminent scientists...
Seasons of Steyn
Happy Memorial Day to all our American readers. In order to observe the occasion, we're postponing our Sinatra Century song for 24 hours for a seasonal salute. My youngest will be playing with the town band in the parade, and I do believe this number is on the song list. This essay is adapted from my book A Song For The Season:
Memorial Day in America – or, if you're a real old-timer, Decoration Day, a day for decorating the graves of the Civil War dead. The songs many of those soldiers marched to are still known today – "The Yellow Rose Of Texas", "When Johnny Comes Marching Home", "Dixie". But this one belongs in a category all its own:
Mine eyes have seen the glory of the coming of the Lord
He is trampling out the vintage where the grapes of wrath are stored...
In 1861, the United States had nothing that was recognized as a national anthem, and, given that they were now at war, it was thought they ought to find one – a song "that would inspire Americans to patriotism and military ardor"...
Mark at the Movies

In her latest incarnation as first female president-designate, Hillary Clinton enjoys the support, one assumes, of 99 per cent of Hollywood liberals. Yet it wasn't that way last time she was in the White House. During the (first) Clinton Era, there was a flurry of presidential pics featuring recognizable albeit idealized versions of the incumbent. This thriving genre ceased the moment George W Bush took the oath of office. But you couldn't help noticing that, while Hollywood had no trouble ...
Steyn's Song of the Week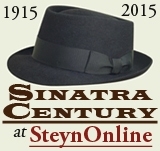 What's the connection between Frank Sinatra and Mickey Rooney?
Oh, that's easy. They were both married to Ava Gardner.
What's the connection between Frank Sinatra and William Shakespeare?
Hmm, well, lemme see... Sinatra and Billy May made a marvelous record of "Falling In Love With Love", introduced by Muriel Angelus in the Broadway show The Boys from Syracuse, which was Rodgers & Hart and George Abbott's version of the Bard's Comedy of Errors. And Frank produced an entire album devoted to Kiss Me, Kate, which is Cole Porter's play-within-a-play take on The Taming of the Shrew. And he recorded Hamlet's soliloquy. Well, okay, just one line of it...
Five Years Ago

Five years ago, a cartoonist with The Seattle Weekly, shocked by the way Comedy Central had censored "South Park" after the usual threats from violent Muslims, proclaimed May 20th as "Everybody Draw Mohammed" Day. What was novel about this particular promotion was that the cartoonist, Molly Norris, was not a "right-wing" "Islamophobe" but a liberal progressive, and therefore a rare if not all but unique example of a feminist leftie recognizing that the Islamic enforcers were a threat to her way of life. This was a very welcome development.
Unfortunately, Miss Norris was not so much recognizing reality as blissfully unaware of it. When the backlash against her idea began, she disassociated herself from it and signed off with - Lord help us - a peace symbol. We had some correspondence on the matter, and I write about her in The [Un]documented Mark Steyn (personally autographed copies of which are exclusively available and help to prop up my own free-speech campaign against the climate mullahs) in a chapter entitled "There Is No More Molly"...
Steyn on the World

At Friday's Department of Defense press briefing, Brigadier General Thomas Weidley gave it the full Baghdad Bob: In Ramadi, after a period of relative stability in the tactical situation, Daesh [Isis] executed a complex attack on Iraqi Security Forces today. These forces were able to repel most of these attacks, but some gains were made by Daesh in previously contested areas... Iraqi Security Forces, as well as federal and local police, continue to control most of the key facilities, ...
Mann vs Steyn
The Corner post that launched a lawsuit...