Steyn's Song of the Week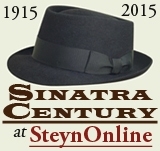 E A Swan?
Who's he?
Well, if you saw Frank Sinatra on stage, pretty much right up till the end in the Nineties, there would come a moment when he'd say something along the lines of:
Now we have a song that's very beautiful ...and a little bit sad. It was written by a gentleman called Einar Swan...
SteynPosts
In case you missed it, here's how the last seven days looked to Mark
SteynPosts

The news this last week reminded me of a piece of mine from May, called "Michael E Mann: Liar, Cheat, Falsifier and Fraud" (I toned down the headline upon the advice of counsel). Therein I wrote: It's always fun in a legal battle to have something bigger at stake than a mere victory. In Canada, we put the "human rights" system itself on trial, to the point where the disgusting and indefensible "hate speech" law Section 13 was eventually repealed by Parliament. It seems to me that in this ...
SteynPosts

On Thursday, I kept my weekly date on The Hugh Hewitt Show, just in time for the big news of the day: HUGH HEWITT: Now we've got a lot to cover. We've got to cover llamas, the Oscars and the Islamic State, not to mention Chris Christie, so I've got to go fast. Did you by chance watch the llama drama on Fox today? MARK STEYN: (laughing) Yeah, the llamas on the llam. You can joke, Hugh, but I think the llamapocalypse is upon us. I looked out in the yard, out of the window at the yard about 20 ...
Steyn on Britain and Europe

The Victoria Cross is the Commonwealth's highest decoration for valour on the battlefield. Yesterday it was awarded to the first living Briton for action in the Afghan war (if memory serves, three living Aussies have been so honoured). Lance-Corporal Joshua Leakey was with the 1st Battalion the Parachute Regiment on a joint UK/US operation in Helmand when it all went pear-shaped, and he found himself having to rescue a fallen American Marine captain while fending off 20 Taliban single-handed: ...
SteynPosts

I bailed on the Academy Awards halfway through that terrible, overwrought opening song, "Moving Pictures". "That's a Tony number, not an Oscar number," I scoffed, and went off to shampoo the cat while singing "Hooray For Hollywood". But, when you go on TV and radio, people tend to ask you about these things, so on the off-chance it comes up with Hugh Hewitt on Thursday afternoon I thought I ought to bring myself up to speed on all the big controversies. Which is how I came to be reading this ...
Mark at the Movies

A few days ago I wrote: The Oscars? Oh, I'd hoped Interstellar might win a special Academy Award for Most Intriguing Villain for Matt Damon's portrayal of insane megalomaniac scientist "Dr Mann". Alas not. But the other night I went to see the Colin Firth spy caper Kingsman, and once again the world-domination super-villain was a climate-change madman, played by a lithping Samuel L Jackson, who manages to recruit an Obama lookalike president to his deranged scheme. We had a bit of mail about ...
Steyn's Song of the Week

Gerald Marks lived 96 years and change, and toward the end of that long life I had the pleasure of hearing him explain to me how all hit songs are happy accidents. He attributed the success of his tune "All Of Me" to two such accidents, one of which was less of an accident than a personal tragedy...
Defend Free Speech!

Fraudulent Nobel Laureate Michael E Mann is fully on board with the President's veto of the Keystone pipeline:
The president was right to veto #KeystoneXL. My thoughts on the matter via The Guardian @GuardianEco
As the Big Climate enforcers see it, when it comes to laying pipe all over the planet, leave that to Rajendra Pachauri...
Defend Free Speech!

IPCC honcho and warmographic novelist Rajendra Pachauri finally comes a cropper
SteynPosts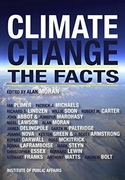 As I mentioned the other day in relation to Michael E Mann's latest "hockey stick", I'm honored to be alongside some of the most eminent scientists and some of the most rollicking commentators in a new book called Climate Change: The Facts...It's available right now from Amazon outlets worldwide...
Mann vs Steyn
The Corner post that launched a lawsuit...