SteynPosts

Tonight, Tuesday, I'll be joining Sean Hannity coast to coast on Fox News at 10pm Eastern/7pm Pacific. If you are within range of a receiving apparatus, I hope you'll dial us up. Tomorrow morning I'll be north of the border with Toronto's Number One morning man John Oakley, live on AM640 at 8.30am Eastern. Three weeks ago, I was on air with Sean during the second Republican debate and suggested to him as follows: As far as Carly Fiorina "winning" the debate, that may be true - in debate terms. ...
SteynPosts

This coming week Mark will be back with Sean Hannity on Fox News, and out and about promoting his new book. He's also honored to be part of an 800th birthday celebration of Magna Carta. Meanwhile, in case you missed it, here's how the last seven days looked to Steyn: The week began with Mark in Copenhagen for the tenth anniversary of the Mohammed cartoons. Both the US State Department and the UK Foreign Office advised their citizens to steer clear of Steyn. But the Danes felt differently. ...
Happy Warrior
Several readers have asked for my view of the Umpqua Community College murders, but I don't really have much to say, other than to offer my condolences to the families of the dead. On the Internet, everyone always gallops ahead, leaping from one slender detail to ever wilder shores of speculation. In this case, I was struck by the curious coincidence that Roseburg, Oregon happens to be the home town of Alek Skarlatos, one of the brave men who took down the jihadist loon on that French train a ...
Steyn on the World

At the end of a very strange week, President-in-Waiting Hillary Clinton went on "Saturday Night Live" to do leaden shtick to the forced laughter of sycophants, while President Obama lectured America on the need for gun control after another mass shooting in a gun-free zone protected by one unarmed security guard. Meanwhile, back in the real world, the BBC's Jon Sopel Tweeted: Extraordinary. A 3 star Russian general went to US embassy in Baghdad this am, saying bombing starts in 1 hour, clear ...
SteynPosts

Jyllands-Posten, the original publishers of the Mohammed cartoons ten years ago, has a big interview with me in today's paper. Niels Lillelund is somewhat of a cryptic interrogator: Usually when you shoot the breeze with someone from a newspaper or magazine, you can sort of tell how on board they are with your general line. But the poker-faced Mr Lillelund plays his cards close to his chest. So, for our Danish readers, enjoy! »Vi magter ikke at forsvare os, for vi har glemt hvorfor ...« Europas ...
Steyn on Britain and Europe

This tenth anniversary of the Mohammed cartoons is a glum day for free speech. But that's no reason for some "social media" billionaire not to make it worse. During her visit to New York for the grand UN dictators' ball, Angela Merkel was overheard rebuking Facebook CEO Mark Zuckerberg for permitting people to post "anti-immigrant" sentiments on social media...
Mann vs Steyn
The Corner post that launched a lawsuit...
Steyn on Culture

A thought for the day from my bestselling book After America: According to Mushtaq Yufzai, the Taliban have a saying: 'Americans have all the watches, but we've got all the time.' Cute. If it's not a Taliban proverb, it would make an excellent country song. It certainly distills the essence of the 'clash of civilizations': Islam is playing for tomorrow, whereas much of the west has, by any traditional indicator, given up on the future. Time marches on. A final word from Malmö, where, as I ...
Steyn's Song of the Week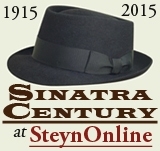 As an ebullient Frank Sinatra told listeners to the BBC Light Programme on October 21st 1962:
When I knew I was going to visit Britain, I thought it would be a wonderful opportunity to record a whole album of British songs. When someone came up with the title Great Songs From Great Britain, well, that clinched it.
Great Songs From Great Britain should have been great. The songs were, mostly, pretty great, and the arranger was the greatest, not just in the United Kingdom but in the entire Commonwealth...
Mark at the Movies

The new Bond film, Spectre, opens in London later this month, and I chanced to hear the theme song the other day. It's not Shirley Bassey, John Barry, Don Black and/or Leslie Bricusse, but what is? Still, one tries to keep an open mind about these things. While we're waiting for Daniel Craig's fourth outing as 007, I thought we'd revisit Pierce Brosnan's first - from 1995, Goldeneye: By the time of Die Another Day, Bond scholars had gotten a bit sniffy about Brosnan's Bond, complaining that ...
Defend Free Speech!

In this 800th anniversary year, I'm honored to be part of a new book, with Chris Berg and John Roskam from our friends at the IPA, called Magna Carta: The Tax Revolt That Gave Us Liberty. If you live not just in England but in North America, Australia, New Zealand and around the Commonwealth, this is the great foundational document of individual liberty, and this book is its story...
Steyn's Song of the Week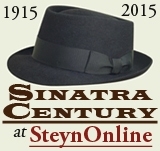 Sinatra loved this bluesy ballad, and, for a third of a century, wherever he was playing around the planet, you could pretty much guarantee that this would be on the set list. The Dominican Republic, 1982:
This next song is a marvelous song written by two of the great songwriters, I speak of Harold Arlen and Mr Johnny Mercer... This one is special to me...
Defend Free Speech!

Ten years ago today the Danish Mohammed cartoons were published by Jyllands-Posten...