The Hugh Hewitt Show
For our weekly radio conversation, Hugh Hewitt opened up the show with "Lola" by the Kinks, for reasons he explains here. I said I'm more of a "Waterloo Sunset" man, which as I think about it would not have been an inappropriate theme for the discussion - not in the romance-at-a-London-rail-terminus sense, but in that it's twilight and we're meeting our Waterloo. Anyway, Hugh was interested in various Republican candidates sniping at each other over which American president is responsible for ...
SteynPosts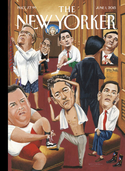 The New Yorker cover at right has attracted a lot of comment. It shows Hillary Rodham Clinton outside the locker room trying to get in. But the locker room is full of white Republican males - Walker, Paul, Bush, Cruz, Rubio... Okay, the last couple are Hispanic, but let's not get hung up on details. And Bush identifies as Hispanic on voter registration forms, but let's not get hung up on the paperwork...
But, in fact, the GOP has already let a female into the locker room - Carly Fiorina - plus a black guy - Ben Carson - and an Indian - Bobby Jindal. So nothing celebrates diversity like the locker room for the Republican primary debate: whites, blacks, browns, Hispanics, men, women, old, young... Over in the Dem locker room, there's hardly anybody in there, and the few that are are all white, and old: Hillary, Bernie, Elizabeth Warren.
By the way, is there a whiter cultural artifact than The New Yorker? Mark Ulriksen is the cartoonist, and a useful reminder of why I'll take the Charlie Hebdo crowd any day. He should do a picture of Ben Carson, Carly Fiorina and Bobby Jindal banging to get in the door of his outmoded Republican stereotype...
On the Air

I started the day today with the great John Oakley on Toronto's AM 640, discussing (with as straight a face as I could muster) President Obama's belief that climate change causes terrorism. It would be truer to say, given the number of carbon footprints ISIS has lowered to zero, that terrorism mitigates climate change. We also discussed Ontario voters' apparent enthusiasm for a carbon tax. I pointed out that the entire political, social, cultural and economic development of Canada has taken ...
SteynPosts

For Memorial Day the Leader of the Free World proclaimed the Dawning of the Age of Aquarius:
"For many of us, this #MemorialDay is especially meaningful—it is the first since our war in Afghanistan came to an end." —@POTUS
Just like the war in Iraq has "come to an end", and the war in Libya...
Seasons of Steyn

Most of my book The [Un]documented Mark Steyn is written by yours truly, but for six lines on page 243 I roped in the real talent in the family...
SteynPosts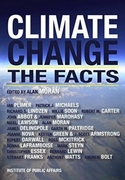 I've had a fun time out on the Earth Day airwaves talking about Climate Change: The Facts. That's the new book featuring me and some of the world's most eminent scientists...
Steyn's Song of the Week

On June 24th 1958 Nelson Riddle raised his baton, and Frank Sinatra made one of the greatest recordings of a great song: My mama done tol' me, When I was in knee pants My mama done tol' me Son... Those words are by Johnny Mercer. He wrote songs with over one hundred different composers, from Duke Ellington to FDR's Secretary of the Treasury, William H Woodin (his writing partner on a number called "Spring Is In My Heart Again"). But the nearest he came to a Rodgers & Hart/Lerner & Loewe-type ...
Steyn's Song of the Week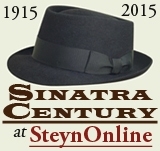 This one stayed in Sinatra's book almost to the end, mainly because he just had so much fun singing it...
Seasons of Steyn
Happy Memorial Day to all our American readers. In order to observe the occasion, we're postponing our Sinatra Century song for 24 hours for a seasonal salute. My youngest will be playing with the town band in the parade, and I do believe this number is on the song list. This essay is adapted from my book A Song For The Season...
Mark at the Movies

In her latest incarnation as first female president-designate, Hillary Clinton enjoys the support, one assumes, of 99 per cent of Hollywood liberals. Yet it wasn't that way last time she was in the White House...
Mann vs Steyn
The Corner post that launched a lawsuit...