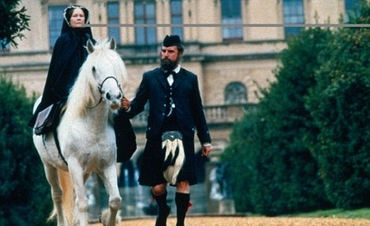 The reborn Kingdom of Scotland may be on hold for a year or two, but here at SteynOnline we're having a Scottish-themed weekend. For our Saturday date movie, here's a highland fling of a most unusual character: The girl is Scotland's Queen; the boy is her loyal servant. Mrs Brown, the story of Queen Victoria and John Brown, was made in 1997, and by a quirk of timing was released a week after the death of Diana, Princess of Wales. But, even without a helping hand from fate, it seems designed to ...
Topical Take
As a postscript to Scotland's failed secession campaign, here's my penultimate column from The Daily Telegraph of January 24th 2006, addressing the real problem with Scots nationalism - the shortage of Scots: Consider the following headline from The Scotsman the other week: "Teaching jobs in doubt as pensioners set to outnumber pupils by 2009." This was a story by Peter MacMahon, the paper's "Scottish Government Editor", and it begins thus: Scotland's demographic time bomb will explode in three ...
SteynPosts

I often joke with my hairdresser Amanda about the number of state permits she requires for the privilege of cutting my hair. As I point out on page 49 of After America (personally autographed copies of which are exclusively available, etc): In the Fifties, one in twenty members of the workforce needed government permission in order to do his job. Today, it's one in three. That's tyrannous - which is bad enough, albeit not unique to America: The entire developed world has massively expanded the ...
SteynPosts
As a postscript to my comments on Thursday's referendum and my Sunday Telegraph column from 17 years ago, a commenter over at Lucianne.com has turned up some throwaway observations of mine on contemporary Scotland: The Scots are almost everywhere you go – every corner on the planet, anything that's worth it, doesn't matter whether you're talking about banks in Hong Kong or rubber plantations in Malaya or the Canadian Pacific Railway, everywhere you go on the planet was built by Scots. And you ...
Steyn on Britain and Europe

A somewhat intemperate Philadelphia Tweeter called Christopher Reynolds spent his breakfast time trying to catch my eye: @DanHannanMEP@MarkSteynOnline Steyn,your libertarianism in the USA is a joke now that I see your really a no to freedom#YesScotland And a few minutes later: @MarkSteynOnline You cry liberty and freedom while at the same time rejecting the real-life implementation of such in Scotland#YesScotland As far as I'm aware, I haven't expressed an opinion on the referendum in Scotland, ...
Topical Take
It has taken a mere 17 years for Tony Blair's devolution proposals to bring Scotland to the brink of secession. Here's what I wrote at the time in The Sunday Telegraph on July 27th 1997...
SteynPosts

After a couple of weeks overseas, I returned to The Hugh Hewitt Show for my weekly chit-chat with the maestro. Hugh was kind enough to mention my forthcoming appearance in Minneapolis, presented by the Center of the American Experiment live at Orchestra Hall on October 9th. You can get more info and book tickets here. The Daily Caller was more interested in what I had to say to Hugh about Obama and ISIS: "He wants to neutralize ISIS, not in terms of driving them from the map in the Middle East. ...
Defend Free Speech!

On Wednesday afternoon, the climate activist group Penn Futures hosted a Twitter q-&-a with serial litigant and self-conferred Nobel Laureate Michael E Mann under the new hashtag #AskDrMann. How'd it go? Well... Most disastrous self-promoted hashtag I've seen in months: #AskDrMann. Twitchy has an entertaining round-up of the hashtag debacle - or, as one Tweeter calls it, "the Barbra Streisand Effect on Steroids". As readers well know from his Twitter feed and Facebook page, Dr Mann is a ...
Defend Free Speech!

Michael Mann takes a stand for science, but science won't take a stand for Michael Mann
Steyn's Song of the Week

Mark celebrates the late Bob Crewe and two Sixties classics
Mark's Mailbox
Another week of lively letters from SteynOnline readers
Mann vs Steyn
The Corner post that launched a lawsuit...