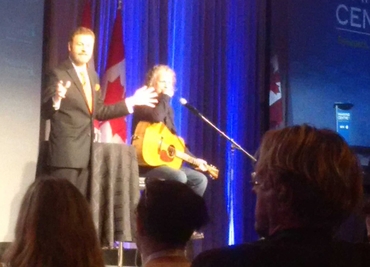 The Aussie polymath Clive James is indisputably the greatest TV reviewer of all time - which is why anthologies of his criticism are still a rollicking read forty years after the shows they discuss went off the air. His ability to distill the essence of the figures flickering across his screen was so unerring that far, far lesser talents were still pilfering his best lines a quarter-century later. So I was both flattered and unnerved to find, upon opening yesterday's Guardian, the great man ...
On the Air
Greetings from Ottawa, where Mark will be hosting The Mark Steyn Show live on stage from the Manning jamboree on Saturday afternoon, with politics, free speech, your questions, and a musical treat from the great Tal Bachman.
Ahead of tomorrow's performance, Mark gave a wide-ranging interview to Kris Sims of CFRA on the state of the west as viewed from both sides of the Atlantic. Click below to listen:
~For subscribers to Mark's TV show on CRTV, don't miss tonight's Oscarpalooza...
On the Air
This week Mark swung by The Seth & Chris Show for a wide-ranging discussion with Chris Buskirk on the state of America and the world. Click below to listen:
~If you don't care for Mark...
Defend Free Speech!

In the glacial progress of the defamation suit against me by Big Climate huckster Michael E Mann, there has been a most interesting development...
Steyn's Song of the Week
Now that Punxsutawny Phil has decreed another six weeks of winter, Mark is joined for a wintry love song by one of the most successful lyricists of our time, the multi-Oscar and -Tony winner Tim Rice, to talk about one of Tim's comparatively few hits not to come from a film or show score. The Top Five record didn't come out quite the way Tim intended, as he explains. So Mark invited Emma Kershaw along to sing "A Winter's Tale" with its correct rhymes, and previously unheard third verse:
Steyn's Song of the Week
Mark celebrates the 70th anniversary of one of the most beautiful of all French songs, performed by the great Patsy Gallant. Patsy had a monster disco hit around the world with "From New York To LA" and then an incredible eight-year run in Starmania, the blockbuster Paris musical hit. But she has always loved Édith Piaf, and Mark is thrilled to present not only her version of "La Vie en rose" but also another Piaf success - "Sous le ciel de Paris":
Mann vs Steyn
The Corner post that launched a lawsuit...