SteynPosts
In case you missed it, here's how the last seven days looked to Mark
On the Air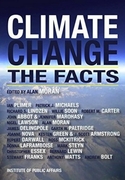 If you were at Toronto's Metro Centre a couple of years back, you'll surely recall Andrew Lawton as my trusty on-stage imam in the warm-up to "My Sharia Amour" during the big Steynamite show. Alas, he's wearied of being my sidekick mullah and gone off to seek gainful employment at Ezra Levant's brand new Rebel Media. Today Andrew launched his own Rebel podcast, and all of us here wish him the very best with this new venture. I was honored to be asked by Andrew to be his first guest, and you can hear me talking about this and that, but also gamely plugging my contribution to the brand new book Climate Change: The Facts. Simply click below to listen.
The Hugh Hewitt Show
On my weekly appearance with Hugh Hewitt, we got to all the doom and gloom, but mein host began with a fellow singing "Luck Be A Lady":
Steyn on America

Over at Breitbart News, John Nolte distills Hillary Rodham Clinton's autobiography into a single headline: Dead Broke Hillary Dodged Sniper Fire With Her Immigrant Parents In Tuzla This is in reference to the latest revision to the Clinton story - her claim that all of her grandparents came to America as immigrants. In fact (if Hillary will forgive the word), two of her grandparents were born in Illinois, one in Pennsylvania, and the fourth, brought here as a child, is the only immigrant. As so ...
Topical Take

Mrs Clinton continues her tour of her future subjects, in which selected pre-screened "everyday Americans" are graciously permitted into the van to commune with the ultimate non-everyday American. The effusions of the US media's court eunuchs over Mrs Clinton's ability to pass as an "everyday American" and actually visit a Chipotle suggest this is going to be a very long 18 months. The last time a Clinton was in the White House it was what he was doing outside the White House that dominated the ...
Steyn on Culture

As we announced earlier, SteynOnline is marking the official launch of Hillary 2016! by rerunning some favorites of mine since I first started writing about Mrs Clinton back in the Nineties. So, as we pitch base camp on the Hill to die on, here's my review of her memoirs, Living History, from Britain's Sunday Telegraph of June 16th 2003.
Steyn on America

I think it's fair to say that the Hillary 2016 launch effortlessly surpassed expectations. It began with the official campaign announcement, deftly reminding us of her impressive résumé: She's fought children and families all her career.
SteynPosts Extra

It's not all Hillary's lousy tipping and imaginary immigrant grandparents. Before the week fades, here's a couple of other news stories worth noting: ~One of the differences between the left and the right is that the right is forever looking for another towel to throw in. The left doesn't do this: They push on till they win. That's one of the reasons why, with rare exceptions, two-party systems boil down to activist left-of-center governments alternating with placeholder right-of-center ...
Steyn's Song of the Week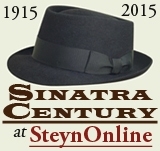 We began the week with Sinatra's one big hit with the Harry James band. We end it with his first big hit with the Tommy Dorsey band. This essay contains material from Mark's book A Song For The Season:
I'll Never Smile Again
Until I smile at you
I'll never laugh again
What good would it do?
In the summer of 1940, the Tommy Dorsey Orchestra, their vocal group the Pied Pipers and a young boy singer called Frank Sinatra took that song to Number One, and not just any old Number One but the very first Number One - the inaugural Number One hit on the very first Billboard magazine chart, the chart that became America's defining measure of commercial success in the music business - the Billboard Hot One Hundred.
Yet it wasn't an American song. The very first American Number One was, in fact, Canadian...
Defend Free Speech!

I don't think I've read "Doonesbury" since the Eighties, although I assumed it was still out there somewhere - like "Blondie", but less edgy and with worse draftsmanship and drearier characters. So I didn't pay much attention when Garry Trudeau became the first cartoonist to be awarded the George Polk Award. The Polk Award is named after a journalist shot dead at point-blank range in 1948 while covering the Greek civil war. So you might have thought it would be in ever so mildly bad taste to ...
Defend Free Speech!

I know the (Aussie) ABC are a bunch of doctrinaire lefties for the most part, but I always enjoy my appearances thereon and Tony Jones is a not un-agreeable host, all things considered. Still, it's sad to see them providing a platform for serial litigant and Clime Syndicate warmano Michael E Mann. As you know, Mann is suing me for describing his famous scary "hockey stick" graph as "fraudulent", which it is. The graph shows a straight-line "shaft" of the stick representing 900 years of stable ...
Steyn's Song of the Week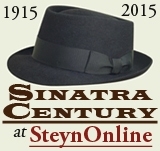 It was June 1939 and the singer Louise Tobin was in her room in the Lincoln Hotel in Manhattan, packing for a gig in Boston with Bobby Hackett's band. Her hubby was napping on the bed. He was a trumpeter, name of Harry James, who'd just left Benny Goodman to put together his own orchestra. The radio was carrying a remote from some joint in New Jersey, and a male vocalist came on...
Mann vs Steyn
The Corner post that launched a lawsuit...