SteynPosts

I wrote two weeks ago about two New Hampshire teenagers having their bagpipes seized at the northern border by US Customs & Border Protection. This would be the same "border" "protection" agency that has turned the southern border into an express welfare check-in for any of the world's seven billion people minded to show up there. My fellow Granite Staters - 17-year-old Campbell Webster and Eryk Bean, of Concord and Londonderry, New Hampshire - understood that if you go to a highland fling a ...
Mark's Mailbox
Our weekly Mailbox has been on hiatus for a few weeks due to certain time-consuming Mann vs Steyn trial-of-the-century matters. We won't get into them here, except to note, for the many readers who drew attention to the phrase "pubic discussion" on the penultimate page of my latest court brief, that it's not a misprint on my lawyers' part, but an allusion to Hustler vs Falwell. Honestly. There were significant developments in the case last week. The ACLU and almost every major media ...
SteynPosts
Hugh Hewitt and I were back on the air together for the first time in a month or so, and covered a lot of ground: HUGH HEWITT: I don't even know where to begin. We have Ferguson, MO on edge and the President telling them to calm down. We have the Putin convoy headed towards the Ukrainian border. Maliki stepping aside, the Yazidis saying no, no, no, they're still killing us, and Lauren Bacall and Robin Williams dead. You pick. Well, when you put it like that, it seems obvious to me that the ...
SteynPosts

There being not much happening around the world at the moment, the President played golf today at the Vineyard Golf Club: "While eating, overlooking the golf course, guests had to stand up and be wanded." One asked if he could finish his hot soup first, and an Obama security man cracked, ominously, "So, you're not cooperating?" Funny. Even funnier if he'd had to be "accidentally" shot while refusing to "cooperate". As the Instaprof points out: YOU KNOW, THEY DON'T ACTUALLY HAVE ANY LEGAL ...
Steyn on the World

In the Netherlands, a "moderate Muslim" is someone who thinks Isis is a Zionist front group
Mann vs Steyn
The Corner post that launched a lawsuit...
Steyn's Song of the Week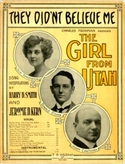 When this weekly feature began eight and a half years ago, our Song of the Week Number One was "San Francisco", to mark the centenary of the 1906 earthquake. But, if I'd been thinking about a Number One song in more profound terms, our Number One song would have been the song we're finally getting round to almost a decade later - because this week's song was really the Number One song for an entire school of songs. As Mel Tormé put it, when Jerome Kern composed this melody, he "invented the popular song". If your idea of a popular song is "Call Me Maybe" or "Ain't Nobody Here But Us Chickens" or "The Tennesee Waltz", Tormé's claim is a bit of a stretch. But it's not unreasonable to claim that with this tune Kern invented what we now call the American Songbook - standards that endure across the decades and can be sung and played in almost any style. It is, thus, the Number One Song, the first and most influential entry in that American Songbook...
Mark at the Movies

We had many requests for a Robin Williams pic for our weekend movie feature, but I have to confess I was never the biggest fan of his. I always found his comedy a little tiring to watch, and his serious acting a little too self-conscious. With Mrs Doubtfire I enjoyed seeing a transvestite Williams play soccer, vacuum to Aerosmith, talk dirty to his ex-wife's new beau, Pierce Brosnan, and commiserate with Mr Brosnan at how the chill waters of the swimming pool have shrunk his poor wee willy. ...
Steyn on America

The "narrative" of Ferguson, Missouri changed somewhat today. But, amid the confusion, the blundering stupidity of the city's police department remains consistent. This morning the Police Chief, Thomas Jackson, released security-camera shots of the late Michael Brown apparently stealing a five-dollar box of cigarillos from a convenience store. So the 18-year old shot dead by Chief Jackson's officer was no longer a "gentle giant" en route to college but just another crappy third-rate violent ...
Defend Free Speech!

As you may have heard, Big Climate consensus-enforcer and fake Nobel Laureate Michael E Mann is suing me and a trio of co-defendants for disparaging his hockey stick. On Monday, as I mentioned the other day, various bodies from the ACLU to the Cato Institute filed a flurry of briefs with the District of Columbia Court of Appeals. That in turn has prompted a slew of news stories on the case, the general gist of which you can get from the headlines: Media and rights organizations defend National ...