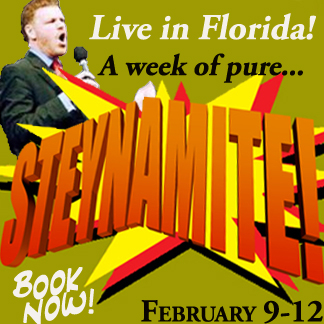 Join Mark for a week of pure Steynamite in the Sunshine State as he flies south for a snowbird tour across Florida this February. Tickets go on sale this morning - Wednesday December 4th - and they make a great Christmas gift for the Steyn fan in your family.
If you only know Mark from print, TV and radio, you're in for a treat: There's nothing quite like joining Steyn for an evening of "the usual blend of comedy and terror". "At one point, I just lost it. I was laughing so hard, I couldn't breathe," said Catherine Sims, after seeing Mark at Hillsdale College. "The best night of my entire life," declared satisfied customer M Craig Williams after catching Steynamite in Toronto.
This is Mark's first statewide tour of Florida, and, as with last year's sell-out tour of Australia, you won't want to leave it too late to book seats. Tickets are available direct from the theatres:
February 9th - Jacksonville: Symphony Hall at the Times Union Center for the Performing Arts
box office: (904) 633-6110
February 10th - St Petersburg: The Mahaffey Theatre
box office: (727) 893-7832 or (800) 874-9020
February 11th - Ft Pierce: The Sunrise Theatre
box office: (772) 461-4775
February 12th - Ft Myers: The Barbara Mann Performing Arts Hall
box office: (239) 481-4849 or (800) 440-7469
February 13th - Miami: The Olympia Theatre at Gusman Center
box office: (305) 372-0925
See you in the Sunshine State for Steynamite in Florida!