Steyn's Song of the Week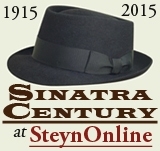 Like the song says:
Fairy tales can come true
It can happen to you...
It happened to Frank Sinatra three months after recording our Friday song, "I've Got The World On A String": He had, finally, a movie role worthy of his talents - Maggio in From Here To Eternity. It opened in August 1953, and was a sensation. Six months later he had an Academy Award - for acting, which, as Sammy Cahn liked to say, "isn't even what he does". On Oscar night, March 2nd 1954, Frank literally ran down the aisle...
SteynPosts
In case you missed it, here's how the last seven days looked to Mark
SteynPosts

Breaking news from Forbes: Iran Is Not Nazi Germany And Mark Steyn Is Not Winston Churchill ~Hard to follow a headline like that but we'll do our best. Reacting to news that Charlie Hebdo is out of the Motoon business, Douglas Murray writes in The Spectator: The reality is that intimidation and terrorism work. It is the reason why every major publication in the Western world failed to do what Charlie Hebdo had done. And it is the reason why, from Copenhagen to Texas, the people with guns keep ...
Steyn on Canada and the Commonwealth

A few years back, Ezra Levant and I won a series of victories over various of Canada's totalitarian "human rights" commissions, culminating in the repeal by Parliament of the appalling thought-crime law, Section 13. The beneficiaries of the hate-speech racket have never forgiven us, and have spent the intervening years attempting to re-litigate their defeats in any venue that comes to hand. These days I spend most of my time on my luxury yacht in international waters beyond the jurisdictional ...
The Hugh Hewitt Show
Congressman John Campbell was guest-hosting for Hugh Hewitt when Mark kept his weekly date with the show. They discussed Iran: MARK STEYN: For whatever reason, Obama has decided that this is a kind of Nixon-China moment for him, in which he is reorienting the whole of Middle Eastern policy ...to rehabilitate Iran as a member of the global community...
Steyn on Culture

If abortion were the respectable medical procedure its proponents insist it is, there would be no such thing as "Planned Parenthood", anymore than there is a Planned Hernia megacorp...
SteynPosts

In which a presidential candidate apologizes for saying "all lives matter"...
Steyn on America

The GOP establishment has finally found a campaign issue: John McCain.
Mark at the Movies

This week's movie column is by way of a postscript to last week's, Alfred Hitchcock's Strangers on a Train. Strangers on a Train is a great movie, but not a great train movie. Hitchcock made several of those, from The Lady Vanishes to North by Northwest, and the latter contains what I think of as the all-time great strangers-on-a-train scene, and one I always think of if I'm in the dining car of an at least potentially exotic choo-choo - the Eurostar, say - and a glamorous femme comes sashaying ...
Ave atque vale

E L Doctorow was a brilliant novelist at a certain kind of journalistic historical novel. When he tried his hand at actual non-historical journalism, the results were abysmal - and, even allowing for crude partisanship, the most trite, leaden sludge. See here for a recent example. But his fiction had a boundless historical curiosity entirely absent from his commentaries on our town. Billy Bathgate is a very fine novel, and Ragtime is a great one. It got turned into a mediocre but very starry ...
Steyn's Song of the Week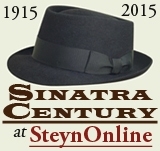 According to Scott Fitzgerald, there are no second acts in American lives. Which isn't true. But there are few second acts like Frank Sinatra's. It started on April 30th 1953 not with a bang, not really - just a cymbal and a sting, and then, paradoxically, a spectacular orchestral decrescendo that would become perhaps the most famous in pop history. And the man who had lost his fans, lost his voice, lost his agent, lost his movie contract, lost his TV show and lost his record label is back at the microphone. He takes his time, colla voce, and declares himself...
Ave atque vale

Gary Perlman wrote from Tokyo to clarify that business in Tuesday's SteynPosts about whether or not Sinatra ever sang "A Beautiful Friendship" (he didn't; Gary was thinking of Keely Smith with the Basie band), but he adds a PS: I hope Theodore Bikel's passing will prompt a replay of your long-ago column on 'Edelweiss', one of the best musical essays I've ever read. Theodore Bikel died on Tuesday at the age of 91. He began his career in Mandatory Palestine in the play Tevye the Milkman and then, ...
Defend Free Speech!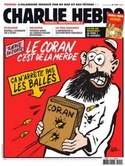 I mentioned a few days ago the announcement by Charlie Hebdo that they are no longer in the business of Mohammed cartoons:
So another non-senseless act has paid off bigtime for the Islamic enforcers...
Ave atque vale

Mark remembers Wayne Carson, who gave us "Always On My Mind" and "The Letter"
Mann vs Steyn
The Corner post that launched a lawsuit...