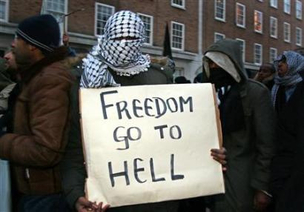 Post-9/11, we in the omniscient pundit class were all Afghan experts. Post-Boston, we are all Chechen experts. Strictly between us, I can count what I know about Chechens on one leg. A couple of years ago, while I was in Copenhagen picking up an award from the Danish Free Press Society, a one-legged Chechen prematurely self-detonated in the Hotel Jørgensen while assembling a bomb. His device, using the same highly volatile TATP as in the London Tube bombings, was intended for my friends at ...
In the News
In John Hawkins' annual survey, Mark edges out Sarah Palin, Rand Paul, Bobby Jindal, Ted Cruz and even Jonah Goldberg for a stunning second-place finish.
On The Air
(AUDIO) Here is the audio from Mark's recent visit with Boston's Michael Graham on the New England Talk Network...
Steyn's Song of the Week

After the disappointments of this year's Eurovision Song Contest, Mark recalls the glory days with a history lesson from Abba.
~and don't forget some of Mark's most popular Song of the Week essays are anthologized in his book A Song For The Season, including "Auld Lang Syne", "My Funny Valentine" and "White Christmas" plus "Delilah", "Rock-A-Hula Baby" and the "Monster Mash". You can order your personally autographed copy exclusively from the SteynOnline bookstore.
SteynOnline Audio Extra

…America hath need of thee. A Chicago radio legend returns to the air with "The Milt Rosenberg Show", and Mark is honored to be the very first guest on his brand new show. To listen, simply click here.
In the Corner
How dare Republicans politicize the one-party state!
In the Corner
Who regulates the regulators? ...
Steyn on America
A land where everything - from your books to your friends to your prostate exam - is a tax issue
Steyn on America

New York's Big Nanny
In the Corner
In the wake of Louis Freeh's report on Penn State, Rand Simberg writes of Unhappy Valley's other scandal...