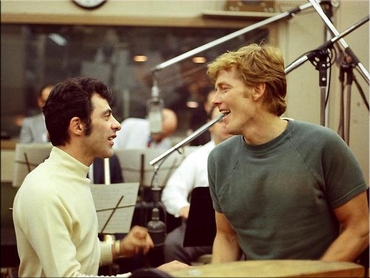 Bob Crewe, who died last week, is best known for his work with the Four Seasons, not least because in fictionalized form he turns up on stage each night in the Broadway blockbuster Jersey Boys. Kathy Shaidle dispensed with this aspect of Crewe's career in one line: "I don't care a rat's ass about the Four Seasons." Rat's-ass-wise, I'm with Kathy. Nothing against them, and, if you like "Big Boys Don't Cry" and "Sherry" and "Walk Like A Man", then you certainly owe a debt of gratitude to Mr Crewe ...
SteynPosts
In case you missed it, here's the last seven days as seen by Mark
Steyn on America

I was overseas when Obama gave his momentous Isis address, but figured I could pretty much guess how things would go. Despite being the greatest orator of the last thousand years, he's a complete bust at selling anything but himself, as comprehensively demonstrated in his first couple of years: see his rhetorical efforts on behalf of ObamaCare, or Massachusetts Senate candidate Martha Coakley, or Chicago's Olympics bid. When it comes to war, he suffers from an additional burden: before he can ...
SteynPosts
Obama on August 29th: We are not taking military action to solve the Ukrainian problem... It is not in the cards for us to see a military confrontation between Russia and the United States in this region. Keep in mind, however, that I'm about to go to a NATO conference. Ukraine is not a member of NATO, but a number of those states that are close by are. And we take our Article Five commitments to defend each other very seriously. Steyn on August 29th: If you were the Estonian government, would ...
SteynPosts

A few moments from Steyn's stint behind the Golden EIB Microphone on The Rush Limbaugh Show. Many listeners wanted to know more about Mark's forthcoming Minneapolis appearance...
SteynPosts
A few moments from Mark's guest-hosting stint on America's Number One radio show
Mark at the Movies

Eighty years ago this week, the National Socialist Party had just wrapped up its hugely successful rally at Nuremberg - the Reichsparteitag des Willens, or Rally of the Will. Unlike previous get-togethers, the 1934 rally produced a hit movie, one that cinéastes still watch with appalled fascination to this day. Its creator was a brilliant cinematographer and editor who could compose and edit anything - except, in the end, her own life. If only she'd been able to snip one problematic decade out ...
Defend Free Speech!

One of the complicating factors of the upcoming Mann vs Steyn trial of the century (for which our exclusive courtroom merchandise is the must-wear look of the season) is that, as devoted climate courtier Aaron Huertas puts it, there are a lot of hockey sticks out there. So self-conferred Nobel Laureate and Big Climate enforcer Michael E Mann is at pains to emphasize that, when you rumble with Doctor Fraudpants, you'd better have your sticks in a row. From page 13 of his most recent court pleading with regard to my co-defendants at the Competitive Enterprise Institute...
Mark's Mailbox
Another week of lively letters from SteynOnline readers
Mann vs Steyn
The Corner post that launched a lawsuit...