The Rush Limbaugh Show

I was honored to be back behind the Golden EIB Microphone today, while Rush is undergoing surgery in California. Here's a sampling of what we chewed over in the course of three hours...
SteynPosts
The Virginia Supreme Court favors Michael E Mann over the state's Freedom of Information Act
SteynPosts
Notes around the Anglosphere: ~For American readers: Rush is having surgery tomorrow and it's my privilege to return to the Golden EIB Microphone to host America's Number One radio show. Three hours of substitute-host-level Excellence in Broadcasting starts live coast to coast at 12 noon Eastern/9am Pacific. ~For Aussie readers: My cover story on freedom of expression in this week's Speccie can be read here. I'm increasingly struck by how little the cause of free speech resonates these days ...
SteynPosts

The Bureau of Land Management rules the 26th largest country on earth
SteynPosts

I wrote on Wednesday about the "First Amendment Area" in Nevada to which twerp enforcers from something called the Bureau of Land Management have attempted to confine protesters in a dispute about grazing rights. The photo at right is from the showdown between the Bundy family and the BLM, which is to Nevada as the Red Army is to Eastern Ukraine...
Mark's Mailbox
Readers weigh in on Mann vs Steyn, Brandeis vs Ayaan Hirsi Ali, Mozilla vs Brenda Eich, and the Bureau of Land Management vs the First Amendment
Steyn on America

America dishonors the victims of Major Hasan, and adds insult to grievous injuries
SteynPosts

Motorcades are for banana republics
The Hugh Hewitt Show

Mark talks to Jamie Weinstein about Brandeis and the New Hampshire Senate race
Ave atque vale

Mickey Rooney died last Sunday at the age of 93, and I didn't want the SteynOnline week to end without a word about him. Aside from anything else, and as ridiculous as it sounds, we share a musical director...
Ave atque vale

From Peaches Geldof to Paula Yates to Hughie Green back to a political family on the Canadian prairie a century ago...
Mann vs Steyn
The Corner post that launched a lawsuit...
Steyn on the World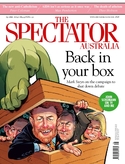 I'm back in The Spectator this week in both Australia and the United Kingdom. Down Under, as you can see, I'm the cover story; in the Mother Country, I take second billing to God and Richard Dawkins (not sure who gets top billing between them). It's an overview of recent free-speech issues, from California to Canberra:
What all the above stories have in common, whether nominally about Israel, gay marriage, climate change, Islam, or even freedom of the press, is that one side has cheerfully swapped that apocryphal Voltaire quote about disagreeing with what you say but defending to the death your right to say it for the pithier Ring Lardner line: '"Shut up," he explained.'

A generation ago, progressive opinion at least felt obliged to pay lip service to the Voltaire shtick. These days, nobody's asking you to defend anyone to the death: a mildly supportive retweet would do. But even that's further than most of those in the academy, the arts, the media are prepared to go. As Erin Ching, a student at 60-grand-a-year Swarthmore College in Pennsylvania, put it in her college newspaper the other day: 'What really bothered me is the whole idea that at a liberal arts college we need to be hearing a diversity of opinion.' Yeah, who needs that? There speaks the voice of a generation: celebrate diversity by enforcing conformity...
One Year Ago

Exactly twelve months ago, on April 15th 2013, at 3.35pm, I wrote in a short post: "There are reports of two huge blasts and multiple serious injuries at the finish of the Boston Marathon." Herewith, a few excerpts from what I wrote in the days that followed...
Steyn's Song of the Week

Six decades ago - April 12th 1954 - a chubby-faced kiss-curled man pushing 30 with a backing group named after a theory published in Synopsis Astronomia Cometicae in 1705 went into the recording studio at the Pythian Temple on West 70th Street in New York and sang a song written by a man born in the 19th century: One, two, three o'clock, four o'clock rock! Five, six, seven o'clock, eight o'clock rock! Nine, ten, eleven o'clock, twelve o'clock rock! We're gonna Rock! Around! The Clock tonight... ...
Mark at the Movies

Ten years ago this month Quentin Tarantino unveiled the second part of his Kill Bill double-bill. He wasn't making a lot of movies in those days. Kill Bill was his first picture since Jackie Brown six years earlier. I'm not the biggest fan of Tarantino, and I think he's almost incapable of engaging you in narrative drama rooted in real characters, but Kill Bill has moments that have stuck with me over the years...
Defend Free Speech!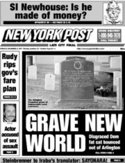 Breaking as-it-happens news about a trial that isn't happening any day soon, or any half-decade soon. Previously on Mann vs Steyn et al, National Review had filed a motion asking for yet another stay in discovery pending the appeals court's ruling on their appeal - or, indeed, the appeals court's ruling on whether they're allowed to appeal. Whatever. I'm bored by all this procedural flimflam and am anxious to proceed with discovery and go to trial, as I could have done by now in almost any functioning jurisdiction. So I filed an objection. Michael Mann eventually filed an objection, too. He also wants to proceed with discovery but only against me, not against him. A voyage of one-way discovery.
Anyway, yesterday Judge Weisberg announced his decision...
Steyn on Culture

The courage of Ayaan Hirsi Ali, and the cowardice of Brandeis University