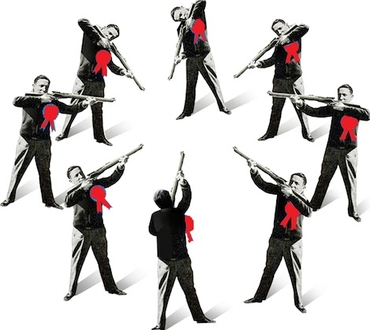 I was delighted to return today to one of my very favorite - and, indeed, favourite - radio shows, The John Oakley Show on Toronto's AM640. John and I chewed over the latest assaults on freedom of speech, including the totalitarian imposition of these fifty-shades-of-gay gender pronouns. Jeff Bookman tweeted my takeaway: You lose the argument or you win the argument, you don't ban the argument. We also discussed the state of the US election, where I said I was impressed by Trump remaining just ...
Steyn on Britain and Europe
Earlier this year, in the Munk Debate on the "refugee" crisis in Europe, I touched on the epidemic of child gang-rape on the Continent and observed that "migrant rights now trump children's rights": "Migrant rights now trump children's rights." Hold that thought: AN IRAQI asylum seeker who confessed to raping a 10-year-old boy in a swimming pool, claiming it was a "sexual emergency", has had his conviction overturned. This was a Viennese rape case that received quite a bit of coverage a few ...
Steyn on America

Just ahead of tonight's final debate (from which I shall be several thousand miles away): As I've said for years - on radio, TV and in print - for me the overriding issue in American politics is the corruption. In the Obama era, we have seen the remorseless merging of the party and the state - in the IRS, in the Justice Department and elsewhere...
Defend Free Speech!

The war on free speech across the western world: like the Charlie Hebdo killers, the Government of Australia is out to shut up cartoonists
Mark at the Movies

Hillary Clinton enjoys the support, one assumes, of 99 per cent of Hollywood liberals. Yet it wasn't that way last time she was in the White House...
Mann vs Steyn
The Corner post that launched a lawsuit...
Defend Free Speech!

I believe our headline was first coined by the Instapundit, who was kind enough to apply it to my book "A Disgrace to the Profession". But I'm glad to see, following the latest attempt to use Australia's disgraceful Section 18C to throttle freedom of speech Down Under, that The Australian's Bill Leak is introducing the concept to the Antipodes. His latest cartoon (right) features Tim Soutphommasane, the totalitarian hack who trousers a third of a million a year as Oz's "Racial Discrimination" ...
Ten Years Ago

In today's Toronto Sun, Andrew Lawton pays his own anniversary tribute to America Alone...
Steyn on Culture

Step forward, Richard Dreyfuss, star of Jaws and fan of America Alone...
Steyn on the World

Here's the passage from America Alone: The End of the World as We Know It that got me in hot water with the totalitarian hacks of Canada's "human rights" commissions...
Ten Years Ago

Ten years ago America Alone: The End of the World as We Know It hit the bookstores...