SteynPosts
In case you missed it, here's how the last seven days looked to Mark
Seasons of Steyn

To all our American readers, Happy Independence Day! We have a song for the season. Meanwhile, here's a Glorious Fourth column from 16 Fourths ago in The Daily Telegraph, in which features of life that have become far more oppressive of late were nevertheless already present, even in my beloved New Hampshire, even on the national holiday: On Thursday I was in the Province of Quebec for Canada Day. Going to Quebec for Canada Day is a bit like going to Baghdad for the Fourth of July, but I try ...
The Hugh Hewitt Show
On Thursday I kept my weekly date on The Hugh Hewitt Show. Mein host wanted to chew over foreign affairs: HUGH HEWITT: Mark Steyn, I talked a lot about Iran today with Ambassador Oren. I'm curious if you think that this President will give the Iranians whatever they want in order that he can get a deal. MARK STEYN: Yes, I think so, and I think that's certainly the way the Iranians are playing it with these last minute - and actually post-last minute - demands. They understand that the minute ...
On the Air
I started Dominion Day south of the border with the great Bill Bennett, talking, among other things, ISIS and its Hollywood production values. Hollywood applies them to guys in capes and spandex zipping through the skies and ISIS uses them to some purpose. Stories about something beat stories about nothing. We also discussed, of course, the recent Supreme Court decision. Click below to listen: Tomorrow, Thursday, I'll be on the radio with Hugh Hewitt, coast to coast at 6pm Eastern/3pm Pacific. ...
SteynPosts

Kathy Shaidle had a short but ingenious post the other day, headlined "If we're crazy, they made us that way": The same people who told us 30 years ago that "marriage is just a stupid piece of paper" now insist that it's a "human right." The same people who told us that "a flag is just a meaningless piece of material" now want certain flags banned and others raised — or else. The same people who say you can't change who you want to f*ck tell us you CAN change the bits you f*ck them with... The ...
SteynPosts

As the clash of civilizations dwindles down to the dar al Islam vs the dar al Gay, the good news is that the dar al Gay now has a national flag...
Mark at the Movies

For whatever reason, it feels a fairly muted Independence Day this Fourth of July. So I thought for our Saturday movie date a tale of American daring and ingenuity triumphing against the odds. This was the big holiday movie a score of Fourths ago, a Ron Howard blockbuster that's essentially an adaptation of a famous line: "Houston, we have a problem" - from 1995, Apollo 13: Millions of people across the planet can dimly recall watching the progress of NASA's ill-fated 1970 moonshot on TV — or, ...
Steyn's Song of the Week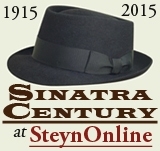 We had a Sinatra song from Canada for Dominion Day, and so we surely have to have an American Sinatra song for Independence Day. Frank sang all the familiar patriotic songs at some point or other over the years but without, it seems to me, really connecting with them: His versions of "America The Beautiful", for example, are perfectly fine, but without finding a way, as he does with his best recordings, to take the material to the next level...
Steyn on Culture

I started the day on Bill Bennett's radio show, which is always fun. Jonah Goldberg was on before me, and advanced the proposition, after the Supreme Court's almighty constitutional bender, that it wasn't so bad; conservatives who just pottered around in their own world and tended to their families could still lead lives largely unbattered by the forces of "progress". A few minutes later...
Steyn on Canada and the Commonwealth

To all my fellow sons and daughters of the Great White North, a happy and glorious Dominion Day to you. There are many things I love about my native land. It doesn't have Fannie Mae and Freddie Mac, so its housing market was not clobbered by subprime mumbo-jumbo. Its foreign policy in recent years has been sober and serious, as Israel and others appreciate. Beyond that, its political class seems less weird, or at any rate less expensive to maintain...
Mann vs Steyn
The Corner post that launched a lawsuit...