Topical Take

Bowe Bergdahl is to be charged with desertion. This is not exactly a surprising development. As I said when he was released, Bergdahl is "a deserter at best and at worst enemy collaborator". I incline to the latter view myself, but, be that as it may, there are innumerable instances throughout human history of soldiers who abandon their comrades and attempt to aid the enemy. What makes this case unique is the behavior of Bergdahl's commander-in-chief. As I wrote on June 3rd last year: ...
SteynPosts

"Death to America!" It's not just for Americans anymore: "Death to America. Death to Israel. Curse upon the Jews. Victory to Islam. Allahu Akbar," the worshipers recited en masse. Then a terrorist roaming among the mosque's patrons detonated himself... Don't you hate it when you're raining down death-curses on people hither and yon, and then some guy blows you up? In this case, the pro-Houthi Shia victims were killed by a pro-ISIS Sunni terrorist. Some 140 dead, over 350 injured. This was in ...
SteynPosts

A few notes on this first weekend of spring
The Hugh Hewitt Show
The race card, now and forever
SteynPosts Extra

The world's most lavishly funded and entirely moronic foreign ministry
SteynPosts

China gets old: A Steyn I-told-you-so moment
Mann vs Steyn
The Corner post that launched a lawsuit...
On the Air

I've just made my first appearance on BBC Radio 4 since 1997, when I returned to "Loose Ends" with my old chum Ned Sherrin to plug Broadway Babies Say Goodnight. Today's once-every-two-decades appearance was for a show hosted by a lady I admire very much, the composer Debbie Wiseman. For Same Tune, Different Song, Debbie wrote a melody and gave it to two different lyricists to put words to. One was our friend Don Black, Oscar-winning writer of "Born Free" plus more Bond lyrics than anybody else ...
Steyn on Culture

Yesterday, the Police Chief of Charlottesville, Virginia gave a remarkable press conference, the upshot of which was, as the New York Times headline put it: Police Find No Evidence Of Rape At University Of Virginia Fraternity Not only was there "no evidence" that the horrific gang rape at the frat house party took place, there was "no evidence" that the party took place. Indeed, there was "no evidence" that the man "Jackie" described as her date that night even exists. And yet last fall Rolling ...
Steyn's Song of the Week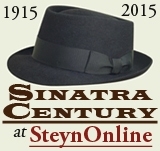 Seventy years ago, the 14th Army under the command of General Bill Slim finally liberated Mandalay and returned it to British rule. Given the popularity of this song among British military concert parties of the time, more than a few of Slim's men must have found themselves singing:
Come you back to Mandalay
Where the old flotilla lay...
Mark at the Movies

As SteynOnline's contribution to World Water Day, I thought we'd mark the 20th anniversary of a cinematic landmark - er, watermark. From 1995, Waterworld...
Steyn's Song of the Week

Where do you head after you've gone "South Of The Border"? Oh, that's easy...