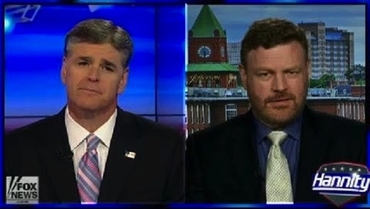 On Tuesday night Mark joined Sean Hannity live on Fox News to discuss President Obama's ridiculous characterization of Isis as the "JayVees" of jihad, and the White House's attempts to walk it back. Steyn was not impressed by the Commander-in-Chief's witless and shallow analogy: If there is a JV player on the court at the moment, if you ask Putin, if you ask the mullahs, if you ask the Chinese Politburo, if you ask ISIS, if you ask every rinky-dink jihadist on the outskirts of Benghazi who the ...
SteynPosts

While Obama golfed: Over the weekend, Tripoli Airport fell to the jihad boys. I was there some years ago, and thought it compared favorably with, say, Logan. Now it's a smoking ruin - part of the blowback from Obama's leading with his behind, or whatever he calls it. As things stand, this guy will end his presidency with a chain of failed states for al-Qaeda, Boko Haram, al-Shabaab, ISIS and the Taliban to gambol and frolic in stretching from West Africa to the Hindu Kush. But you can't see ...
Topical Take

A few days ago, James Foley was beheaded by an ISIS jihadist, apparently British by upbringing and passport, if not in his primary identity. The decapitation of an American by an outfit he'd previously dismissed as the "jayvees" of jihad was sufficiently serious for President Obama to postpone his tee time, although not to any useful effect. Aside from the fake, tinny chumminess (all "Jim" this, "Jim that, just as for Ambassador Stevens it was all "Chris" this, "Chris that") the ...
SteynPosts

Today, Wednesday, I started the day with Toronto's Number One morning man, John Oakley, at AM 640. We focused on two stories - the policing of Ferguson, Missouri, and the decapitation by ISIS of my fellow Granite Stater - James Foley of Rochester, New Hampshire, who was kidnapped while reporting on the Syrian uprising. His executioner - the man standing next to him in the picture at right - was speaking with a British accent. That's to say, he's one of thousands of citizens of western nations - ...
Steyn's Song of the Week

This month marks the 75th anniversary of one of the greatest and most enduring film musicals ever made, and one of the few to match the dramatic ambition of the best Broadway shows. The Wizard Of Oz gave us a standard song that won the Oscar that year and was potent enough to provide Eva Cassidy with a posthumous hit in the 21st century. We'll get to that next week, but for this week's Song of the Week here's one of my personal favorites from a truly marvelous score: Ding-Dong! The Witch Is ...
Mark's Mailbox
Another week of lively letters from SteynOnline readers
Mark at the Movies

We had many requests for a Robin Williams pic for our weekend movie feature, but I have to confess I was never the biggest fan of his. I always found his comedy a little tiring to watch, and his serious acting a little too self-conscious...
Mann vs Steyn
The Corner post that launched a lawsuit...