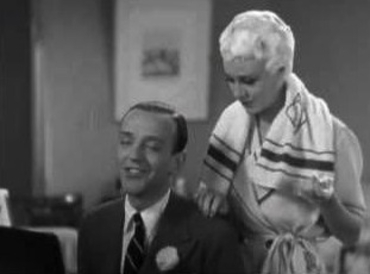 On Thursday I joined Hugh Hewitt for the 14th anniversary edition of The Hugh Hewitt Show, which he began by playing Mr and Mrs Hewitt's favorite song, "The Way You Look Tonight", as sung by Fred Astaire. I've been a weekly guest on Hugh's show for over a decade now, so as a tip of my hat to one of America's best hosts here's my take on that great Astaire song. This essay includes material from the Dorothy Fields section of Mark Steyn's American Songbook, personally autographed copies of which ...
SteynPosts
In case you missed it, here's the last seven days as seen by Mark
SteynPosts
Yesterday Hugh Hewitt marked the 14th anniversary of his radio show and the 32nd anniversary of his wedding. So we began the show by playing and discussing Mr and Mrs Hewitt's favorite song "The Way You Look Tonight", which as our-song songs go is pretty hard to beat. It's one of many Dorothy Fields numbers explored in Mark Steyn's American Songbook (personally autographed copies of which are exclusively available from the Steyn store). I would have been happy to chew over Fred Astaire and ...
On the Air

I started the day with John Oakley on Toronto's Number One morning show. We discussed Obama and the evaporation of the southern border - America's southern border, that is; on Canada's southern border, the US seems to be operating a policy that the more lax things get on the Rio Grande the more ruthlessly they make up for it on the 49th parallel. But along the way we also chewed over competing subtexts to the World Cup: a Russian Orthodox priests says the cleats are flamingly homosexual, while ...
SteynPosts

Toronto Dominion is a Canadian bank which also operates south of the border under the amusing name of "TD - America's Most Convenient Bank®". It's certainly proved remarkably convenient for Bill Clinton. TD has paid millions to the future first First Gentleman of the United States, during his wife's tenure as Secretary of State and in her ongoing role as designated President-in-Waiting. What exactly are they paying for? Speeches? He's less dull a public speaker than the average politician, or ...
Mark's Mailbox
Another week of lively letters from SteynOnline readers
Mann vs Steyn
The Corner post that launched a lawsuit...
On the Town

American TV's Uncle Walter died at a grand old age five years ago, bringing to an end the media's obsequies for Michael Jackson, who'd expired a couple of weeks earlier. But the farewells to Cronkite were an elegy for an entire industry - and to mass culture itself. This essay was first published in Maclean's: On the face of it—and on the face of them—Michael Jackson and Walter Cronkite would not appear to have much in common. Cronkite was (all together now) "the most trusted man in America"; ...
SteynPosts

Later today I'll be keeping my weekly radio date with Hugh Hewitt, live coast to coast at 6pm Eastern/3pm Pacific. We'll be talking about the evaporation of American sovereignty at the southern border and all the other hot topics. ~An interesting photograph has surfaced of returning war hero Bowe Bergdahl and one of his captors, the eponymous Haqqani hotshot Badar'udin Haqqani. Believers regard infidels as unclean - that's why at Guantanamo each new detainee's Koran is presented to him by ...
SteynPosts

Via Kathy Shaidle, I see that today is Courtney Love's 50th birthday. She's not my bag musically, but I treasure her for one brief exchange about a decade and a half ago. Circa 1998, Miss Love, lead singer of the popular beat combo Hole, was at a Democrat fundraiser in Hollywood when the party's presumptive presidential nominee, Al Gore, approached her. "I'm a really big fan," gushed the Vice-President. "Yeah, right," scoffed Courtney. "Name a song." The panicked Vice-Panderer floundered ...
SteynPosts

Texas Governor Rick Perry is being criticized for declining to greet President Obama at Austin-Bergstrom Airport tomorrow when Air Force One touches down and the bazillion-car motorcade takes off for some vital Democrat fundraisers. Perry instead would like a substantive meeting to discuss the foreign invasion currently ongoing at Texas' southern border, but Obama doesn't do substantive meetings, and in any case, as the principal facilitator of the southern invasion, any discussions between him ...