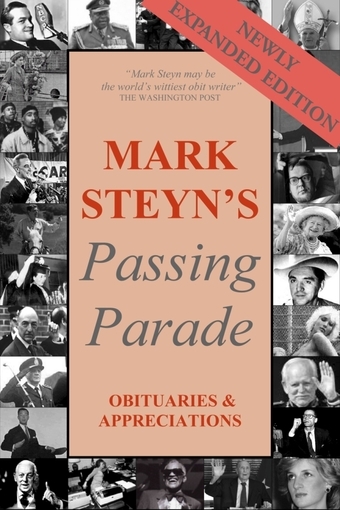 Of all the books I've written, Mark Steyn's Passing Parade may be my personal favorite, which is why I'm delighted it's out in a new expanded eBook edition with about 20 per cent new material - not just Reagan, Tupac, Prince Rainier, Pope John Paul II, Scotty from Star Trek, but now with Boris Yeltsin, Evel Knievel, Oriana Fallaci, too. You can get it in Kindle format at Amazon
in the US and worldwide (check below for UK, Indian, Brazilian and other locations); in Nook at Barnes & Noble; and in Kobo, which I gather is big in various parts of the Commonwealth, so it should be up at Indigo-Chapters in Canada momentarily.
I was on the air discussing it for much of Tuesday. Here I am on Canada's Sun News talking Reagan and Princess Di with my old comrade Ezra Levant. After the book plug, I stuck around to discuss with Ezra the latest example of the ever tighter conformity enforcement on university campuses. As our compatriot Kate McMillan likes to say: What's the opposite of diversity? University!
~On Wednesday, I'll be starting the day with Bruce and Dan on 89 WLS Chicago at 7.30am Central.
SteynPosts
Hope your Earth Day is going well. I've spent most of mine on the air, starting with Brian Kilmeade on Fox & Friends and then Steve Doocy on Kilmeade & Friends (Steve was guest-hosting on Brian's radio show. After that it was off to Fox Business for the always ebullient Stuart Varney. We talked about the new edition of Mark Steyn's Passing Parade, and Nancy Pelosi's carboon footprint, among other critical matters. You can see the video here. ~Stuart's Tweet about our discussion on global ...
Mark's Mailbox

Our weekly round-up of reader mail
SteynPosts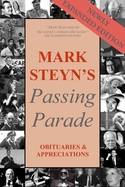 Today is the first Boston Marathon since last year's bombing. I write about the coverage in those first days here. A year on, the evasive passivity of the official observances is disturbing.
~Following the new eBook of my free-speech tome Lights Out
, I'm pleased to announce that Passing Parade is now also available digitally. Only two months ago PJ Media's Ed Driscoll demanded:
Please add Broadway Babies and Mark Steyn's Passing Parade to the Kindle titles!
Ed's wish is my half-command. As of today, you can find Passing Parade in Kindle format at Amazon
in the US and worldwide (check below for UK, Indian, Brazilian and other locations); in Nook at Barnes & Noble; and in Kobo...
On the Town

An audio special in which Mark traces the story of the only Easter standard in the American songbook
The Hugh Hewitt Show
On yesterday's pre-Easter edition of the Hugh Hewitt show, Hugh and I discussed the Democratic Party candidate of 2052, Hillary Rodham Clinton's foreign-policy "legacy", free-speech rights for showbiz celebrities, and the Virginia Supreme Court's decision to side with Michael E Mann...
SteynPosts

As American power wanes abroad, it's turned ever more fiercely upon its own citizenry
The Rush Limbaugh Show

I was honored to be back behind the Golden EIB Microphone today, while Rush is undergoing surgery in California. Here's a sampling of what we chewed over in the course of three hours...
SteynPosts
The Virginia Supreme Court favors Michael E Mann over the state's Freedom of Information Act
SteynPosts
Notes around the Anglosphere
Mann vs Steyn
The Corner post that launched a lawsuit...
Seasons of Steyn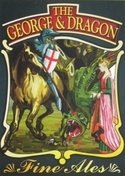 April 23rd is England's unofficial national holiday - unofficial because, under Blairite devolution, Scotland, Wales, Northern Ireland and selected Muslim neighborhoods of Greater London, Yorkshire and the Midlands are all nations, but English nationalism is a dark demon that must never be loosed upon the land. At the turn of the century, Tony Blair's ministry was gung-ho for Celtic nationalism and parliaments in Edinburgh, Belfast and Cardiff, but for England all the government was prepared to ...
Seasons of Steyn

Happy Earth Day! April 22nd is the day when President Obama and the rest of the gang demonstrate their commitment to saving the planet by flying in to plant a tree somewhere. And say what you like but, when you're looking for fellows who know how to dig a huge hole, Obama and Harry Reid are pretty much at the top of the list. My township in New Hampshire is 90 per cent forested, but you can never have too many trees, so on Earth Day I always like to plant a couple more, get the tree cover in my ...
Steyn's Song of the Week

One of the biggest pop standards of the 20th century celebrates its 90th birthday this month. Exactly nine decades ago - April 21st 1924 - a new musical comedy opened in Chicago on its pre-Broadway tour. The plot was the usual fluff - three couples in Atlantic City, complications ensue, etc. It should have been a breeze, but it wasn't going well. The producer, having fired the director, had decided to direct it himself. His name was Harry Frazee. And, if you're not a camp old musical-comedy buff but that name nevertheless rings a bell, that's because, when he wasn't firing directors, he was selling baseball players: Harry Frazee was the Boston Red Sox owner who sold Babe Ruth to the Yankees and started that whole "Curse of the Bambino" thing, about which more later...
Defend Free Speech!
As part of its just launched free-speech campaign, Spiked! over in London has a big piece on Brandis. That's not a misspelling for Brandeis, the supposed scholarly institution that reminds us that, as Kate McMillan likes to say, the opposite of diversity is university. No, Brandis is George Brandis, QC, the Attorney-General of Australia. Mr Brandis introduced me when I spoke in Brisbane in Queensland two years ago, and I was very touched not by anything he said about me and my free-speech ...
Seasons of Steyn

At Easter, I pine for a Kinder, gentler America
Ten Years Ago

Mel Gibson's blockbuster marks its tenth anniversary
Defend Free Speech!

Were climate mullah Michael E Mann to prevail in the upcoming Mann vs Steyn trial of the century at the DC Superior Court, it would be the biggest setback for the First Amendment in the half-century since New York Times vs Sullivan...