On the Air
This weekend Mark will be joining John Stossel for a Fox News documentary special "Censored in America". Here's a sneak preview:
The Rush Limbaugh Show

Rush continued to be afflicted by the lurgy today, so I was honored to fill in behind the Golden EIB Microphone. All being well, he'll be back tomorrow. You can find a few moments from today's show here. I defended Ben Carson, who I thought gave the only practical response to the latest school shooting, advising people to be prepared to rush the shooter. For this he's been pilloried as "insensitive", etc. In fact, in these situations around the world, how you act in the first few moments ...
The Rush Limbaugh Show

I had a grand old time guest-hosting for an ailing Rush today. Just a cold, so he should be back fighting fit by Friday, but I will be filling in again tomorrow for another three hours of cheap-foreign-labor Excellence In Broadcasting. You can find a few moments from today's show here. I took as the over-arching theme Rush's riff from yesterday that "western civilization is erasing itself". But, within that big picture stuff, we did have time for some low politics, including the terrible ...
Steyn on the Oakley Show
It's a busy radio day for me today. I'll be on the air south of the border guest-hosting for a cold-afflicted Rush live at 12 midday Eastern/9am Pacific, but I started the morning with Toronto's Number One morning man John Oakley. We discussed certain aspects of what I regard as poseur politics, where there's barely any pretense that anything you're agitating about will make any difference in the real world. First of all, we chewed over renewed calls for more "gun control" north and south, and ...
Hannity on Fox News

On Wednesday morning I'll be starting the day with Toronto's Number One morning man John Oakley, live on AM640 at 8.30am Eastern. Later I'll be south of the border for three hours of substitute-host-level Excellence In Broadcasting, guest-hosting for a fluey Rush on America's Number One radio show, coast to coast at 12 noon Eastern/9am Pacific. ~On Tuesday night I joined Sean Hannity on Fox News to check the state of the Republican race, and a certain structural advantage the Democrats have. ...
SteynPosts

Tonight, Tuesday, I'll be joining Sean Hannity coast to coast on Fox News at 10pm Eastern/7pm Pacific. If you are within range of a receiving apparatus, I hope you'll dial us up. Tomorrow morning I'll be north of the border with Toronto's Number One morning man John Oakley, live on AM640 at 8.30am Eastern. Three weeks ago, I was on air with Sean during the second Republican debate and suggested to him as follows: As far as Carly Fiorina "winning" the debate, that may be true - in debate terms. ...
Happy Warrior
The fruitless search for motivation
Request of the Week

The SteynOnline Request of the Week was a regular midweek feature at this site for 11 years until the beginning of 2012, since when it's been on hiatus. However, we do still get requests. For example, Timothy Redmond: Mark, Long time reader, first time writer: I love reading your work. I just wanted to say that I'm a great lover of history, and when you dropped the name today of Count Bernadotte, so many things came together. I thought, Bernadotte was the name of a French General under ...
Defend Free Speech!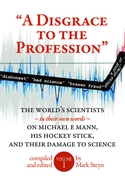 That headline comes from Instapundit's characterization of my new book, and it may be the pithiest summation, although this one from Laura Rosen Cohen is also among my favorites:
It's not punching back twice as hard, or even thrice as hard.

It's punching back something like eleventy bazillion gazillion times as hard.

It's probably the longest, funniest, most savvily organized and meticulous "screw you" in the history of Western literature. It's probably a new genre. I don't know of any precedent for a literary vehicle of this kind.
If you saw Ted Cruz with that know-nothing Sierra Club guy, you'll get a glimpse of how in the run-up to the Paris talks the Big Climate alarmists are going to do nothing except drone their three or four talking points. As it happens, the Sierra honcho's line - about "the 97 per cent consensus" on "climate change" - is demolished right at the end of my new book. This is the story of the most famous "science" graph of the 21st century and how its malign influence got propelled onwards and upwards - to the IPCC, Al Gore's Oscar-winning crockumentary, every western government, every schoolhouse in the developed world, even to the Vatican. It's a hell of a story...
Steyn on Culture

A thought for the day from my bestselling book After America: According to Mushtaq Yufzai, the Taliban have a saying: 'Americans have all the watches, but we've got all the time.' Cute. If it's not a Taliban proverb, it would make an excellent country song. It certainly distills the essence of the 'clash of civilizations': Islam is playing for tomorrow, whereas much of the west has, by any traditional indicator, given up on the future. Time marches on. A final word from Malmö, where, as I ...
Steyn's Song of the Week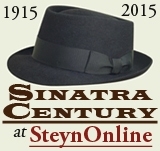 Sinatra in London with a classic British ballad...
Mark at the Movies

Just ahead of Spectre, a terrific Bond debut
Defend Free Speech!

The struggle for liberty - then and now
Mann vs Steyn
The Corner post that launched a lawsuit...