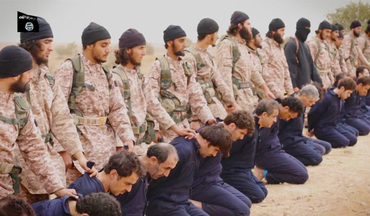 In a few hours' time, the President of the United States will apparently do to his oath of office what the Islamic State does to its captives. As I said to Hugh Hewitt the other day, even a constitution of meticulously constructed checks and balances requires a certain seemliness of its political class. This chief executive is brazen in his lawlessness, and ever more so. And he has calculated that those who object lack the stomach to do anything about it. We shall see. However, I would like ...
SteynPosts

One of my favorite sections in The [Un]documented Mark Steyn (which I see is one of Politico's bestsellers this week) is entitled "Last Laughs", and deals with the ever more openly totalitarian ease with which everyone who matters in western society - from politicians to "educators" - is happy to ban opinions, attitudes, even jokes, all in the cause of regulating the new utopia. The more officially "tolerant" we become, the more intolerant we must be in enforcing it. Older lefties can still ...
The [Un]documented Mark Steyn

Out and about promoting my new book The [Un]documented Mark Steyn, I had a jolly time on "Louder With Crowder" - hosted by Steven Crowder, with whom I appeared on stage in Chicago recently. Mr Crowder was born in Michigan, but grew up in Montreal, so part of our conversation dwelt on the psychologically complicated relationship between Canadians and the United States. We also discussed the chapter in my book on coffee-house culture, and I said a few words about tea as well. You can hear the ...
The Hugh Hewitt Show

On my regular radio date with Hugh Hewitt, we discussed much of the current political scene, including the President's threat of unilateral amnesty for millions of illegal immigrants: HUGH HEWITT: Are you surprised that the President is going to jam down the legalization of four and a half million Americans via a stroke of his pen? MARK STEYN: No, I'm not. I think a lack of seemliness has characterized this President's attitude to this office, and to the Constitution since he took office. You ...
SteynPosts

The Blaze's Benjamin Weingarten interviews Mark about his new book The [Un]documented Mark Steyn
Mark's Mailbox
Listeners weigh in on Steyn's recording of Ted Nugent's "Cat Scratch Fever"
SteynPosts

Kate McMillan contrasts the fawning media coverage from a couple of years back about Obama's brilliant use of social media with the revelation that over 60 per cent of Obamacare Facebook comments come from just 100 users. She adds: It doesn't matter if you "win" the social media battle. What matters is that you convince an incurious, supportive media that you've won. That's why they spend so much effort on faking it. This is true, and an important point. Almost every aspect of Obama's "cool" - ...
Steyn's Song of the Week

Sixty years ago - in November 1954 - Rosemary Clooney had the Number One record in both America and Britain. Three decades later, it was a UK Number One all over again - providing a late-career windfall for a cowboy actor turned radio evangelist. This Song of the Week is adapted from Mark Steyn's Passing Parade, which is available in a personally autographed print edition direct from SteynOnline, or in new expanded eBook format from Amazon worldwide and the other outlets listed at the foot of ...
Mark at the Movies

Christopher Nolan gives progressives the agrarian utopia they've always wanted
Defend Free Speech!

A curiously familiar character turns up in the latest multiplex blockbuster
Mann vs Steyn
The Corner post that launched a lawsuit...