The Hugh Hewitt Show

(Transcript) Here's the transcript from Mark's recent appearance on The Hugh Hewitt Show with guest host host Arthur Brooks
Making Spirits Bright

We've everything for the Steyn fan in your family this Christmas, from "A Marshmallow World" to the post-American world to a Steynamite night live on stage. Don't forget Mark & Jessica's Christmas album with almost an hour of great seasonal music - and it's an even better bargain when you buy it with The Mark Steyn Christmas Show, two hours of live music and great conversation with Martha Stewart, Tim Rice and Mark's other guests.
And that's just the start! We've the paperback edition of Steyn's latest international bestseller After America, and all Mark's other books. We've our stylish Viva Steyn! shirts for men and women, and lots of other SteynOnline tees, sweats and golf shirts. We've the SteynOnline iPhone cases, plus mugs and other gifts. And, from Mark's cover version of Mariah Carey to his very own seasonal song, all the music your Christmas party needs, via CD or digital download.
And don't forget, there are savings galore if you buy Mark's books and other gifts as part of our exclusive SteynOnline holiday specials!
Plus: If you live in the south-eastern United States, give the gift of Mark live and in person this Christmas season. Early in the New Year, he'll be making a Steynamite snowbird tour across Florida, from Jacksonville to St Petersburg to Miami. Tickets for all shows are on sale right now, and they're a perfect gift for Steyn fans who know him from print and broadcasting but have never seen him live on stage. More details here.
On The Air

(Audio) Here's the audio from Mark's recent appearance on The Dennis Miller Show
In the Corner
A year-end appeal from National Review
On The Air
(Audio) Here's the podcast from Michael Graham's show today. Mark joins at the top of the second hour.
Steyn Live!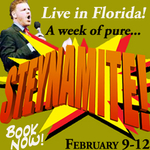 Join Mark for a week of pure Steynamite in the Sunshine State as he flies south for a snowbird tour across Florida this February. Tickets go on sale this morning - Wednesday December 4th - and they make a great Christmas gift for the Steyn fan in your family.
If you only know Mark from print, TV and radio, you're in for a treat: There's nothing quite like joining Steyn for an evening of "the usual blend of comedy and terror". "At one point, I just lost it. I was laughing so hard, I couldn't breathe," said Catherine Sims, after seeing Mark at Hillsdale College. "The best night of my entire life," declared satisfied customer M Craig Williams after catching Steynamite in Toronto.
This is Mark's first statewide tour of Florida, and, as with last year's sell-out tour of Australia, you won't want to leave it too late to book seats. Tickets are available direct from the theatres:
February 9th - Jacksonville: Symphony Hall at the Times Union Center for the Performing Arts
box office: (904) 633-6110
February 10th - St Petersburg: The Mahaffey Theatre
box office: (727) 893-7832 or (800) 874-9020
February 11th - Ft Pierce: The Sunrise Theatre
box office: (772) 461-4775
February 12th - Ft Myers: The Barbara Mann Performing Arts Hall
box office: (239) 481-4849 or (800) 440-7469
February 13th - Miami: The Olympia Theatre at Gusman Center
box office: (305) 372-0925
See you in the Sunshine State for Steynamite in Florida!
Mann vs Steyn
The Corner post that launched a lawsuit...
In the Corner
Friends with incendiary benefits
In the Corner
The gaping nullity of Annie Kuster
In the Corner
My Congresswoman attempts to take a question
Steyn's Song of the Week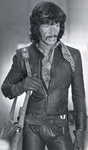 If you had to pin a precise date to the dawn of the Golden Age of American Christmas Songs, it would probably be December 1942. Irving Berlin had written "White Christmas" a couple of years earlier, and was reasonably confident about it. But, as canny as he was, he didn't foresee how the song would be transformed by a single event: Pearl Harbor. Twelve months after the attack, American servicemen were far away in the south Pacific and contemplating their first Christmas at war, under glorious tropical skies that only made home seem even more distant. "White Christmas" isn't a song about snow, it's a song about home. And Berlin wasn't the only songwriter to understand there was a huge audience for that at a time when most families had at least one empty chair round the Christmas table...
In the Corner
Schoolboy suspended for bringing imaginary weapon to school
In the Corner
The last Jew in Afghanistan heads for the exit
In the Corner
Obamacare goes phishing
Steyn on America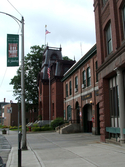 One consequence of the botched launch of Obamacare is that it has, judging from his plummeting numbers with "Millennials," diminished Barack Obama's cool. It's not merely that the website isn't state-of-the-art but that the art it's flailing to be state of is that of the mid-20th-century social program. The emperor has hipster garb, but underneath he's just another Commissar Squaresville...
Happy Warrior

For much of last year, a standard trope of President Obama's speechwriters was that there were certain things only government could do. "That's how we built this country — together," he declared. "We constructed railroads and highways, the Hoover Dam and the Golden Gate Bridge. We did those things together." As some of us pointed out, for the cost of Obama's 2009 stimulus bill alone, you could have built 1,567 Golden Gate Bridges...