The [Un]documented Mark Steyn
Mark was up bright and early for morning radio today. Click here to listen to him on the air with Pat Campbell on KFAQ in Tulsa. This afternoon, he'll be with John Gibson on Fox Radio, and a couple of long-distance hits to Sky News in London and the great Alan Jones in Sydney. Later, he'll check in with Mark Elfstrand in Chicago, Hugh Hewitt, Lars Larson and Larry Elder, before rounding out the day on TV with Ezra Levant north of the border and Megyn Kelly south of the border. See our On The ...
On the Air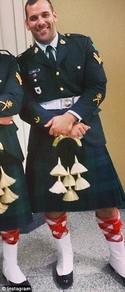 The man shot dead by the Canadian Parliament's Serjeant-at-Arms has been named as Michael Zehaf-Bibeau, a man born in Quebec as Michael Joseph Hall and reported to be a "revert" to Islam. He killed Corporal Nathan Cirillo of the Argyll & Sutherland Highlanders (the Princess Louise's).
I spoke about this latest murderous assault to Neil Cavuto, who came to me shortly after the President of the United States had given his response. Mine was somewhat different. You can see the video here.
SteynPosts

Day Two of The [Un]documented Mark Steyn's launch week saw my Monday soundbite about culture trumping politics spread faster than Ebola. Dana Loesch was asked about it on Fox & Friends, and later The Five devoted a segment to it, and then returned to the subject later in the hour when they heard I was in the building. (I was, but I was talking showtunes with Bill Hemmer.)
During the day, I also swung by Dana's radio show, Janet Mefferd's, and The Wilkow Majority. I also joined Stuart Varney on the telly for an hour of good company and lively discussion: Here I am with Lou Dobbs talking about the midterm elections and the death of Total's CEO in a plane crash on a Russian runway, and with Judge Napolitano talking about the government workers sitting at home on "paid leave".
The [Un]documented Mark Steyn

Today, Tuesday, is the launch day for The [Un]documented Mark Steyn in my delightfully deranged Dominion of Canada. If you're passing a newsstand from Vancouver to Gander, "Apocalypse STEYN" is plastered across the masthead on the front page of today's National Post, and inside you'll find a lengthy excerpt: A decade or so back, early in the 2004 presidential election season, a publisher took me to lunch and pitched me a book. She wanted me to write a John Kerry election diary. Easy gig. All I ...
SteynPosts

Happy Trafalgar Day to my Commonwealth cousins. It's not as big as it used to be, but it commemorates a decisive battle that determined the 19th century would belong to England not France. It therefore marks the dawn of the two centuries of Anglo-American dominance that, alas, now seems to be sputtering to an ignominious end. This year Trafalgar Day is also, if you'll forgive an opportunistic appropriation, Day Two of the launch week for my new book, The [Un]documented Mark Steyn. The book's ...
SteynPosts

Always fun to start the day with Fox & Friends. This morning I was up bright and early for interviews re my new book, The [Un]documented Mark Steyn. Brian Kilmeade wanted to talk about the excerpt that appeared in The New York Post, arguing that politics trumps culture. Here's what I said to Brian: "Effective conservative leaders, [Ronald] Reagan and [Margaret] Thatcher, take the two most obvious examples, move the center towards them," he said. "Mrs. Thatcher had a great line. Before you can ...
The [Un]documented Mark Steyn
The [Un]documented Mark Steyn lands in bookstores across the US and Canada today and I'll be out and about plugging it all week. You can catch me live on Fox & Friends just after 8am Eastern/5am Pacific this morning, and on the radio with Sean Hannity coast to coast at 3pm Eastern. I'll be checking in with Hugh Hewitt nationwide for a one-hour special at 6pm Eastern. Full details at right.
Hugh gives the book "five stars for funny plus despair-inducing". I wouldn't say there's that much despair, but there's certainly plenty of funny. [Un]documented is a grand cavalcade of my writing from the last couple of decades or so, from publications around the world - America, Canada, Britain and beyond - plus some favorite riffs from my guest-hosting stints for Rush Limbaugh and even from my stage appearances. It deals with all the big topics - like Islam - but also all the small stuff - like Kinder Eggs - that help illuminate the big picture. The New York Post has a generous excerpt, which they introduce as follows:
Though his new collection of essays, "The Undocumented Mark Steyn: Don't Say You Weren't Warned" (Regnery), recounts many of the biggest political events of recent history, bestselling author Steyn says that's not the real battleground...
The Hugh Hewitt Show
After a lengthy sojourn overseas, I came back to The Hugh Hewitt Show to find that Hugh had decided to celebrate my return to his show by taking the day off. So Mark Larson guest-hosted and was kind enough to put in a plug for my new book...
SteynPosts

Thomas Frieden has now got his Protocol Ali routine down pat: According to him, you can't get Ebola on a bus or a plane, you can only give it. Good to know. Thanks, Doc ...
Mark's Mailbox
Another week of lively letters from SteynOnline readers
Mann vs Steyn
The Corner post that launched a lawsuit...
SteynPosts

On Wednesday morning, shortly before 10am, Corporal Nathan Cirillo of the Argyll & Sutherland Highlanders was murdered at Canada's National War Memorial in Ottawa. The killer was a recent Muslim convert, as was the killer of another Canadian soldier in St Jean-sur-Richelieu on Monday, and the killers of Drummer Lee Rigby in Woolwich in South London. In a detail almost too absurd, the Ottawa jihadist turned out to be the son of Susan Bibeau, the Deputy Chairperson of the Immigration Division of ...
Steyn on Canada and the Commonwealth

A soldier was shot dead at the National War Memorial in Ottawa this morning, following the fatal hit-and-run attack on two soldiers in St Jean-sur-Richelieu in Quebec on Monday. That shooter or possibly another shooter then fled the short distance to Parliament, where more shots were fired. Mark spoke about the ongoing attack on the Canadian capital within the hour with Shannon Bream and Jon Scott on Fox News. You can see the video here. ~We're now getting reports that the attackers were in ...
The [Un]documented Mark Steyn

As part of my book tour for The [Un]documented Mark Steyn, I checked in with Sean Hannity on Fox News last night. It was an all-star edition - Ann Coulter, Mark Levin, Dana Loesch, Sarah Palin - so I was honored to be among their number: Steyn was on "Hannity" to explain, telling Sean that a lot of people don't want to think about unpleasant issues – like Islam or massive debt. "Liberals are very good at giving them a kind of cute slogan that says, 'This slogan will get you through.' […] You ...
Ave atque vale

One of the odder episodes recounted in my new book The [Un]documented Mark Steyn is my dinner at Buckingham Palace on the eve of the referendum on the Australian monarchy. A man whose political fortunes helped shape the republican movement died today at the age of 98. Gough Whitlam was a controversial Aussie Prime Minister who was even more controversially transformed into an ex-Prime Minister. In 1975 - on Remembrance Day of all days - he was fired by the Governor-General, Sir John Kerr. By ...
Steyn's Song of the Week

Mark is en route to New York to start a week of media appearances to launch his new book, The [Un]documented Mark Steyn. You can find full details in our "On The Air" box at right. Hugh Hewitt, who'll be interviewing Mark on Monday, says: "Moon River and Me" @MarkSteynOnline '09 essay on Johnny Mercer alone worth the price of book Well, that's very kind of Hugh. So, to mark the book's publication tomorrow, here's a little bit more of Steyn on "Moon River" and him. Five years ago, Mark presented ...
Mark at the Movies

Now that Ebola has been loosed upon the land, I thought it would be jolly to have a killer-virus picture for our Saturday movie date. It seems as likely as any a way for the world to end, probably in a fortnight or so. Perhaps that's why recent remakes of franchises once based on more apocalyptic nuclear and space-alien scenarios now root their origins in viral pandemics - see the end of The Rise Of The Planet Of The Apes or the ghastly Nicole Kidman take on Invasion Of The Body Snatchers. I ...
SteynPosts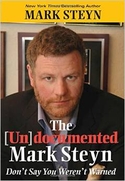 They've found a cure for Ebola! Well, okay, not a cure, but a palliative. Quoth the Instapundit:
If there's a major epidemic, you might be better off locking yourself in a room with a bunch of pedialyte.

But also keep a copy of Mark Steyn's brand-new book, The [Un]documented Mark Steyn, so that you can at least die laughing.
-just in case you needed a public-health rationale to buy the book.
The [Un]documented Mark Steyn is released in America and Canada on Monday, so I'll be hitting the ol' promotional trail pretty extensively in the days ahead:
~On Sunday, there'll be an excerpt of the book in The New York Post.
~On Monday, I'll be launching the book in the US with Sean Hannity on the radio.
Defend Free Speech!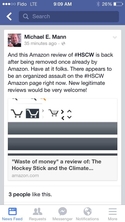 Michael E Mann, inventor of the global-warming "hockey stick" and self-garlanded Nobel Laureate, is a public figure. That is an important legal distinction in his interminable defamation suit against me, but it is also true in a broader sense.
Not every scientist or professor is a public figure, but a scientist who writes celebrity columns for The Huffington Post and The Guardian, and appears in campaign commercials for powerful politicians, and stars in a big-budget James Cameron telly series with Matt Damon and Jessica Alba, and writes a book not about science per se but about an epic global struggle for truth and justice with him as the embattled hero can hardly claim he wants to be left alone with his Bunsen burners.
So Dr Mann is a public figure.
The problem - both for his lawsuit and for his long-term mental health - is that he's temperamentally unsuited to be one...