The [Un]documented Mark Steyn

I'm in Chicago this weekend - actually Schaumburg, for the municipally pedantic - with Sean Hannity, Dana Loesch, Ed Klein, Bobby Jindal, Big John & Amy, Steven Crowder et al for the Freedom Summit. I'll be on stage with Big John this afternoon, and afterwards signing copies of my brand new book, The [Un]documented Mark Steyn. Book-promoting duties had me up bright and early this morning to take a ride downtown for Fox & Friends, where Tucker Carlson quizzed me about the President's curiously ...
On the Air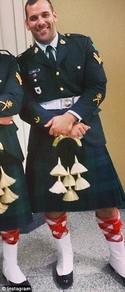 The man shot dead by the Canadian Parliament's Serjeant-at-Arms has been named as Michael Zehaf-Bibeau, a man born in Quebec as Michael Joseph Hall and reported to be a "revert" to Islam. He killed Corporal Nathan Cirillo of the Argyll & Sutherland Highlanders (the Princess Louise's).
I spoke about this latest murderous assault to Neil Cavuto, who came to me shortly after the President of the United States had given his response. Mine was somewhat different. You can see the video here.
The [Un]documented Mark Steyn

As part of my book tour for The [Un]documented Mark Steyn, I checked in with Sean Hannity on Fox News last night. It was an all-star edition - Ann Coulter, Mark Levin, Dana Loesch, Sarah Palin - so I was honored to be among their number: Steyn was on "Hannity" to explain, telling Sean that a lot of people don't want to think about unpleasant issues – like Islam or massive debt. "Liberals are very good at giving them a kind of cute slogan that says, 'This slogan will get you through.' […] You ...
SteynPosts

Day Two of The [Un]documented Mark Steyn's launch week saw my Monday soundbite about culture trumping politics spread faster than Ebola. Dana Loesch was asked about it on Fox & Friends, and later The Five devoted a segment to it, and then returned to the subject later in the hour when they heard I was in the building. (I was, but I was talking showtunes with Bill Hemmer.)
During the day, I also swung by Dana's radio show, Janet Mefferd's, and The Wilkow Majority. I also joined Stuart Varney on the telly for an hour of good company and lively discussion: Here I am with Lou Dobbs talking about the midterm elections and the death of Total's CEO in a plane crash on a Russian runway, and with Judge Napolitano talking about the government workers sitting at home on "paid leave".
The [Un]documented Mark Steyn

Today, Tuesday, is the launch day for The [Un]documented Mark Steyn in my delightfully deranged Dominion of Canada. If you're passing a newsstand from Vancouver to Gander, "Apocalypse STEYN" is plastered across the masthead on the front page of today's National Post, and inside you'll find a lengthy excerpt...
SteynPosts

Happy Trafalgar Day to my Commonwealth cousins. It's not as big as it used to be, but it commemorates a decisive battle that determined the 19th century would belong to England not France. It therefore marks the dawn of the two centuries of Anglo-American dominance that, alas, now seems to be sputtering to an ignominious end.
This year Trafalgar Day is also, if you'll forgive an opportunistic appropriation, Day Two of the launch week for my new book, The [Un]documented Mark Steyn...
SteynPosts

Always fun to start the day with Fox & Friends. This morning I was up bright and early for interviews re my new book, The [Un]documented Mark Steyn...
The [Un]documented Mark Steyn
The [Un]documented Mark Steyn lands in bookstores across the US and Canada today and I'll be out and about plugging it all week. You can catch me live on Fox & Friends just after 8am Eastern/5am Pacific this morning, and on the radio with Sean Hannity coast to coast at 3pm Eastern. I'll be checking in with Hugh Hewitt nationwide for a one-hour special at 6pm Eastern. Full details at right.
Hugh gives the book "five stars for funny plus despair-inducing". I wouldn't say there's that much despair, but there's certainly plenty of funny...
Mark's Mailbox
Another week of lively letters from SteynOnline readers
Mann vs Steyn
The Corner post that launched a lawsuit...
The [Un]documented Mark Steyn

The guy who took a hatchet to a New York policeman was apparently a "lone wolf", just like the guy who took a double-barreled shotgun to a Canadian soldier was a "lone-wolf". Earlier today, I swung by Varney & Co on Fox Business to discuss the umpteenth member of Local 473 of the Amalgamated Union of Lone Wolves: "This term 'lone wolf' is a cop-out…the idea that they somehow have to have a membership card in Islamic State or in al Qaeda for it to be official, fully-credentialed terror, like ...
SteynPosts

I said yesterday that I got angrier about the events in Ottawa as the day went on. My anger continued today. As I told Alan Jones on 2GB in Sydney, apropos Muslim "reverts" who want to engage in what the Premier of Quebec calls "spontaneous acts of extremism", I'm tired of being told that we have to change to accommodate them. They are the ones who have to change, or have change forced upon them. And, rather than confiscating passports and preventing these guys from leaving to fight for ISIS, I think we should wait till they get there to cancel their passports: If they prefer to be citizens of Headhackistan, so be it. But, if they attempt to return to Canada (or America, Britain, Australia, Europe), they should be charged with treason.
Here's my full interview with Alan Jones. I look forward to seeing Alan in studio when I'm Down Under in a couple of months...
The [Un]documented Mark Steyn

Earlier today, I was on Glenn Beck's show to promote The [Un]documented Mark Steyn, and, as he always is, Glenn was very kind and generous. I didn't have much I can offer in return, but I did say I'd do a duet of Glenn's all-inclusive holiday anthem "Have a Ramahanakwanzmas" with Tony Bennett. Glenn tends to lead the conversation in unexpected directions. Thus, we fell to talking about some correspondence between me and JRR Tolkien back when I was a wee slip of a lad: GLENN: Do you still have ...
The [Un]documented Mark Steyn
Mark was up bright and early for morning radio today. Click here to listen to him on the air with Pat Campbell on KFAQ in Tulsa. This afternoon, he'll be with John Gibson on Fox Radio, and a couple of long-distance hits to Sky News in London and the great Alan Jones in Sydney. Later, he'll check in with Mark Elfstrand in Chicago, Hugh Hewitt, Lars Larson and Larry Elder, before rounding out the day on TV with Ezra Levant north of the border and Megyn Kelly south of the border. See our On The ...
SteynPosts

On Wednesday morning, shortly before 10am, Corporal Nathan Cirillo of the Argyll & Sutherland Highlanders was murdered at Canada's National War Memorial in Ottawa. The killer was a recent Muslim convert, as was the killer of another Canadian soldier in St Jean-sur-Richelieu on Monday, and the killers of Drummer Lee Rigby in Woolwich in South London. In a detail almost too absurd, the Ottawa jihadist turned out to be the son of Susan Bibeau, the Deputy Chairperson of the Immigration Division of ...
Steyn on Canada and the Commonwealth

A soldier was shot dead at the National War Memorial in Ottawa this morning, following the fatal hit-and-run attack on two soldiers in St Jean-sur-Richelieu in Quebec on Monday. That shooter or possibly another shooter then fled the short distance to Parliament, where more shots were fired. Mark spoke about the ongoing attack on the Canadian capital within the hour with Shannon Bream and Jon Scott on Fox News. You can see the video here. ~We're now getting reports that the attackers were in ...
Ave atque vale

One of the odder episodes recounted in my new book The [Un]documented Mark Steyn is my dinner at Buckingham Palace on the eve of the referendum on the Australian monarchy. A man whose political fortunes helped shape the republican movement died today at the age of 98. Gough Whitlam was a controversial Aussie Prime Minister who was even more controversially transformed into an ex-Prime Minister. In 1975 - on Remembrance Day of all days - he was fired by the Governor-General, Sir John Kerr. By ...
Steyn's Song of the Week

A musical moment from The [Un]documented Mark Steyn