Steyn's Song of the Week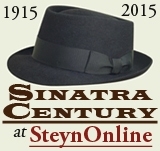 We've been celebrating a century of Sinatra songs twice a week since the beginning of the year, but as we head toward Frank's 100th birthday proper on December 12th we're going to step it up to a Sinatra song of the day. If you caught the Chairman on just about any stop on his World Tour for Children in 1962, this was the very first song you heard:
So you met someone who set you back on your heels
Goody Goody!
So you met someone and now you know how it feels
Goody Goody...
On the Air
This afternoon Mark joined his old pal and piano-playing imam Andrew Lawton on AM980 in London, Ontario to talk about the big climate conference in Paris plus other aspects of the geopolitical scene. Click below to listen: ~As for that cat album of Mark's that Andrew was kind enough to mention, it's available from Amazon via CD or digital download - and also from iTunes and CD Baby. ...
SteynPosts

Me and my cat Marvin's new album - Feline Groovy - is officially released this Monday morning. Or, as Marvin puts it, we're finally out of the cat flap and into the wide world. It's the only cat album you'll ever need, and the purrfect gift for the cat lover in your family this Christmas.
If you find all this CD stuff a bit squaresville, well, with the release date, all the tracks are now live and ready for immediate download and instant gratification at iTunes, CD Baby, Amazon US, Amazon UK, and even Amazon France, where there seems to be a modest demand for it. Now that all the individual songs are digitally available, I think the breakout track is likely to be "She Only Talks That Way To The Cat". Lot of truth in that. (Although "The Cat Came Back" seems to be selling best at iTunes...)
SteynPosts

An incendiary round-up for our Saturday SteynPosts: The jihad boys have it all over the rest of us when it comes to social media, but once in a while it all goes awry. A fighter with Ajnad al-Sham - which, as I'm sure you all know, is one faction of the so-called "Army of Conquest" alliance in Syria - was making a promotional video to upload to AllahuTube when Assad dropped a bomb on him: It would be a more heartening story if the French or a US drone were able to do this to ISIS, but we don't ...
The Rush Limbaugh Show
Mark was honored to guest-host for Rush during Open Line Black Friday on America's Number One radio show. You can find a few moments from the broadcast here: Obama has issued a worldwide travel advisory, telling everyone to shelter in place. Remember the way it was in the 2012 campaign? Obama and Biden told us the terrorists were on the run, that they had them contained. Well, they've run everywhere, and Obama has contained them to the rest of the world. That's how brilliant Obama is. He also ...
Seasons of Steyn

Happy Thanksgiving to all our American readers. Here are a few Thanksgiving thoughts from me over the years...
Mann vs Steyn
The Corner post that launched a lawsuit...
On the Air
Today Mark started the day with Michael Graham on the radio in Georgia, discussing Obama's characterization of the Paris climate conference as the most "powerful rebuke" possible to ISIS. Click below to listen: Later Mark checked in with Brian Lilley at CFRA Ottawa for more climate talk, leavened with a bit of cat album promotion. You can hear Brian's full interview with Mark here. Click the one marked "It being Tuesday..." As for the album, Feline Groovy was officially released and we're ...
SteynPosts

My eye was caught by this headline from Agence France-Presse: "Belgian Scheme Tries To Nip Radicalisation In The Bud." Put aside the fact that "radicalization" is itself a weaselly equivocation, and that in Molenbeek it's way past being "in the bud", given that the suburb's residents have played a role in the Paris slaughter, the Jewish Museum murders, the Madrid train bombings, etc, etc. But, as I say, put all that aside and take the "Belgian scheme" at face value: Molenbeek (Belgium) (AFP) - ...
Steyn's Song of the Week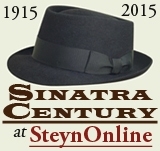 One of the more heartening musical trends of recent years is the habit of young standards singers doing ancient rock songs in the American Songbook style. The rock fans don't always take it well: I seem to recall John Pizzarelli's first jazzy album of Beatles songs was reviewed under the headline "Abbey Roadkill".
Nevertheless, in this as in so many other things, Frank Sinatra got there first...
Mark at the Movies

An audio special from the Steyn archives, as Mark and the late Celeste Holm discuss Sinatra, Crosby and a classic Cole Porter score
Seasons of Steyn

I'd like to think that at least some of the folks trampling li'l ol' ladies into the dust at shopping malls this Black Friday will be stampeding for my new cat album...
Steyn's Song of the Week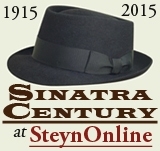 On September 19th 1979 in Los Angeles, it fell to Vinnie Falcone to conduct what would become one of the biggest Sinatra recordings of all time:
Start spreading the news...
Defend Free Speech!

On this Thanksgiving eve, I am thankful for many things, but the sclerotic and depraved "justice" system of America's capital city is not one of them...