Ten Years Ago

Hurricane Katrina made landfall exactly a decade ago. It was a politically consequential act of God, which I didn't fully appreciate at the time. Here's what I had to say before, during and after, as it swept through. First, from Britain's Daily Telegraph on August 30th 2005: If memory serves, the last British hurricane warning was the one delivered - or, rather, non-delivered - by Michael Fish on the BBC: "A lady's just called in to say there's a hurricane. Hur-hur," chuckled Michael ...
SteynPosts

There is nothing worth reading in American newspapers and they entirely deserve to go out of business. An old editor of mine in Fleet Street liked to emphasize the importance of what she called a "f**k-me headline". In the United States, if a story does not fit their ideological needs, the media prefer a sedate-me headline. From The New York Times: Suspect in Virginia Shooting of News Team Commits Suicide Not quite passive and enervated enough for you? Try The Boston Globe: Suspected gunman in ...
SteynPosts

A 24-year old reporter, Alison Parker, and her cameraman, Adam Ward, were murdered on camera this morning during a "live shot" for WDBJ Channel 7 in Roanoke, Virginia. Their killer was a "disgruntled" on-air colleague "Bryce Williams", whose real name was Vester Lee Flanagan. After uploading additional video of him shooting his co-workers to Facebook and Twitter, Flanagan attempted to take his own life but, as I write, is reported to be still alive. The victims are white, their killer is black ...
The Rush Limbaugh Show

America's Anchorman, Rush Limbaugh, returns to the airwaves tomorrow, so, as EIB's very own Anchor Baby, I enjoyed a second day behind the Golden EIB Microphone. You can find a few moments from the show here: The Republican Party has become the party of 'Nothing Can Be Done.' It's the Council of Despair. Donald Trump is the symptom, but the disease is a do-nothing Republican Party. I asked the question during the show "What is the Republican Party for?" I'm not sure I got a satisfactory answer. ...
The Rush Limbaugh Show

America's Anchorman, Rush Limbaugh, was away today, so, as EIB's very own Anchor Baby, I was honored to step in. You can find a few moments from the show right here: You should always listen very carefully when the media are telling you what they don't want you to talk about, and that's what's been going on since Trump brought up birthright citizenship. We discussed Trump, immigration, and their combined effect on the Republican Party. A certain must-read new book also came up: Whether you're ...
Mann vs Steyn
The Corner post that launched a lawsuit...
The Hugh Hewitt Show
My weekly conversation with Hugh Hewitt was devoted to the plight of the 45th President-in-Waiting, Hillary Rodham Clinton. Many years ago, at the end of the impeachment trial, my then senator Bob Smith sighed wearily, "He's won. He always wins. Let's move on." That's been generally true of the Clintons. But there is an exception to every rule - and the one guy on the planet who can claim to have blown a rocket through the supposedly invincible Clinton Machine is Barack Obama in 2008. On Rush ...
Steyn's Song of the Week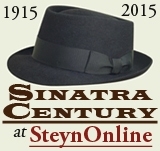 A few months ago, 20-year-old pop star Meghan Trainor gave an interview to Entertainment Weekly about her big international hit "All About That Bass", in the course of which she was asked:
Who were your idols as songwriters?

Phil Collins. And Stevie Wonder. And what always messed me up were Frank Sinatra songs, because of the lyrics and the melodies and how catchy they are. Even if I was going in to write for Rihanna, I'd put on Frank Sinatra and hear 'You may hear angels cheer/'Cause we're together'. No one writes like that anymore, because it's hard.
Defend Free Speech!

We're a few days away from the official launch of my new book, and it's already doing quite nicely at Amazon in print and Kindle - and not too shabby north of the border, too...
Defend Free Speech!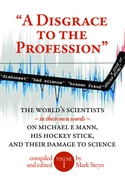 We're only a week away now from the official launch date of my new book - on September 1st, which I see that His Holiness The Pope, in a helpful promotional tie-in, has declared the first annual International Day of Prayer against Global Warming. I confess I do occasionally wonder if Pope Francis, jumping very belatedly onto the climate-change bandwagon, has gotten hold of the wrong end of the stick...
Steyn's Song of the Week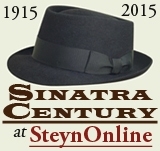 First the tide rushes in. Then you rush out and write the song...
Mark at the Movies

A thriller as ridiculous as Hillary's server security