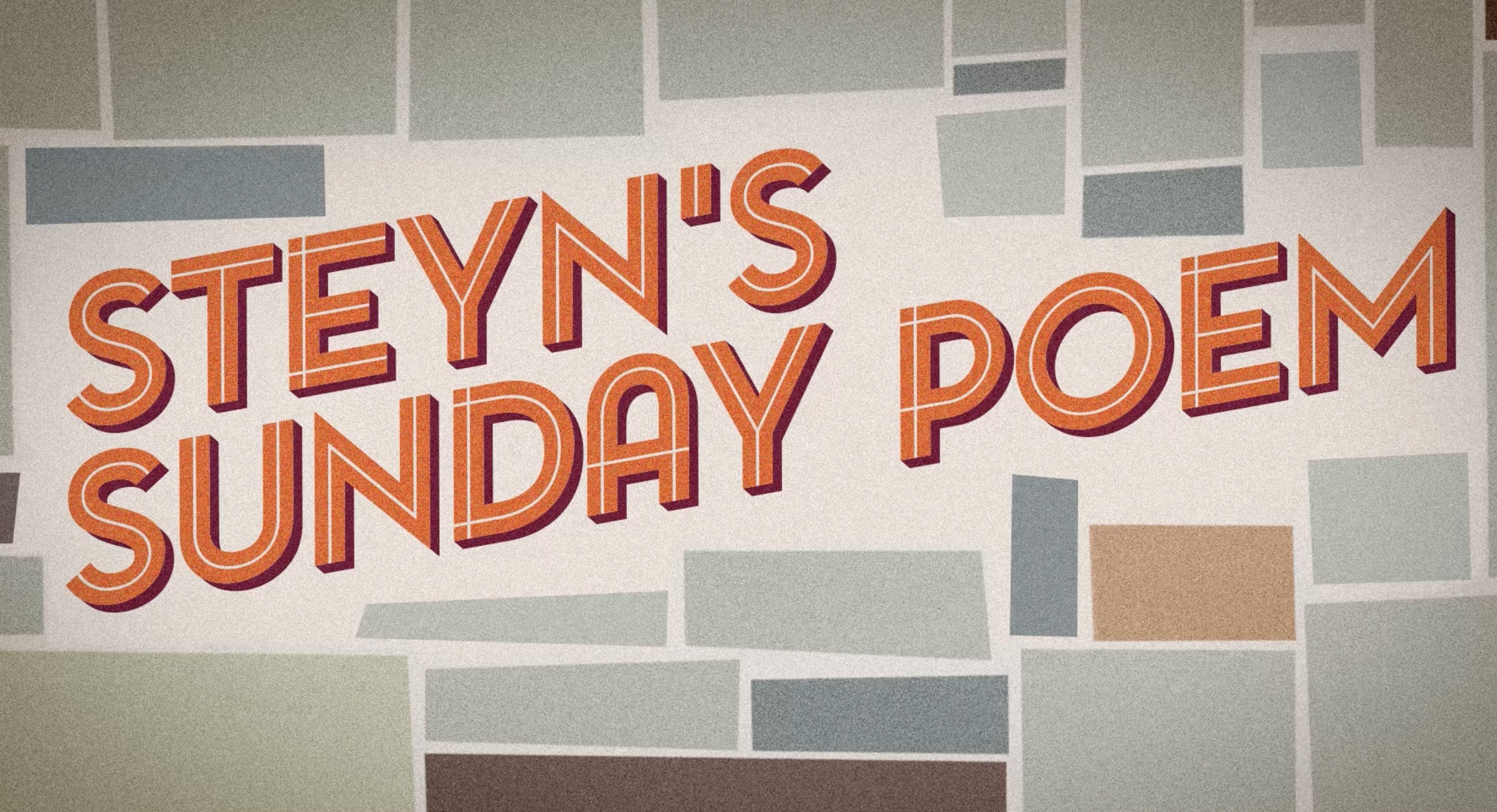 Happy Easter and Happy Passover to our readers, listeners and viewers around the world. As has become tradition at SteynOnline, we have my thoughts on The Passion of the Christ, Victor Hugo on Notre Dame and the bells of Easter morn, and Laura Rosen Cohen on Passover. I also played some truly transcendent music and answered your questions on a post-Christian west that is quickly becoming post-western on a Good Friday Q&A.
But, for this bright piping Easter morn (on the East Coast of the Americas), here is a reprise of a favourite entry to our Mark Steyn Club anthology of video poetry: In this edition of Steyn's Sunday Poem, I look at the background of T S Eliot and then read part of the second of his Four Quartets. When he wrote it, it was an oblique meditation at Easter in the context of war - and, as I read it now, I hear echoes of Covid-without-end:
The whole earth is our hospital
Endowed by the ruined millionaire,
Wherein, if we do well, we shall
Die of the absolute paternal care
That will not leave us, but prevents us everywhere.
The whole earth is a hospital endowed by the bazillionaire Bill Gates?
To watch my reading of East Coker, prefaced by my introduction, please click here and log-in.
I thank you for your kind comments on this poem upon its first airing. Kevin Smith, a First Week Founding Member of The Mark Steyn Club, writes:
Outstanding reading on your part. Thank you. The poem becomes richer with your commentary... One of your best.
Dale Owens, a Welsh Steyn Clubber in Italy, adds:
I believe this was one of Roger Scruton's favourite poems. He said the Four Quartets influenced him greatly in his youth. Take a look at his How to be a Conservative.
From Kate Smyth, doyenne of our Down Under members:
Very much a Poem for Our Time.

During the Spanish flu, church services were typically increased in number during outbreaks so as to limit crowding while at the same time ensuring all those seeking spiritual solace and strength were accommodated.

'So many in the Church seem to have no understanding of how Christ continues His saving work in times of plague and of other disasters.' - Cardinal Burke, December 13 2020.
If you'd like to catch up on earlier poems in the series, you can find them on our Sunday Poems home page. As with Tales for Our Time and our music specials and The Mark Steyn Show, we're archiving my video poetry in an easy-to-access Netflix-style tile format that we hope makes it the work of moments to prowl around and alight on something that piques your interest of a weekend, whether Kipling, Keats or The Kangaroo.
One other bonus of Steyn Club membership is that you can enjoy much of our content in whichever is your preferred form - video, audio, text. So, if you'd rather hear me read East Coker off-camera, please click here.
Steyn's Sunday Poem is a special production for The Mark Steyn Club. We launched the Steyn Club almost six years ago, and I'm immensely heartened by all the longtime SteynOnline regulars - from Fargo to Fiji, Madrid to Malaysia, West Virginia to Witless Bay - who've signed up to be a part of it. Membership in The Mark Steyn Club also comes with non-poetic benefits, including:
~Our latest audio adventure in Tales for Our Time, and almost sixty thrilling predecessors;
~Other audio series on pertinent topics, such as our 2019 serialization of Climate Change: The Facts and our 2021 adaptation of Mark Steyn's Passing Parade;
~Exclusive Steyn Store member pricing on over 40 books, mugs, T-shirts, and other products;
~The opportunity to engage in live Clubland Q&A sessions with yours truly (such as Good Friday's);
~Transcript and audio versions of The Mark Steyn Show, and other video content, including today's poem;
~Advance booking for the annual Mark Steyn Cruise and other live appearances around the world, including exclusive members-only events such as The Mark Steyn Christmas Show;
~Customized email alerts for new content in your areas of interest;
~and the chance to support our print, audio and video ventures as they wing their way around the planet.
To become a member of The Mark Steyn Club, please click here. And for our special Gift Membership see here.
One other benefit to Club Membership is our Comment Club privileges. So, if the above poem does not tickle your fancy, then give it your best below. Please do stay on topic on all our comment threads, because that's the way to keep them focused and readable. With that caution, have at it (in verse, if you wish).