As many of you know, Mark continues to recuperate from his brace of heart attacks. Diamond of Diamond & Silk was not so fortunate. She is pictured at left with Steyn and Silk in the picture at right, taken just a few years ago. Diamond died suddenly earlier this month, and Silk's account of her sister's final moments, as delivered at her memorial, is very distressing:
This is horrible to watch

Diamond said she couldn't breathe and then died suddenly

Silk is demanding answers about the vaccine and what it did to her sister

Why does this keep happening?!

Why do healthy Americans keep dying suddenly out of nowhere?!pic.twitter.com/OP4acnlxwq

— DC_Draino (@DC_Draino) January 21, 2023
Diamond & Silk were tremendous life-affirming presences at American conservative events. We send our condolences to Silk and all their family.
~On a possibly related note, Mark's fellow Canadian Andrew Lawton (who will be on this year's annual Steyn Cruise) has been in Davos for the annual Spectre board meeting hosted by Klaus Schwab, the sinister Teutonic megalomaniac hiding in plain sight as a sinister Teutonic megalomaniac. Oddly, among those jetting in to Herr Schwab's hollowed-out Alp to pay court was Britain's chief censor, Melanie Dawes of OffComm, taking time out of her hectic schedule of investigating Steyn. Andrew managed to catch up with Dame Melanie:
Ofcom chief executive Dame Melanie Dawes defends "free and frank and open conversations on any topic" when asked in Davos about Ofcom's investigations of networks over discussion of vaccine injuries. pic.twitter.com/6hOUDdMLis

— Andrew Lawton (@AndrewLawton) January 19, 2023
As one Tweeter observed:
Note that the British media is so lame it falls to overseas journalists to ask the right questions.
Very true. But that's because the chilling effect of OffComm narrative enforcement is so total that the UK media are too scared even to mention its existence.
~When Covid hit, OffComm exceeded its regulatory authority and put its thumb on the scale, sending a not so subtle warning to UK broadcasters against querying the official state propaganda. Nevertheless, for over a year now, Mark has done his best to shine a spotlight on those injured and bereaved by the Covid "vaccines". Starting with Vikki Spit and Charlotte Wright, he has interviewed many vax victims, in hopes that their plight might be taken up by the so-called "mainstream media".
On Saturday, thousands of victims and their supporters marched through central London, to the sneers of Tweeters such as Spurs fan Danny Searle. Among the marchers were many who have been on the Steyn show:
#VaccineInjured and Bereaved plus their supporters marching to Downing Street from The BBC yesterday at the #TruthBeTold rally. Not a word from @BBCNews These people exist deaths/injuries are NOT misinformation. #StopTheShots pic.twitter.com/McBwG0FGJM

— Carly Unlawfully Sacked Care Worker (@FreeWomanLeahy) January 22, 2023
Were Mark not convalescing from his heart attacks, he would certainly have been there. In his absence, as far as we can tell, not one UK television station so much as mentioned the demonstration. That too is Dame Melanie's narrative enforcement.
~Last week we republished an old Steyn column on the replacement of biological sex by multiple gender identities. The new social order is very hierarchical, and, if you have the misfortune to be a "cis-woman", you come very low down.
Week on week, the misogyny grows more explicit. Here is a TikTokker talking up the superiority of trans-vaginas by comparing hers to a designer handbag from, say, Prada or Dolce & Gabbana, and your lousy old biological vagina to a brown paper bag from Price-Chopper or Dollarama:
Male transgender activist claims fake man-made vaginas are superior to real ones pic.twitter.com/k2w7g53Et8

— Libs of TikTok (@libsoftiktok) January 18, 2023
A central component of "woke" progressivism is now ever more open contempt for women. And yet, as in the photograph we published, most "biological women" seem inclined to go along with it, even unto threats of murder. Here, for example, are Scottish Nationalist MP Kirsten Oswald and MSP Kaukab Stewart at a weekend rally whose attendees are calling for the decapitation of their fellow women: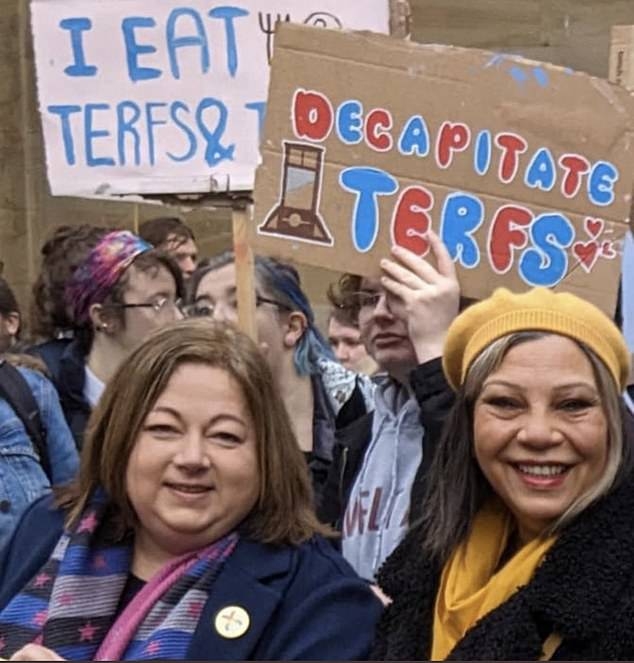 ~Notwithstanding Mark's ill health, we had a busy weekend at SteynOnline, starting with Laura Rosen Cohen back in the chair for our Clubland Q&A. Rick McGinnis's Saturday movie date was a couple of Nice Guys - Russell Crowe and Ryan Gosling. And Steyn's Song of the Week, for just the second time in seventeen years, was not Steyn's at all, but Tal Bachman's song of the week.
As we said last Monday and as has proved laughably true in the ensuing days, if you were too busy going through the Joe Biden classified documents you bought in the $1 grab-bag at the Ladies' Aid New Year rummage sale, we hope you'll want to check out one or three of the foregoing as a new week gets underway.
Clubland Q&A is a special production for The Mark Steyn Club, now in our sixth year. Membership in the Steyn Club comes with some unique benefits, including:
~Our nightly audio adventure Tales for Our Time;
~Exclusive Steyn Store member pricing on over 40 books, mugs, T-shirts, and other products;
~The opportunity to engage in live Clubland Q&A sessions such as this Friday's;
~Transcript and audio versions of The Mark Steyn Show and other video content;
~Mark's ongoing series of video poetry and other weekend specials;
~Advance booking for his live appearances around the world, including the annual Mark Steyn Cruise;
~Customized email alerts for new content in your areas of interest;
~and the chance to support our print, audio and video ventures as they wing their way around the planet.